Emily Delleman officially became a member of the Northeastern Vermont Regional Hospital (NVRH) Substance Misuse Prevention Services Department on July 1, working as a Tobacco Prevention Specialist.
Delleman is a member of the United States National Rowing Team. Her list of rowing successes is large, but the event she is most proud of is the gold medal she won in the double sculls event at the World Junior Championship in 2016. She then went forward to competitive rowing at Stanford University, where she earned a degree in Human Biology.
Most recently, in late June and early July, Delleman competed at a World Cup event in Poland and at the Royal Henley Regatta in England. In September, she will represent the U.S. at the World Rowing Championships which will be held in the Czech Republic.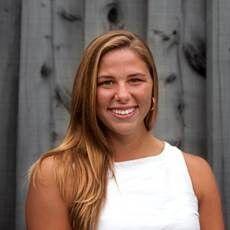 Delleman's athletic background and undergraduate studies prepare her well for her new position at NVRH, which will be focused on implementing community-based chronic disease prevention strategies. She will concentrate much of her work on adolescents and teens, providing tools to dissuade their initiation into the use of tobacco products.
"Building healthy systems can help young people make healthy decisions," she said. Her focus will be on building "protective factors" into the lives of young people – strong community connections, adult role models, scientific information about how addiction is caused, knowledge about healthy eating and physical well-being, methods to handle stress, and easier access to mental health counseling.
Delleman grew up in Davenport, Iowa, and attended college in California. There are two reasons for her decision to move to Vermont – the COVID-19 pandemic and the Craftsbury Outdoor Center (CoC).
Most of Delleman's senior year of NCAA Division 1 rowing competition at Stanford was cancelled when the pandemic essentially shut down the entire nation in the spring of 2020. At first, having been offered another year of collegiate athletic eligibility, Delleman planned to return to Stanford in the spring of 2021. In the interim, she needed a place to live and train. Having met some of the CoC coaching staff while competing, she thought of the Craftsbury Outdoor Center, and in August of 2020 she moved to Craftsbury. In the end, Delleman decided not to return to another year of college competition.
Instead, CoC gave Delleman a spot as a resident athlete on their Green Racing Project (GRP) team. The goal of GRP is to provide world-class training that bridges the gap between college and international competition, and also to instill a broader purpose in the athletes, especially a community and environmental sustainability ethic.
Right now, 30 athletes live at CoC as part of the GRP team. Community outreach projects they're involved in run the gamut from coaching Nordic skiing, school biking clubs, and youth basketball, to environmental sustainability projects like weatherization, composting, removal of invasive species – and more.
"The program is designed not only to develop us as athletes, but also as people," said Delleman. "They make sure we continue to find passions to follow outside of our sports."
Delleman has high praise for Dick and Judy Dreissegacker, the owners of CoC. CoC not only gives athletes a home, a place to train, and promotes broad personal growth, CoC also covers athletes' costs of travel, equipment, food, housing, food, and coaching. "What they offer to athletes is amazing," she said.
Delleman's new endeavor - working to combat tobacco addiction in the Northeast Kingdom - fits nicely into GRP's mission. She will bring to the work her experience with the protective factors that contributed to her own athletic success and healthy lifestyle. She will also be able to talk with young people about the bad choices she avoided and the good choices that helped shape her life.
As a freshman in high school, Delleman said she started to fall into the trap many young people experience; making some bad life choices. In terms of tobacco use, in 2019 6.9 percent of teens in our state reported that they smoked cigarettes, but 28.2 percent reported using a tobacco product, showing the large use and abuse caused by the development of e-cigarettes and vaping.
Good decision-making also began during Delleman's freshman year, when a few of her friends decided to join a rowing team that used the Mississippi River for its training ground. She followed their lead and decided to try the new sport too. "It was a very cool setting for learning a new sport," she said.
It also provided a protective factor to her life. Being part of the Y Quad Cities Rowing Association built a network of friends, and mentors, and goals for Delleman. Her choice was very fortuitous, because she could not have found a more experienced role model as a coach. The team organizer was Dr. Peter Sharis, a past Olympian and athlete at Harvard. He took no fee for his work and provided a program that was widely available to young people in his area.
The rowing team was both fun and a lot of hard work, but the healthy system Delleman had chosen to become a part of led to amazing results, culminating in the gold medal she won at the 2016 World Junior Championship in Rotterdam, Netherlands. Adding extra importance to the honor is that she achieved top-of-the-world status in her sport with the coach's daughter, Caroline Sharis, as her doubles team partner.
In her work for NVRH targeting adolescents and teens to dissuade use of tobacco, Delleman will promote protective factors like the ones she has experience in her own life. Through knowledge she got through her college study of human biology, she has learned that creating healthy systems is a path to creating healthy individuals.
Outreach through Delleman's program at NVRH will be to local schools and through other community presentations. It will include explicit teaching about how nicotine use leads to addiction – how it triggers a dopamine response in the brain that at first may give a pleasure response, but often eventually results in anxiety and depression.
Delleman said next month an Instagram campaign will be launched to promote tobacco prevention events in the area. One example will be yoga activities for youth in local parks. "The events will be fun, appealing, and healthy - and will help to connect young people to their families and the community," she said.
"The idea is to create healthy systems, instead of targeting the individual," she said. "The goal is to change systems to make the healthiest choice the easiest choice."
In 2017, NVRH was the recipient of a $35,000 grant from the Vermont Department of Health to implement community-based chronic disease prevention strategies related to tobacco use. A goal of the initiative is to reduce the health disparities associated with tobacco use seen in Vermont's most vulnerable groups.
Delleman's new position at NVRH is funded through another grant from the Vermont Department of Health. Her work is associated with the Northeast Prevention Coalition, which targets substance abuse prevention activities across the spectrum of addictive substances. Her work is also connected to the Caledonia/Southern Essex Community Tobacco Prevention Initiative.
Delleman's work will be used to help inform the goals of the Vermont Tobacco Control Plan and the Healthy Vermonter 2020 Goals for Tobacco Prevention and Control.
According to the Centers for Disease Control and Prevention, cigarette smoking remains the leading cause of preventable death and disability in the United States. More than 16 million Americans suffer from a disease caused by tobacco use, amounting to $170 billion in direct medical costs.