Salicrow is a generational, psychic medium who says she's been aware of her gifts since childhood. She specializes in spirit communication and divination, the practice of seeking knowledge of the future. She helps people connect with their beloved family, friends, and loved ones who have passed, as well as make connections with the guiding spirits who watch over them. She is the author of the book "Jump Girl: The Initiation and Art of a Spirit Speaker."
You've been a fixture in the psychic community of the Northeast Kingdom for much of your life.
I have lived in Vermont for the last 33 years. I first moved to Danville a month before school got out, after my parents got divorced. I did not think I would stay in Vermont, but I met my husband a few months after graduation. I have resided in the Lyndonville area ever since, and have lived in Newark for the last 20 years.
I have worked out of the Lyndonville area since I started reading cards for the public when I was 18. I have owned two stores, the first one, Katmandu, I owned in the late 90's. The second, The Grindstone Cafe & Wellness Center, I currently own. Both stores have carried esoteric items and offered psychic services.
You've said you've always been aware of your psychic abilities. What is your earliest memory of a psychic experience? How did you come into your abilities and what are they?
I have been aware of my psychic abilities my entire life, but they have developed over a life time and are still developing. I consider myself, first and foremost, a healer, as I approach all other aspects of my gift through that lens. My abilities are most dominant in divination/looking into people's lives and future, and spirit communication, speaking to the dead.
My earliest display of psychic ability and my earliest memories are two different things. My earliest display of ability happened when I was three months old, and my grandmother died. I was crying inconsolably during her funeral, when I suddenly stopped and started laughing as if someone was playing with me. Grammy Brown — my father's grandmother, who was also a medium — could see me playing with my grandmother's spirit.
My first memories however are of communicating with spirits in the mirror with my sister Sandy. We would often sit in front of our bedroom mirror and talk to the people on the other side. Most often these people were spirits of loved ones, but sometimes we were communicating with our future selves.
Tell us about your book 'Jump Girl: The initiation and Art of a Spirit Speaker' and how it came to be.
"Jump Girl" is a memoir of my life, of growing up in a psychic family, and of the development of my gifts. The book coming into being is a story of its own, as I had a book contract before I had a book written. This came about through the weaving of spirit and fate, in which more than one of the people involved; including the owner of North Atlantic Press, had a profound experience of spirit with me.
My book is deep and vulnerable; I do not hide anything. When asked by my publisher what books I would compare my writing to, I replied the teachings of Don Juan by Carlos Castaneda, for some people will see it for truth, but others will believe it an exaggeration or a work of fiction. I understand this, for some of the things I speak of are a bit mind-bending, but know that aside from a few name changes it is completely my truth.
My book, coming out in February, has offered some interesting twists in my life. For one, I was invited to attend the Arkansas Literary Festival last April as a guest author/presenter. It is not unusual for me to travel for work, as I have done so for years as a psychic and teacher of energy work, but this was my first time being recognized for my contribution to literature. I was greatly honored. The man who was chosen to moderate my event was a pastor at a large church. I knew nothing of his church at the time, and was taken back at first, wondering if he had even read my book. But I was pleasantly surprised not only by the fact that he had indeed read my book, but that the church he belonged to was much more open minded than I would have guessed.
A surprising turn of events from the release of my book is the amount of people coming to me for healing work. I have worked as a healer since I was 28 years old. I use reiki, sound healing and Rune Valdr, and crystals in my work. Over the years as my schedule has become more full, I have grown selective in the healing work I do, preferring to work with those with emotional and spiritual trauma.
You've written about your love for the earth, and the importance of pilgrimages and sacred travel in your life.
In 2011, I went on my first spiritual pilgrimage. It was part of my graduation ceremony as a Druid, and I went on a 15-day guided pilgrimage of holy sites around the United Kingdom. As part of this pilgrimage, I wedded the land in a sacred/private ceremony inside of Stonehenge. The experience affected me deeply. My sacred travel has taken me near and far. Sometimes I am on the journey myself; sometimes I am the guide hosting others as they step into the sacred. My journeys so far have taken me to the U.K., Ireland, Iceland, Joshua Tree, California as well as into the local landscape of New England. I am currently planning a trip to Mount Shasta, Calif. for the summer of 2019 that I will guide others on sacred pilgrimage, and a more personal sacred journey to either Iceland or Ireland. I have a strong calling to Ireland as it is the home of my ancestors, and a strong connection to Iceland through my relationship with the Norse Gods.
It's been a busy year for you, with the publication of your book. You've also been at work growing the Wellness Center.
The Grindstone Cafe & Wellness Center just went through a very large expansion. At the end of June, we took the wall down between our tiny coffee shop/psychic studio and added a spirit infused gift shop, six treatment rooms, two classrooms, and expanded the coffee shop. We are currently offering classes on psychic development, yoga, healing, herbalism, spiritual art and more.
At the Wellness Center, I offer psychic readings, spirit communication, and intuitive healing. Other practitioners at the center offer Reiki, Shamanic Healing, Herbalism, Aura Photography, CBD Consultations, Sound Healing, Massage, Foot Soaks, and more. We also offer regular yoga classes, as well as metaphysical, healing, and art workshops.
We are hosting a Witches High Tea on Oct. 13. This is a grand event for witches, or those that consider themselves witch curious. The event is from 10 a.m. to 2 p.m., with a spirit gallery with me from 2:22-4:44 p.m. There will be a tea ceremony, costume contest, and a witches salon for those who wish to talk about magical things.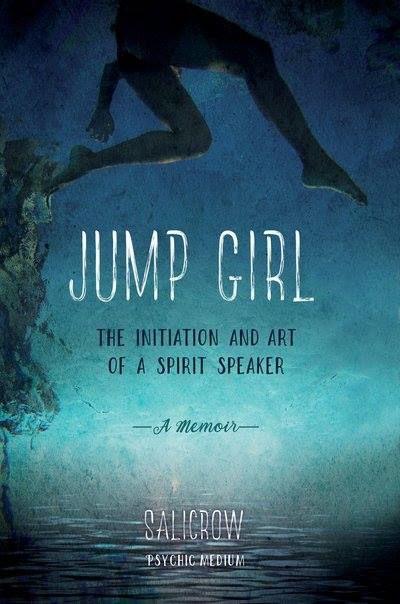 Salicrow can be reached through her website: Salicrow.com