Many Northeast Kingdom families have a long tradition of maple sugaring. Advances in equipment and technology have spawned large, high-output producers. But some, like Lunenburg's Wes And Fran Colby, still prefer the traditional way.
At the age of 82, and after 70-something years of experience, Wes doesn't use vacuum pumps, reverse osmosis or a steam-away, which are common in high-output operations. He uses a 37-year-old arch, fired by seven cords of slab-wood he harvests, splits and stacks from his own property every year. Its produces a modest four gallons of syrup per hour, but the quality product is unmistakable.
In second grade, Wes's family moved to Lunenburg from West Burke. He began helping his dad, Howard, produce maple syrup when he was about seven years old. In those days, sugaring was even more labor intensive. Trees were tapped by hand with a bitstock and buckets were hung. The gathering tank was pulled either by horses or oxen. Sugar houses tended to be off the beaten path, sometimes deep in the woods where the sugar bush was located. Generally, there was no running water in the sugar house. Water was either hauled from a brook or a spring. Sugaring was part of the springtime ritual.
It involved a social element as well. Family and neighbors gathered to help, enjoy sugaring parties, and eat sugar on snow with sour pickles and raised donuts. In those days, sugaring was part of a diversified farming operation. Small, hillside dairy farmers cut pulp and lumber in the winter to subsidize their income from the sale of milk and other farm produce. In the spring, they produce maple syrup for their own consumption and to sell. Maple sugar was used as a substitute for refined sugar in those days and maple syrup was widely incorporated in cooking. Real Vermonters would not have considered using anything other than pure Vermont maple syrup on their pancakes, waffles or French toast. It was taken for granted that if maple syrup was served, it was the real stuff. Self-sufficiency was the goal of farmers in those days.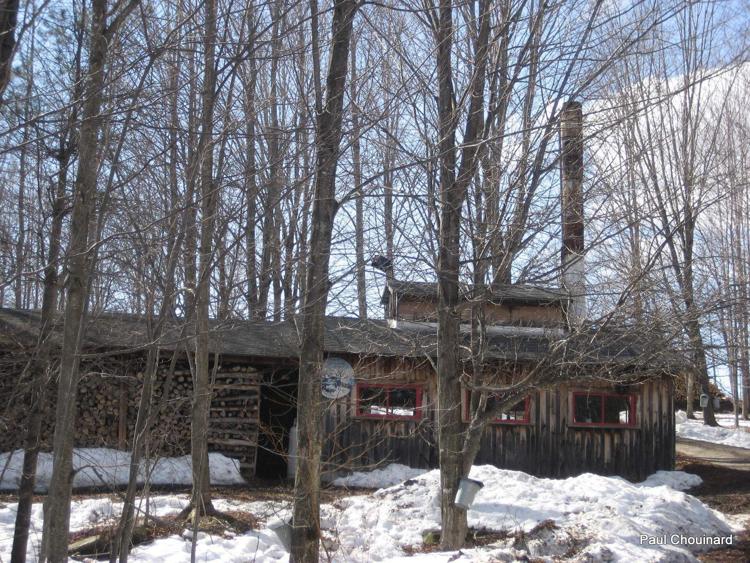 Wes continued helping his dad with sugaring until he went into the service in 1953. While Wes was away in the military, his dad installed an oil-fired arch. In 1957, when he returned home his dad had stopped gathering with horses and had begun gathering with a tractor with steel lags. Following their marriage in 1959, Wes and Fran both sugared with Howard and took over the operation in 1980.
In 1963, Wes and Fran purchased their farmstead of 250 acres on Bobbin Mill Road in Lunenburg. They built a new sugar house in 1979 and began using it in 1980. Wes decided to return to using a wood fired arch, because it could be harvested from his land and provided a low-cost fuel. For the next three years, Wes utilized his dad's sugar bush as well as three of his own, tapping about 2,500 trees and making about 500 gallons of syrup by boiling late into the night. Wes and Fran eventually discontinued use of his dad's sugar bush, but they continued using their own three to this day. Two are in Lunenburg and one in Guildhall. They all have a southeast exposure. He presently has about 1,600 taps on line and buckets.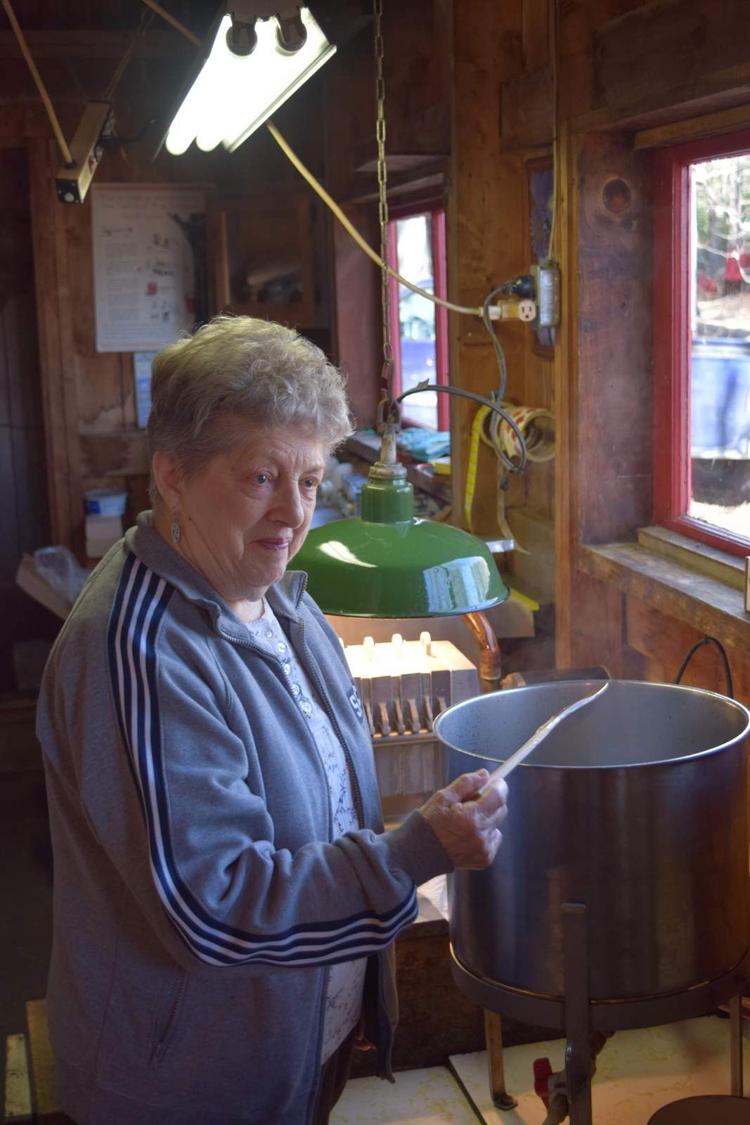 He and Fran produce about 250 gallons of syrup each season, which by contemporary standards makes them small producers.
At 82 Wes feels that the wood harvesting and sugaring operation keep him healthy and fit. There is no doubt that his energy and agility is not typical of his age.
During sugaring season, Fran and Wes are joined by their family who help with tapping, gathering and boiling. The family dynamic is strong and healthy, characterized by cooperation, respect and humor. Wes and Fran's sons, Mark and Todd, help during the evenings and on weekends.
In addition, Todd's son Jordan and Mark's son-in-law, Kelly Bowles, assist with the operation. Wes is clear that he couldn't manage the operation without the "boys."
Other family members and friends also join in the spring ritual when they are available. Wes says Fran is the boss, but when it comes to managing the operation, it's clear the "boys" defer to Wes. They can step in to assist with any part of the process.
Fran is committed to the concept that "cleanliness is next to godliness," which clearly applies not only to her home but to the sugar house as well. Once the syrup is made and strained, Fran oversees canning. She also sees to it that her home-made sour pickles are available and that donuts are on hand for the family to enjoy. In addition, she feeds the family during sugaring season. All of this might seem like a daunting task for many octogenarians, but Fran takes it all in stride.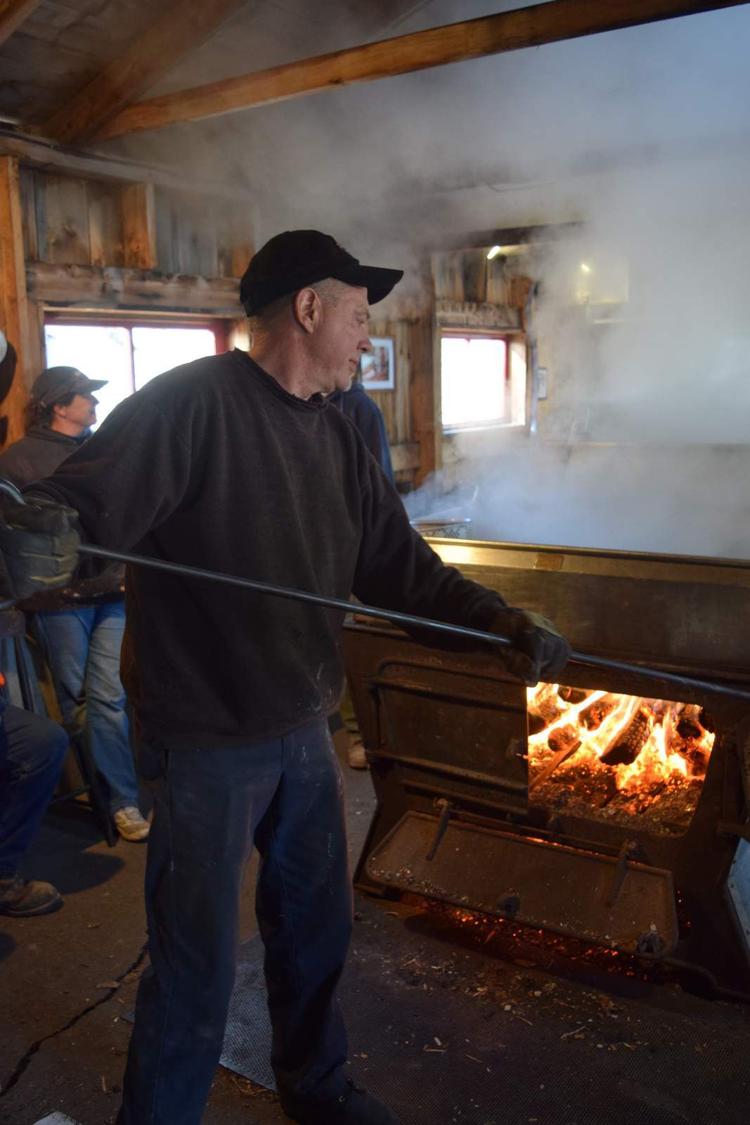 When I asked Fran if I could take a picture of her canning the syrup, Mark quietly said with a smile on his face, "She'll have to check to make sure that her hair looks right first." At that moment, Fran raised her hands to check her hair to be certain that it was all in place before turning toward me and smiling. Everyone joined in the quiet laughter as I took the picture.
In addition to working in the sugar house Fran enjoys making maple cream, maple sugar and maple candies. She also enjoys cooking with maple syrup and maple by-products.
Sugaring season is a time when Wes and Fran's family reunites and joins together cooperatively to achieve a common goal. Their time spent together sugaring is clearly not just about producing syrup, it's about nurturing family.
Wes and Fran participate in Maple Open House weekend in Essex County, although they are both quick to add that when they are boiling the sugar house is always open to visitors. Visiting their operation provides an opportunity to observe the traditional approach to the production of maple syrup. The warmth of the hospitality, the atmosphere of the sugar house filled with sweet vapor and the glow of the arch makes it a most enjoyable experience. Fran and Wes sell their maple syrup at Gram View Acres, 531 Bobbin Mill Road in Lunenburg and by mail order.