On the streets of 1960s Moscow during the time of the Soviet Union, poverty was common. Kingdom Gymnastics co-owner Vladimir Akhlatkin remembers picking up leftover cigarettes butts and re-rolling the leftover tobacco at the age of seven. He and other boys his age were released early from school and neighbors tried to monitor them for hours until parents returned after long work hours.
Akhlatkin remembers running down a corridor that acted as a vestibule, separating rooms that housed anywhere from five to six families, all with several children. They shared the same kitchen with one sink and four stoves. All shared the same bathroom with one large shower area. There is no running hot water, only cold that needs to be heated for bathing. Throughout this "community," there was a lot of fighting and smoking.
With unsupervised time, gangs formed and Akhlatkin began to lead one of them, but his worried mother pushed him in a different direction. Athletic training was fully paid for by the government, so she suggested he become involved in a sport. Around the age of 10, his school physical education teacher took notice of his passion for climbing and jumping and suggested gymnastics.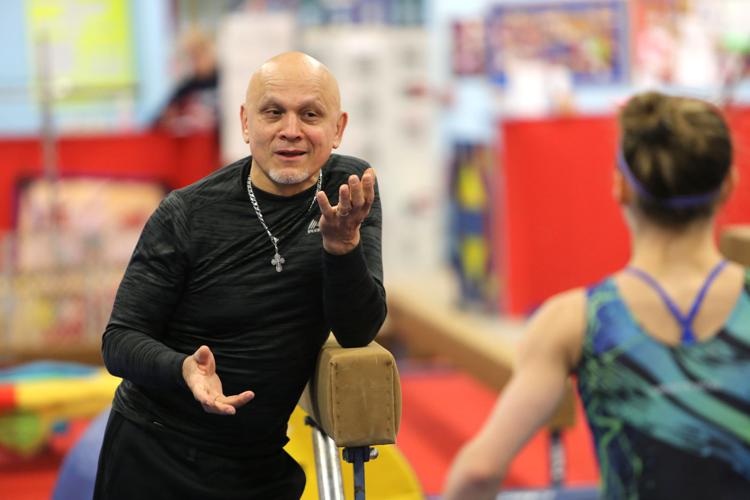 Young Akhlatkin would go on to an impressive career, one which would eventually lead him to the United States.
"In Russia, when you pick a sport, you are not paying this money," Akhlatkin explained last week, in his gym office at the Green Mountain Mall. "It's free, but it was a very strong selection. If you are not matched to the sport, like too big or too tall, they are not accepting you."
Akhlatkin was accepted into the gymnastics program in the Soviet Union at age 10. Most children start training and practicing at age seven, but he was advanced enough to catch up to his teammates' abilities and advance to the National Junior's Team.
Even today, at age 63, he continues to break down any age barriers that exist within the sport. With the toned arms and shoulders of a lifetime athlete, he barely rivals my own five-foot, seven-inch stature. He greets me for the first time with a hug, as if I am lifelong friend. His Russian accent is thick and intimidating at times for his students, but his passion is unquestionable.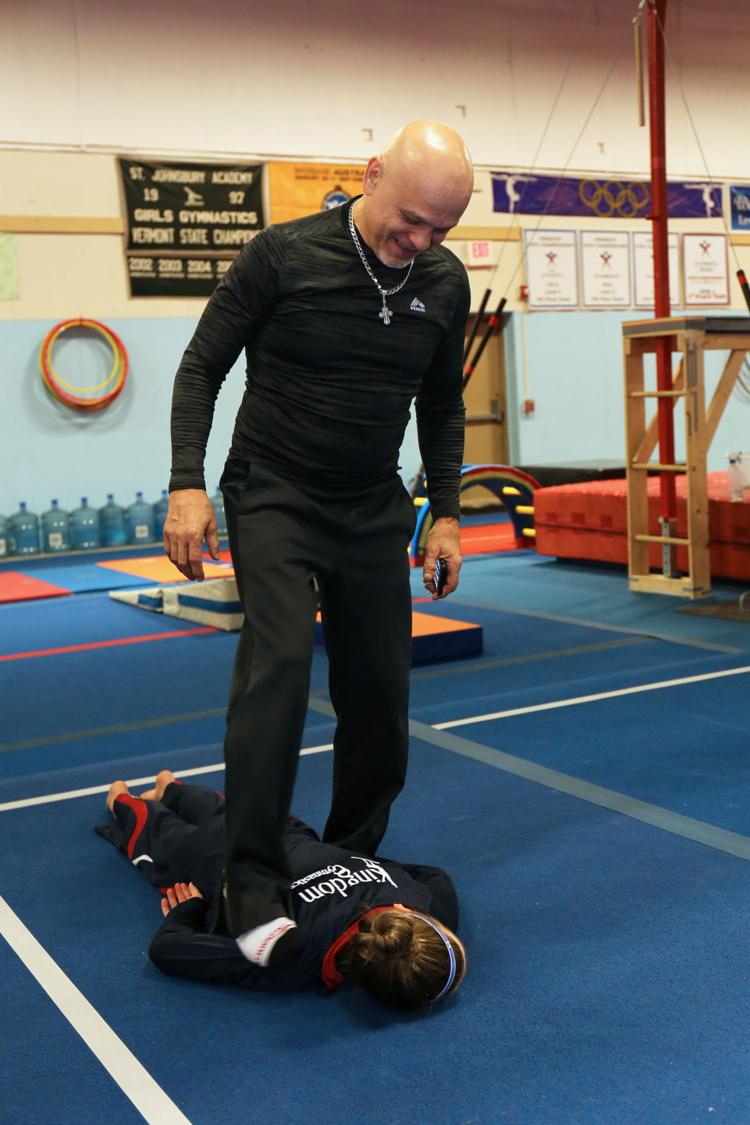 He co-owns Kingdom Gymnastics in St. Johnsbury with business partner and former student Donna Reed. The two met in 2002 upon Reed learning of Akhlatkin being hired by Evergreen Gymnastics in Littleton, N.H. and Reed's interest in an adult gymnastics class, which lead her to work under the Russian coach.
"I see this small, very rugged looking, funny sounding Russian guy that's going to teach the class, I have to tell you...I was scared to death to stay," Reed said. "I wanted to go home, but anyway I stayed and did the class. Long story short...I went on a regular basis, learned a lot about gymnastics, it was a lot of fun...and Vladimir and I became very good friends."
The road to the Northeast Kingdom, however, was long. After securing a spot on the National Junior's Team, from ages of 21 to 26, Akhlatkin had to choose between the military and college, a requirement in the Soviet Union. He chose the military, based on the strength of the army's gymnastics team.
"In my army duty, I was [a] pilot, but I never touched [a plane]...I performed for the Russian army for gymnastics, but never see the airplane," Akhlatkin said.
After the army, Akhlatkin left performing in the world of gymnastics and started coaching in Moscow until 1991.
At this point, Akhlatkin says the country was in turmoil. The Communist Party had fallen, which impacted schools and coaching whose tuition had been supported by the government until this point. Until now, the government had agreed to cover the costs associated with coaching as long as the end goal for its athletes was always the Olympics.
"Government was busy with the whole economic was falling down," he said. "They did not pay attention to the sport. You just survived how we can. Nobody cared about that. There was so many problem[s] in Russia when the Soviet Union got done. The Republic is separated. Economic has stopped coming."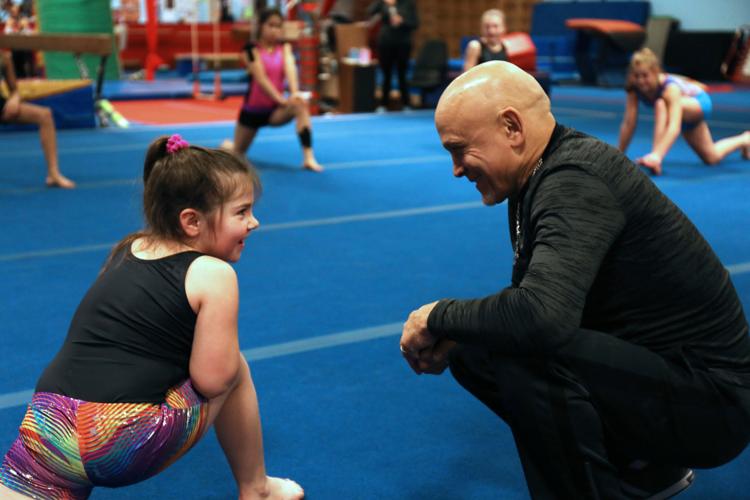 Akhlatkin became a "shaping instructor," mainly for women, opening up a small gym in Moscow and ran the business from 1991 to 1996. It was successful. There came a point during its operation, however, when the business was threatened. Akhlatkin said "criminals" started coming into the gym demanding money for their services.
"They came to me and said, 'You have to pay us.' Excuse me, for what? 'No, no you don't understand. We will protect you,'" Akhlatkin explained. "It was like Chicago...all these gang members they want to get easy money...[It was protection] from other gangs... Russian insurance."
Despite having been supported by an acquaintance who was also a lawyer, Akhlatkin decided to leave Russia to be with his oldest daughter, Maria or "my Masha" as Akhlatkin fondly calls her. He had sent her at the age of 16 to join and perform in the first show in Cirque Du Soleil in Las Vegas after training in Montreal.
"I said, 'Just go'...because she started doing bad things," Akhlatkin said. "She started smoking and you know that kinds of stuff. I said, 'No, go to the Circus'... I sent her because it's very hard, I have two more kids and money's so tight...It's better, she got a good life. I sent her there and she accept me and she decide to go and try it."
Masha was in Cirque De Soile for 20 years, starting in the show "Mystere" and then working in the "O Show." She took online courses and left the circus life at age 36. She is now an interior decorator.
In 1996, when Akhlatkin came to see his daughter perform in Las Vegas, Akhlatkin left the fitness business to a friend in Moscow. Akhlatkin became involved in the circus life while he was in Las Vegas, meeting a man who was trying to teach his son to be an act in the show. Akhlatkin said the boy did not have enough of a gymnastics background.
"I decided to stay in the United States to help," he said. "I loved the circus...In Russia, they have big, huge circus families, but you never see them closely. In the United States I get the chance to see them, talk to them, work with them and help them. That's why I started to help this guy with his son."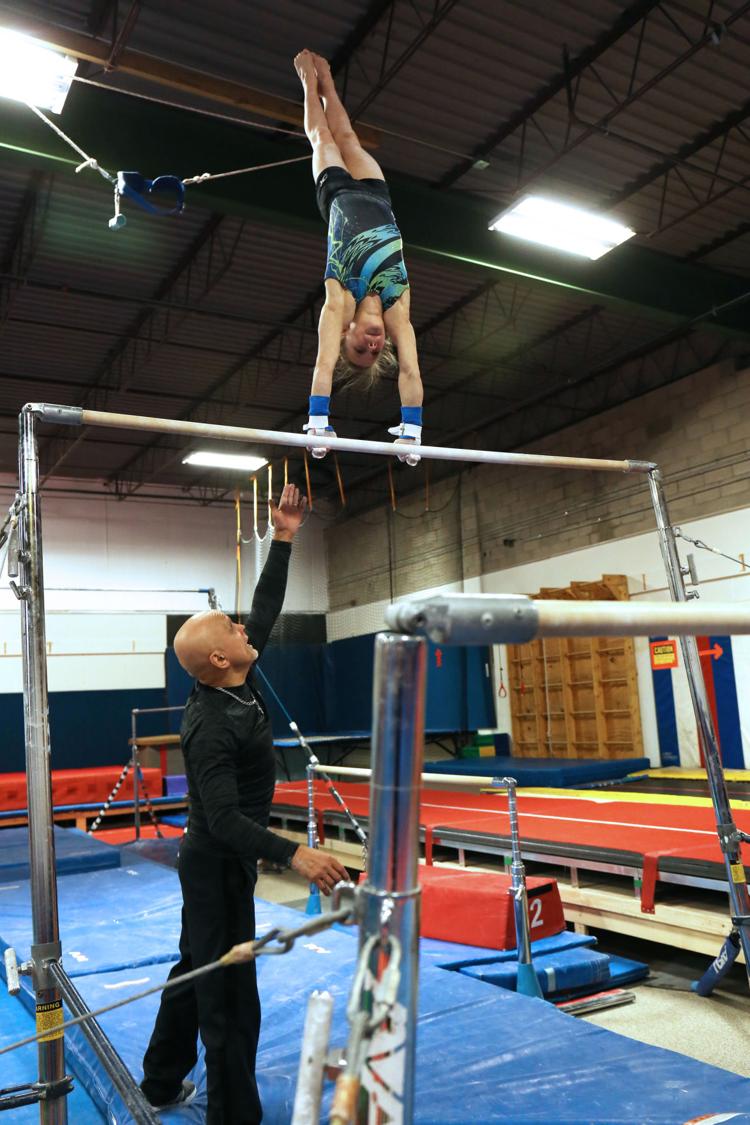 The boy's father purchased a trailer and car for Akhlatkin to start traveling with the circus with the seven-year-old boy that people were calling "Wonder Boy." For two years, he acted as a mentor, coach and nanny; training him, teaching him Russian and English, taking care of him, making sure the boy was fed and cared for. He describes himself as a "second father." After having some differences with the boy's father, Akhlatkin parted ways with the family.
"He paid me too low," he said. "Before I liked this life, but then I start to understand, like is good, but if you don't have money, then the like goes down."
He was invited to join Clark's Trading Post in Lincoln, N.H. in 2000 where he met his current wife, Maureen Clark. By 2001, Akhlatkin had made his way to Littleton, N.H., as a coach at Evergreen Gymnastics, a job that was introduced to him by Maureen. The two married in 2007.
Over a period of three years, Donna Reed went from being a student of Akhlatkin's to coaching beside him at Evergreen Gymnastics. As ownership changed at the gym, there came a time when Reed and Akhlatkin began talking about opening up a place of their own.
In the Summer of 2010, the two began pursuing the idea. Reed's daughter suggested the Green Mountain Mall as a venue and the lease was signed in Sept. 2010. Kingdom Gymnastics opened Oct. 14, 2010.
"There was just amazing amounts of construction that had to be done," Reed recalls, saying the layout of the gym was a product of Akhlatkin's knowledge and expertise.
The business started with basic recreational and stretch and tone classes. They have now expanded to offering boys and girls competition programs, more classes, more equipment and staffing has increased to seven employees.
The partnership between Reed and Akhlatkin's is successful because of their different skill sets.
"The man is incredibly gifted at coaching," Reed said of her former teacher. "The reason we make good business partners is I am the scheduler. I am the organizer. I am the one that keeps track of all the class schedules, the appointments, the private lessons...the man has no clue when it comes to dates or times or remembering anything...he just has a vague idea of somewhere around now I'm supposed to show up there...I've never known another person who's missed more airplane flights in my whole life."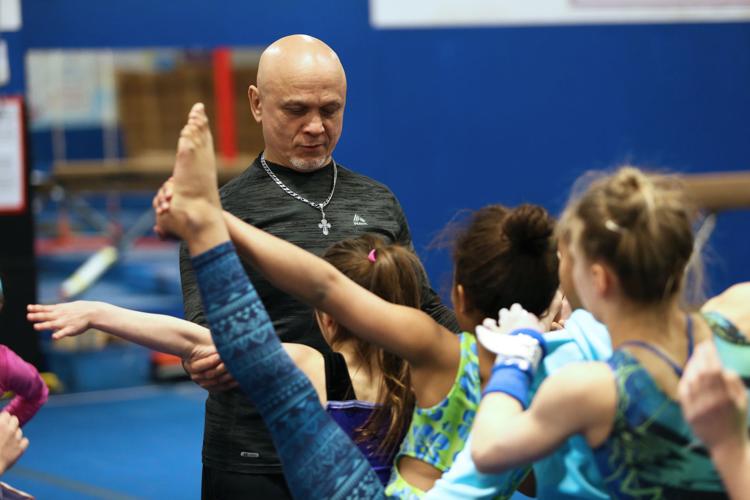 Reed said while she may be the scheduler and organizer, Akhlatkin remains the head team coach and the reason for the facility layout. He predominantly coaches the elite and higher level classes and no longer does the recreational classes.
Reed says there are cultural challenges at times, that demonstrate the difference between Vermont and Russia, for Akhlatkin. She explained that coming from an elite gymnast background in the Soviet Union, to the United States has been an eye opener for him with regards to the U.S. prioritizing education over athletics.
Looking back, for Akhlatkin, the highlight of his career was making the decision to come to the United States and visit his daughter in Las Vegas. He says his life completely changed at that point. His time in Las Vegas, he says, was a crazy life. Today, living in Lincoln, N.H., is much more laid back and easy going in comparison.
"I saw lots of things in the United States," he said. "I learned lots of things in the United States; how people [are] open, how people have freedom. I feel like that's [a] release of your soul. When I go to Russia, I have to shrink myself and then I come here and I relax... Russia there is different people...The mentality is different. Too many angry people around there...The subway can tell you how people is behave, because [there is] all kind of people around...In Russia, you have to be tough."
For the future, Reed wants to continue to be actively involved in the gym for a few more years, but eventually have someone else take it over, with Akhlatkin and herself still being involved. She says it is the "passion" that keeps them pushing forward.
For Akhlatkin, the future is his legacy.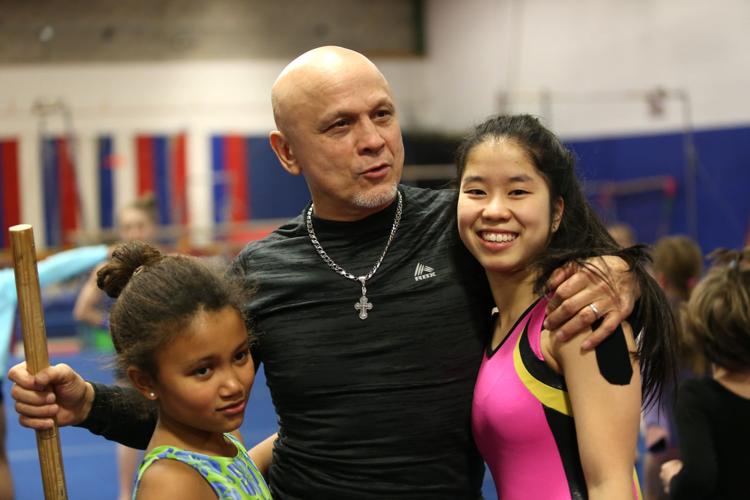 Akhlatkin's grandson, Nikita Bolotsky, started training with his grandfather in 2004, when he was four-years-old. Akhlatkin recalls making a trapeze in his back yard for his grandson to practice on. After having been a part of the National Team for over three years, Akhlatkin's goal is for Nikita to join the Olympic team in 2020. Today, Nikita is 17.
He points to a set rings behind where I am sitting in the gym, smiling and saying, "I made those for him, too." They hang as part of the gym, training the next generation of Northeast Kingdom gymnasts.
"I'm still young, still training," he laughs. "My goal: keep working with the kids. The kids give you lots of energy...My goal is to get Nikita to the [Olympic] team, then I have this star little girl; get her at the national level and then I'm going to [take it] easy. Until somebody [else] show[s] up like a good one; like a present for me."
At the end of the day, when the athletic chalk has been brushed off his clothes and the lights at the gym turned off, he returns home to his quiet New Hampshire home that he shares with Maureen and their four cats. Coaching never quite gets left at the gym, though, as his wife, Maureen, would say. As he walks through the door, the cats will be waiting in anticipation for him. Akhlatkin grabs the toy cat wand and goes to work.