Peacham farmer Morgan Gold has a story to tell – and he's got thousands of people listening.
His story of quitting his big-city corporate job at 38 to start Gold Shaw Farm in northeastern Vermont isn't unheard of, nor is he the first person to tap maple trees and raise geese, ducks, and chestnut trees. But his visual storytelling skills have captured audiences from around the world on YouTube, Instagram, Facebook, and an online podcast.
"People today are very interested in understanding where their food comes from and having a connection to their food," says Morgan from his home in Peacham. He says social media tools like YouTube and Instagram give customers a firsthand view of the farm and that sense of connection to their food that they're looking for.
More than 300,000 people recently tuned in to watch Morgan reflect on whether he's happy he decided to quit his job for farming (spoiler alert, he is). Another of his videos, which are part personal journal and part farm life memoir, is called, "What I wish I had known before starting a duck farm." That one has more than 350,000 views. And while viewers come for the farming knowledge and camaraderie, they are entertained, too. With training in animation and videography, Morgan splices his videos with timely clips from movies and television shows and plenty of footage of his sheep dog puppy, Toby. And he lets his authentic personality shine through with funny one-liners he's becoming known for, like "All ducks go to sleep!" and "Release the quacken!"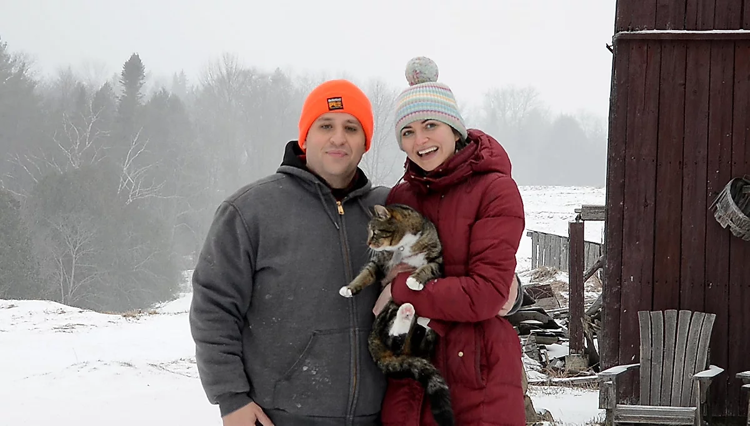 Morgan, who is farming along with his wife, Allison, refers to his farm as "more farm startup than actual farm," and the videos are meant to chronicle the process of getting their farm up and running. Initially the farm was their plan for retirement, but then Morgan thought, why not live the dream out now, while we're younger and able bodied? Now that he's farming, he says, "I've always wanted to challenge what you're supposed to be doing as a starting farm, finding a different model for farming."
One of the biggest struggles for farms at this stage, he says, is marketing and selling products. The farm is not yet profitable enough to be the family's sole income – he and his wife both have "day jobs." But as they ramp up, he says, "social media is a good format for telling our story along the way."
Good for the Bottom Line
It turns out Morgan's one of many farmers using social media in recent years to support their business and advocate for farming. Forty six percent of farmers use Facebook to tell their story, according to a 2018 survey from the Pew Research Center, and 51 percent use YouTube, the most popular social media platform among them. To a lesser degree, they're using Instagram, which is more popular among younger farmers, and Twitter, the least popular of all the platforms among farmers. Informal surveys by farming bloggers found more than 14 million Instagram posts using the hashtags #farm, #farmlife, and #farming.
When it comes to marketing, Morgan says social media is a great tool for connecting with people who could potentially be buying his products, whether its local people looking for duck eggs or someone in Texas buying eggs for hatching. As he makes his plans to expand and start new product lines in 2020, such as producing charcuterie from his butchered ducks, he's looking to social media to help expand his reach.
"Social media is the core of marketing efforts for Gold Shaw Farm," he says. "The majority of customers come from social media." That means he can save money on buying advertising and save time by skipping the weekly farmers markets.
"Our reach with YouTube is all over the world," he says.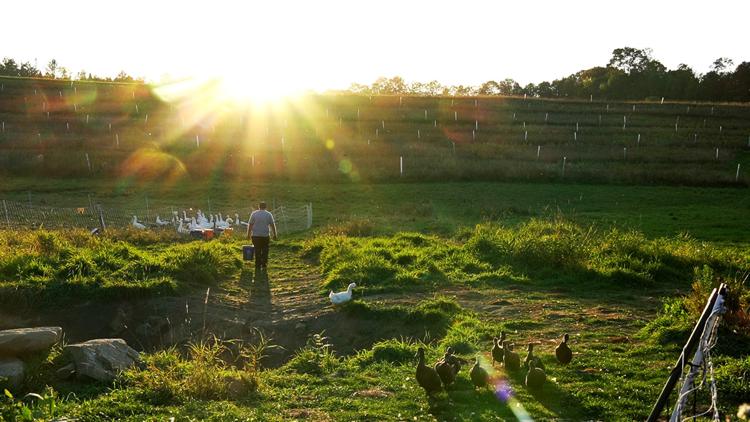 Shortening the Distance Between Neighbors
Social media platforms like YouTube and Instagram are also about building community for Morgan. Personally, he says, he's found friendship and support from his online community. In one recent video, a commenter commended him for following his dream and said she would pray for him daily. Another follower recently sent Morgan a handmade wooden sign for his duck house.
Before coming to Vermont, Morgan and his wife Allison lived in big cities like New York, Boston, and Washington DC. But he often felt lonely in those places. Now, in Peacham, he says he has "awesome neighbors" and the "awesome community of people watching" online.
"It's profound to connect with people that way," he says. For him, social media is an extension of the types of neighbor-to-neighbor connections that farming has always relied on, whether it's borrowing a tractor attachment, learning a new technique, or helping a neighbor find a runaway steer with a drone.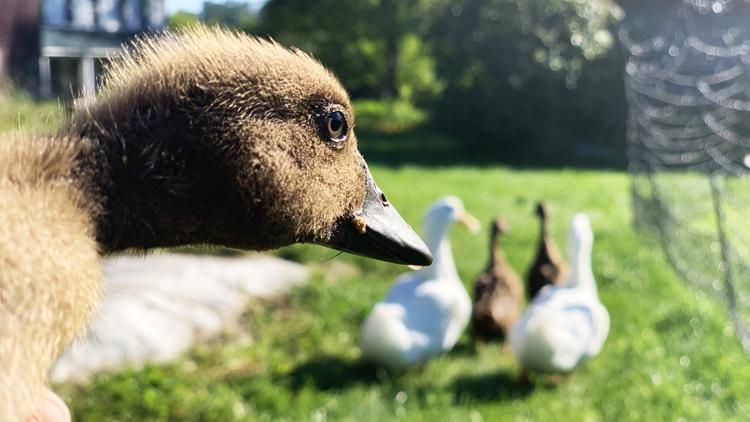 That last story actually happened in Peacham, and Morgan tagged along with fellow Peacham farmer Tom Galinat, who owns Fox Fire Revival Farm, on one of the three days it took to find his lost bovine. The pair recount the story, and share many others, in a recent podcast Morgan hosted.
Morgan added the podcast to his online lineup about 10 months ago, and he's featured farmers and homesteaders from other contexts to help the farming community learn from each other. Devoted to telling stories about farming, homesteading, and chasing dreams, Morgan sits down with friends and fellow farmers to tell their stories. He recently hosted a family who is homesteading in the high desert of Arizona, where they are building a house out of bags of dirt.
"That would never fly in Vermont," Morgan says, "but it's interesting to hear the context of their life."
Similarly, as Morgan and Tom recount stories of maple sugaring on their farms in Peacham, they are sharing the Vermont way of life with farmers around the world. What is common terminology to Vermonters – arch, evaporator, tubing – is a foreign language to those outside of maple country. And its fun to imagine people who don't understand sugaring hearing their tales.
Tom says he can't go into Marty's QuickStop, the local fillup station in Danville, without planning an extra 15 minutes to chat with neighbors about a how his own farm is going, whether it's a new piece of equipment or a USDA loan he recently received to upgrade his sugaring operation. Social media, says Morgan, is becoming an extension of that. "It's a place to make new friends," says Morgan of YouTube, Instagram, and his podcast. "And it's shortening the distance between places and people in a way that didn't exist 40 or 50 years ago."