Robin Rothman has always been a bit of an enigma. She is a lone walker on the streets and roads around Danville; she is that small woman standing among the few at the St. Johnsbury post office, holding signs promoting world peace; she is the woman who draws our attention to the details in our surroundings through the thread of a fine-line ink drawing.  
Robin lives in the former Congregational Church parsonage, purchased by Emma Lou Rothman, her mother, in 1986. The home is located on the end of Mountain View Drive, just before the curve up toward Brainerd St. It is a small ranch, obviously cared for, with a single car garage. Robin's eye in landscape is perfect; a sunburst locust tree that does not dwarf the size of the house grows at the entrance to the property. The front door is covered with artistically arranged political messages in which Robin believes; her car, a perennial elderly Saab, is, too.
The living room features a large picture window overlooking a lush backyard garden. Robin sits framed in the foreground; her shy tuxedo cat flits ghostlike through a darkened hallway.
Robin was born in 1936 in Mount Clemens, Mich., just outside of Detroit. Six years later, her sister Emily came into the world. Her father, Robert Rothman, was born in New York, a son of immigrant parents. He first became a high school teacher and than a professor at Wayne University during the Great Depression. He married Emma Lou Lamb, a high school English teacher.
Emma Lou and Robert's circle of friends were professors, artists and journalists. As Robin calls it, "they associated with a sort of Bohemian crowd. Even though my parents' close friends were intellectuals, they always got along with and appreciated the working man."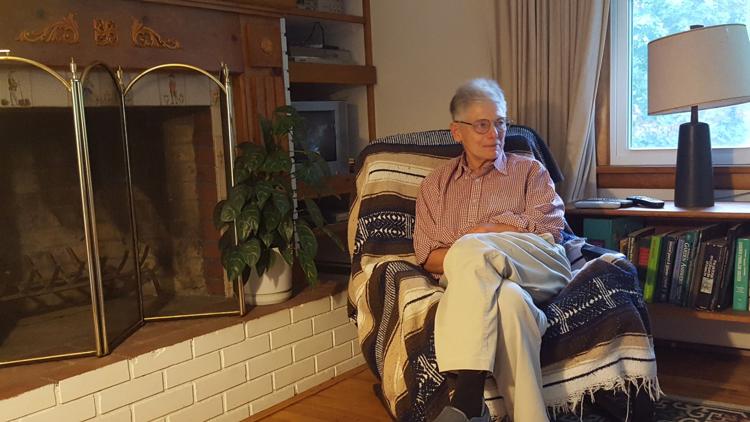 Of her own schooling, she relates that elementary was pretty standard.
"I'm not sure I could pass school now with all the things kids have to do. I do remember having to stand in the corner when this big, broad Teutonic-type teacher didn't like an answer I gave."
High school was nearly the same.
"The curriculum was much more watered down. Science was bare bones; math was worse. My father had to help me with Algebra. I just couldn't think in equations." Geometry, on the other hand, came much easier.
"I really appreciated the very strict English teachers I had. We learned how to speak and write correctly. Today educational curricula have become more exacting, what with developments in knowledge and technology. Alas," she adds, "the 'mother tongue' has deteriorated in the process."
Robin remembers that she drew a lot. Her father's best friend was Zoltan Sepeshy, who was a well-known artist himself and Director of the Cranbrook Art Academy, located in Bloomfield Hills, Mich., 26 miles from Detroit. Robin describes the campus as a "feudal estate," and she loved roaming the large campus when her father took her on his visits. The 319 acre campus is now a National Historic Landmark.
When reflecting on her growing-up years, Robin says, "I feel as though I just wandered through life."
It must have been pretty clear to her parents where she might be headed, though.
"My parents guided me toward the humanities and to Antioch College in Ohio," where she became a student In 1954. "There were only about 1,500 students then. I knew I wanted to focus in the arts. It was a basic art curriculum where I learned the elements of drawing and design. As my art professor said, 'You need to learn to draw before you can paint,' and I did."
Antioch was, at the time, the first work-study college offering a diversity of experiences in off-campus living and working. "My choices were all museums of natural history," said Robin.
Her first choice was the Field Museum in Chicago. A large section of Pennsylvanian black shale had been transported to the museum—four layers of quarry floor. They were looking for fossils in the shale and the students found and recorded extraordinary remnants of sea life hidden in the easily split rock, like bumps from shark skin, fish bones and invertebrates.  
"And we all came out every night looking like coal miners," she said.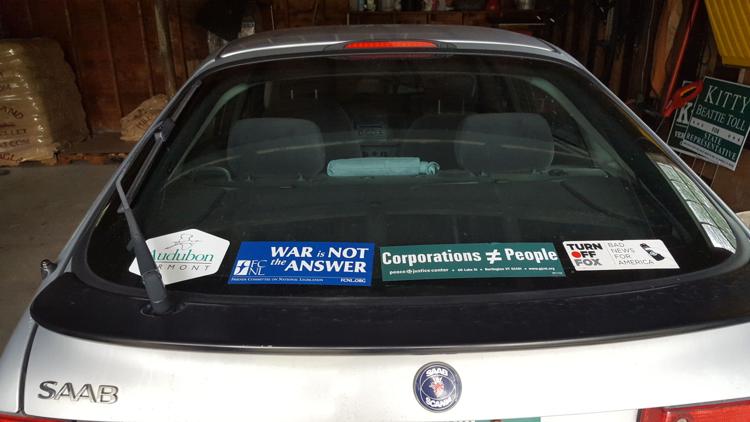 She liked the experience so much that she wanted to go out in the field to do more. "I think this is when I started to become a feminist. I couldn't go on field trips because I was a woman. And I would have been good at it." She graduated from Antioch in 1959.
The second museum work experience was at Cranbrook, the first student from Antioch to ever work there, and that is where she met and learned from expert jewelry designer Luella Schroeder. She and her mother took a lapidary course with her.
The third museum work experience was at the Carnegie Museum in Pittsburg. Again, she ran into the rule of not being able to go out into the field because she was a woman. "They did run a 'Woman's Day,'" she said, "but it was nothing, truly dumbed down. I wanted to go out into the field for long periods of time."
On her arrival back home for Thanksgiving in 1960, she was greeted with shocking news. Her father had died of a heart attack at 56 years of age. With Robert gone, her mother no longer felt much of a connection to her work and the area. Suggestions that she move back to her hometown of Cadillac didn't sit well either. "She considered that a kiss of death," said Robin.  "She was more drawn to the country."
One night, while Emma-Lou was reading the Saturday Review of Literature, she checked out the real estate section at the end of the magazine and was intrigued by a listing in North Danville.
"My mother was the adventurer in the family," said Robin. "She liked to make big, wide trips without accommodations."
The only people she knew in Vermont were Luella Schroeder and Martha Price, who now owned a house in East Montpelier and would later open the Molly's Pond Craft Shop. By coincidence, John Dewey, Robert's former teacher, was from Vermont.
She and the girls visited the place. It was the former Shattuck house, the last house in Danville on the McDowell Road before it becomes part of Wheelock. She bought it from Scudder Parker, four-acres and a pond for $3,000. Local carpenter, Reggie LaMothe, was hired to gut and renovate the old farmhouse. Before he did so, he first built a very small house on the property where Emma Lou could live while the house was being renovated.
Needing a job before her pension kicked in, she landed one teaching English at Lyndon Institute.
"That was hard for her," says Robin, "she didn't fit in, and kids were rude."
In Emma Lou's diary, Robin shares that she wrote of a depression, likening it to "a cloud." She quit the teaching position and took other jobs that she could find: cashier for Albert May's auction (paid $5 a week), a clerk job at Hatch's, the first Natural Food Store in Vermont, located on Pine Street in St. Johnsbury.
"Sooner or later, you learn to roll with punches," was Emma Lou's line when people asked how she managed. Later, she became friends with Virginia Bentley, who became famous for her folksy cookbooks. She edited her first cookbook while Virginia worked upstairs in the yellow bedroom at Emma Lou's house.   
Robin's last job at a museum before moving to Vermont permanently was at the State Museum in Albany, N.Y. Her mother came to visit from Vermont and Emily stayed there while studying library science. She had an apartment on Manning Boulevard and made trips to Vermont in her little red Volkswagen beetle named Rufus to visit her mother.
Robin worked at the Albany Museum for 12 years, but when it moved to a factory-like building, she began to feel restless for Vermont.
She made her move to Vermont in 1971, just on the early cusp of the "hippie" movement into the state. By that time, her mother had moved into the main house, and Robin took up residence in the little one. Without a job, she began walking the back roads of North Danville, sketchbook in hand. This same sketchbook is a treasure trove of drawings from that time period, featuring people, animals and buildings that no longer exist. The curious, artistic woman, with a luxury of time on her hands, saw the area through fresh eyes. She once climbed a tree and sat for an hour drawing sleeping raccoon babies.    
Through the years, Robin held a variety of jobs and began sharing her artistic talents wherever it led her. She has done yard work and mowed lawns, worked at Elliot's Greenhouse, and milked cows. But by far, the largest gift of her time involved working with the Fairbanks Museum in St. Johnsbury. Originally she was hired by Fred Mold to "sit the desk" on weekends. It probably didn't take him long to realize what he had on hand. She worked for that organization, on and off, for 30 years.
One of her first art experiences there was "fixing the beaver group," where she teamed-up with Bill Christiansen. Robin would come up with an idea—in this case, it was to make snow in the display. She knew that powdered glass would look like snow, but it was up to the ingenious efforts of Christiansen on how to make glass powdered.
Fairbanks Museum hired her for special projects by contract. Howard Reed was the teacher and curator. "One of the first things I did was to repair a styracosaurus skull mount. I repaired the plaster and painted it so it looked like old, shellacked bone. It is still there, on the 2nd floor." She did the illustrations for a local history curriculum written by Peggy Pearl, who also worked at the Fairbanks, but is now the Director of the St. Johnsbury History and Heritage Center.
She was hired to do backgrounds, such as the wetlands habitat display, and a background for "Visions, Toil and Promise," with illustrations on Man in the Vermont Forest. Connected with this project were four different panels depicting how the Vermont changed through history. Three of the panels are still on the wall in the Fairbanks classroom. Later she would work through the Vermont Associates program to catalog and sort out the mineral collection and carry on with improving exhibits.
From time to time, she took on other art-related jobs. She illustrated Adele Dawson's book, entitled Health, Happiness and the Pursuit of Herbs in 1981. Illustrations for the American Society of Dowsers included an aerial view of the pyramids and how to hold dowsing tools. "I've drawn birds, jellyfish, plankton, hydras and other pond life, as well as Pleistocene mammals." She also drew political cartoons for the North Star Monthly.  
She is well-remembered for her work with the former Danville Summer Singers. Her sets were extraordinary, but she had fun playing bit parts as well. One of her favorites was playing a cop in Gilbert and Sullivan's Pirates of Penzance. She loved the living room set of You Can't Take it With You so much that she had a hard time letting it go. "It was so cozy! I thought it should stay up and become an intimate setting for meetings." The strangest prop she had to create was a dead cat. "I used mostly pipe cleaners, but when it came to the skull, I just couldn't make it work. I found a dead cat on the road, and well, you can imagine..."  
Her Danville bicentennial celebration drawings include beautiful pen and ink of The Morgan Horse, Crossing Joe's Brook and The Green. At the bequest of Mary Prior and the Danville Historical Society she has created two historical drawings of the First Meeting House and The Old Stone Gaol. As there were no photographs of either because of their time periods, she had to do this from maps, historical documents and research into building materials of the time. Framed and signed prints of these will soon grace the walls of the Danville Town Hall.
And now, just like that, this amazing woman is turning 80. She has no extended family, only her sister, Emily, and her nephew.
"But in Danville," she reflects, "I have community, an exceptionally accepting and tolerant one. I've been kind of a maverick. I feel as if I've washed along, fitting in here and there and have been fortunate to have been employed in areas I'm suited for and enjoy. I've never had a driving ambition to make a lot of money. I think that all people need the basics—education, food, shelter, healthcare and a garden, and that governments have the responsibility as collectives of citizens to keep everyone mainstreamed by providing them."
The public is invited to an Open House celebrating Robin's 80th birthday on Sunday, Oct. 16, 2016, from 2-5 p.m. at the Danville Historical Society. It will be an art show, featuring her work in Vermont. We are looking for work to hang that is out in the community at large. If you are willing to share it in the show, please contact Sharon Lakey at the Danville Historical Society, open on Tuesdays and Thursdays from noon to 7 p.m. Phone: (802) 684 2055.