Whirligig Brewing in St. Johnsbury opened in June amid the global pandemic of COVID-19, and despite current circumstances, the business is growing on the foundations of community, partnership, and a deep love for flavor.
On a Sunday morning with the feeling of imminent rain hanging in the air, Geoffrey and Gillian Sewake sat on one side of their farmhouse porch in Peacham. Joined by their five-year-old son, William, and younger daughter, Lucille, the family offered a little peek into how they all have adapted to life during a pandemic.
"You're forced into that close contact all the time," said Gillian as William gave her a well-practiced "raspberry" on her chest. She was referring to the intimacy families develop when the only socialization they have is with each other.
"We love it. 100 percent of it," she added with a chuckle that provoked only more raspberries from William.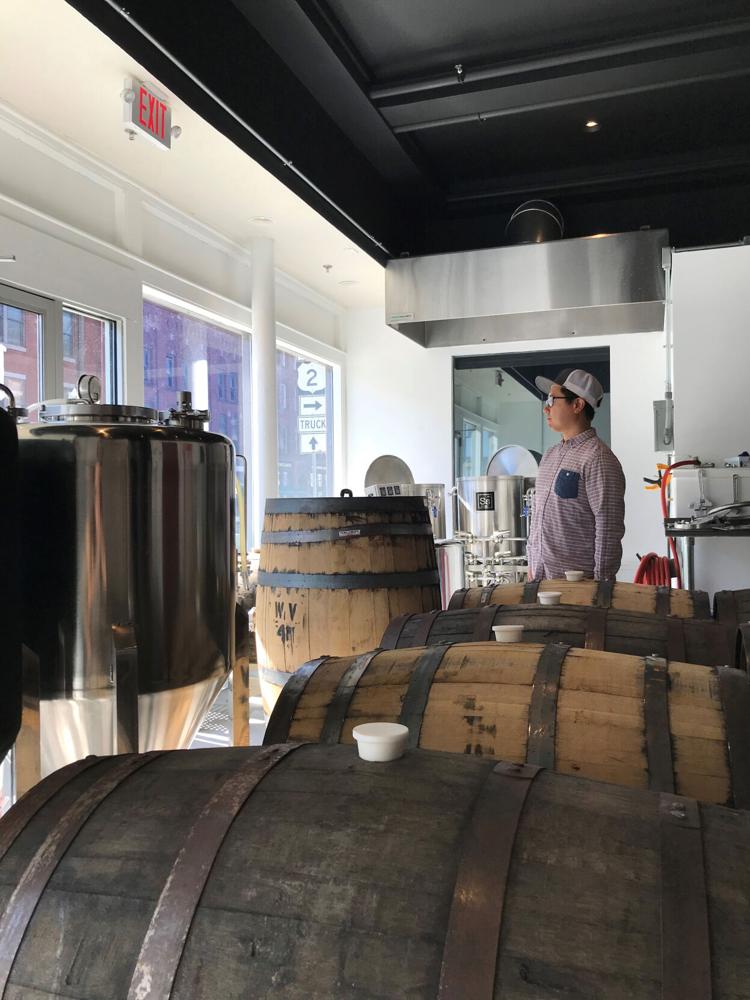 Just like normal routines were flipped on their head as a result of COVID-19, Gillian found herself in the "primary caregiver" role, according to Geoffrey. He used to cook around 98 percent of the meals since he could return from work to relieve his in-laws from childcare, he said. Now, as a result of opening Whirligig Brewing, the Sewake family has developed a different work-life balance, and Gillian's parents are a tremendous part of making it manageable.
"I think the pandemic gave us space to keep our family time and not go crazy...doing all parts from the front of house stuff to the brewery and not having to learn all [aspects of the business] at the same time, has been a true blessing," said Geoffrey, glancing gratefully towards Gillian.
The concept for Whirligig Brewing, according to Geoffrey, began when he spoke with other business owners in St. Johnsbury familiar with beer and trends in the market, Geoffrey had the idea to start something like a "beer-venture" center three years ago. But, it took another year for the home brewer to realize that opening a small-batch brewery that filled a niche could be possible, and Whirligig was born as a legal entity.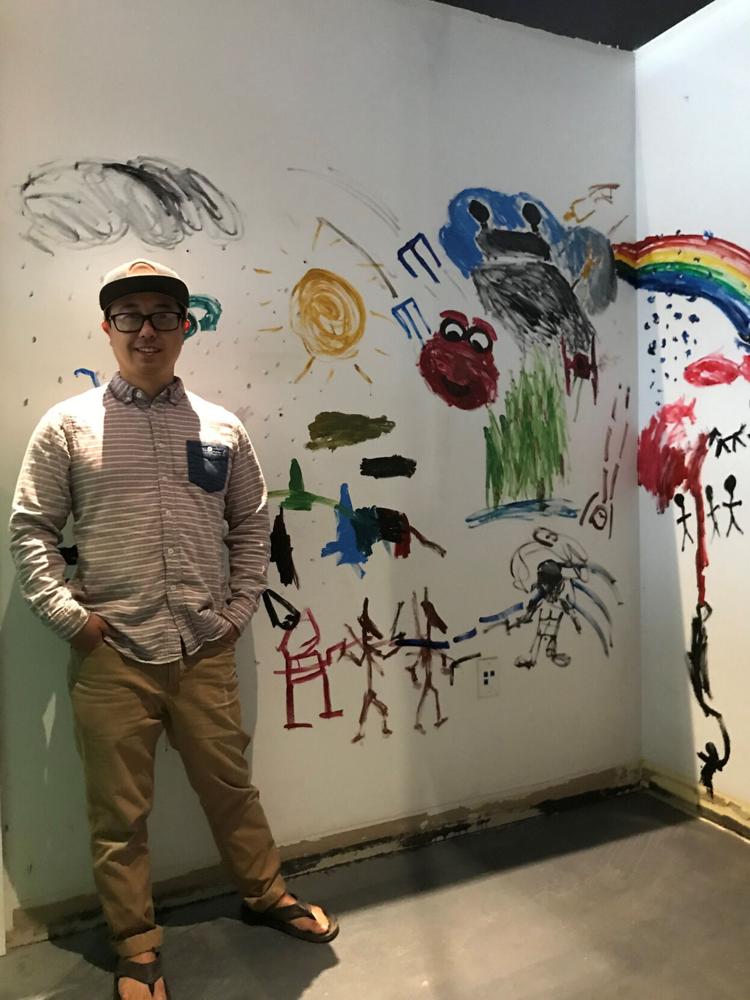 "We were pretty convinced we were going to be open not this spring but last spring," said Gillian, who fills the "support" role as co-owner, while Geoffrey fills the more active role. Having never opened a business of their own before — no less amidst a pandemic — they are feeling grateful that the opening of Whirligig unfolded the way it has, a year and a half after it was legally created.
"COVID flipped my business plan," said Geoffrey, which was focused mainly on the tasting room to make the small-batch business viable. With the onset of the pandemic, Geoffrey had to practice being a nimble new business owner and instead started with the "to-go" portion of his business plan. He invested in a canning system, which accounted for one-quarter of his total investment in the business thus far. It makes sense in the long term, he said, to keep that part of the business moving while it's unclear how long the impact of the pandemic will continue.
"All of my professional careers have prepared me for ever-changing, things moving around, and so in that sense, I'm comfortable with it. Change is not disruptive to me. It's a little upsetting, but it's okay," said Geoffrey.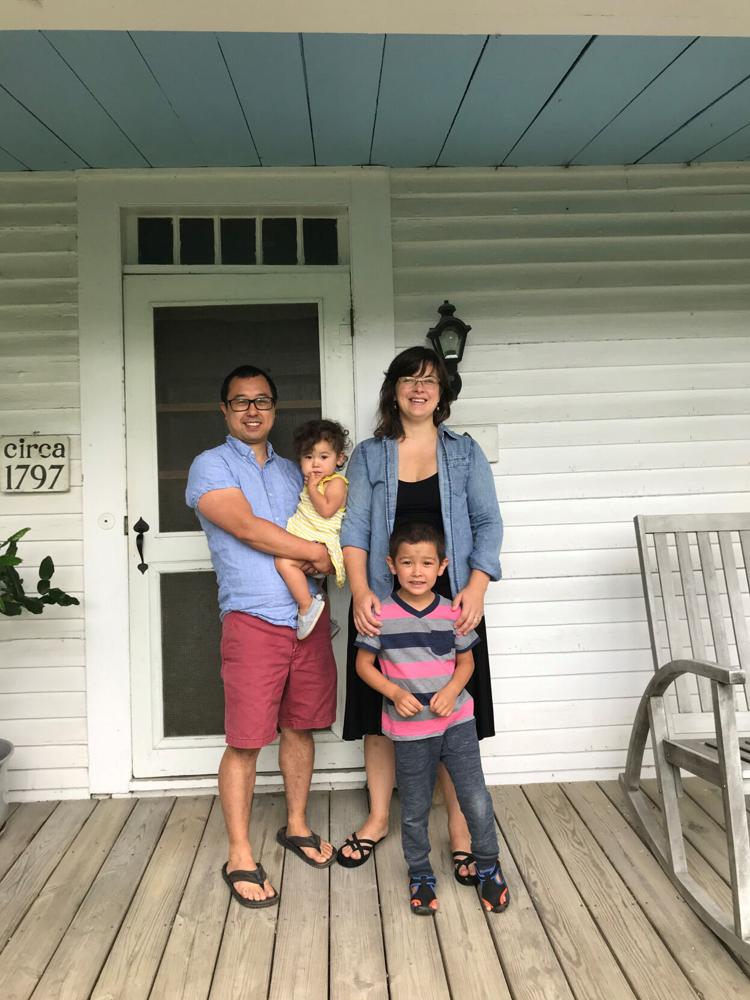 Weighing the scale
Currently, Geoffrey is brewing on what he calls a "nano" scale, for folks who love beer but also crave something that is consistently new and fresh. When considering his business model, he asked himself: Is it possible to make the same beer? Should I make the same beer? Does the market want the same beer or different beer?
He can produce about one barrel of beer at a time, and up to four different types of beer -- five when the taproom is open and he can do an open ferment. So far, Whirligig's signature is beers of the sour variety with a mixed culture fermentation, and he's tapping into the higher-end consumer who is looking for something unique.
"It builds on what I was able to afford in terms of building a business," said Geoffrey.
Unfortunately, with his business plan flipped, Geoffrey says his return on investment is much less than he had planned. According to his market research, the typical consumer wants to pay between $15-18 for a 16-oz four-pack.
"If you sell in glasses," he said, "people will pay $6.50 to $8 for an eight to 10 oz pour and that return is a lot greater, and it makes the size of the brewery make sense." If he were to scale up the brewery, it would make sense to focus more on distribution, and for now, "distribution" consists of four packs available for purchase and in-house growler fills.
The Whirligig Brewing space was not designed to have room for lots of stock with just a small walk-in cooler. As a result, Geoffrey can source fresher, local ingredients. His malt currently comes from Peterson Quality Malt in Ferrisburg.
"I need to be nimble enough to brew on a small system and my brand needs to speak to that but in a positive way," he said. Just in the same way that people know a beer from Hill Farmstead, he wants his consumers to be able to recognize patterns in his beers, but for the batches to remain fresh and exciting.
During the soft opening, Geoffrey decided to give each customer a free tasting glass with their first Whirligig beer.
"The glass was an important part of the overall brand concept," he said. "We would promote that you should experience it in the best way possible, which is not necessarily out of the can. Of course, drinking out of the can is totally cool, but just not our intention."
A couple of co-owners
As both a couple and co-owners of Whirligig, the Sewakes bring their complementing skills to the operation of life and work. Both Gillian and Geoffrey said that they play devil's advocate in considering how to best move forward with decisions.
Gillian has a keen eye for design, as well as experience in administrative and communications roles while working for post-modern dance companies in New York City. Geoffrey said he tries to work through her when she has the time, acknowledging that he is sometimes "so deep in it" that Gillian can see things from the perspective of a customer and offer constructive feedback for things like brand messaging or taproom design.
"I think we understand each others' management tactics, and so it's not too upsetting when you hear something you don't want to," Geoffrey said. "All of the design choices Gillian has told me, [and] while I might have been disgruntled or something, it was ultimately the best choice, so I'm thankful for that."
Geoffrey, on the other hand, found that his Vermont Law School degree came in handy while navigating permits and other legal nuances of opening a brewery.
Gillian grew up in Waterford in a very "Vermonty" family," she said, "where pasta dishes were kind of considered exotic, so we ate lots of meat and potatoes style stuff." She started to branch out and explore more diverse food when she went to college outside of New York City and met Geoffrey through mutual friends.
"I had a pretty casual relationship with food until we started dating, and Geoff was really into it and I got into it," said Gillian. The couple agreed that while living in New York City, it was commonplace to go and spend money on food and experience the culture of the food and overall food scene there. As the two were falling in love, they were also discovering their palates together.
After 10 years, it was a wedding present for a wine tasting at Astor Wines in Astor Place in New York City that opened their eyes and helped them learn the language to communicate about different flavors.
"Having that language really helps you to be a more conscious and intentional consumer," said Gillian. It helps to be able to identify what makes something high end versus not, and determine whether or not that even matters, she said.
Geoffrey fully admits that Gillian is responsible for guiding him through his liquid consumption journey. They did wine tastings together and that led to whiskey, sour beers, and ciders. They became excited about wild ferments in cider when a friend came back with a bottle of cider from the Basque country in the northwest part of Spain renowned for dry, terroir-based ciders.
Gillian said her epiphany moment was: "Oh, all cider doesn't have to taste sweet!"
A brewery is born
Geoffrey brought his business plan to Ross Hart at the Small Business Development Center in St. Johnsbury. Hart said, "This is amazing, why don't you do it already?"
Both Geoffrey and Gillian said the network they found in St. Johnsbury after fortuitously meeting community members Ray and Diane Cummings at the (now closed) Bailiwicks in St. Johnsbury helped them to find the confidence to move the brewery idea forward.
The Cummings connected Gillian with their daughter's book club, where she was amazed to meet about 40 women. As a result, she and Geoffrey -- at the time childless, new to the community, and not working in the St. Johnsbury area -- were able to launch into some great connections with other couples in the area.
Through these connections, namely with some of the co-owners of the Kingdom Taproom, Geoffrey began to understand what the beer market looked like, and who he would ultimately partner with to make his dream a reality.
In a public virtual discussion on July 24 called "Rural and Resilient," hosted by Do North Coworking (where Gillian works), Geoffrey said he hoped opening a brewery would contribute to the revival of downtown St. Johnsbury."
In his prior work at the University of New Hampshire Extension as a Community and Economic Development Field Specialist, he said he saw some downtown spaces sit dormant for a while until a new business owner came along to re-vision the space as a community gathering space, creating a sort of evolution to revitalize communities and downtowns.
Geoffrey appreciates the simple fact that people gather around food. It brings them together. He said, "When you go to a diner, pre-COVID, people like to gather, to have food, share that experience of eating and talking and enjoying themselves. You know, it's part of being human."
And that is why he wanted to open a brewery: to tap into that natural human desire to connect over unique flavors in a revitalized community gathering space.
While Geoffrey said the community response to his opening has been supportive, it has been difficult to be a new business owner during COVID-19. "It's murdering businesses all over the place," he said, and he is not eligible for many of the grants and loans that are made available to businesses that have already been open for a year or more.
Already, Geoffrey has hired two employees for additional support as front of house on the weekends. He hopes that this will help him find a good balance between running the business and being a father, and allow him to also get a part time job.
Nevertheless, the couple has big plans for the future of the brewery. Geoffrey is currently working with a chef on some inspired food options.
"We meet and meld on the diversity in food, changing menus, the art of consuming where imperfection can be perfection," said Geoffrey. Just like the brewery, where he may be brewing something today, unsure what tomorrow will inspire, the food will mirror the beer.
And, if you've tried a Whirligig beer, you probably know the food will be just as darn whirlin' good.
Whirligig Brewery has re-opened the taproom at the end of August, featuring an outdoor seating area and bites provided by Kingdom Taproom. They hope to open their own kitchen in the Spring of 2021.