In order to keep up with emerging treatment options and new expectations from pet owners, veterinary medicine is changing at a rapid pace. To see these changes in action, look no further than Railroad Street in St Johnsbury.
Three veterinary practices in St. Johnsbury have been purchased by Dr. David McGrath and will be combined into the new Kingdom Animal Hospital. By Spring of 2021, the new facility should be up and running in the old glove factory at 131 Railroad Street. Dr. McGrath's previous veterinary hospital purchases have mostly been in southern New England, although he is also the owner of Hanover Veterinary Clinic in Hanover, N.H.
Dr. McGrath is a Tufts University Cummings School of Veterinary Medicine graduate and a member of the Tufts University Advisory Board. He was a practicing veterinarian for 15 years. He is also experienced in bringing together small animal veterinary practices to keep up with current advances in veterinary medicine.
The vacant old glove factory has long been a target for re-development. According to Daniel Kimbell of the St. Johnsbury Development Fund, the new animal hospital, located at a "gateway into town," make attract more private money being invested in the Railroad Street area. Kimbell sees it attracting veterinary specialists too, due to the size of the proposed facility.
The old glove factory received little interest until Dr. McGrath was introduced to a local veterinarian.
"I was introduced to Dr. Rob Hoppe at St. Johnsbury Animal Hospital through a friend," McGrath said. "Dr. Hoppe had reached a point where he was looking forward to retiring, and we hit it off. I thought I could grow the practice, attract a new veterinarian and build on the success that Dr. Hoppe had created."
Not long after the introduction, Dr. McGrath learned that Dr. Craig Calamaio at the Western Avenue Veterinary Hospital across town was also looking to retire.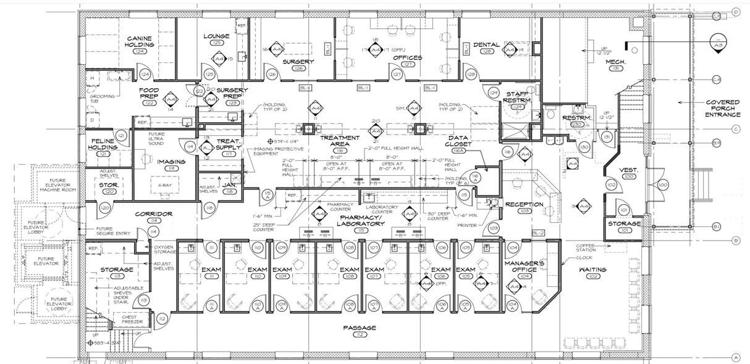 "Both nice guys with healthy practices," said McGrath.
Dr. Calamaio also sold the real estate at Western Avenue to Dr. McGrath.
The entire Western Avenue staff, including Dr. Melora Hunt, Dr. Calamaio's associate veterinarian at Western Avenue has stayed on. Having had a couple of practice appraisals done in the past few years Dr. Calamaio passed that information along to Dr. McGrath.
"He then, as the saying goes, made me an offer that I couldn't refuse," Dr. Calamaio said.
While the idea of three local veterinary practices being purchased and absorbed into one may hint at corporate consolidation, Dr. McGrath doesn't believe this is the case.
"Corporate practices do not seem to have the best reputation with a lot of veterinarians," he said. "They seem to be too focused on the bottom line, standardized drug uses and procedures, etc. I've never thought of myself as running a corporate practice."
"My model has been to find a strong manager to run the practice and one or more veterinarians to provide direction on the medical side," he added. "Sandy McHugh, who helped build the practice with Dr. Calamaio has been a great manager and is helping us pull things together."
Dr. McGrath believes each practice is different and needs to understand the local clientele, rather than forcing some kind of national standard.
"I think the team appreciates that I've worked as a veterinarian and I'm not just a businessman," he added. "The local manager and veterinarians really run their practices. I am able to provide some support in the background, taking care of payroll, billing, web sites, recruiting, etc."
Dr. McGrath and his team are still sorting out what they will be able to offer besides primary care at the new facility. At this time, they plan to refer after-hours cases to existing emergency veterinary care facilities.
"Emergency medicine has changed dramatically since I graduated," he said. "When I started, I was on call every other night. I could come racing in at 2 a.m. to see a pet that was hit by a car, to do a caesarean section. Those cases were typically handled alone in the middle of the night."
As modern veterinary medicine has changed so steadily Dr. McGrath says, that's no longer the standard of care that we expect or that our clients want for their pets. Most pet owners now expect more personalized care that is similar to what current human medical treatments provide.
With women making up an ever-larger percent of veterinary school graduates there has been a continued shift to a more manageable work/life balance in new veterinary practices.
Dr. McGrath believes the new facility should appeal to recent veterinary school graduates who want to be mentored by more experienced veterinarians.
"With all they have to learn, veterinarians graduate from school today still needing a lot of hands-on experience and mentoring," he said. "Fortunately gone are the days where the new veterinarian was thrown into a practice and expected to learn on the job quickly."
The Cummings School of Veterinary Medicine at Tuft's University graduates have been more than 90 percent female for more than a decade, according to McGrath. New graduates come out with a significant student debt that is also less conducive to owning a practice.
With the local economy in hibernation due to a global pandemic, it might not seem like an opportune time for such a large business venture. But, several surprising things are occurring during these COVID-19 times. Local and regional animal shelters are being swamped with applications to adopt pets. This in turn has created a bit of a surge in veterinary hospital visits by new pet owners wanting to be sure they are caring for the new family members properly.
"In some ways the pandemic has made family, and by extension our pet family, all the more important," said Dr. McGrath.
Retired dairy farmer Alice H. Allen writes these articles in memory of her late husband Laurance E. Allen and veterinarians Dr. Raymond R. Allen and Dr. Alden H. Russell.