Aaron Ingham just cannot help but pick up discarded items we all toss for various reasons. Unlike the rest of us, these items speak to him.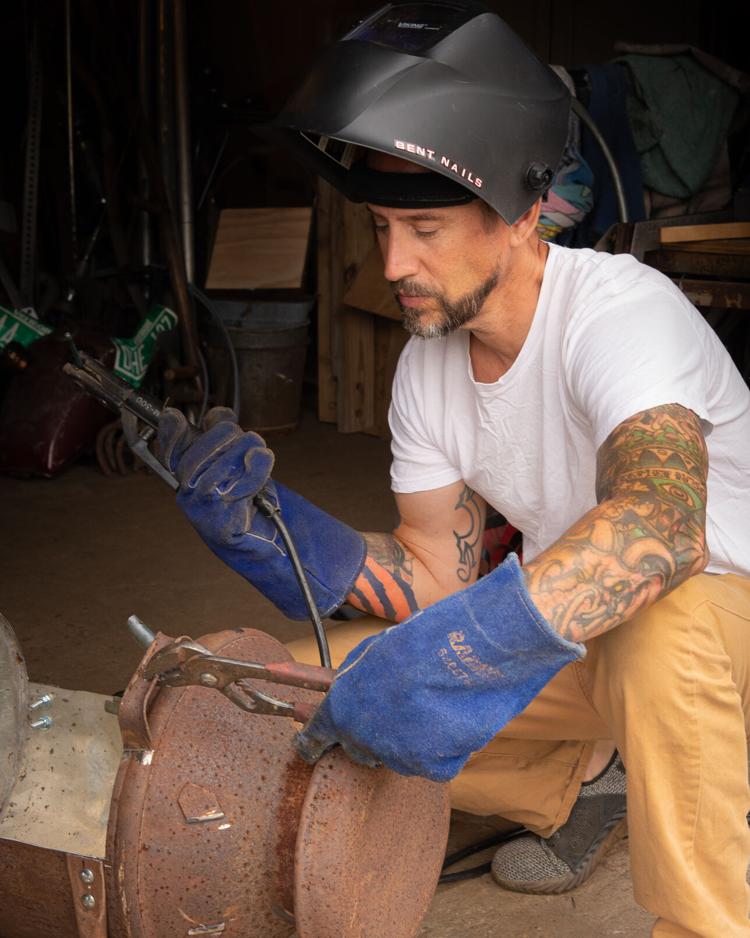 "When I see something that someone threw away, an idea comes to me on how I could use it or it strikes me as just interesting," he explains. "I know everything will be useful but it is not always clear immediately."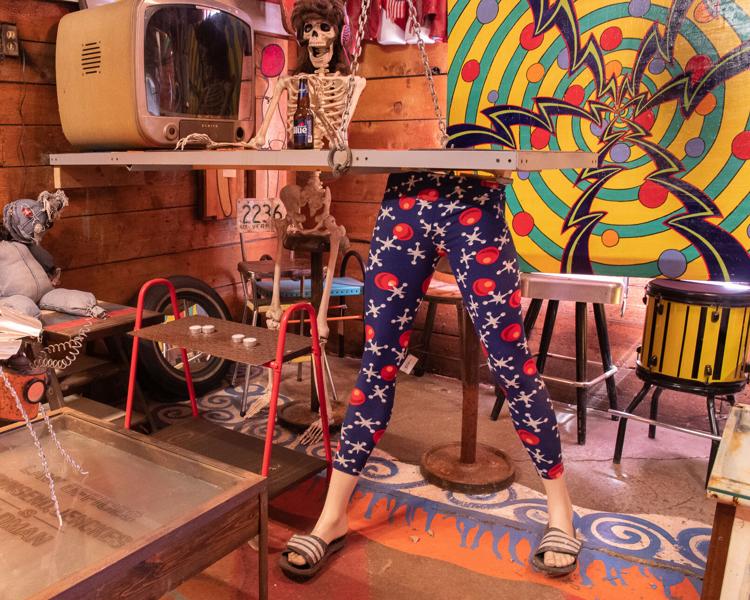 Like the time a relative brought him a pair of manikin legs because they knew Aaron would do something crazy with them. And he did. He saw how they could be the legs for one end of a hanging table in his future bar/coffee shop.
Aaron grew up in Vermont and felt the artistic urge early in life. He started drawing and penciling in school. He turned to music, forming bands and playing around. It lead him out west to Phoenix for eight years. But the music business is rough so he decided to come back home to pursue his art.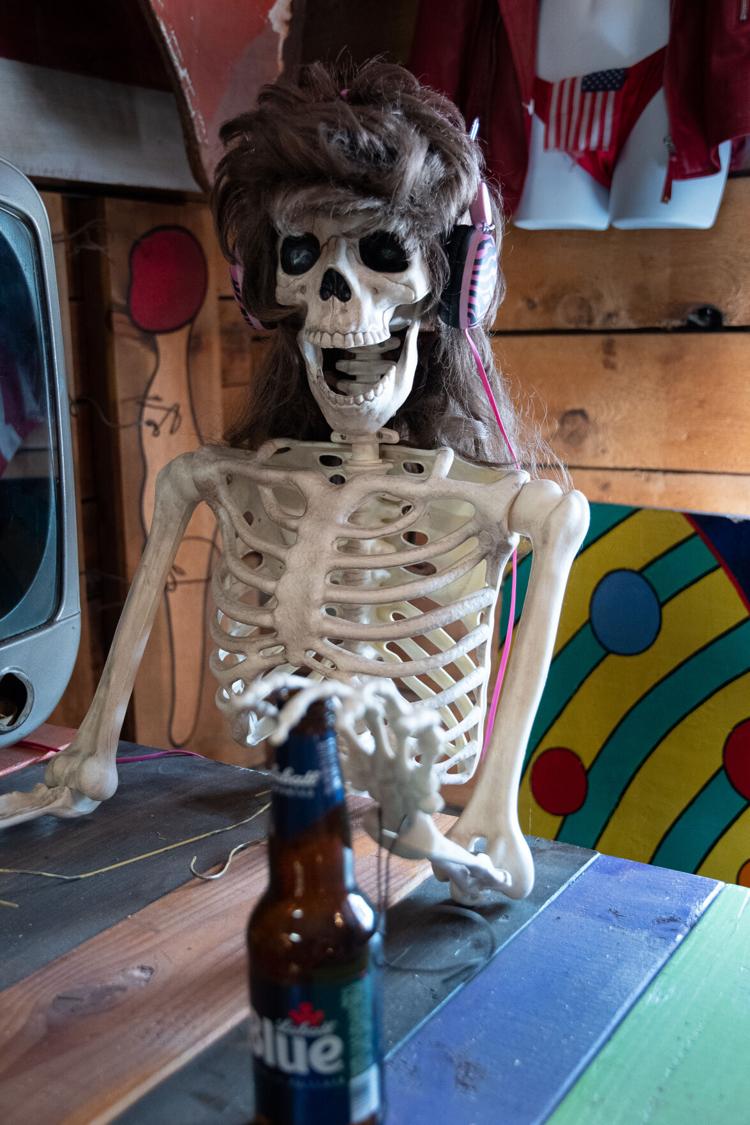 He wanted to have his own shop and place for his art as well as others. When he was thinking of a name, his mother suggested "bent nail" because he was always pulling old nails out of boards with his grandfather and straightening them, an early lesson of not wasting things just because they are used. And so the Bent Nail Studio was born on Route 2 outside of The Village of Marshfield.
Aaron began experimenting with different materials, finding ways to mix them to create a piece of art. He taught himself to weld though he says his welding "is an insult to a real welder."
For a current project, he took some chicken wire, wrapped it around an old discarded farm harrow, covered it with aluminum foil, added a couple of headlights that don't match and a huge, stunning, silver snake head emerges like a rising phoenix. But Aaron has more to do on it because it is still talking to him.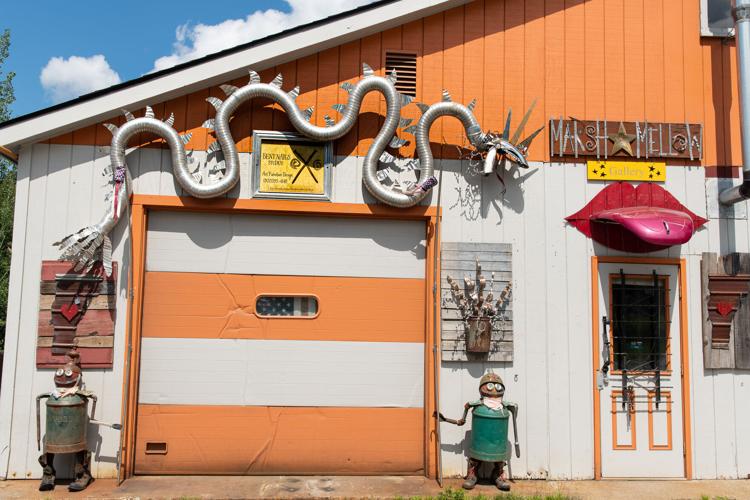 Or the time he took an old bug spray can and turned it into a giant bug, giving the bugs the last laugh.
Inside his workshop attached to the studio, things hang from every part of the rafters and walls. Items big and small cover every flat surface. Tools of every ilk compete with someone else's odds and ends. It looks like chaos but for Aaron, it is all part of this dance of creation as metal, wood and plastic find a home together in a piece of art.
His artistic energy is always present. He talks like many artists, hands moving, eyes roving and a smile broad across his face. Just as a writer will talk about how the characters direct the course of the book, Aaron's materials also have a life of their own. "Sometimes I will start with an idea but it becomes something very different. The materials guide me."
But Aaron is also a practical person, wanting to be surrounded by other people and other artists. So to make ends meet, for now, he does house painting and other work when he can. But his real love and passion is opening the Bent Nail Studio. In addition to displaying his artwork, Bent Nail Studio is set up for a live band to play, a bar and coffee shop with space out back for more seating during the summer. "We just need to finish the permit work and hope things open up."
For now, it is all about creating art. While he is not very good at promoting himself by his admission, he is beginning to sell his art.
"People come in with special requests or buy a piece already made in the Studio," he said. "Some come with an old personal piece and ask me to create something with it. Those are very special to me. Someone brought in their Grandpa's old sled and I turned it into a coffee table for them. It was very nice for both of us."
"For me, working in the shop is very therapeutic. Not to shut out the world 'cause I like people around. When I open up the shop doors, people stop and come in. I love sharing this with them."
So if you are driving down Route 2 just East of The Village of Marshfield you can't miss the Shop on your left. And if the shop door is open, you should stop. Aaron would love to meet you and show you around.