Slanted light flits across treetops and shines briefly on dew-covered asphalt as I park my car in front of Bentley's Bakery. There is a sense of awe that vibrates through the rapidly accumulating and foreboding clouds, an unspoken essence of Nature that often repeats itself in the abstract landscapes of Kari Meyer's art. It is the type of morning that some people may call gloomy, but as Kari cheerfully greets me, I can sense that she is not one of those people.
A St. Johnsbury Academy graduate and Montpelier-based artist, Kari grew up in the Joe's Brook valley of Barnet. From an early age, she found comfort and beauty in the rolling hills and the winding rhythm of an ever-changing landscape. Over coffee and sweet raspberry pastries, she talks about early inspiration and fondly mentions high school art classes with former Academy teacher Larry Golden.
"I always loved that he had so many paintings," she says. "He had his paintings everywhere. When he finished one, he began another. That was impressive. But I knew I wanted to be an artist long before taking his classes."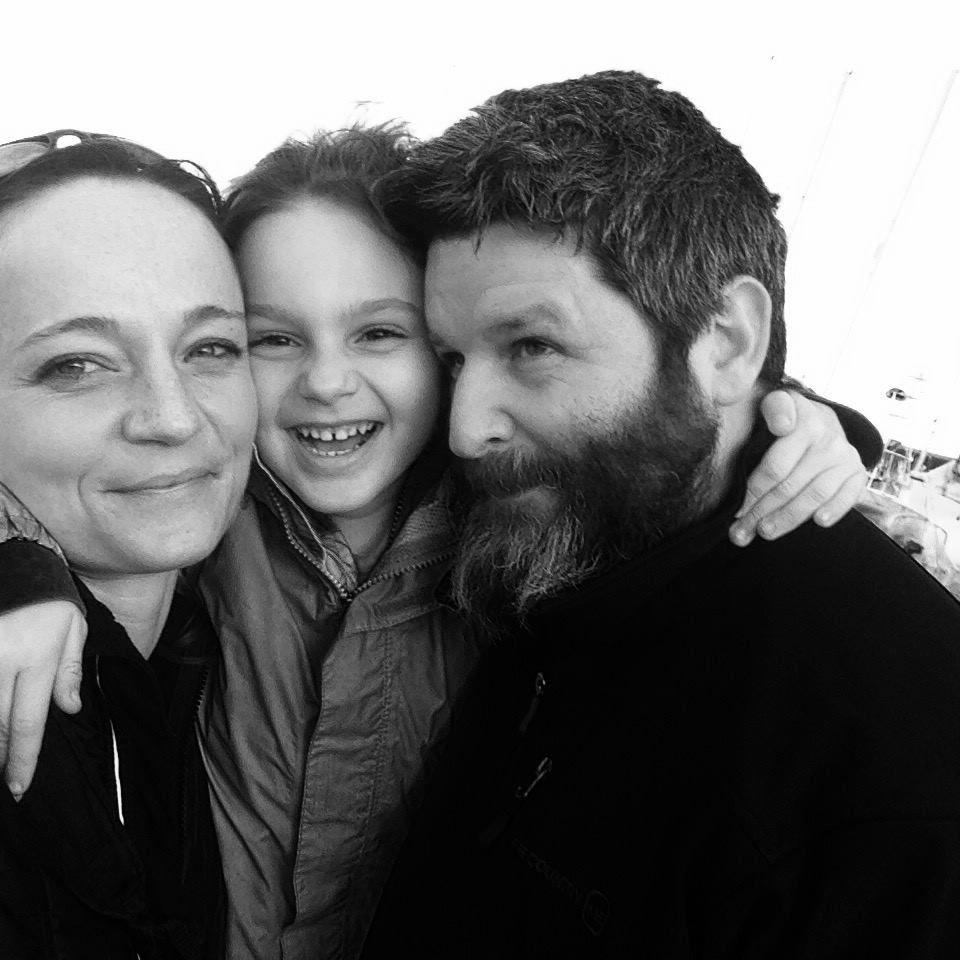 When she speaks of her childhood, there is a faint nostalgia as she describes how riding with her father across Vermont's countryside undoubtedly created a sense of admiration and love for the Northeast Kingdom.
"He used to take me on rides and drive until I had something creative to work on," she remembers. "I think that's why I still have such affinity for landscape."
Then she speaks admirably about the intricate art of her mother's basket-making; and how her brother, currently an artist, had always experimented with art as well.
"There's no doubt the encouragement (to produce art) was always there. I think where you grow up is innately in you. I love the ocean, but I'm drawn to trees and mountains." She admits that she loves abstract art as well, and that her most beloved paintings are abstract and displayed throughout her home, but that landscape is more traditional, even with her abstract interpretation. "I truly have no desire for cutting edge. I like the traditional."
However, traditional landscape wasn't her first focus. Branching into the art world, she started as a sculptor and then began painting abstract art. After earning an Associate of Arts degree in Multimedia and Graphic Design from Champlain College, and a Bachelor's of Arts degree in Studio Art from the University of Vermont, she moved to Montpelier and worked in the restaurant industry.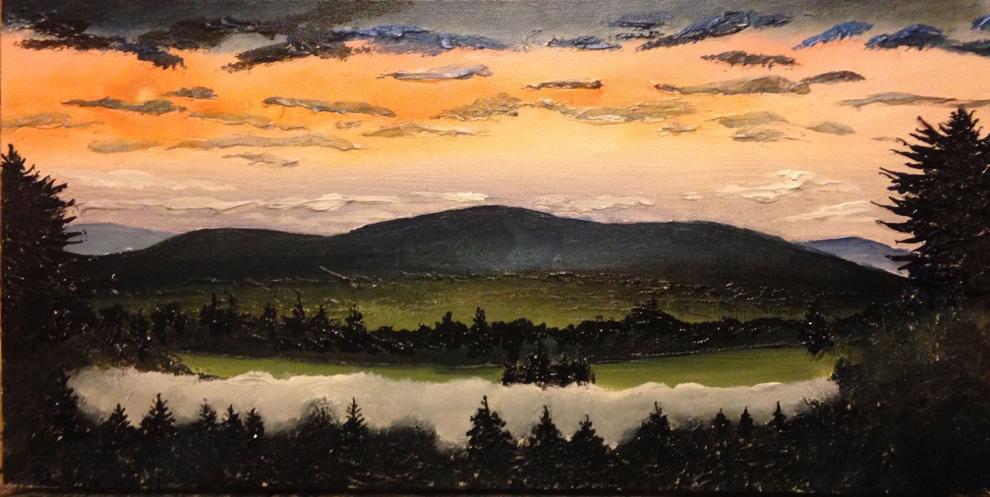 Years later, her Montpelier studio and home are filled with her paintings of Vermont landscapes: snow-capped hills and glistening, icy riverbeds; dawn-breaking across fields of gold; dusky sunlight casting shadows across an old logging road deep in the woodlands; Willoughby Lake reflecting an austere sky; interpretations that rely on ephemerality to create a sense of oneness between the viewer and Nature.
"I have paintings on the walls and in corners, even under the bed; but I went from painting 100 to 120 paintings a year before my daughter, Ana, was born. A child certainly changed my lifestyle and it became much harder to find the time to paint. I painted fewer than 10 paintings that year she was born, but now I'm painting about 75 paintings a year."
She admits that waking between 4:30 a.m. and 5 a.m. and staying organized and structured is important to her productivity. Finding time away from her studio and Montpelier's bustle is also important. "Time in nature – running, hiking, kayaking, yoga, meditation – solitude and contemplation is important to my creative process. The more social and busy I am, the less inspired I become." These escapes also give her a chance to take photographs, which she relies on later, back in her studio. "My brother works a lot from his mind. I can't do that. I rely on photography to capture light." She also only paints in her studio, "usually for three or four hours each night after Ana has gone to bed."
When she settles in to paint, she first sketches out the image, working from photographs. Using palette knives, she adds two to three layers of molding paste (she describes this as heavy body acrylics without pigmentation). "Then, using brushes, I add two to three layers of color, working from the background to the foreground, less detail to more detail, if that makes sense."
It does. She speaks as clearly about her art process as she does her art. It is easy to imagine watching her sketch out her design, while piano music plays softly in the background. Her conversational style and ability to talk one through the various steps of a painting demonstrate her ability to instruct and engage.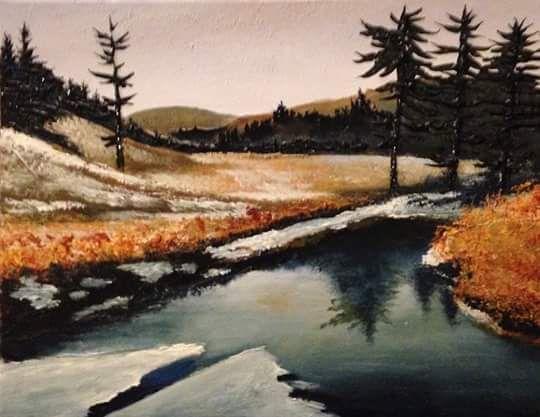 Excitedly, she mentions that she will be instructing the next Sip and Paint at The Kingdom Taproom. She hopes to become more involved in workshops, and possibly in classrooms. "You have to be teaching art and selling art to make it solely as an artist in this region. You can't rely on your art alone." She hopes to eventually get to that place, but currently also relies on her self-employment as a housekeeper to pay the bills.
Eventually, she'd like to move back to Barnet. The city excites her, but the inspiration isn't there.
"As a single woman, Montpelier has the allure of a social scene and exposure, but when I think about family and a partner, I picture myself in the country." Her partner, Jeremy Hemond, a local woodworker and custom carpenter, also has a keen and original eye for natural aesthetic design. Together they enjoy fishing, camping, kayaking, and having time with Ana to slow down and unwind outdoors. "I think this is part of what society is lacking," she admits. "We have lost that basic, primal pull to Nature; and I think everyone feels it. That seems to be why there is such a pull to landscape art." It may also be why Kari expresses the importance of teaching Ana the significance of individuality and expression, hard work, and self-reliance. "It's important to have a strong work ethic if you want to make it as an artist. No one else is going to create for you. Then you have to just relentlessly keep putting your work out there." Thanks to social media, 80 percent of her sales come from Facebook. She has also recently launched an Etsy site. In many ways, it seems the romantic allure of artists and coffee shops may be fading if it is easier to sell work online. But she is quick to admit, "exposure is exposure. Get your work out there."
Kari's desire to succeed as an artist is evident in her many years of traveling across the state to feature her art in festivals (Stowe, Woodstock, Burke Mountain, and St. Johnsbury's Maple Festival), as well as in Montpelier's Hunger Mountain Co-op, Chill, The Skinny Pancake, Capitol Grounds Café, The Green Point Gallery at Shelburne Inn by the Bay; at Burlington's The Daily Planet; and in St. Johnsbury at The Northeast Kingdom Artisans Guild.
This past April, on a whim (one week prior to a group show), she applied and was accepted to show her work at Greenpoint Gallery in Brooklyn, N.Y. "It was Viewer's Choice (everyone there voted their favorite) and the winner received a solo show. I didn't win, but I made a lot of connections and it made me realize how different the market/scene is outside of Vermont."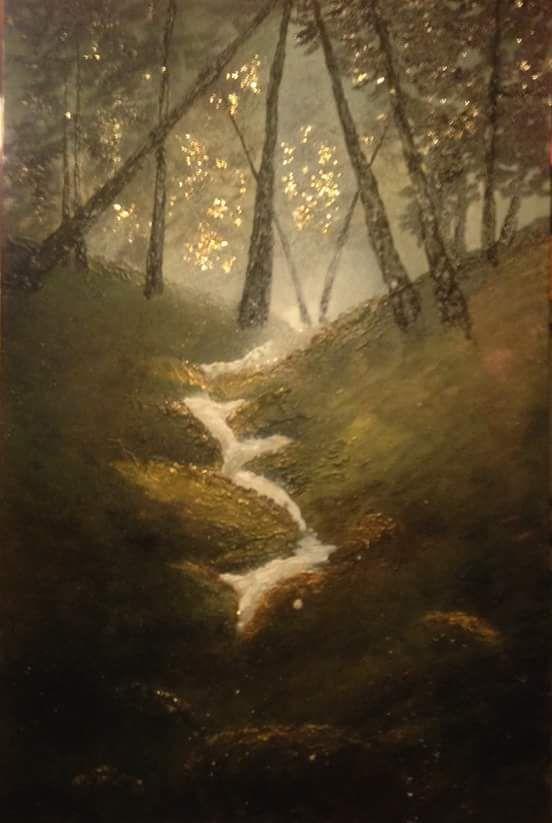 Although she depends on social media for sales, she's looking into doing shows in New York, Boston, and Cape Cod, a haven for landscape artists.
It's interesting that despite her excitement for Montpelier's eccentric vibe and artistic community, she mentions the contrast between social interaction and anonymity. When she speaks of herself as an artist, she laughs, "A lot of people have no idea I'm an artist. A woman I know looked surprised when she discovered I paint. She truly had no idea. It's not like I walk around with a sign on my forehead. I think I rather blend into a crowd. Unless I talk about my work, or people know me well or have been encouraged to visit my websites, there really isn't anything obvious to suggest I'm an artist. When asked if I would rather be rich or famous, I always say rich and it's not even about the money. I have no desire to be famous. I like to focus on my art for what it is, without the focus on me as the artist."
Her humble attitude about herself is in-part what makes Kari intriguing, but perhaps it is also her desire for ambiguity that makes her paintings seem so mystical. Although each painting is loosely interpreted, viewers are emotionally awakened to an imminent crackling of ice, breaking of a branch, or the wailing of wind. The landscape is familiar, yet surreal. The keen focus on light adds to the mystical sensation. Despite darkness in her work, there is an ongoing theme of light within. Her painting, "Morning Rhythms," speaks to winter's bleakness and isolation. There are no footprints from humankind to disturb the crisp snowbanks, and there is no warmth within the palette to suggest the day will break into anything more than overcast sky, yet scattered rays of sunlight still weave through faraway branches, settling and reflecting off a sliver of snow-bare ice. It is this illusion of light that gives a sense of life and beauty and movement to an otherwise barren landscape.
The majority of her paintings are void of anything man-made. "You can take all that stuff out that is civilization," she says, pulling her long dark hair over her shoulder. "I don't like any human element in my paintings. When I paint buildings or people, it is usually by commission. Commissions are important, but they sit on my easel longer than photos I've taken myself. I love the challenge, but I love painting landscape more, because it is what I find aesthetically pleasing – rocks and mountains, plants and trees, water and sunlight, the cycle of life."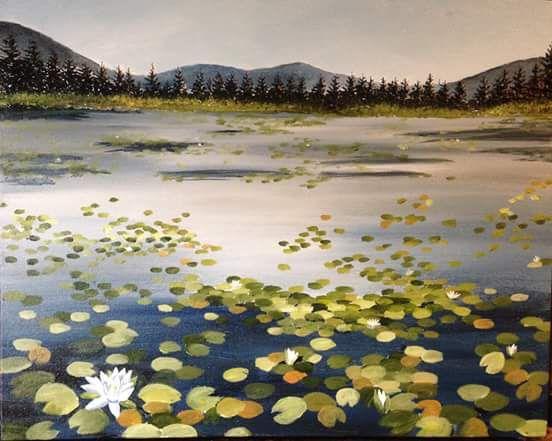 Finished with her coffee, she points toward the window. The overcast morning has grown darker and rain is starting to fall softly. It looks more like an autumn morning than an early June. "Summer is my favorite season, but I like painting summer the least. There's more depth and emotion with color and contrast in a winter landscape. That's also true with storms: darkness and contrast. I appreciate this weather. I'm always drawn to finding the light source. What makes objects stand out? Where is the illumination coming from? There's that feeling that comes with noticing light in darkness, spirituality…I remember saying to my college professor, 'I like beautiful things.' He said to me, 'You'll never make it as an artist,' and he encouraged me in abstract design; but I think that if you have to read an artist's statement for interpretation, the art isn't true visual art. You shouldn't have to read a five-page artist's statement. I don't want to read what the artist is doing. I want to see it and easily interpret it. I want to feel it. I think my audience does, too. Landscape sells because it's beautiful. My paintings speak for themselves."