All over Vermont, communities are tackling the issues of substance abuse and addiction. Prevention grants, including one awarded to the Vermont Department of Health (St. Johnsbury District Office) are bringing together community partners to implement regional approaches to lessen risk factors among youth.
Brandy Cheney is a 26-year-old mother from Springfield. She has attended state and town meetings and has been invited to speak at several high schools. She teaches kids to both watch out for and reach out to each other, especially if they think someone might be going through a hard time. Her approach is to let kids talk without judgement, letting them know they aren't alone, they belong and someone cares.
Brandy's own struggles began at age 10. Now, over 2 years into her recovery, she is choosing to help others to prevent others from going down the same path.
With tremendous courage, she shares her story.
Both Brandy's parents suffered from alcoholism. She was four years old when her mother left and she stayed behind to live with her father.
"As a little girl, I was left to raise myself," she remembers. She often spent summers in Rutland at her grandparents house who she loved very much. "My grandfather was my hero, but he also struggled with substance abuse. When I was nine years old he passed away due to alcoholism. I was devastated and not fully able to understand nor was told what was happening. I wasn't even allowed to attend his funeral."
Experiencing the loss of her mom and her grandfather at such a young age was traumatizing. Looking back now, she that was the trigger of her addiction and mental health disorders. At age 10, she had already started drinking and was sent to a treatment center for six weeks.
"I remember coming away from that entire experience wanting to find other ways to cope with what I was going through," she said. For me, that became self-harm and self-medicating. I feel like I was destined for failure, like this was an inevitable downward cycle that I was born into."
By the time she was a freshman at Springfield High School, she was drinking all the time and had been prescribed an assortment of medications to manage her depression and bi-polar disorder.
"Thinking back, it was playing soccer that saved me for a while," she says. I loved soccer and when soccer season came my grades were up. But when it was over, it was a major downward spiral for me." Her senior year included a trip to the emergency room after taking multiple doses of her medications all at once.
Her father, who had been in and out of jail, decided to face his own sobriety and did, successfully. For Brandy though, that just fueled her rebellion.
Her life took an unexpected, but hopeful, turn at the end of her senior year when she sat for the ASVAB, an aptitude test for joining the military.
"I scored a 97 percent...and ended up being recruited," she said. "I decided to join."
After receiving her diploma in 2009, she moved to an army base in Missouri. It was a way out and a new start, but within a year of active duty, she was injured in a training exercise. During a 13-mile ruck march (a fast paced hike while carrying a heavy pack), her hip started to dislocate. A later MRI revealed herniated discs and a shattered vertebra that had split her sciatic nerve. She received a medical discharge and soon found herself on a flight back to Vermont. This was a devastating moment. To her, it felt like any chance at a better life was now gone, and in that moment, she mentally surrendered.
On her flight home, she remembers having a long layover in Chicago and going outside to have a cigarette.
"While I was outside I saw a group of people hanging out and just kind of knew they would have drugs on them so I went up and started talking to them," she remembered. "I had my prescription bottle of OxyContin on me and so I decided sell it to them for something else. I ended up getting heroin. This really was my first experience with street drugs."
Back home, she fell right back into what she had tried so hard to leave, but this time it got worse. It was all consuming, it became her life.
"At the time, I was so in it," she says. "I was hosting parties all the time, I remember feeling on top of the world, unstoppable. I felt loved. I was busy. People wanted to hang out with me."
She was working two jobs, but every paycheck went towards supporting her addictions.
"I would get whatever I could get," she said. "I remember driving to the mall and coming back with a car full of drugs. It didn't matter what it was. I did everything I could get access to."
The positive feelings didn't last long and things started to turn.
"I started to change," she said. "I became angry and aggressive and violent. I lost friends."
Friends also started to get in trouble. In 2011, one of her best friends was arrested and sentenced to six months in jail. Looking back, she says there were so many times when she tried to cry out for help, even back in high school.
"I didn't know how to ask for help though," she admitted. "I didn't know what was going on with me and so I had no idea how to voice what was wrong. I'm not sure the people around me knew how to help me either."
After her best friend's arrest, Brandy was able to wean herself off of drugs. "We made a pact with each other, over the next six months I was going to get clean," she said. "If she could do six months in jail, I could stay off drugs."
In the same year, Brandy found out she was pregnant.
From 2011 on, Brandy successfully stayed away from drugs, but still struggled with alcohol the same way her parents did. This struggle continued over the next couple of years. A wake up call came in June of 2014 in the form of a DUI (Driving Under the Influence) arrest. Brandy got pulled over on her way to help a close friend who was also battling addiction. A breathalyzer test showed her blood alcohol level at .204.
"I called my dad to come get me, he said no, and so I spent the next six-and-a-half hours in a holding cell trying to sober up. I was freaked out. I realize now this was my dad's way of trying to help."
And ironically, for Brandy there was a lot of relief that came along with that arrest. Relief that someone was finally going to hold her accountable, that she was going to have to take responsibility. This tumultuous period for her was finally going to come to an end.
She credits her full sobriety to Mike Johnson, the executive director at the Turning Point Recovery Center in Springfield, where she now works as a recovery coach and youth advocate. In August of 2014, she approached him about doing an internship as part of a college requirement. He was aware of her DUI conviction and what she was battling. Without judgment, he welcomed her on board.
"It was Brandy's enthusiasm and desire for change that convinced me to offer her an opportunity to work here," Johnson said. "She was struggling and other places had turned her down and I took a chance on her. Now she has worked her way up to being an executive assistant."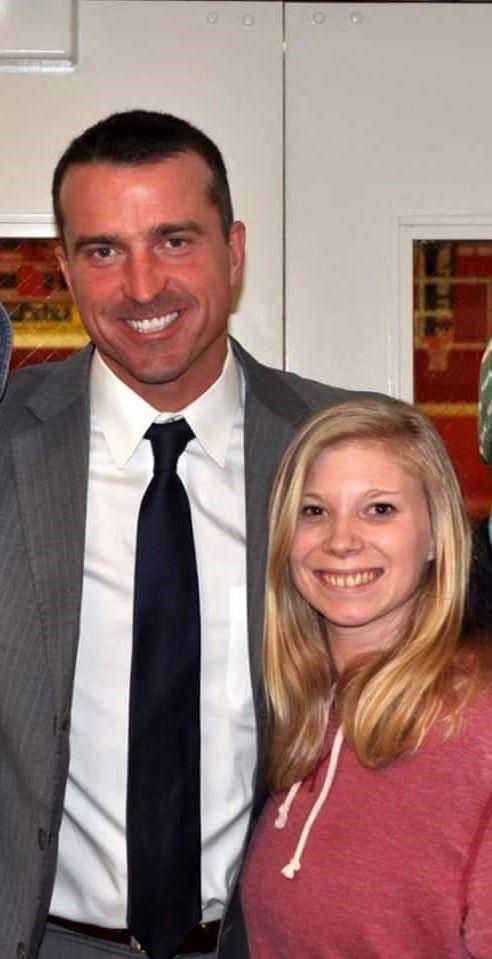 Johnson believes, when given the right opportunities, those struggling with addiction can change.
"They have to be willing to accept those opportunities though," he said. "And not only that, but they have to be willing to do the work. Recovery is something they will need to work on every day."
It was through connections at Turning Point that she was introduced to Alcoholics Anonymous meetings. It took awhile for her to convince herself to go.
"My first meeting, I made it clear I was just there to listen. As it turns out the group had already heard about me. They knew about my dad. They had all been hoping and waiting for me. There was no judgment." Going to that meeting was one of the best decisions she has ever made.
That very same day, Brandy went to Johnson and admitted her addictions out loud for the first time in her life. It was the most important step in her recovery. In order to move on, she was going to have to change everything in her life – completely start over. That meant changing the people she was hanging out with, taking responsibility for her actions and letting the past go.
"I had to realize the things that brought me to a bad place and find alternative ways of dealing with things and living my life," she said.
Brandy, now over two years into her recovery, admits fighting addiction and mental health has been a constant battle. Her recovery is a conscious choice she makes every single day.
"My son is my motivation," she confided. "He is four years old now. I don't remember the first two years of his life due to my alcohol use. I missed so many milestones, his first words, his first steps. I am not going to miss any more."
In April of 2015, through her work with Turning Point, Brandy had the opportunity to participate in the Recovery Coach Academy training that taught her the skills to help other young people who are facing similar issues. In 2015, she received her Associates degree from the Community College of Vermont and is currently enrolled at Johnson State College where she has taken courses in psychology and addiction studies.
"I have experienced a lot of what I am reading about," she says.
Brandy recognizes just when she crossed the line into addiction and how it led her to the point where she couldn't recognize herself anymore.
"I know that at 15, I had no idea what I was getting myself into. I had no idea about the symptoms of addiction or the side effects that I was going to have to go through. If I would have known, I would have said no. I wish I had known. That's why I think educating young kids is so important."
Local Efforts
Engaging youth in prevention efforts is a top priority for community groups working on substance abuse issues. Their voice provides critical insights that are important to successful early intervention and positive outcomes.
Grant funding, through the United States Department of Health and Human Services, Substance Abuse and Mental Health Services Administration (SAMHSA) is funding the Regional Prevention Partnerships (RPP) Initiative that is helping communities around the state organize and raise awareness around these issues.
The Vermont Department of Health (St. Johnsbury District Office) in partnership with Northeastern Vermont Regional Hospital, was granted a five-year funding award through SAMSHA in May of 2016. The grant aims to reduce alcohol and drug use among adolescents, teens, and young adults through the implementation of the Strategic Prevention Framework in Caledonia and Southern Essex Counties and Wells River.
Grant Coordinator Cheryl Chandler was hired to lead a community-based assessment to understand the scope of the issues in the region, determine community needs, review local data and bring together stakeholders from multiple sectors to develop a region wide action plan.
Grant goals include increasing regional prevention infrastructure and capacity, reducing underage and binge drinking for youth and young adults ages 12-20, reducing prescription drug misuse/abuse and reducing marijuana use for 12-25 year olds. Chandler began the community needs assessment by conducting an inventory of resources in the region that already existed and then started to the make connections between them.
"We really have a service rich community [for substance abuse prevention and treatment]. The goal now is to coordinate all of our efforts," Chandler said.
Wells River is an example of a community that has already started to mobilize and take action on its own. A series of break-ins throughout the community, vandalism and the drug overdose deaths of three local youth spurred the organizing of a public forum in November of 2016 sponsored by the Wells River Action Program, Little Rivers Health Care and the Wells River Village Trustees. Over 100 community members showed up to discuss the tragic impact of the opioid epidemic on the community and the conversations and community meetings have continued since.
The Drug Abuse Resistance Team (D.A.R.T. 2.0) is another major partner with the Regional Prevention Partnership Grant. A recent community meeting focused on the results of the 2015 Vermont Youth Risk Behavior Survey (YRBS) which were presented by a group of St. Johnsbury Academy students. The surveys ask behavioral based questions on topics ranging from physical activity, nutrition to drug and alcohol use. It is designed to identify and address those top high risk behaviors among students and promote healthy behaviors. The surveys will be some of the measurement tools used to assess progress being made towards the reduction of alcohol and drug use among adolescents, teens and young adults and the work being funded through the RPP grants.
According to the 2015 Youth Behavior Risk Survey state wide report, nearly a third of students (30 percent) in grades 9-12 reported drinking alcohol in the past 30 days. Of these students, 40 percent report that someone gave them alcohol or they gave someone money to buy it for them. In the same survey, 12 percent reported drinking alcohol before age 13.
The region-wide plan once completed, will detail strategies to be implemented over the next five years. Several other key initiatives aimed at preventing and reducing substance abuse among youth are already underway including the unused prescription drug disposal program that aims to create permanent prescription drug drop box sites and educate the public on proper storage and safe disposal of unused medications.
In the St. Johnsbury area, permanent drop box locations have been set up at the St. Johnsbury Police Department as well as the Caledonia County Sherriff's Department. Drop off is anytime between 8 a.m. to 4:30 p.m. Kinney Drugs in St. Johnsbury also sponsors a "Prescription Drug Take Back Day" twice a year when unused over the counter and prescriptions medications can be brought to the pharmacy for safe disposal at no cost.
ParentUp, found at www.parentupvt.org is another public health campaign underway that provides parents with teens the resources and tools to support their children through life's challenges and to identify those risk factors associated with substance abuse.
To find out more information about the Regional Prevention Partnership Initiative, to join a local meeting or to find out other ways you can get involved, please call Cheryl Chandler at (802) 751-2632 or email c.chandler@nvrh.org.