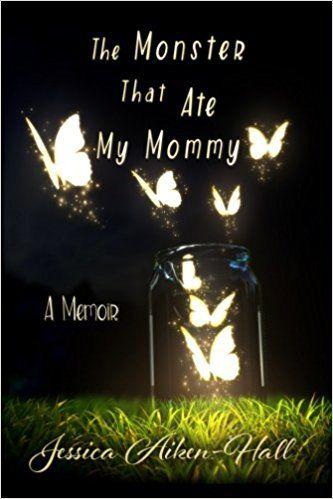 Northeast Kingdom-native Jessica Aiken-Hall holds a Masters in Mental Health Counseling from Springfield College, and recently completed an End of Life Doula certification program through the University of Vermont. A Reiki Master as well, Aiken-Hall uses her training and life experiences to help heal the mind, body, and spirit of others, and to guide those facing death toward peace of mind and a lasting legacy. A searingly honest and moving account of generational abuse, The Monster That Ate My Mommy is Aiken-Hall's first book.
In your memoir, The Monster That Ate My Mommy, you courageously share with the reader the abuse you experienced as a child, and as a young wife and mother. Tell us the significance of the title.
The original title of my memoir was Moonlit Madness, a Journey through Darkness Guided by the Light from Within. My first editor asked me to rethink the title, since it did not really say what the book was about. After a lot of thought and ideas, The Monster That Ate My Mommy kept sticking out to me. This was something my mom said to me when I was younger when she did not want to talk to me. Also, the book talks about when I realize that the monster that ate my mommy was depression, which helps me understand why my mom was the way she was.
You've said that during your troubled marriage, you felt you "deserved" the abuse you received. What helped you realize that was untrue?
A lifelong dream I had was to see Tom Petty in concert. Every time a tour was announced there was a reason I could not go. In 2012, the universe was aligned just right and it allowed my dream to come true. When I sat in the arena all the other thousands of fans disappeared, and I heard Tom speak to me. His very first song, "Listen to Her Heart," told me what I needed to do. It was magical to experience, and it awakened parts of me that may have never lived before. After that night, I knew anything was possible. If I could believe it, I could make it happen.
While attending grad school in 2013, in my sexual behavior class, my professor/mentor told us that we could not truly love someone until we loved ourselves. Those words made me begin to think about what I was missing and what I had been withholding from myself and my children. Up until then I had imagined a life much of the same, one without love or safety, and I had hunkered down to believe I had to get used to it. Those simple words were what I needed to hear to know life could be different. Life is too short to settle. I stopped allowing my ex-husband to treat me as he had. I found self-confidence I didn't know I had and I made small changes to work on loving myself. I wanted my kids to know what love looked like, so they did not continue the cycle. When I began to love [me], something shifted inside myself that gave me strength and courage. The darkness was lifted, and hope began to light the way.
How have you made peace with the past?
I have always felt things happened the way they did for a reason. The saying, "Everything happens for a reason," is what got me through a lot of bad things. There were times when the darkness sometimes took over, but when I was able to shake enough of it away I would try to think about the reasons behind it all. I thought that I was at peace with my past. Until about three years ago. I was repeatedly being put in situations where the past was being shown to me. I worked as a home visiting social worker, and every week I would have at least one referral to someone or to some place from my past. After a few weeks of this it became overwhelming. I felt like something was going to happen, I just was not sure what it was.
I had already started Reiki healing during this time, working on healing wounds from my past, and soon found a counselor that I began to work with. The Reiki helped uncover some of the memories that had been buried. My initial goal was to heal the abuse caused by my ex-husband, but my Reiki healer told me that was not the root of my pain. She said my issues were tangled deep, and she told me the most hurt had come from the abuse from my mother. I did not believe her at first. After months of Reiki and counseling I saw what she was telling me. I desperately wanted love from my mother, and that desire set me up for the path I had traveled on. Knowing what I needed to work on was what really helped me.
In counseling I was able to talk through the pain from my past, and I allowed myself to feel all of the things I had worked so hard to hide from. My head came out of the sand, and I worked through many things that I had pushed away before. A lot of focus went to my child self, and I was able to see things differently at that point. Knowledge truly is power.
These two things, plus having a supportive and loving partner is what helped me start to let go of the pain from my past that I had buried. The real letting go came after the first draft of my memoir was complete. I wrote everything without filtering, poured out all of my truths on the paper and did not edit it. If it happened, I wrote it. Before I sent it to the editor I had to read what I had written. I was horrified to read what I had went through. When it was in print, there was no more hiding. All of the secrets I had held onto my entire life were exposed. Once I knew my story was out, I was able to distance myself from it a little. Through this work, I was able to understand the "whys" of what had happened, and with understanding came true healing.
One of the biggest things that helped me through my darkest times was being able to help others. The family I was born into set me up to be a helper and taught me compassion. In order to survive I had to find the good in people, I had to try to understand why people behaved the way they did. I had to have an open heart and not let hate or anger win. I was able to look past what others might see on the surface and see people as more than their problems or diagnosis. Through my work as a social worker I worked with many people in a variety of different situations. When I was able to help, even if just by listening, I knew I had a purpose. Having that purpose kept me going. Kindness is contagious.
What can be done to break the cycle of abuse some families seem to face?
This is a hard question, because people have to be ready to change, and sometimes when people need change the most they are blind to it. Others might be able to see what is needed to be done, but real change will not happen until the people who need to make the changes see it. I think education around child abuse and domestic violence is essential. Teachers, doctors, police, anyone who comes in contact with people, need to know what to look for and what to ask. Breaking the stigma that comes from abuse will also help. People being abused and abusers all need help. Education and compassion are key.
The more people that are able to share their stories, the easier it will be to see there is a problem. With the #metoo movement, it is clear to see there is power in numbers. Knowing you are not alone helps take some of the shame away. If people in similar situations keep hearing about others who were able to leave, they may see they are able to as well. One survivor at a time will pave the way to safe homes.
What advice do you have for others?
I would tell others to always look for the light in the darkness, and remember tomorrow is a different day. When you feel like giving up, keep going. You will never know what you might miss if you stop looking.
I would also tell others to reach out for help. If you are struggling, reach out to a counselor, or Reiki practitioner, a friend, a doctor, anyone that you trust.
For people who find themselves in an abusive partnership, I would tell them to take it day by day. Keep a journal of what is happening in a safe place where it cannot be found, even at someone else's house. Tell someone, if you can, what is happening, but always keep your safety, and that of your children in mind. No one knows what is best in your situation, trust yourself to know when you need to make a move. When I was with my ex-husband I kept photos of some of the bruises so I would have them when I needed them.
The turning point for me, to know I was strong enough to leave was after I started graduate school and had a group of people behind me, who believed in me. It was learning I deserved happiness that lit the spark inside myself and helped me see what was really happening. I always told myself, "it's not that bad," but when others gave input into my situation, I saw the truth.
It was this strength that gave me the courage to call the police for the first time. He was arrested, and that gave me the freedom to get the divorce process started. The manipulation did not end, and that was something that continued until the final no contact order went into effect in 2015. The fear of what was to come was almost stronger than the feeling of safety, but knowing that my children would be able to see me happy, for the first time in their lives, was enough to keep me going forward. I wanted to break the cycle. I was raising my children in the same toxic household I had grown up in, mostly because I hadn't seen there was any other way. When I was able to understand there was another way I knew the generations of abuse did not have to continue, I knew I was doing the right thing. The struggle to get to the finish line was worth the fear and challenges that were ahead of me. Others should know that it does get better. When you feel like giving up, know it takes hard work, but the freedom is worth the struggle.