Just to get a historical perspective on what it is like to have lived nearly 100 years in America, here are a few interesting events that occurred nationally the year little Alice Elizabeth Johnson was born: Woodrow Wilson was president; Teddy Roosevelt died in his sleep; prohibition became a law; the Grand Canyon was named a National Park; the U.S. Congress approved the 19th Amendment to guarantee women the right to vote; WWI officially ended; and Curly Lambeau founded the Green Bay Packers.
Baby Alice was born at home on a lovely farm that borders Danville and St. Johnsbury on the old Route 2, now known as Route 2B. She joined an older brother, Gilbert. Two years later, sister Lucia would be welcomed at home and lastly, little Paul. The former Johnson farmland is now part of Danville's Library Road.
Her father, Frederick Gilbert Johnson, and mother, Lucia (Day) Johnson, originally came from the town of Lunenberg. Both grew up on farms. Fred worked at Merchant's bank in St. Johnsbury, but because he contracted tuberculosis, he was warned by doctors to change professions. Now, we might find that suggestion medically puzzling, but then it must have made sense, and that is why the family bought and moved to the farm.
But when Alice was just two years old, her father gave up his new vocation, sold the farm and moved the family to Cliff Street in St. Johnsbury to sell coal at E.T. and H.K. Ide. He would spend the next 50 years working there, eventually becoming vice president of the company. He retired when Tim Ide came of age and took over.
During the winter on Cliff Street, she, her siblings and friends would slide from Mt. Pleasant Cemetery all the way to the Fairbanks Mill, where the motel now sits, a total of about two miles.
All of the Johnson children graduated from St. Johnsbury schools. Gilbert became the manual arts teacher at the St. Johnsbury technical school. He was refused for the Army in WWII because his feet were too big — size 17 — even though he was only 6 feet 3 inches tall. Her younger brother, Paul, served in the War on a submarine. He was reported missing at one point, but the sub came limping in after being damaged in a battle at sea. Sister Lucia married William Pearl; they owned a beautiful farm in Danville on Jamieson Road. Brother Paul remained in the Navy until retirement, and then traveled the world to help set up machinery for large American companies overseas.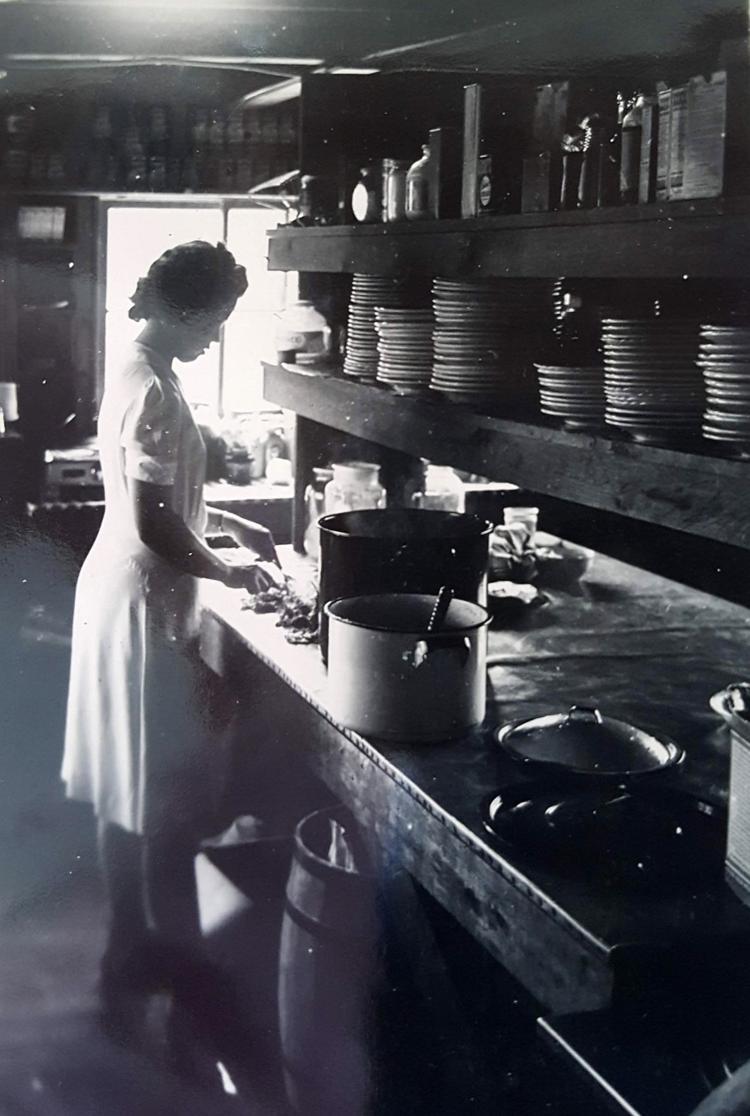 After graduation from St. Johnsbury Academy, Alice attended a year-long prep program business course at the Academy. She attended a college in Farmington, Maine that later become part of the University of Maine. She took a course in home economics. During two summers in Maine, she cooked for U.S. Senator Brewster and his wife.
"That is when I learned how the other half lived!" she exclaimed.
A college friend connected her to that job. That young friend cleaned and served, and Alice cooked. She remembers one July 4th event where they were to help entertain Air Force members stationed at Skowhegan. She cooked an entire salmon, head to tail, to be served on a large, silver platter.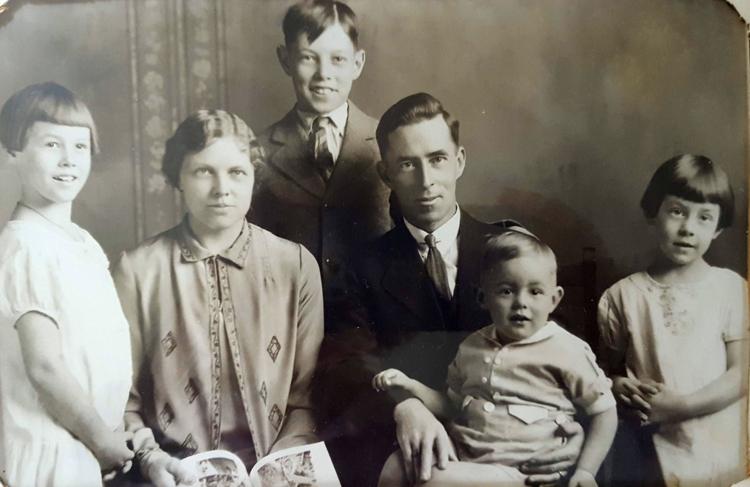 "My poor friend had to carry this heavy dish to the table without help," she remembered. "She could hardly carry it, and the Mrs. would allow no one to help her. After the fish was eaten on one side, it was brought back to the kitchen, and I had to flip the fish to the other side, and out it went again."
This job helped her work her way through college. She graduated in 1942, receiving her degree at 23. The year after, she began teaching high school in Unity, a job that she kept for three years. During those summer breaks, she worked as a cook at the cannery, serving five meals a day to 50 workers.
"We made 21 pies a day, and we always ran out of pie," she said.
In 1945 she moved back to Vermont where she went to work utilizing her degree in home economics and food management skills. A total of 13 years were spent in schools including St. Johnsbury, Danville, Concord and Peacham. At that time home economics was a required manual training course in all junior high schools. She taught hands-on material: upholstery, refinishing furniture, outdoor cooking, using chapters in a book written for boys that explained, "how to choose a wife."
She did have a one year teaching stint out of her water, so to speak, when she accepted a job in Danville teaching 7th and 8th grade, replacing a young woman who was pregnant.
"Pregnant women were not allowed to teach then," Alice explained, "and it took Mr. Roberts, the superintendent, to go to the state board and get permission for me to teach in her stead, even though I wasn't certified to do so. I have never worked so hard for my money as that job."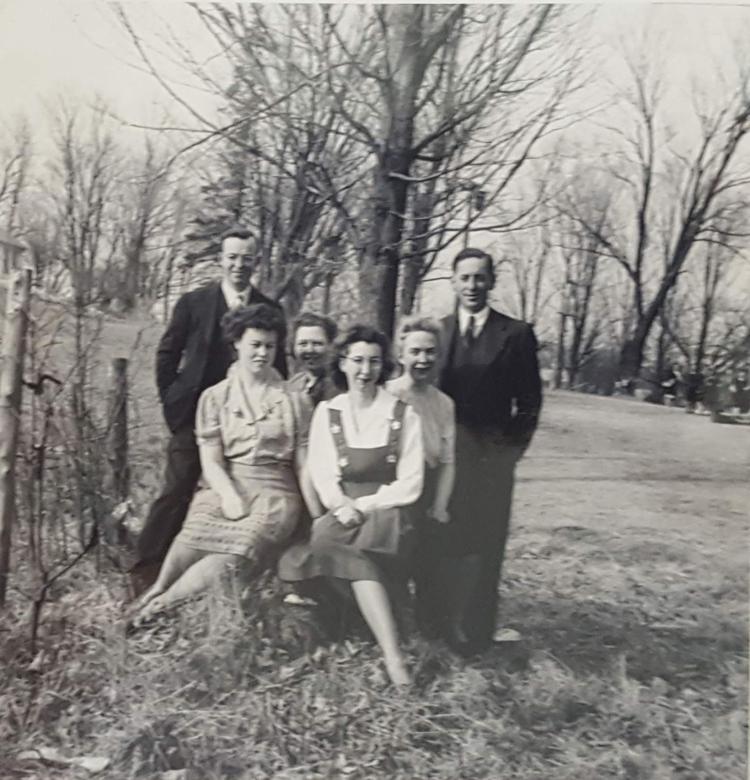 That junior high class was out of control, she remembered. One of the many rascals was none other than her present good (and upright) neighbor, Tim Ide. Regardless, the class didn't get the better of Alice, and she smiled while recounting some of the special moments between teacher and students during that "long" year.
Alice met her future husband, Kenneth Blair, for the first time while working in Danville. Esther Holbrook, Ken's niece, happened to be in her home economics class at the time. When the principal dropped in to say that Kenneth would be coming by to fix the refrigerator, little Esther exclaimed, "That old man! Don't get him to talking; he'll talk your ear off." Kenneth was 11 years older than Alice.
"He didn't impress me at all during that first meeting," she said, but they were married in 1947, when she was 28 years old and Ken was 39.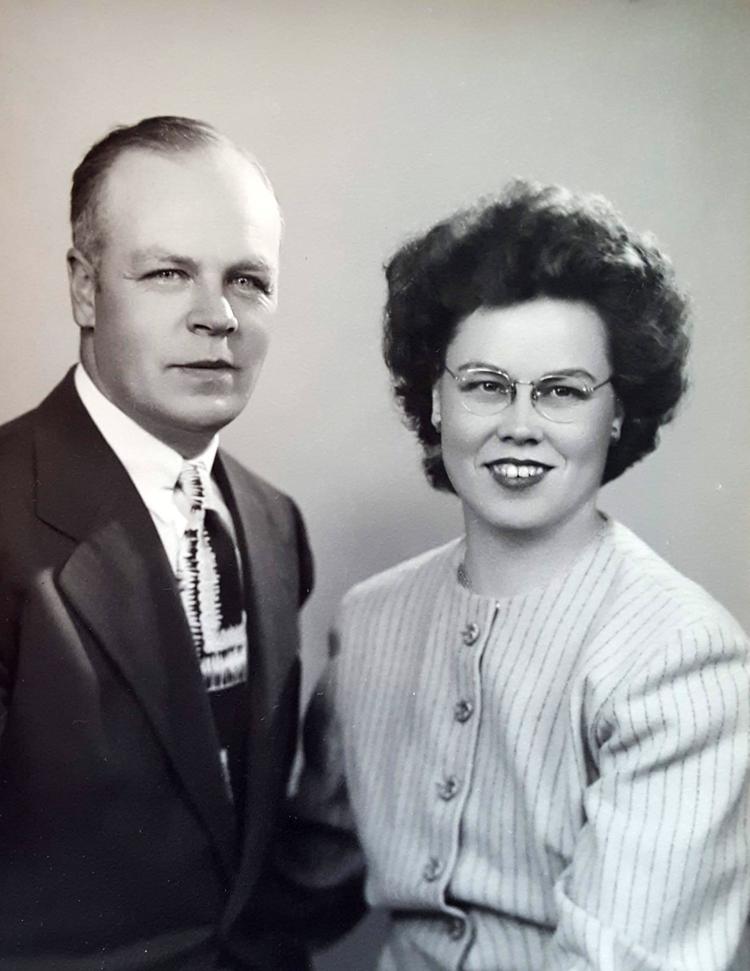 A few years into their marriage, Ken started to feel poorly and Alice went with him to see Dr. Coburn in St. Johnsbury. They thought it might be pneumonia. After the exam, the doctor called Alice into his office to tell her that Kenneth had cancer and not long to live. Alice didn't know how to tell Ken, so she turned to Danville's Dr. Paulsen for advice.
"Dr. Paulsen told me the story of his own mother, who had cancer," said Alice. "He said when he discovered his mother's disease, he told her and she just gave up, went to bed and died."
Dr. Paulson recommended that Alice withhold the news and perhaps Kenneth would live a year or two without many symptoms, and then she could tell him.
She took his advice and Kenneth lived another 35 years.
They enjoyed a social life in Danville that included local couples that dubbed themselves the "Dirty Dozen." It was a potluck group that met for dinners and conversation that included Phil and Joanna Manning, George and Betty Morse, Otis and Irene Brickett, Howard and Miriam McNaughton, and Dick and Margaret Ide.
Alice and Ken lived in an apartment in Danville for five years before they purchased a home on the corner of Brainerd Street and what is now Mountain View Drive. Alice especially enjoyed her large gardens there behind the house.
Many local women have stories of Alice, because she became the County Extension Agent and Home Dem leader for Caledonia County for 24 years teaching them everything from how to stuff a turkey to how to tailor-make a man's suit.
Her job took her to every state in the country, except Hawaii. Kenneth, on the other hand, preferred to stay home. That didn't mean he didn't care, though.
"He was a big reader, you know," said Alice. "He knew more about the places I traveled to than I did."
In 1985, Kenneth was once again feeling down.
"I took him back to Dr. Coburn. When the doctor came out to see me, he was wide-eyed," said Alice.
"Why didn't you tell me he was still alive?" he asked.
This time he was diagnosed with a heart condition.
"It felt like he just faded away," said Alice. Ken died that year; Alice was 66 years old.
One morning, Alice noticed a "For Sale" sign buried in the snow of the former home of Mrs. Farnham, who had lived to be 100 years old. She purchased the home in 1992. The house was just a small distance from her former home on Brainerd Street, and she found her new neighbors a close-knit, friendly and supportive group.
When she moved there, her new neighbor on Mountain View, Selden Houghton, was skeptical that she could get her Cadillac into the small garage. She proved him wrong.
"I backed that car in with just inches to spare," she said with a twinkle.
Finally, at 96, Alice decided it was time to give up driving. That was a difficult decision for her.
Now, with the medical support of her local extended family members, a limited number of hours of hired help to do laundry and household chores, and amazing neighbors Doug Lamothe and Jenness Ide, she is still able to live in her own home. Her appreciation is unmistakable.
"I love the people in Vermont," she said. "I've never wanted to live anywhere else. Mother Nature seems kinder here, too. Even in our most severe weather, it doesn't seem scary."
On aging, Alice is, as one would expect, a realist.
"I have pain and I fall," she said. Thus, when Doug LaMothe encouraged her to get a Lifeline, there was no quarrel. And, she's used it. "I'm not afraid of dying, but I'm not pushing it, either."
If you are wondering if that iconic Caledonia County Extension agent is still alive and well, offer her a summer strawberry shortcake at the North Danville July 4th Church dinner.
"Would you like half a serving or a whole?" this writer questioned.
"Ask if they use real cream," she responded.
When they answered in the affirmative, she smiled and said, "I'll take the whole."