Bernard Labounty is one of the Northeast Kingdom's many small producers of maple syrup. After decades of sugaring, he considered taking this season off for health reasons but his doctors and family convinced him his lifelong passion would contribute to his recovery.
Bernard was born in Concord, at what some old timers refer to as Dr. Dixon's "baby farm" and he grew up in Lancaster, N.H. Since childhood, he has always loved farm animals and agriculture. He married Laurie Colby 56 years ago. Her father, Ellis Colby, was one of the 14 children of Luke and Nellie Colby who are well known in Lunenburg through the book, "The Fourteen Of Us," by Ruby Colby Beecher. Ellis had a 110-acre farm on Bobbin Mill Road in Lunenburg and operated a saw mill with his brother, Howard. From the outset of his marriage to Laurie, Bernard worked with his father-in-law on the farm and became involved in the family sugaring operation. Bernard and Laurie have lived in their home, across from Laurie's parent's farm, for 53 years. Although Bernard pursued a career as an electrician, he always kept animals, planted a large garden and sugared in the spring.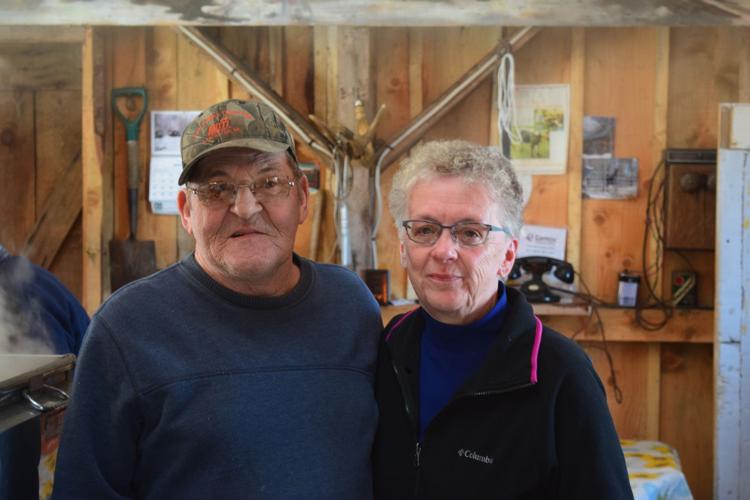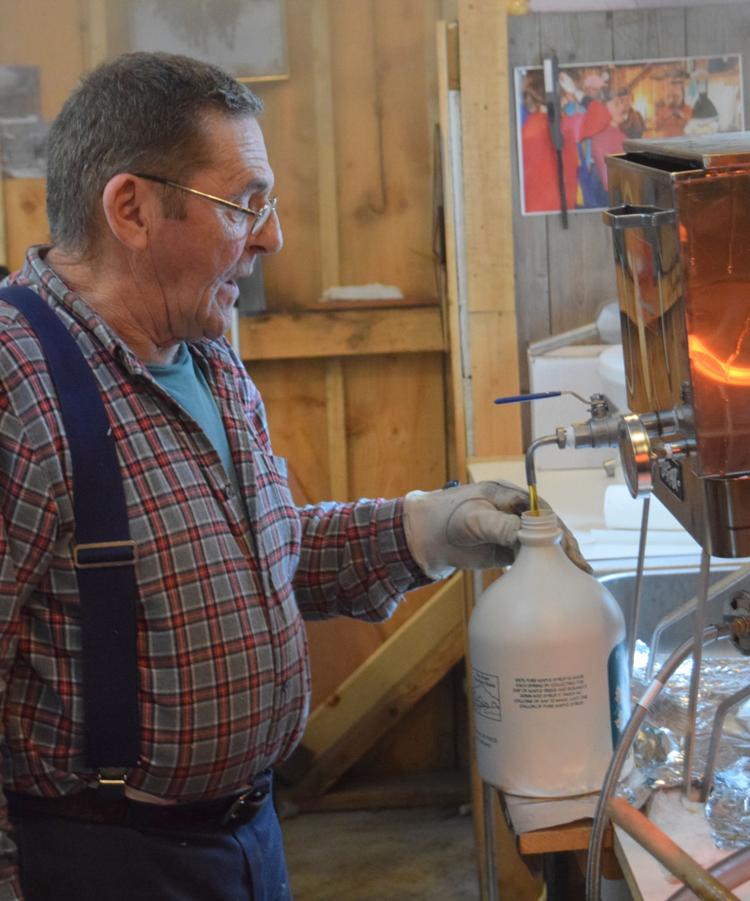 He sugared with his father-in-law for 40 years. Bernard and Laurie have been running their own sugaring operation since 2000.
Bernard is a determined individual and although he recently battled the flu and pneumonia, the support of his family helped him partake in his life-time passion. His sons, Chad, who lives in Lancaster, N.H., and Tim, who lives in Sanford, Maine, and his son-in-law Mark Brodeur from Twin Mountain, N.H., assisted with the tapping process. The decision was made to limit the taps to 400 this season, which will produce around 100 gallons of syrup. His wife, Laurie, and daughter, Vicky, who lives in Twin Mountain, N.H., assist with canning, keeping the sugar house clean and preparing meals for friends and family who lend a hand.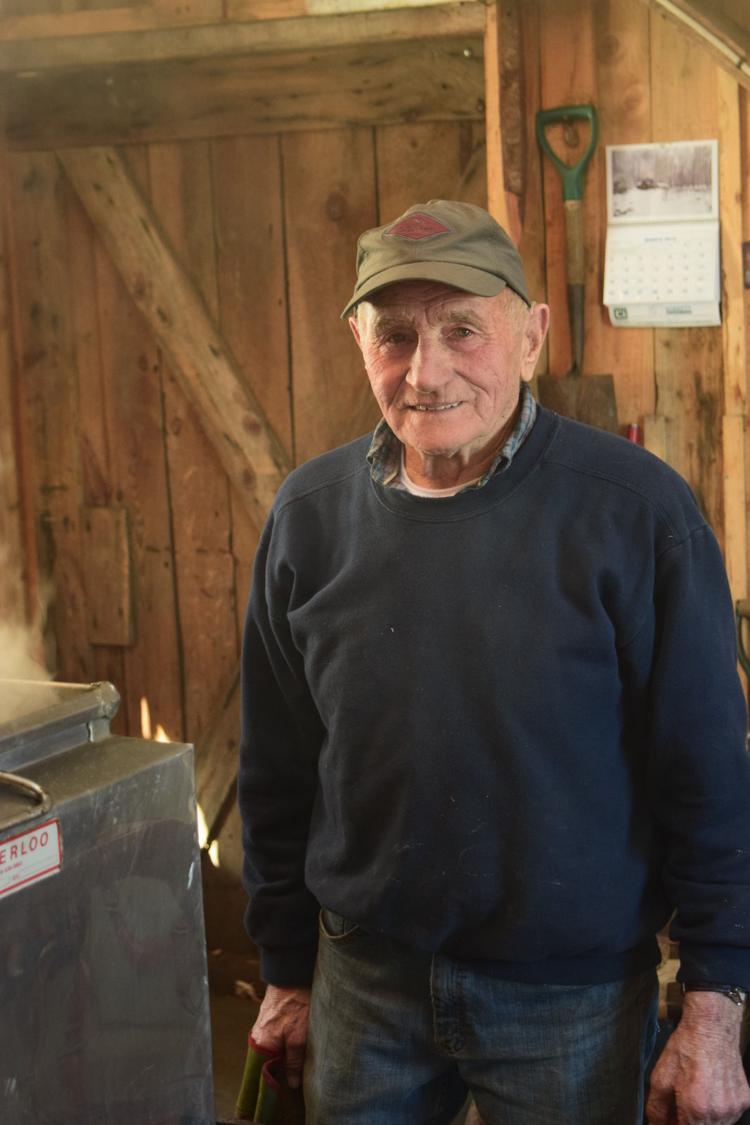 One of those friends is Phil Sorrell of Concord, who helps Bernard with the boiling process.
"Phil serves as fireman," according to Bernard, "stoking the arch which is nearly a fulltime job since the fire must be kept burning at maximum capacity to keep the evaporator up to the temperature needed to make syrup."
Bernard dismantled his father-in-law's sugar house, originally built in the 1940s, and reconstructed it piece by piece. It is a museum-quality reconstruction of the original building, except the dirt floor has been replaced with a concrete slab and electricity and running water have been added. Behind his home, Bernard has a 10-acre sugar bush, with 800 taps, which were originally part of his father-in-law's farm.
"With the exception of using tubing and vacuum pumps to conduct sap gathering, we follow a traditional approach to maple syrup production," said Bernard.
He uses a 3x10-foot, wood-fired Waterloo evaporator which is capable of boiling 86 gallons of sap an hour. It produces a gallon and a half of syrup per hour. As the sugar content in the sap is concentrated it moves down into the "finishing pans" where it is boiled over the hottest area of the arch. Once it reaches the point of syrup at a temperature of about 219 degrees, which varies depending on the barometric pressure, it is automatically drawn off.
"Utilizing a traditional approach for boiling down the sap produces syrup of superior quality," Bernard said.
Once the syrup has been drawn off from the evaporator it is poured into the filter press to be prepared for canning. Bernard harvests about 10 cords of wood a year to fuel the evaporator. In a good year, he produces around 200 gallons of syrup. By contemporary standards, this makes him a very small producer.
Bernard and Laurie's three children and their seven grandchildren all gathered for maple sugar open house weekend (March 24-25). It's a tradition and they enjoy seeing many of their friends and extended family who visit the sugar house during boiling season. Bernard and Laurie are both gracious hosts who clearly enjoy the opportunity to reconnect with family and friends and introduce newcomers to the sugar making process. They market most of their syrup to longtime, returning patrons. Bernard has a reputation in Lunenburg of producing excellent, high quality maple syrup.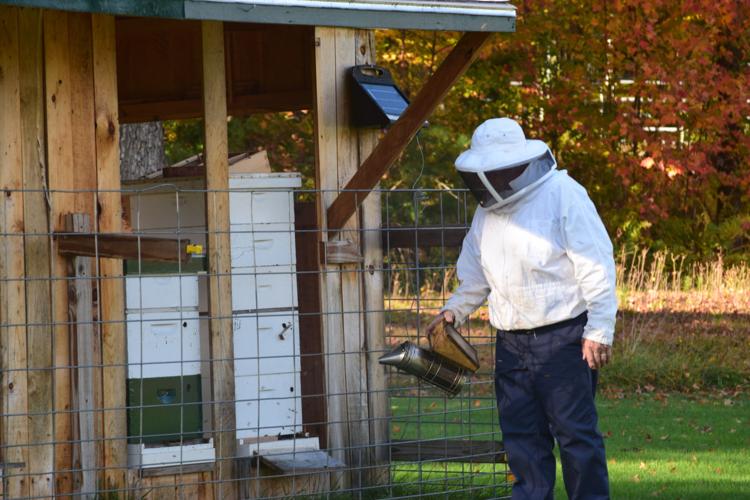 In addition to his sugaring operation, Bernard also maintains an apiary. He became a beekeeper 20 years ago. He is largely self-taught, with a little mentoring by Bohlke Swett, — a migrant beekeeper who worked out west on large produce farms and ultimately settled in Lunenburg. Bernard has built an elaborate, open air, shed to protect his hives. Bears have been a problem in the past. To protect the hives from being ravaged by hungry bears, Bernard has employed his skills as an electrician to surround his apiary with a heavy duty electric fence. In addition to fending off the bears, beekeeping involves challenges from the weather, pesticides, herbicides as well as parasites, microscopic fungus, viruses and bacterial diseases. The Varroa "red mite" parasite has spread from Asian honey bees to nearly all Western honey bees worldwide. Eventually, at high infestation rates, the mites overwhelm and kill the host colony. The red mite parasite has become a major problem for beekeepers throughout the country. Colony Collapse Disorder started in 2006 and has captured the world's attention. Agricultural productivity is dependent on the European honey bee. When the honey bee suffers, so does agriculture and all those who depend on the bounty that comes from pollinated flowering plants from which we derive many of our most delicious and health-giving fruits and vegetables.
Bernard now maintains an apiary of five hives, each of which produce about a hundred pounds of honey per year. It takes about 60 of the one hundred pounds produced to feed the bees in each hive during the winter when they are unable to gather pollen. Bernard works with his bees on warm days.
"When bees gather pollen they are happy," Bernard explains. "whereas on dark, cloudy days when they aren't gathering pollen, the bees tend to be grumpy, which makes them a challenge to work with." He feels bees become familiar with their beekeeper and become tolerant of their presence, whereas they tend to respond as though they are being invaded if a stranger attempts to work with them. Remaining calm and deliberate is important in working with bees.
Bernard markets both comb honey, which many enjoy, as well as liquid honey. Comb honey remains contained within its original hexagonal-shaped beeswax cells, called honeycomb. It is eaten as produced by honey bees and has received no processing, filtering, or manipulation. Liquid honey is removed from the honey combs by first removing the caps from the combs with a warm knife. The cappings are placed in a bucket. The honey gradually sinks to the bottom. The cappings can be melted down and used for beeswax candles. The frames which contain the combs are placed in an extractor which is basically a centrifuge or spinner. The honey flows from a spigot at the bottom of the extractor where it is strained to remove any wax particles before it is placed in jars.
As a beekeeper, Bernard is a survivor. The American Beekeeping Federation reports that there are now about 100,000 hobby beekeepers in the United States. This number is down from 200,000 in the 1970s. The possibility of being stung, parasite mites and urbanization has led to the decline.
There is no doubt that Bernard will continue his commitment as a purveyor of sweets marketing both maple syrup and honey.