At Butterworks Farm in Westfield, Jack Lazor is breaking new ground by letting his fields go unplowed—for soil's sake.
An organic farmer who pioneered the revival of grain-growing in northern New England, and wrote the book on how to do it—"The Organic Grain Grower," from Chelsea Green Press— Lazor has seen just how much grain takes out of the soil, and, in recent years, has recognized how important replenishment is.
Now in his mid-60s, Lazor says it makes sense for the cows, for the soil, and for the climate.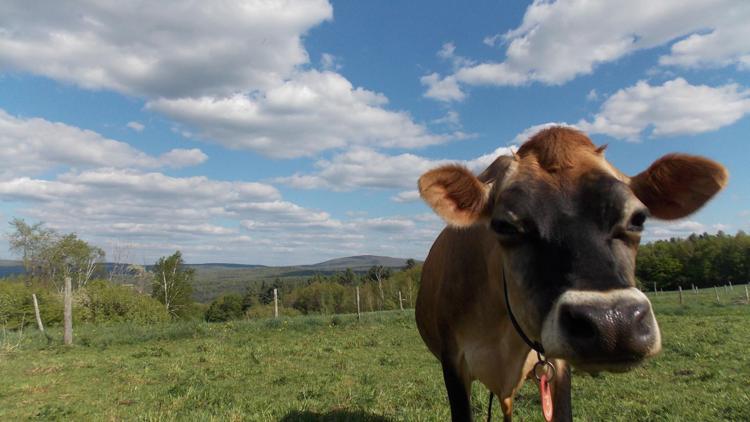 His herd, now 100 percent grass-fed, is doing well, he noted, and the yogurt made from their Jersey milk is tasting better than ever. Returning grain fields to grasslands, he's improving the soil, so that it can support a diversity of plants and grasses; build reserves of soil carbon, including humus, an extremely stable form of carbon in the soil; and also hold more water, reducing run-off in storms, and providing moisture for plant roots in dry spells.
More diversity on his former grain fields, he notes, signals the land's increasing capacity to pull carbon out of the air, sending it back where it's needed, deep in the ground. Discovering that the soil in his pastures had four times as much organic matter (aka carbon) as the soil in his grain fields set Lazor on his new path.
"We're in transition," he said. "We've always looked backwards as much as we've looked forwards. Knowing how farming has developed over the years," Lazor asserted, "it's so great—to know the history of agriculture. It gives you a sense of place and time, and so much perspective!"
It's due, said Lazor, to his conversion to biological farming. Lately, the past two or three years, he began to realize the importance of well-managed soil and plants for sequestering carbon. I've stopped growing a lot of grain. I'm doing a lot of experimenting with organic no-till," so as to let what's going on in the soil with fungi, microbes, and more, keep on growing and thriving.
"We're trying to get that super-active soil biology going," Lazor explained. "There's as much going on below the ground as above."
All that activity, he understands, can only happen when the soil contains abundant organic matter, or carbon, which plants deliver as liquid sugars, through the root hairs, to trade with microorganisms for essential minerals they deliver in a form plants can use.
This month, the Lazors will do their part to support "carbon farming" that builds soil humus by hosting an all-day "Land Listeners" workshop on their farm the third Thursday in September, with Heather Darby and Sarah Flack as speakers and then, in the hands-on afternoon session out on the land, as facilitators and instructors.
Darby, an agronomic and soils specialist, has established herself as an energetic and effective supporter of Vermont farmers, with a focus on environmentally sound farming practices, since joining the Northwest Crops and Soils team of the UVM Extension program in 2003. Her work as an associate professor now takes her onto farms throughout Vermont, and to other states and nations.
Flack, a teacher, author, and consultant, wrote "The Art and Science of Grazing," and runs her own consulting firm. Leading workshops and working with farmers individually since the 1990s, she shares knowledge of both organic and non-organic dairy, as well as sheep, beef, pastured poultry, and pigs. While growing up on her family's Vermont farm, Sarah observed intensive grazing practices that improved soil productivity and ecological health of both land and live-stock. At UVM, Sarah studied Holistic Planned Grazing and the scientific pasture management.
Lazor grew up in Somers, Conn., a town partly in the Connecticut River Valley with a lot of farming in the '50s and '60s. His family had an acre lot at the edge of the hills. His father was an avid gardener, and a research chemist.
"I was an over-achiever, valedictorian," he said. "I was conservative, pro-Nixon, and other good stuff when I went to Tufts University in the fall of 1969. There, it was left-wing demonstrations, very radical. Within a week my politics had changed 180 degrees."
In the summer of 1970, he came home and took a job at a Hartford department store. In the bookshop, he saw "The Alternative," a book about some early California hippies who went to Taos, New Mexico, and started an agrarian commune. Fascinated by this, he caught the "back-to-the-land bug!"
"Tufts was not an aggie school, but I liked history, and wrote a paper on how the colonists farmed, and thought, "This is how I can study about agriculture."
Someone told him to check out Old Sturbridge Village, where he learned that agricultural history was a real pursuit.
"I created my own major at Tufts," he said, "studying the history of agriculture 1850-1900 in America, and then landed a "totally idyllic summer job, farming—in costume—at Sturbridge Village. Old, retired farmers worked there alongside young people who wanted to do what they did. There was an assistant farm manager, a fellow called Dave Warden, from Barnet, who invited me to go work with him on his dad's farm in Vermont.
Lazor went to work for Warden and his father, Robert, who owned a house in Greenbank Hollow, an old, old, gambrel-roofed place, totally destroyed now.
"I learned a ton from Robert Warden," said Lazor. "He used old equipment and machinery; He was steeped in agricultural history—and he gave me a whole load of books."
Back in Massachusetts, Jack met his wife, Anne, who was home on winter break from the University of Wisconsin. They lived in Madison, Wisc., while she completed college. After searching there for a place to farm, the couple decided to come back to Vermont.
Eventually, they landed on the Westfield farm.
They bought a few cows, and Jack went visiting with neighboring farmers on both sides of the Canadian border, bring-ing back cast-off farm machinery that he would get running. They milked, and went door-to-door peddling yogurt, cottage cheese and butter they'd made in their kitchen.
In 1984, Butterworks Farm was established as a business.
Thanks to support from the Grazing Lands Coalition, NOFA-VT (the Northeast Organic Farming Association, VT chapter), and the Vermont Healthy Soils Coalition, all interested are welcome to participate in the Sept. 20 workshop at Butterworks Farm at no charge.
For more information, visit www.eventbrite.com/e/land-listeners-workshop-westfield-vt-tickets-47906221799