Albany Historical Society
The War Memorial, erected in front of the Old Village School, was made possible by the society. Collections are being formed, including some school furniture, town reports, pictures and artifacts, and even a sleigh, all donated by townspeople. A complete inventory of all burials in seven town cemeteries was completed in 2001. Visitors by appointment. Historic Albany Village School, Route 14, Albany. Mailing address: PO Box 317, Albany, VT, 05820, Phone: 755-6105.
Barnet Historical Society
The Museum is located in a house reputedly used as a station for the underground railroad during the Civil War. Many of the items were made and used in Barnet. There are quilts, clothing, 19th-century household furnishings, tools, and photographs. 26 Goodwillie Road, Barnet VT, 05821. Mailing address: 802 Warden Road, Barnet VT, 05821. Phone: 633-2325
Ben's Mill
An old water-powered mill on the National Register of Historic Places that has been restored to a working museum. Open Memorial Day Weekend through Columbus Day from 11 a.m. to 3 p.m. 2236 West Barnet road, Barnet VT, 05821. Mailing address: PO Box 50, Barnet VT, 05821. Phone: 357-2010. Email: info@bensmill.com
Bread and Puppet Theater
The Bread and Puppet Theater was founded in 1963 on New York City's Lower East Side. In 1974 Bread and Puppet moved to a farm in Glover. The 140-year old hay barn was transformed into a Museum for veteran puppets. Bread and Puppet is one of the oldest, nonprofit, self-supporting theatrical companies in the country and has one of the largest collections of some of the biggest puppets in the world. Open daily 10-6 June 1 through Nov. 1. 753 Heights Rd., Glover, VT. Phone: 525-3031
Burke Historical Society
Located in the White School House Museum, East Burke. Mailing address: c/o Burke Mountain Club, PO Box 309, East Burke, VT, 05832.
Cabot Historical Society
The society has restored a one-room schoolhouse, as well as another school that was used as a Good Templars hall. Collections include household furnishings, medical practice materials, tools and farming implements, documents from 1800 to 1920, photographs and turn of the 20th-century educational materials. West Hill School House, West Hill 4 Corners, Cabot. Mailing address: PO Box 275, Cabot, VT, 05647. Phone: 563-3396. Website:www.cabothistory.org
Canaan Historical Society
The society occupies the second floor of an 1846 Greek Revival building constructed for a stop on the Franklin, N.H., to Montreal stage route. Local legend says the house was used as an underground railroad resting place, but this has not been verified. The Museum, lacking volunteers, is open whenever the library is open for self-guided tours. Guided tours can be arranged by contacting the curator. During the summer months, the antique logging tool exhibit in the carriage house is open by chance or by appointment. Museum, second floor of the Alice Ward Memorial Library, 27 Park Street, Village Green, Canaan. Mailing address: 27 Park Street, Canaan, VT, 05903.
Charleston Historical Society
Memorabilia pertaining to Charleston and its inhabitants. Museum Drive, off Route 105, West Charleston. Mailing address: PO Box 46, East Charleston, VT, 05833. Phone: 723-4833.
Concord Historical Society
Rooms in the Museum contain a replica of a local doctor's office and smoking room, an old post office and a schoolroom. Collections include household furnishings, tools, clothing, toys, and items from local businesses. Town Hall Museum, Main Street, Concord. Mailing address: PO Box 195, Concord, VT, 05824. Phone: 695-3330.
Craftsbury Historical Society
Babcock House Museum, Craftsbury Common, Craftsbury, Mailing address: 258 The Ledges, Craftsbury, VT, 05826. Phone: 586-2825. Website: townofcraftsbury.com
Crystal Lake Falls Historical Association
The Crystal Lake Falls Historic District, located along Water Street in Barton, was added to the U.S. National Register of Historic Places on Aug. 7, 1994. The district, which covers several blocks of the village, is known colloquially as the "Brick Kingdom." Harnessing power from the falls from Crystal Lake, factories clustered along Water Street, making piano works, furniture, ladies cotton lingerie and baseball bats. Some of the factories dated to the 1790s, and most closed by the 1940s, with the last leaving in 1952. The association is located at Pierce House, 97 Water St., Barton.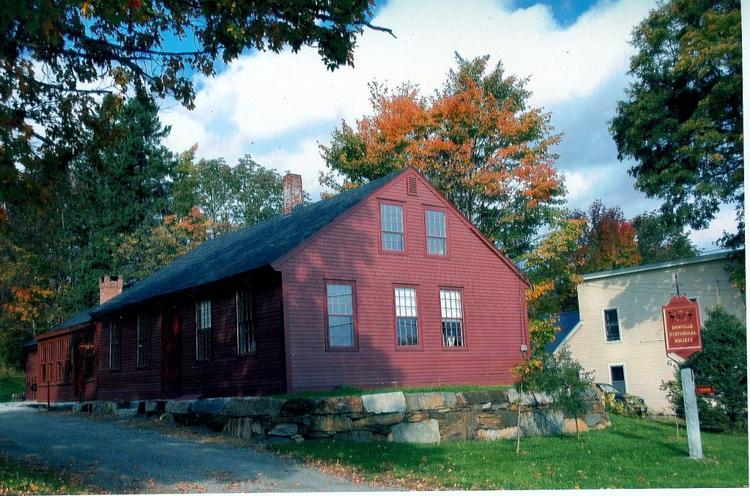 Danville Historical Society
The Danville Historical Society is a non-profit educational organization dedicated to promoting an understanding of the history of Danville by collecting, preserving, exhibiting and interpreting that history and its relationship to the region and nation to audiences of all ages and interests. 121 Hill Street (PO Box 274), Danville, VT, 05828. Phone: 684-2055
Derby Historical Society
The small, two-room Museum is in the former town office building on Main Street. There are archives from Derby Academy and material relating to the history of the town. Mailing address: PO Box 357, Derby, VT, 05829. Phone: 766-5324. 
Fairbanks Museum and Planetarium
The Fairbanks Museum was founded in 1889. Inside the classic Victorian building, are a dazzling array of animals and artifacts, dolls and tools and shells and fossils, as well as Vermont's only public planetarium and the Eye on the Sky Weather Gallery. A full calendar of events, workshops, lectures and field programs invites everyone to explore the nature of the world. 1302 Main Street, St. Johnsbury, VT, 05819. Phone: 748-2372,www.fairbanksmuseum.org
Glover Historical Society
The society's Museum is located on the second floor of the municipal building, the former "Leonard Homestead." Photos and cemetery lists are some of the items being archived. Many publications are available for sale. Mailing address: PO Box 208, Glover, VT, 05839. Phone: 525-6212 or 525-6227 (town clerk). Website: www.gloverhistoricalsociety.org Email:gloverhistory@yahoo.com
Greensboro Historical Society
The society resides in the restored library, which was built in 1900 and houses records and artifacts. It is open by request and appointment year round and for an exhibit each summer. Museum on Breezy Avenue next to Willey's Store in Greensboro. Mailing address: PO Box 151, Greensboro, VT, 05841. Phone: 586-6913. 
Groton Historical Society
The beautifully furnished old house built in 1840 contains a collection of items relating to local history. Peter Paul 1840 House, 1203 Scott Highway, Groton. Mailing address: P.O. Box 89, Groton, VT, 05046. Phone: 584-3417.
Hardwick Historical Society
Located off Church Street behind the Town House, the restored Hardwick Depot, home to the society, houses artifacts of the town's past, including items related to the granite industry, the railroad, Hardwick Academy and the civil war. Mailing address: PO Box 177, Hardwick, VT, 05843. Phone: 472-8555. E-Mail: hardwickhistoricalsociety@verizon.net
Holland Historical Society
The Museum is housed in the former Congregational Church, built in 1848. There are photographs, household furnishings, textiles, farm implements, military artifacts, and church and town memorabilia. Activities include Old Home Day on the first Sunday in Augustt. 693 Gore Road, Holland. Mailing address: PO Box 483, Derby Line, VT, 05830. Phone: 766-5375.
Island Pond Historical Society
The historical society occupies the second floor of the restored railway station. There are permanent displays of photographs, railroad memorabilia, 19th-century clothing and uniforms, lumbering tools, local newspapers, and Odd Fellows memorabilia. Canadian National Railway Station, 2nd Floor, Main Street, Island Pond. Mailing address: PO Box 408, Island Pond, VT, 05846. Phone: 723-4345. 
Lyndon Historical Society
The society's major function is to discover and collect any material which may help to establish or illustrate the history of the town. The society provides for the preservation of such material and distributes historical information and arouses interest in the past by publishing historical material, by holding meetings and discussions, by marking historic buildings, sites and trails, and by using media to awaken public interest. 202 Center Street, Lyndon Center. Mailing address: PO Box 85, Lyndon Center, VT, 05850. Phone: 626-5344.
Lunenburg Historical Society
The society's collection includes many books, documents, and photographs pertaining to the history of Lunenburg and its residents. Visitors by appointment. Old Town Hall, 54 Park Street, Lunenburg. Mailing address: PO Box 195, Lunenburg, VT, 05906. Phone: 892-6102. Email: questions@lunenburghistoricalsociety.org Website:www.lunenburghistoricalsociety.org
Memphremagog Historical Society
The Museum has permanent display panels of 19th-century and 20th-century photographs of the history of Newport, surrounding towns and Lake Memphremagog, plus an Abenaki culture timeline of the Newport/Lake Memphremagog area from Paleolithic times to the present. There are yearly changing showcases of local history. The society maintains an historical walking tour along Newport's waterfront and Main Street of 10 landmarks long forgotten—in both English and French. The society also offers to the public family genealogy research in the Newport area and a photograph collection. Emory Hebard State Office Building, 100 Main Street, Newport. Mailing address: 96 Stagecoach Drive, Newport, VT, 05855. Phone: 334-6195. 
Morgan Historical Society
Todd Pond Road and Route 111, Morgan, Mailing address: PO Box 113, Morgan, VT, 05853. Phone: 723-5907.
Old North Church
Constructed in 1832, the Old North Church on Wheelock Road in North Danville began as a Union Meeting House supporting several denominations. The church is of post and beam construction with a stone foundation and metal gable roof with clapboard siding. It is recognized as a historic site by the state of Vermont and available for weddings May to September. For information, contact Joan Legendre at 748-4520 or Judy Parker 748-8519.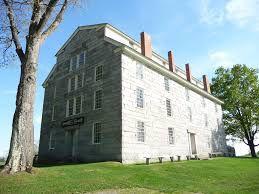 Old Stone House Museum
Located in a quiet and picturesque Northeast Kingdom village, the Museum includes six buildings on 55 acres. Seemingly untouched by time, this hillside town is centered around a monumental stone dormitory, called Athenian Hall, built in 1834-36 by the Rev. Alexander Twilight, the nation's first African-American college graduate and state legislator. The stone house now houses 21 rooms of exhibits focusing on 19th century life in northern Vermont. The collection includes furniture, textiles, photographs, pottery, folk and fine art, as well as many of the tools and utensils of daily life. The exhibits continue in Twilight's own house, two more historic houses and a traditional barn. The Museum is located in the Brownington Village Historic District, amidst 19th century homes and a church, surrounded by farmland. 109 Old Stone House Road, Brownington, VT, 05860. Phone: 754-2022.
Peacham Historical Association
The association identifies, collects, preserves and makes available the history of Peacham and encourages interest through lectures, exhibits, publications and other activities. Peacham is a National Historic Village District. A permanent exhibit of tools, a telephone exchange, and items from an old country store are displayed in a three-room historical house. An 1800s blacksmith shop has been restored with a working wooden forge. Archives and the Museum library are housed in a former town office. Historical House, 153 Church Street, Peacham. Blacksmith Shop, 101 Church Street, Peacham. Archives, 643 Bayley-Hazen Road, Peacham. Mailing address: PO Box 101, Peacham, VT, 05862. Email:info@peacham.net Website: www.peacham.net
Ryegate Historical Society
Located in the Whitelaw Hall. 54 Paper Mill Road, East Ryegate. Mailing address: PO Box 366, Ryegate, VT, 05402. Email dawhite@FairPoint.net
St. Johnsbury Athenaeum
The St. Johnsbury Athenaeum is a private, nonprofit public library and art gallery. The Athenaeum fills two roles: it serves the people of St. Johnsbury by enriching their lives, and it stands as a regional and national treasure, a monument to the 19th-century belief in learning. 1171 Main Street, St. Johnsbury, VT, 05819. Phone: 748-8291. Email:inform@stjathenaeum.org Website: www.stjathenaeum.org
Sheffield Historical Society
The society collection is housed at the restored 1847 Sheffield Town House Museum, 75 Berry Hill Road, open Saturdays 10 a .m. to 2 p.m. in the summer months. Tours are available by reservation. Contact the curator Norma Williams, (802) 274-4809 or nwilliams3562@gmail.com, or Ed Richardson, (802) 626-9416 or edrichardson@juno.com. Mailing address: PO Box 75, Sheffield VT 05866.
The St. Johnsbury History & Heritage Center
The St. Johnsbury History & Heritage Center is a non-profit historical museum located at 421 Summer St. in St. Johnsbury. Four rooms in the house are dedicated to celebrating St. Johnsbury's rich history and include exhibits of Civil War artifacts and early town memorabilia. The carriage barn holds additional exhibits with large vehicles, ice harvesting tools, and the Fairbanks-Morse scale collection. The Center is open Monday, Tuesday, & Wednesday, 10 to 4, expanding to Monday through Saturday in the summer. Address: 421 Summer St. St. Johnsbury VT 05819; Phone: (802) 424-1090; Website: stjhistory.org; Email: stjohnsburyhhc@gmail.com
Stannard Historical Society
The society has undertaken the restoration of the town's most prominent landmark, the 1888 Stannard Church. Constructed in a pristine, carpenter gothic style, the church is listed on the National Register of Historic Sites. Old Methodist Church, Stannard Mountain Road, Stannard. Mailing address: 92 Old Pasture Road, Greensboro Bend, VT, 05842. For information contact Jan Lewandoski at 533-2561.
Walden Historical Committee
Mailing Address: PO Box 54, West Danville, VT, 05873. For information call Joanne Foster at 563-2472.