"The Northeast Kingdom (NEK) has a particularly hard glass ceiling," Barb Morrow said when discussing leadership by women in the Northeast Kingdom of Vermont. "And we feel responsible to change that when possible."
Community leaders are responding to both data and conversations about leadership by fostering a movement born in and focused directly on NEK women. Morrow, and organizations like the NEK Collaborative, a nonprofit with a 20-year history of working with communities to support projects aimed at making the NEK a great place to live and work, are offering several initiatives including conferences and scholarship funds geared towards emerging leadership.
"Change the Story," is an initiative designed to fast-track women's economic status in Vermont. It is associated with the Vermont Commission on Women, the Vermont Women's Fund, and Vermont Works for Women. In 2017, Change the Story produced its fourth in a series of reports regarding Vermont women and leadership in sectors of political, civic and professional circles. Highlights were that 50 percent of Vermont Universities and Colleges have female presidents and female participation in the Vermont General Assembly is the second-highest in the country. Three of five of the Vermont Supreme Court Justices are women.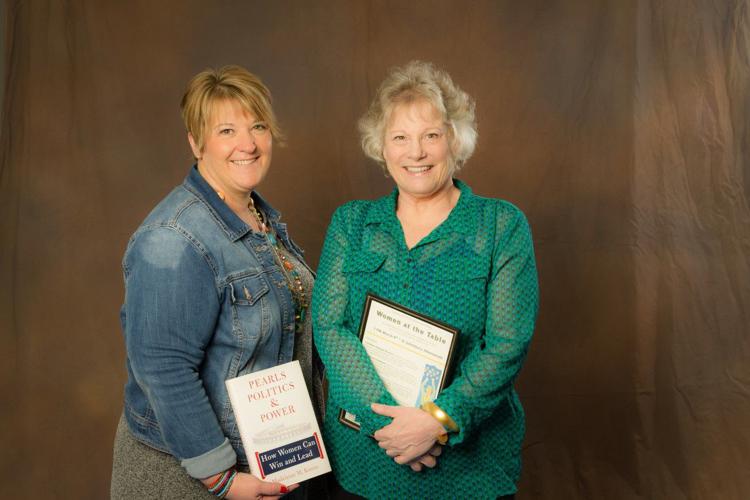 "We could do more to support and develop emerging leaders who are women," Morrow said when discussing the Women LEAD initiative that began in late 2018 here in the Northeast Kingdom.
"Women Lead" began with two friends meeting over breakfast to provide each other with moral support. After an outline was drawn on a napkin, Morrow, a Caledonia County resident and employee for the Orleans County Restorative Justice Center, worked with Michelle Faust to see their dreams turn into a reality. Faust is an Orleans County resident and has served as the president of the Northeast Kingdom Business and Professional Women's Club for several years working to expand the group from serving not only St. Johnsbury, but now the entire Northeast Kingdom. Faust is also a member of the Newport Rotary Club and the executive director of Northeast Kingdom Learning Services, Inc. which serves the Tri Country Region (Orleans, Essex, and Caledonia.)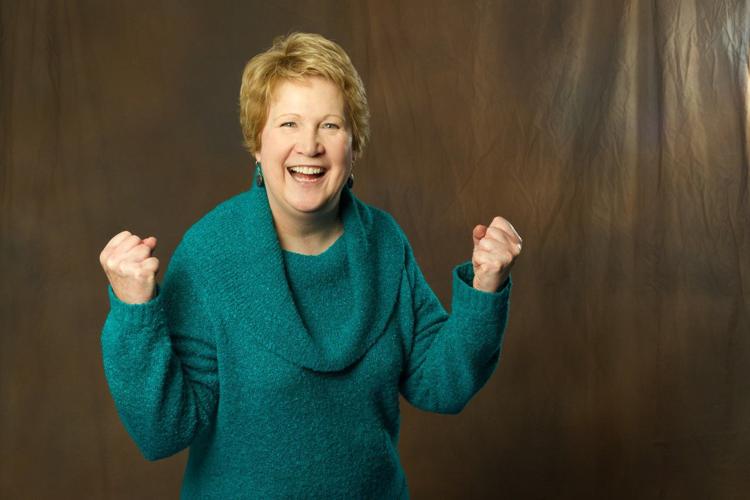 "We got to talking about how women were emerging so effectively as leaders," said Morrow. "We started naming names and thought, how can we recognize and encourage women here?"
Morrow and Faust decided to get the idea out into the community in a visual way so the movement began with a calendar featuring strong female leadership in the Kingdom. Each month would bring together one or two women leaders with their favorite quotes. Calendars were sold for $10 to fund a scholarship program for young women leaders.
"The project was a great experience and the photographer was Mary Claire Carroll. She was wonderful and the photos captured so much energy," Faust said. "When we believe strongly and passionately about something, we can make it happen!"
Mary Claire, a portrait photographer based in Richmond, was thrilled to hear about the project. Female subjects in Vermont have been the focus of her projects over the years. When she learned the project would benefit young women, she immediately said yes.
Claire's goal was to make the atmosphere for the photoshoot upbeat and fun. Each session started out with the women playing with the idea of power poses in the style of Wonder Woman. This was meant to be a starting point for sessions and it also helped break the ice.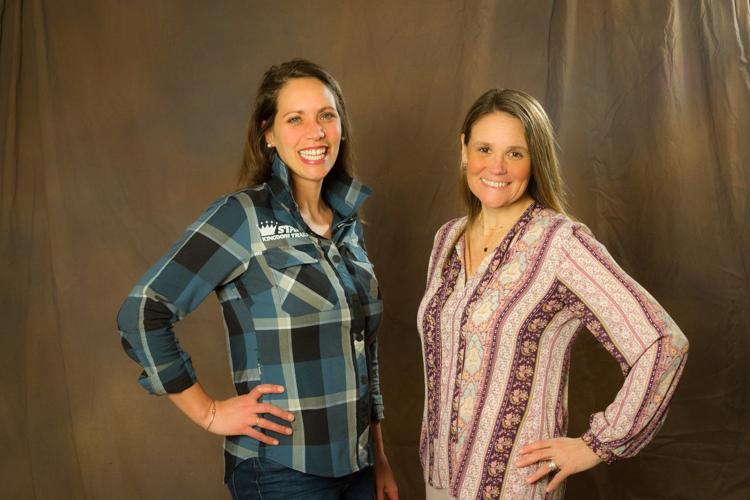 "I was appreciative of each woman's willingness to step out of their comfort zone and play and I was impressed with their commitment and passion to the work of improving the lives of those who live and work in NEK," said Claire.
While Morrow and Faust set out to create an event in the winter of 2019 to debut the 18-month calendar, something else was brewing in the Kingdom. The NEK Collaborative was kicking off their recently released leadership report that includes a recommendation to Support and Empower Emerging Local Leaders: NEK Women Engaged in Leadership Learning - and launching a networking group for mission-driven women in leadership positions in businesses and nonprofits in the NEK. This was the perfect way to align Women LEAD and take it to the next step.
Over the summer of 2018, NEK Collaborative held several community forums and two reports were created. Two workgroups were identified with community leaders to oversee the goals from the reports. The Leadership Work Group has many plans in addition to the female-specific leadership initiative. Other projects include a yearly leadership conference dedicated to the NEK, a general leadership workgroup, promotion of educational opportunities in the area and a scholarship fund.
For the NEK Women Engaged in Leadership Learning, an informal group based around quarterly dinners with conversation from thought leaders was announced. There was an application process over the fall of 2019. Subjects from the calendar were encouraged to participate and encourage others to apply.
April Butler Lane, a Steering Committee Member of the Northeast Kingdom Young Professionals Network as well as the Principal of the Brighton School was accepted into the program.
Butler Lane said, "it has been a really neat experience, and an honor to be selected for the inaugural cohort."
The group met once at the end of 2019 and again at the end of January 2020.
"I met a lot of inspiring, powerful women in the NEK. I learned about sectors, organizations, businesses, and events that I never would have encountered otherwise," Butler Lane said. "It was also really inspiring to hear stories from women of all ages in all corners of the Kingdom who were single, married, divorced with no kids, little kids, grown kids or hoping for a family someday."
Sarah Chadburn, a portfolio manager at Community National Bank, Treasurer for the Northeast Kingdom Young Professional Network and President of the Risk Management Association Young Professionals group has thrived thanks to leadership opportunities in the NEK, including Women LEAD. Chadburn lives in Coventry.
"I think it's so important to have a place for women leaders to connect and share ideas, concerns, and opportunities," she said. "The Women Lead network has introduced me to many women in different sectors that I would not have met otherwise in my job. The ability to collaborate and work together towards the bigger picture is what I think is so great about women leaders in the NEK. We are all trying to make our area a better place to live and work in."
Meg Smith, the Director of the Vermont Women's Fund, granted $500 to the NEK Collaborative for the Women LEAD Initiative. Davis said that in general statistics show women as leaders have more profitable companies and work towards like-minded solutions and it's important to support their work.
"Given the dearth of women in leadership positions in the State of Vermont it is important for us to support women leaders and in a rural State it is important to get together," Smith said. "It was important to help the Northeast Kingdom Collaborative so that women can share experiences as they decide to become leaders in their community."
The NEK Collaborative also produced the NEK Leads Conference in November of 2019 at Burke Mountain. Community members and leaders alike were invited for a day of workshops, working groups and learning from one another about what was available to them in the NEK. All industries from real estate, to coworking spaces, to healthcare and human services, were represented.
Ally Howell and Cheryl Chandler who work on substance use and misuse initiatives in the tri-county region attended the conference. Howell, from Derby Line, is a member of the Northeast Kingdom Young Professionals Network and Chandler served as the secretary for the Business and Professional Women's Network for the first few years after she relocated to Danville, Vermont from Connecticut.
Howell said, "The NEK Leads conference was a great opportunity for a relatively diverse cross-section of the tri-county region to network, mix and mingle. The day offered peer learning opportunities from experts around the State and our neighbors while also asking who should be at the table? Who needs to be connected? What do we need? The emphasis on our strengths and successes was refreshing."
Chandler also appreciated the event. "I was so happy to see so many leaders from the Northeast Kingdom attending the conference. I particularly enjoyed the presentation about the history of Vermont, providing context to where we are now as a community."
There is no doubt that energy is being harnessed and people are excited about what these initiatives will do for the NEK as a whole. The leadership initiatives are rolling. The NEK Leads conference will move to two days in November of 2020. Another calendar is planned for 2021 focused on women leaders under the age of 30 in the Northeast Kingdom.
There is a lot of excitement about this work within the women who feel empowered through the programming.
"Sometimes the creative juices just flow, and if all that's there is a dinner napkin, we have to put it to good use," Faust went on to say. "When women get together to plan something good, it's so exciting. We just came up with the name after the name of strong women of accomplishment in this area."
Butler Lane, a young mother herself, appreciates the importance of working together to achieve goals.
"We may all be at different points in our lives, but we are all women who are leaders in one form or another. I see many opportunities for collaboration in the future!"
Ever focused on the work itself, Morrow goes back to how people, and women especially, can be empowered to lead.
"Teaching people how to resolve and handle conflict, how to make a good point and support it, and how to persevere despite the "slings and arrows" of public opinion - those are all good things for developing leaders."