The rain was getting harder as we pushed open the car doors and got out at the foot of Knockan Crag.
The wind was stiff, but nothing like Iceland. Betsy started out with her umbrella on the trail but the wind would have carried it away or folded it over like tissue paper. Pulling our rain jacket hoods down over our heads, we started up, and before long the rain slackened again and the wind settled down. It wasn't a difficult trail, switchbacks taking care of the worst of the steepness. We didn't need to wait to reach the top for views. Aside from one small oasis of trees around a lone house, we gazed over a treeless expanse of wet peat, lakes, hills, and mountains. We weren't in Vermont anymore.
Near the end of August, Betsy and I took off for two weeks in northern Scotland. My name McKay (rhymes with stay) is a variant of MacKay (rhymes with sky). For years I have wanted to visit the ancestral homeland of the MacKay clan in far northwestern Scotland. We finally went, and the trip did not let us down, despite the rain.
We flew into Glasgow and rented a car, then drove north a couple of hours to Glencoe for our first two nights. Glencoe is classic highland scenery with its mixture of steeply rounded valleys among Rocky Mountains, with peatland and pasture in between. It was wet and there were waterfalls everywhere. This was not a hiking vacation, but we sought out opportunities to walk. After orienting ourselves at the visitor center run by the National Trust for Scotland, we drove up into the glen (narrow valley) and hiked up the Devil's Staircase, which is part of the West Highland Way (Scotland's most traveled long-distance trail). Showers blew in and out as we climbed but the views were stunning. In the rain at the top of a small pass we chatted with a couple of long-distance backpackers. As we watched them trudge off under their soaking wet packs, we turned to walk back down to our car, thankful that we had a warm and dry B&B to settle into.
In some spots, northern Scotland is much like Vermont, with rolling green hills, forests, and farms, but with sheep in the pastures instead of cows. But the more you explore, the more you realize the differences. It can be cold, stark and desolate, or warm, lush and productive. It's a place with a known history going back about 7,000 years. Apparently the north coast was warmer then and the Vikings found it hospitable. The river valleys, known as straths, contain productive farmland. Between the valleys are bony ridges covered in heather, with narrow sheep trails as evidence that the seemingly barren land supports at least a few grazers.
One huge difference is the lack of trees. Only about 18 percent of Scotland is forested, and in the Western Highlands, the percentage is much lower. There are blocks of planted trees, nearly all conifers, ranging from a few acres to a few hundred acres. We saw active logging in many places. But mostly we saw a landscape covered with heather or grass.
From Glencoe we drove north to Ullapool, taking a scenic and historic route via the Eilean Donan Castle. This castle is what we picture when we think of a Scottish castle. Most of the numerous castle ruins around the country are true ruins, but the Eilean Donan has been restored and is featured in promotions, novels, and movies. Complete with gift shop and interpretive guides, it provides a good glimpse into castle life in the hey-day of Scottish nobility.
Continuing north we took a further detour by way of Torridon. We were now on single track road, as we would be for much of the next 300 miles. Although most roads in northern Scotland are paved, none are wide. In sparsely settled areas, roads are often a single stripe of asphalt about seven or eight feet wide. To allow for vehicles to get by when they meet, wide spots are provided, marked with a sign and spaced anywhere from 100 meters to a kilometer apart. With no trees, visibility is generally good, so with practice, one can time the passing of an approaching vehicle, with one vehicle slipping into the turnout as the other comes by.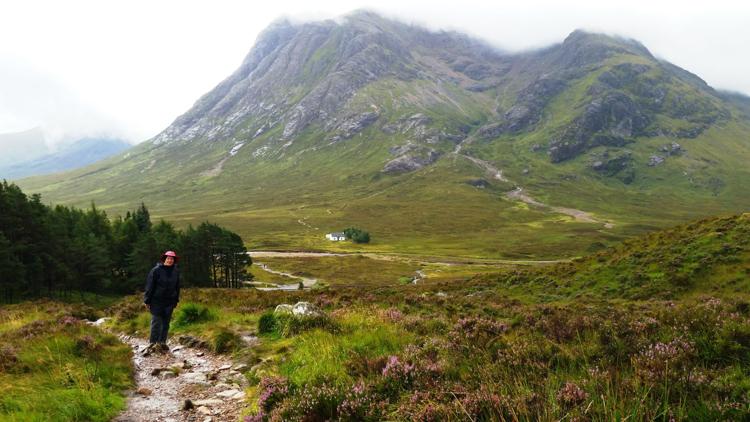 Navigating a starkly beautiful high valley toward Shieldaig (Norse for Herring Bay, one of many Norse names in northern Scotland), we suddenly found ourselves in a forest of Scots Pine, unique in our travels. It is apparently a natural forest, with widely spaced large trees. For centuries this has been prized deer stalking (their word for hunting) territory, which may explain why the trees have remained undisturbed.
Beyond Torridon, we followed another amazing valley, this one with a small river in flood. We stopped a few times just to gaze around at this alien landscape, at one point marveling at a classic glacial valley entering from the south with hundreds of large kame piles marking the melting of the glacier that shaped it. Kames generally form where water flowing over or through a glacier deposits sediment through a hole in the ice. Without trees, it is as if the ice only melted a few decades ago, rather than 9000 years.
Ullapool is the gateway to the northwest highlands and the western isles of Lewis and Harris. It is in a lovely and strategic location, jutting into Loch Broom, one of several long fjords that pierce this coast. It's a town about the size of Danville but with more stores, restaurants, and B&Bs, owing to its touristic appeal and the fact that it serves many outlying hamlets. We stayed three nights in the lovely Eilean Donan Guest House on a quiet street. The weather was showery and cool, so the common room with a nice fire and the omnipresent makings for tea or coffee were welcome, especially after our foray to Knockan Crag, about 15 miles north.
The next day promised to be good weather so we hit the road and explored the coast along Little Loch Broom, Gruinard Bay, and Loch Ewe. Our destination was Inverewe Garden, an unexpected and delightful 50 acres of vegetable, flower, tree, and sea gardens. We continued on to the village of Gairloch for lunch at a community-supported café that doubles as a craft cooperative and triples as the local information hub.
On the way back to Ullapool we stopped to take in the history of Loch Ewe, a protected deepwater bay with a large island in the middle. Along the eastern shore near tiny Aultbea are two round grassy platforms and a pier jutting into the bay. On the hill behind is a little road leading up to more mysterious rounded features, all very unobtrusive. In WW II Loch Ewe served as a base for the British Home Fleet and as a gathering point for arctic convoys that supplied the vital Russian Arctic ports. The locals told us that so many ships were in the Loch that at times it looked like you could walk from shore to the island jumping from ship to ship. The round grassy features are buried fuel storage tanks which today serve as strategic fuel reserves. EU ships regularly stop to refuel at the pier.
In the next bay to the east, Gruinard Island was used during World War II as a test site for biological warfare, specifically anthrax. In 1941 a flock of 80 sheep was installed on the 500-acre island, penned up, and then bombed with deadly anthrax spores. The sheep all died and the island was rendered off-limits for the next 48 years.
The day wasn't over yet. We stopped at a recently completed clear-cut so that I could check out Scottish logging methods, and then at Corrieshalloch Gorge before returning to our base at Ullapool.
The next morning started with the usual breakfast feast at the guest house, fueling us for what promised to be a fascinating drive north into the most sparsely settled region in Europe and the ancestral homeland of Clan MacKay. That's a story for another day.
Tim McKay is a retired natural resource conservationist and current woodworker and tree farmer who lives in Peacham.