Acadia National Park closed the road to the top of Cadillac Mountain over 50 times this summer due to traffic congestion. Eleven of those closures were at sunrise, a time which used to be a lonely and lovely moment of the day. Three million people visited Acadia this year. Meanwhile, more than 4.5 million visitors crammed into Zion National Park, Utah, waiting for hours in gridlock on the park's six mile long main road. Similar stories abound across the country.
While the news media concentrate on the crisis of car traffic in the parks, trail traffic is also way up. I don't know what the official stats are, but if you hike, bike, or cross-country ski, you know what a boom there is in outdoor recreation. When I comment on the heavy use of trails I sometimes hear, "Well, there are twice as many people in this country as there were when we were kids". That's true, but I have no doubt that the proportion of the population going out to enjoy outdoor locomotion in one form or another is way higher than it was 30 years ago.
In the 1980s, when I completed hiking all 48 peaks over 4,000 feet in New Hampshire over a period of years, I was part of an elite corps of avid hikers. Today, so many people accomplish that feat that it hardly bears mentioning. Now a common goal is to complete all 48 in one year, or even one month!
In the mountains surrounding Lake Willoughby, the trails are experiencing exponential growth in hiking traffic. Trails that were hard to find ten years ago are now well trodden. The Westmore Challenge, sponsored by the Northwoods Stewardship Center, is a one day hike over a 26 mile route including all five peaks. This year, the limit of 120 registrants was reached quickly. Today's hikers are hungry for these types of events. The furor this year over proposed changes to the south end of Willoughby, brought on by use far exceeding the capacity of the existing facilities, is another example.
Who are all these travelers? Heavy traffic in the national parks is attributed to the rapidly increasing ranks of retirees. In addition, fewer Americans are traveling abroad due to fears of terrorism. I can't say either of those factors contributes to the northeastern hiker population. Another theory is that every time one of us posts a photo on social media showing ourselves visiting a gorgeous spot, we create instant desire among our friends and beyond. In the old days, only a few family and friends got to see photos or hear stories of fabulous trips.
At the same time that I am marveling at the number of hikers out there, I hear about the decline in more traditional outdoor activities, namely snowmobiling, golf, and downhill skiing. There are numerous reasons for those declines, but the common denominator is that they are all very expensive. Whether it is gear, gas, or ticket prices, fewer and fewer people can justify the cost. By contrast, my hiking boots, cross-country skis, snowshoes, and bicycle cost relatively little, require no gas, and no tickets. Even if I spring for a Nordic ski ticket at Craftsbury Outdoors Center, it is only $10.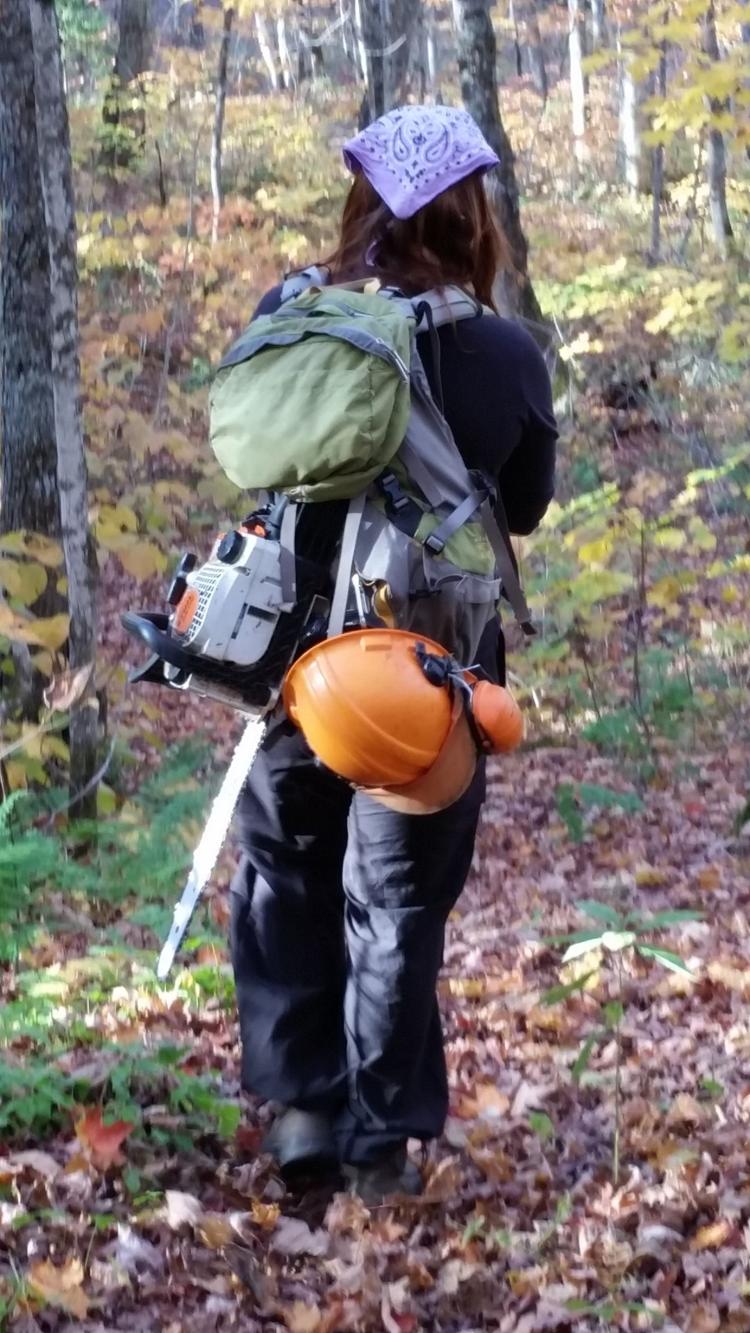 While the crush of cars and people in the national parks is a definite problem, I see the increase in human-powered outdoor recreation as positive. The more people who spend time out in the woods, the more people understand the importance of conserving our natural resources. The problems come when we all want to enjoy the same few popular trails.
Where do these circumstances leave us? We have an increasing population that shows no sign of decline anytime soon. The pool of retirees with time to enjoy the outdoors is growing rapidly and will for the next 20 years. We have increasing interest in outdoor recreation among all age groups, and passion for sharing our excitement through social media and even the North Star. We have certain trails, and certain sites within parks, that are overused. Is the answer to limit access to trails and parks? Perhaps in some cases, particularly in national parks, restrictions will be unavoidable.
I think we need to adapt the theory of supply and demand to this problem. We have reached a point where demand for outdoor experiences has outstripped the supply of available venues for those experiences. Either the costs need to increase to squelch the demand, or the supply needs to increase to satisfy that demand. President Trump apparently favors the former, as exemplified by his proposed 13 percent cut to the National Park Service, which would result in large fee increases just to keep the parks open. I favor the latter. Let's increase the supply of parks and trails to satisfy the demand and spread the impacts.
Here in New England, we are already taking strides to accommodate more outdoor enthusiasts. In Maine, while Acadia National Park is being loved to death, a new venue is gaining momentum. The Katahdin Woods and Waters National Monument was declared last year. It was established when Roxanne Quimby of Burt's Bees donated 87,000 acres of land bordering the east side of Baxter State Park. By contrast, Acadia is 49,000 acres. The new Monument is virtually a blank slate, consisting of undeveloped ponds, streams, and small mountains that were formerly owned by timber and paper companies. Less than 20 miles of trails have been developed, including one of the first sections of the International Appalachian Trail, which will continue to Canada. There are hundreds of miles of abandoned forest roads left from the heavy harvests of years past. No doubt they will provide the basis for a new system aimed at satisfying hikers, skiers, snowmobilers and mountain bikers. The nearby town of Millinocket, severely depressed since the closure of its mills, is already beginning to respond, and with a little vision will enjoy a renaissance over the coming years.
The Appalachian Mountain Club (AMC) has been a force in the northeast for over 100 years. Not long ago, they built the Highland Center in Crawford Notch, N.H., on the site of one of the grand old hotels. The new Center accommodates hundreds of hikers, snowshoers, and skiers who come for a few days of mountain air and fabulous hiking. Now the AMC is investing heavily in the 100-Mile Wilderness region of Maine, between Millinocket and Moosehead Lake. The Maine Woods Initiative is the Club's strategy for land conservation that combines outdoor recreation, resource protection, sustainable forestry, and community partnerships. To date, AMC has purchased and permanently conserved 70,000 acres of forest land, created over 120 miles of recreational trails, opened three sporting camps to the public, established a sustainable forestry operation, and developed a partnership with local Piscataquis County schools.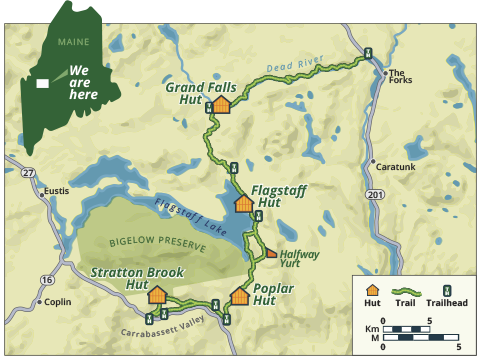 And not far southwest of the AMC effort, another non-profit called Maine Huts and Trails has a vision to build a backcountry hut system that would allow nordic ski trips from Moosehead Lake to the Mahoosuc Mountains (north of Bethel, site of Sunday River Ski Area). Four luxurious (by backcountry standards) huts have been completed along a trail from Sugarloaf ski area to Flagstaff Lake and down the Dead River to the Forks. A couple of years ago we skied the whole 50 miles, staying at all four huts. Eight more huts are planned. Eventually, I have no doubt this trail system will connect with that of the AMC beyond Moosehead. It is already a fabulous asset, and will become a world class destination for Nordic skiers.
In New Hampshire, the Cohos Trail is a new route from the Presidentials (Mt. Madison, Mt. Adams, Mt. Washington, Mt. Monroe and Mt. Eisenhower) north to Quebec, where it meets a new trail along the border to Mount Gosford. It's a shoestring operation which, like all the other trails, relies on volunteers to build and maintain the paths.
In Vermont, Kingdom Trails has attracted major use and inspired a spin-off in Danville, as chronicled in these pages. Maine Huts has inspired folks to dream of a similar hut system for Nordic skiers in Vermont. The Catamount trail, on which one can ski the length of Vermont, is the backbone of a growing movement in backcountry skiing, including the NEK Backcountry Coalition. This fledgling group is working on opening up backcountry skiing in both Burke and Willoughby State Forest.
At the town level, more and more town forests are developing trails to get folks outside in their own back yard. Peacham, Danville, and St. Johnsbury all support trails on town land. And we have the Rail Trail which is immensely popular for a gentle bike ride. Groton State Forest has only scratched the surface of its recreational potential. As I stand on Devil's Hill gazing out across Peacham Bog to Big Deer, Owl's Head, Spruce Mountain and beyond, I envision a much more developed trail system from the Peacham side of this wonderland.
In short, trails are happening. While the federal government remains paralyzed and completely lacking in vision and leadership, private efforts partner with local and state agencies to push ahead, spreading our recreational enjoyment and dollars across the northeast. I, for one, am truly excited by the new opportunities so close to home.