In 1782, Vermont stood as a republic and the American Revolution still had a year of battles ahead. A little boy was born on Jan. 18 in the frontier town of Salisbury, N.H., who would shape the crucial decisions of the nation, while always basing his ethics in New England farming culture.
The Child Who Practiced in the Tavern
The child was Daniel Webster. He had such dark-toned skin and fierce eyebrows, with his thick black hair, that soon his nickname was "Black Dan." The ninth of 10 children, he was considered "frail," and his parents and older siblings made a fuss over him, teaching him to read very early. In those days, reading didn't just involve seeing the pages, but reciting them, with enthusiasm. Black Dan had an audience right away, for his father Ebenezer not only farmed—he kept a tavern, where the small boy entertained guests with his readings and recitations.
"As the twig is bent, so grows the tree," wrote Alexander Pope in 1734. He could have been describing young Daniel Webster, who learned in the tavern how to engage an audience and bring life and power to words. Daniel's parents embraced education and at Dartmouth College the young man began carving out a reputation as an orator, one who could speak with a "golden tongue" to audiences. His speeches were crammed with history and moral arguments, but also shaped a stirring story as he spoke. Soon he made legal arguments too, and his first nationally known speech in 1818 (when he was 36) defended Dartmouth College's independence before Supreme Court Justice John Marshall.
Professor Chauncey A. Goodrick, a Yale College professor of oratory at the time, witnessed the speech and described more than Webster's words, writing, "Here the feelings which he had thus far succeeded in keeping down, broke forth. His lips quivered; his firm cheek trembled with emotion; his eyes were filled with tears; his voice choked; and he seemed struggling to the utmost, simply to gain that mastery over himself which might save him from an unmanly burst of feeling. I will not attempt to give the few broken words of tenderness in which he went on to speak of his attachment to the college. It seemed to be mingled throughout with the recollections of father, mother, brother, and all the trials and preventions through which he had made his way into life. Every one saw that it was wholly unpremeditated—a pressure on his heart which sought relief in words and tears."
Webster Attacks Slaveholding
Vermonters, like their neighbors in New Hampshire, embraced Webster as the spokesman for their feelings and convictions. Webster's eloquence soon took on the big issue of the time: chattel slavery, the enslavement and purchase of dark-skinned people, which sustained southern cotton agriculture (and less directly, New England's own cotton mills and inventors). In 1837, Webster called slavery a "great moral, social, and political evil," declaring that he'd always vote against anything that extended it.
The most famous folk story about Webster is "The Devil and Daniel Webster," by Stephen Vincent Benét. In the story, Webster's descriptions of the farming landscape help him engage the Devil's own jury members, and he defeats the Devil in court. When it came to slavery in real life, though, "the Devil was in the details" for Webster. Yes, slavery should not be extended. But no, states that allowed it should be able to defend and maintain the vile enslavement of "Africans" because of states' rights.
It took a while for Vermonters to realize the line Webster had drawn with the argument. For years they praised him, and the local newspaper pages regularly printed letters that he wrote. In 1840, most of those letters praised as a presidential candidate the former military officer William Henry Harrison. But Webster detoured from that topic at a July 7 speech in Vermont.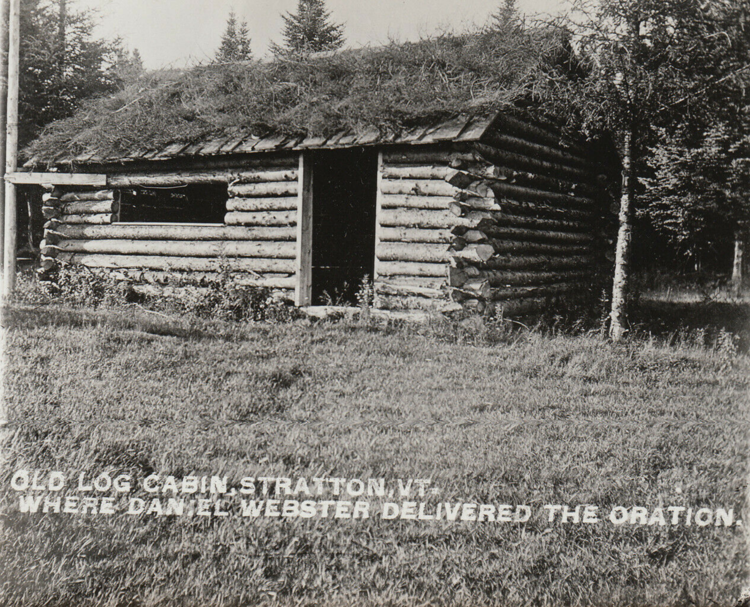 "We Meet Today Among the Clouds"
The location was a cleared field in the southern Green Mountains, in Stratton, a site used for its dramatic background by other speakers as well. The nearest newspaper at the time, the Rutland Herald, recognized the gathering as specific to the Whig party convention at the time—and numbered the crowd at some "10,000 Whigs" present for the "Log Cabin Convention" (a nod to Harrison's campaign). The Vermont Encyclopedia says the scene was described as "a clearing of about 300 acres in the midst of a magnificent amphitheater of hills," far from any housing, and that the orator's first words were, "Fellow citizens, we meet today among the clouds."
Today Stratton claims 15,000 or more stood there on the mountain. And Webster's topic was "the sub-treasury and the currency," according to the newspaper. Sounds a bit dry and technical? Consider it parallel to a talk today on whether the "Fed" should raise interest rates and how homeownership is thriving, or not. People cared about the topic. They cared so much that an advance resolution was sent to the Whig committee, in rhyme!
The course Van Buren is pursuing
With his spoils-victors, leads to ruin;
And honest Whigs all cry as one,
What shall we do? what shall be done? […]
That we'll dismiss the wasteful faction,
And vote the rascals out of action; […]
And we'll elect by acclamation
Brave Harrison and save the nation.
With him at head, and Tyler next,
With no Sub-Treasurey schemes perplexed, […]
Prosperity with all her train
Of blessings, shall return again:
Rich blessings, flowing from pure fountains,
And durable as—Stratton Mountains.
(Vermont Phoenix, July 17, 1840)
Webster's candidate won the presidency but died only 31 days into his term, so that the vice president John Tyler, took over. Webster served as Secretary of State in the cabinet for three years, then opted to return to the Senate.
Webster Betrays the Abolition Movement
On March 7, 1850, Daniel Webster made his most famous speech ever—and the one that caused Vermonters, with their broad antislavery stance, to brand him a traitor to their cause. Instead of standing against expansion of slavery into the western "territories" where new states were being formed, Webster spoke for holding the nation together via a compromise that allowed territories in the "Mexican cession" (the West) to opt to form slave states after all.
For this, former president John Quincy Adams would write of "the gigantic intellect, the envious temper, the ravenous ambition, and the rotten heart of Daniel Webster."
Closer to home, The Caledonian in St. Johnsbury, which had to wait several days to receive the text of the speech, published its critique on March 16, 1850: "Mr W. is for Mr Mason's bill for the recovery of fugitive slaves… We would not sanction any such measure. He also declares that he would vote for a territorial bill for New Mexico that did not contain the Proviso [did not ban slavery]… as nature has prohibited slavery there, and it would unnecessarily irritate the South… These are the points in Mr Webster's speech to which his northern friends object." A news correspondent in Washington, DC, told the paper that no Northern Whigs agreed with this move of Webster's to compromise on slavery, in order to not "irritate" the South.
A week later, on March 23, The Caledonian printed Webster's entire speech, which took up all of its front page (in what we'd now consider tiny, cramped type) and half of the second page as well. But the local paper refrained from adding to its own critique. Instead, the Vermont newspapers printed the words of Massachusetts Congressman Horace Mann, who called Webster's support for the Compromise of 1850 a "vile catastrophe" and compared him to "Lucifer descending from Heaven." Even poets leapt to accuse Webster: James Russell Lowell called him "the most meanly and foolishly treacherous man I ever heard of." John Greenleaf Whittier added his comments on Webster in a poem called "Ichabod": "So fallen! so lost! the light withdrawn / Which once he wore; / The glory from his gray hairs gone / For evermore!"
Compassion for the Dead
New England's fury cost Webster his Senate seat, crushed his attempt to run for president in 1852, and his health quickly failed; on Oct. 24, 1852, he died in Massachusetts.
Webster's death triggered a compassion in Vermonters. The Vermont Senate abruptly called Webster "the great defender of the Constitution, a noble benefactor and illustrious son," and resolved that "Vermont, in particular, owes him a debt of gratitude for having by his able, frank and manly nearing in a difficult negotiation, completed and established her boundary, and she now give utterance to her sympathy with the nation and with his bereaved family for the loss of so great a man."
Although its first reaction to Webster's death was mixed – on Oct. 30 The Caledonian wrote "Many will say that he was ambitious. If so, it was a serious fault, and severely has he answered for it … he found naught but sorrow and disappointment." Then emotions mellowed further, and The Caledonian on Nov. 6 credited him with saving the Union of states. The Burlington Free Press admitted, "Many of us did not incline to the political teachings of Daniel Webster, but now that he can teach us no more, let us remember him only as an American—as a glorious, dead elder brother, deeply imbued with reverence for the constitution."
A Local Forger Forgiven for Webster's Sake?
A strange postscript followed, involving St. Johnsbury's own Erastus Fairbanks, who served his first (of two) term as Vermont governor in 1852-1853.
Engraver Christian Meadows built his skills creating the plates for bank notes (paper money) and the dyes for stamping coins. He vanished from his Boston workplace in early 1849, along with some of the printing plates. In March 1849, he turned up in Wells River, Vt., in the company of a known burglar and bank robber, "Bristol Bill" Warburton, and the noted counterfeiter Margaret O'Connell. When a search of the group's house in nearby Groton found a printing press, burglary tools, and stolen bank notes, Meadows went to prison starting in June 1850 in Windsor, Vt.
But Meadows was still Vermont's finest engraver, and when the need arose for an engraving of Dartmouth College, the prison warden allowed Meadows to travel under guard to the college to make drawings, and then create the engraving. His next project, also done from prison, came to the attention of Webster himself, who according to the Rauner Library at Dartmouth then remarked, "Who is the engraver that has done this? … We want him at the State Department to engrave Maps."
Daniel Webster asked then Vermont governor Charles K. Williams to pardon Meadows, saying "Why do you bury your best talents in your state prison?" Williams refused – but when Webster died, Erastus Fairbanks had the governor's seat, and, probably out of respect for Webster, issued the pardon.
So it was that the forgiveness of Daniel Webster in Vermont extended beyond his lifetime at some levels. But his "devilish" support of the Compromise of 1850 would soon lead Vermont and the rest of the nation to a deadly and terrible Civil War.