Hardwick farmer Mark French and his wife Lois must have found parenting their son, George Burton French, full of endless surprises.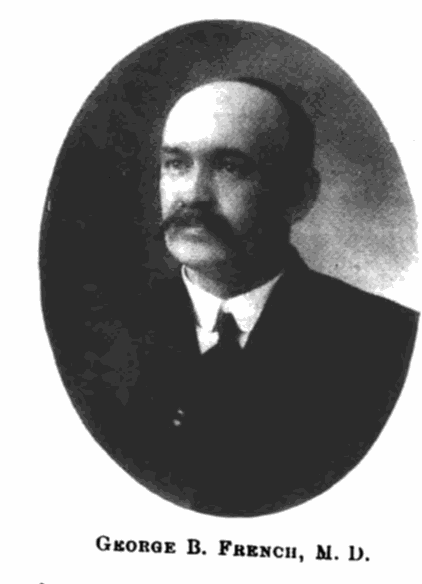 Born in 1858, he was only three years old when the Civil War began and was soon expected, like everyone else in his family, to "share the cares and labors of farm life," as the book "Successful Vermonters" would phrase it. He managed to fit in some local education, though, enough to get him into both the People's Academy of Morrisville and Hardwick Academy. By age 17, that was enough education for him to start to teach school himself.
But when he turned 21, his true passion emerged, as he began "reading" medicine under Hardwick's Dr. S.G. Soules. The next year, the farmer's son made his way to a year-long course of lectures at the Hahnemann Medical College of Chicago.
But ordinary medicine wasn't quite his cup of tea, so he enrolled at the Eclectic Medical College in New York City. Despite this being a city college, its roots lay in New Hampshire with herbalist and botanist Samuel Thomson, whose steam baths, herbs, and treatments with calomel (a toxic mercury-based compound) focused on getting rid of toxins so the body could heal itself. "Thomsonian" medicine merged with American herbal traditions and Native American remedies to become the "eclectic medicine" of the late 1800s and early 1900s.
After George earned his "high-ranking" degree in this exciting medical field, he returned to Vermont, married Eudella "Alice" Ford in Waterville, and lived there until his son Harold was born; by then, it seems, he was ready for a wide medical practice in a new area, and after another three years in Greensboro, he arrived in West Concord in 1890.
Concord was and still is a town of villages, each developed around an asset, like the granite works in Concord village, or the sawmills at Miles Pond and Mink Brook, as well as the waters of the Moose River. As a dam, sawmill, and gristmill developed on the Moose, the village of West Concord became the town's business district. The St. Johnsbury & Lake Champlain Railroad stopped at three stations in the town.
So even though Concord already had Dr. Russell T. Johnson in practice there, the town could benefit from a second physician. "New England Families" declared that George took "an active part and interest in all matters for the promotion and upbuilding of the town … and has a wide circle of friends." Reports of his care for patients filtered into the local papers, showing him ranging as far away as East Ryegate when needed.
Becoming Political
Dr. French joined several medical societies and the Masons (Moose River Lodge, of course) and the Grange. He was a selectman, superintendent of schools, school director, auditor—give him a local office to fill and he'd tackle it. In 1908 he even represented Concord in the state legislator. Soon he was the town health officer, and chaired a state committee on the insane. He and Eudella, also known as Alice, attended the Universalist church.
But politically, he was hard to pin down. At first a Republican, later a Progressive, he became known for strong and vocal views.
"Successful Vermonters" reported that Dr. French, "having the courage of his convictions, has not failed to freely express them. His ability, evident sincerity, and his bluff, hearty manner have won him many friends," reported author William H. Jeffrey through his Historical Publishing Company located in East Burke.
But Jeffrey also added that Dr. French's manner didn't always win people over: "he has lost some [friends] by his steadfast adherence to his ideas of right."
And while he often got into the news for successful medical treatments, like for the injured eye of George Morrill, who lined up wrong with the steam from a tea kettle, Dr. French's adventures with his friends also made the news when they went awry.
On August 1, 1913, the Essex County Herald ran the headline "Costly Fish" and reported: "F.A. Brewer, town clerk, and Dr. French of Concord were fined $635 and costs of $48 for having 127 short trout in their possession … The New Hampshire law provides a fine of $5 for each short fish. They were fishing at the base of Mt. Washington when arrested by the game warden." This was at least as embarrassing for Mr. Brewer, as a former state's attorney for Essex County!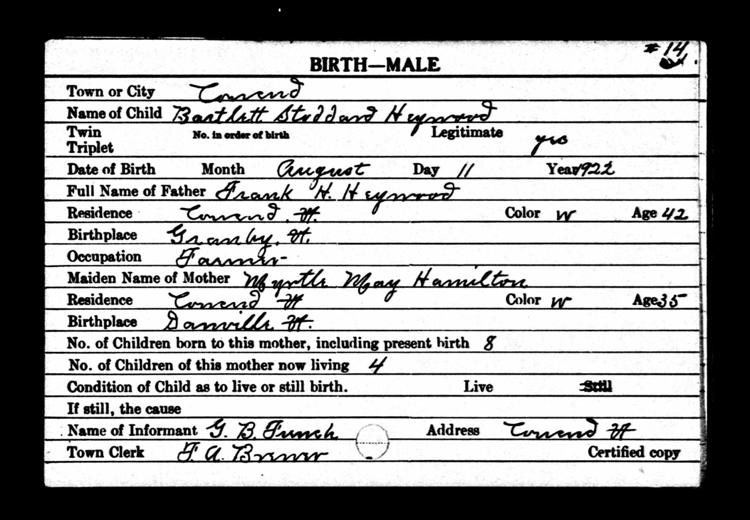 Birth to Death—And Fights!
Assisting with childbirth came so often that it never was remarked in the news for Dr. French. His signature on many a birth certificate, though, shows his many calls to women's assistance. In Concord village (the original West Concord), as the Concord Historical Society reports, he was often assisted by Annie (Mrs. Thomas) Hunter.
Much more interesting to local folks was his attendance at a "Fight to a Finish" in Waterford, when farmer F. K. Harrison, John Swift, and William Forbes tangled. "How the trouble originated is unknown, but all the men were said to have been intoxicated. They were said to have used various weapons, the one that seemed to have been used with the greatest effect being a heavy cane wielded presumably by Forbes, since he seemed to bear the least visible results of the fracus [sic]."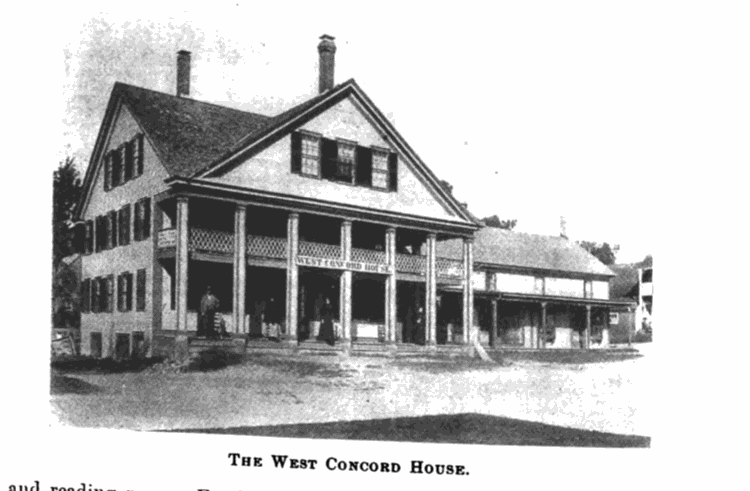 When the three men wore themselves out, they "decided they needed medical attention," and called Dr. French. But Sheriff Worthen and Deputy Sheriff Harriman soon arrived also, lodging Forbes in jail on $200 bail, while the others were conveyed to the hospital, where one had "severe injuries to the skull."
States Attorney Norton promised an inquiry into the fight, although none of the men could give a clear statement of blame. Only Dr. French had a definitive opinion, as he "stated that as far as he could see the bruises were caused by the cane, Harrison having been badly beaten about the head, as was Swift."
Despite, or perhaps because of, Dr. French's sometimes unconventional treatments, he remained a popular doctor in the region, called to treat serious illness among houseguests, or to attend to those so ill that their continued slide toward death was "as expected." Concord also kept a close eye on the doctor's health, noting in 1907 when he was ill with "the grip" and again when he had recovered.
The Danger of Automobiles
Dr. French made the front page of the St. Johnsbury Caledonian, instead of just the town news columns, one day in May of 1917. The newspaper reported Mrs. Thomas Christie and her daughter Leona were driving in Concord when the "brake bar" snapped on the machine.
"The two women stared down the steep hill known as the Ralston Corner road when upon applying the brake [Miss Christie was driving] it failed to work. The machine went on down the hill at a high rate of speed. Mrs. Christie became panic-stricken and when the machine was about two-thirds of the way down the hill, leaped from the car. She was picked up in an unconscious condition."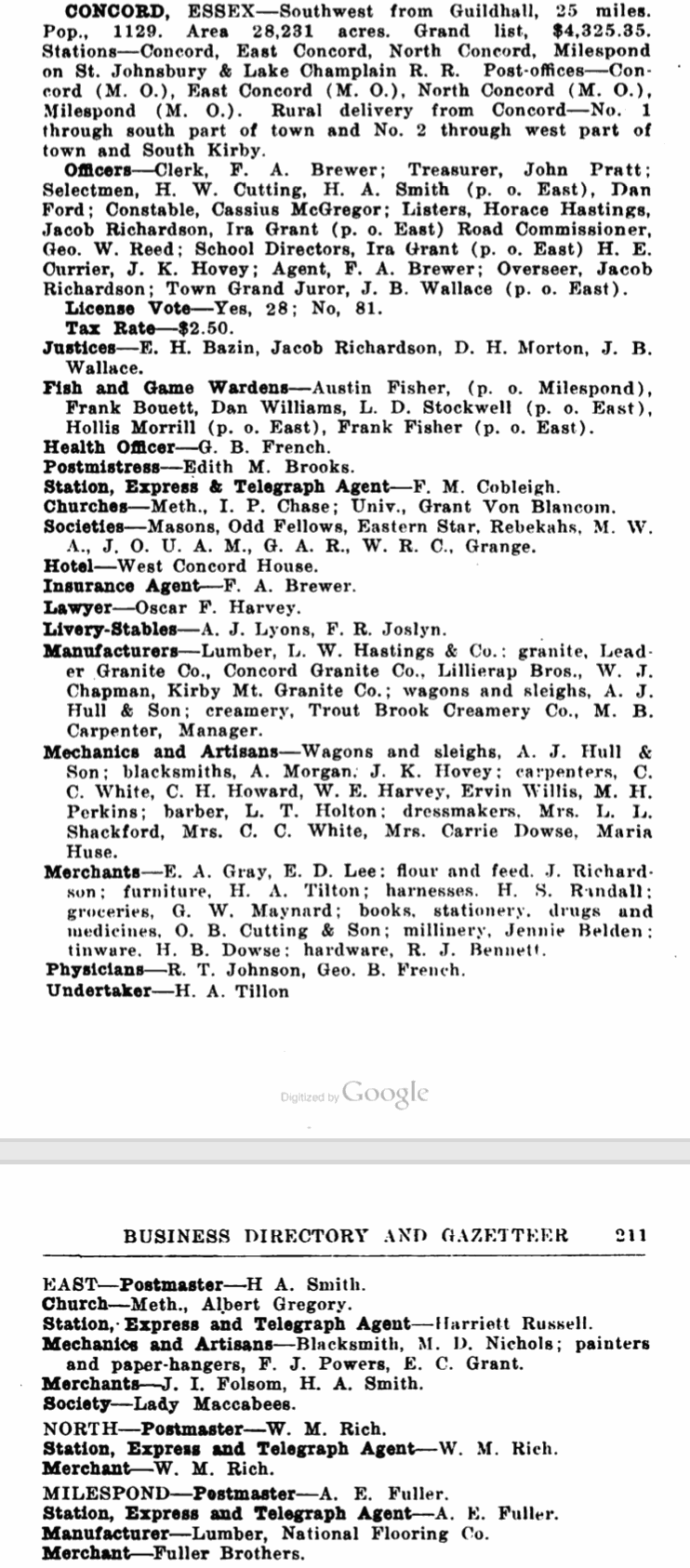 Then, reported the paper, the young driver, "with a wonderful display of nerve stuck to her post at the driving wheel and attempted to guide the on rushing car to the foot of the hill. She succeeded in doing this, but at the foot of the hill comes a sharp curve … the speed was so great that, though the driver made great efforts to guide the machine, it turned turtle. Miss Christie was pinned under the machine."
An onlooker "by the name of Jewell" saw what had happened and, using "great efforts," moved the car so Miss Christie could be taken out from under it. Mother and daughter were rushed to Dr. French's office, and the doctor found that the young driver had a shattered collarbone and had broken her arm in two places. (Her mother only suffered shock.)
For the newspaper writer, the outspoken local doctor provided the perfect commentary to wrap up the story: "Dr. French is loud in his commendation of the pluck shown by Miss Christie throughout her plight. He said her efforts to save the machine were wonderful for any woman to make, and that though she was painfully and seriously injured, never once did she show any sign of fear or pain."
No Way to Make It Rich
Even though Dr. French remained in Concord for the rest of his life, dying there in 1929 and buried at Concord Village Cemetery with his wife, who died later, he probably never reached the wealth of today's medical professionals. The Concord Historical Society in its winter 1980–1981 newsletter mentioned that in return for making house calls in all kinds of weather, over all kinds of roads, day and night, "Many times the doctors received no pay or were sometimes paid with potatoes, meat, butter, eggs or wood."
About the most that can be said for this country doctor's prosperity is that the house he purchased in Concord Village shows up in Census records as mortgaged at first, but owned "free" later. Also, his son Harold Ford French, who had been called "a promising scholar" at St. Johnsbury Academy, went on to become both an engineer and an instructor at the University of Michigan, including two years of work in Panama.
As another measure, by 1904, Dr. French had made such a mark in both Concord and the wider region that William Jeffrey included him among "the men of mark who have won distinction in their several callings, and who have become conspicuous in the professional, business, and political world": that is, his book of "Successful Vermonters."
But the best measure may be the number of babies he assisted into the world in this small town in rural Vermont. All through the existing records, his voucher in simple form remains: Name of Informant, G. B. French.