It's funny what people remember as a culture and what we forget.
In Vermont, we certainly have remembered how to brew beer – or else we've figured it out anew. In 2010, Vermont boasted 26 craft breweries. In 2019, the number jumped to 56. Today, Vermont is known for having more breweries per capita than any other state – and in the early 1800s, the statistic was similar.
Despite Vermont's long-standing brewing culture, some of the basics may have been forgotten. Beer consists of grain (mostly malted barley), hops, yeast, and water – but Vermont farmers have largely forgotten how to grow the ingredients. In the early 1800s, barley was the third largest crop grown in Vermont. By the mid-1800s, Vermont was second in the nation in hops production, and then the industry moved west and was forgotten.
Today in the United States, approximately 70 families produce 98 percent of the hops used in commercial brewing. Modern hops cultivation takes place predominantly in the Pacific Northwest, 74 percent in Washington's Yakima Valley, most of the rest in Oregon.
In East Hardwick, a schoolteacher and a hospital lab technician aim to change things. Kevin and Karen Broderick, along with their six children, own and operate Whitfield Hop Yard, a business that has been growing hops since 2015 and has expanded each year.
According to Robert Grim, head brewer for Foam Brewers of Burlington, the Broderick family is "rejuvenating this industry, which was dead, completely gone."
Foam Brewers is one of the several Vermont craft breweries that purchase hops from Whitfield Hop Yard. One of their specialty brews, a beer called Local Dork, is labeled a "Vermont Double IPA." Giving the beer a Vermont label is important to Grim because he believes the Vermont-grown hops he gets from Whitfield Hop Yard have a special flavor.
According to Geoffrey Sewake, owner of Whirligig Brewing in St. Johnsbury, "The flavor of Whitfield's Cascade hop is unique … It has an earthiness you wouldn't find in other Cascade hops." In marketing one of his brews Sewake notes the IPA (India Pale Ale) is made with, "hops from Whitfield Hop Yard … - it doesn't get much more local than that! A truly hyper-local IPA. This beer presents with a wonderful floral bouquet with citrus notes and a light hoppy musk."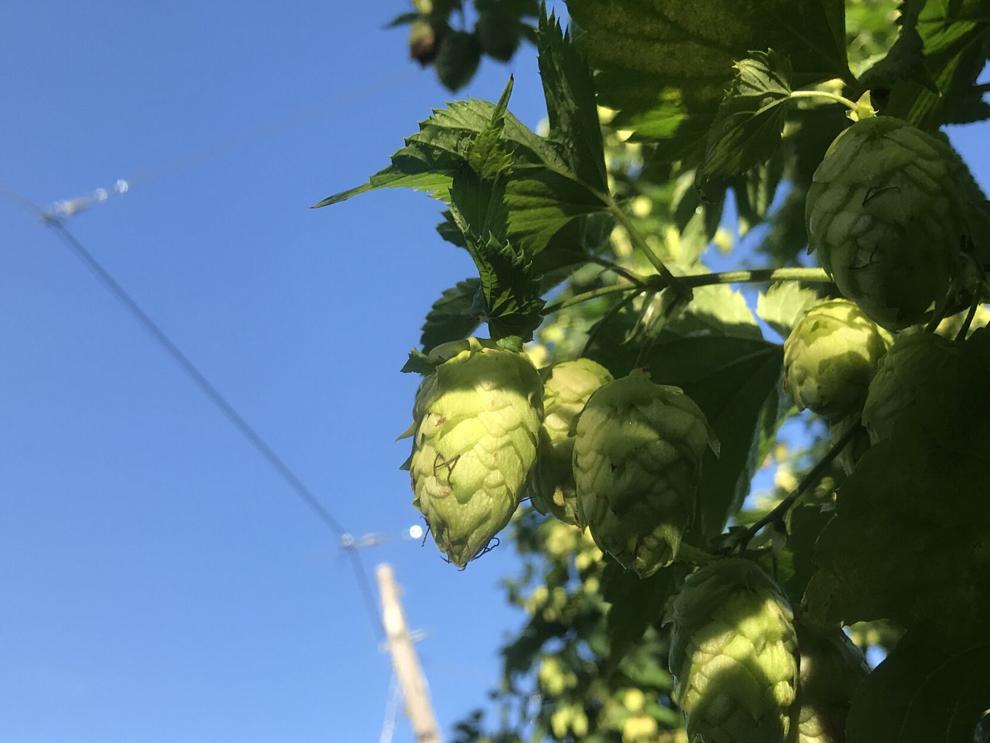 Dr. Heather Darby, a University of Vermont agronomist, imagines a day when all beer descriptions will tout the unique local flavor produced by Vermont-grown hops. She thinks the "terroir" of Vermont hops (a term used widely to describe the regional tastes of wine) is a marketing tool that can help reestablish the crop as a prime agricultural product for the state.
Right now, with the cost of Pacific Northwest hops at about $3 per pound, it is hard for small growers to compete. Darby said small-scale growing is more expensive than industrial hops cultivation, so if Vermont hops is going to cost about $15 per pound, it needs to have something special to justify the larger expense and eventual price tag for the beer made with it.
In March, Vermont hops farmers filled all the slots available for a six-part online course designed to assist hops growers in the development of "sensory skills," said Darby, to help them know and market the special olfactory quality of what they grow. The online forum replaced an annual hops conference which has been held since 2009; it was made virtual this year due to COVID-19 safety issues.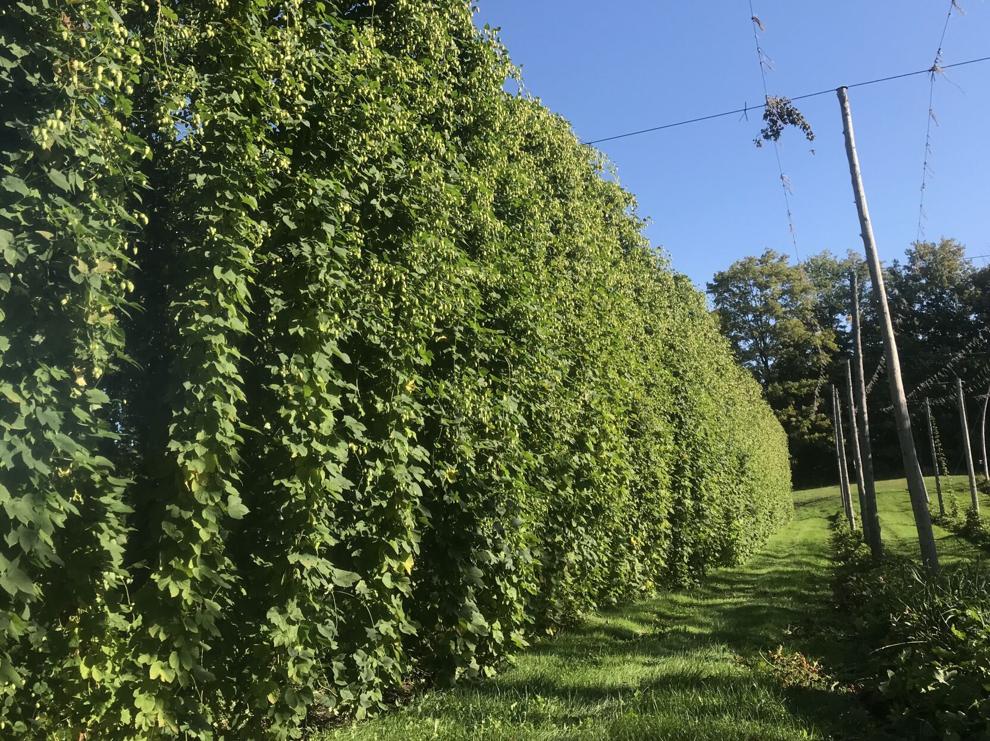 Whitfield Hop Yard
At the Broderick family's hop yard in East Hardwick, commercially-known hops varieties like Cascade and Columbus are grown, but Kevin Broderick is most excited about the wild hops varieties that he is cultivating
This summer, Whitfield Hop Yard will be adding a 60-foot row of wild hops, and they already have 50-to-60 feet of "feral" Vermont hops on trellises. Kevin Broderick is impressed by the vitality of the native hops, which grow one-third taller than other hops and are more resistant to cold weather and frost.
"There is a lot of interest in the native hops," said Broderick, "They have the terroir flavor of Vermont's early beers."
Whitfield Hop Yard got its start in 2013 when the Broderick family started growing hops in their garden. They were prompted by an 1800s-era map of their neighborhood that noted several hop yards.
Two years after planting hops in their garden, the family decided to build a formal hop yard, creating 16 trellised rows of the plant. (Hops is known to grow 30-feet high in a year and six inches in a single day).
In 2017, the Broderick family harvested 400 pounds of hops. When ripe, the plant produces green cones that are filled with a yellow substance called lupulin. In 2018, the family harvested 800 pounds of hops and had sold all of it within a few months. "It went to seven different Vermont breweries," Kevin said.
To have a complete modern hop yard, the Broderick family invested early in all of the necessary equipment to process their unique product. Chief among that equipment is a machine used to "pelletize" the hops. Other purchases included harvesting and baling equipment, drying equipment, a vacuum sealing machine, and a proper refrigeration system.
"It was expensive," Kevin said, but he realized some upfront investment was needed, "if we wanted to bring high-quality hops to market." Whitfield Hop Yard was the first in the state to have a complete growing, packaging, and sales system.
Kevin said it has been a tricky balancing act, but he hopes more Vermont small farms will figure out ways to compete with the type of huge, corporate farming that has taken over American agriculture. He hopes agricultural planners will start designing models of farms that are small, but modern enough to be able to grow products that can compete with large markets.
Vermont Hops History
In the 1800s, Vermont was a national leader in the production of hops used in the brewing industry – and even when hops farming moved west, Vermont played an integral role that few remember today.
Agricultural census data for the 1840s and 1850s places Vermont second only to New York for commercial production of hops. In the 1850s, Windsor County produced an average of 79,700 pounds of hops annually, and Orleans County was just behind, with an average annual yield of 77,605 pounds.
By the 1860s and 1870s, Orleans County had become the Vermont leader in hops production. In the 1860s, even though every county in Vermont was producing hops, Orleans County produced the most, with an annual yield of 161,192 pounds. While hops production levels were dropping statewide by the 1870s, Orleans County doubled its production, producing almost half of Vermont's yield on its own.
Hops were grown in Caledonia County too. In a 1958 travelogue called "The Vermont Guide," written by Walter Hard Jr., it is noted that hops were raised commercially in Concord between 1860-1900.
Hops were first used as a flavoring for beer by Benedictine monks in Germany during the 8th century. Hops came to North America in the 1620s with early settlers to southern New England, although it is believed that wild hops grew on the continent before European settlement.
For more than 200 years, as the population of the eastern United States grew, so did the cultivation of hops. As the nation expanded west, many crops moved with the settlers – including hops – especially Vermont hops.
The first cultivation of hops on the West Coast is attributed to a man named Daniel Flint, who was born in Swanzey, N.H. In 1856, he set up a hopyard in Sacramento, Calif., the genesis of today's monopoly of hops production on the west coast of the United States. In a 2014 edition of "Vermont History," it was reported that Flint wrote, "Most all the hops on the Pacific Coast came from my yard and I brought the stock originally over from Vermont in 1855."
Think about it – Vermont provided the rootstock for the modern hops industry – but at the same time, cultivation of the once-lucrative crop for Vermont farmers faded into non-existence. Why did something like that happen? There are two main theories.
Some lay the blame on a "hops blight" said to have hit New England in the 1800s. It is true, hops can be a tricky crop, and dryer weather in the Pacific Northwest is more conducive to the production of disease-free hops than the humid weather of Vermont summers.
Another culprit that might have discouraged the cultivation of hops in Vermont was the onset of the prohibition era. Vermont was the second state in the union to ban the drinking of alcoholic beverages. In 1852 all alcohol production was banned in Vermont and the state remained "dry" for the next 50 years.
Over time, the tall trellises and swaying hops cones that once dotted the Vermont landscape faded into history – the plant and the industry were forgotten.
When the University of Vermont began experimenting with growing hops again in Vermont in 2010 at their farm in Alburgh, it had been more than a century since hops had been a commercial agricultural crop in Vermont. "We had a very large gap in regional production knowledge," said Heather Darby, one of the UVM plant scientists who was involved in the program.
During the six-year program, 22 varieties of hops were evaluated to find types that demonstrate disease and pest resistance, high yields, and desirable characteristics for brewers in our region. The research prompted a small, but dedicated group of Vermont farmers to take a chance on growing the crop.
Darby said recently, "I think there is potential to have more hop yards in Vermont, but we need buyers … We need to establish the uniqueness of the crop."
Kevin Broderick is optimistic that the unique flavor of Vermont-grown hops will catch on and make inroads into the corporate hops market dominated by the Pacific Northwest. He said, "In 20, or maybe 50 years, I can imagine that there will be a very popular commercial brew available across the nation – Vermont-style IPA."
He also said, with a marked reverence for the hops he grows, "The plant is more native Vermonter than all of us."