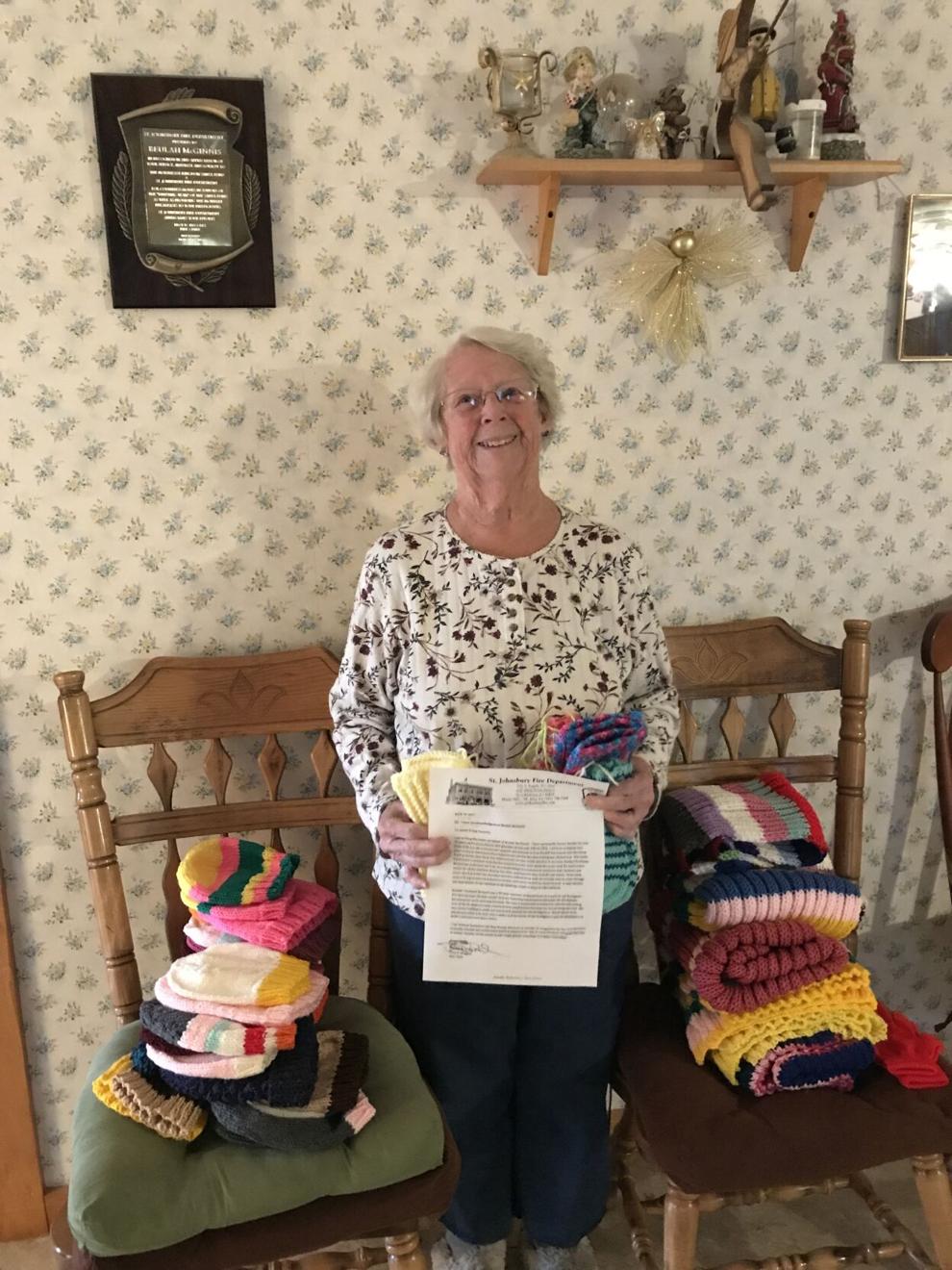 "When you look at the mission of the Fire Department, it obviously is to protect lives and property, but it's really taking care of our neighbors," Troy Ruggles reflected. After 36 years with the St. Johnsbury Fire Department—two on call, 34 as a full-time firefighter—that's how Troy sees the Santa Fund, which delivers toys and holiday food to needy families in St. Johnsbury and six other towns.
In the 1980s, when Troy started as a firefighter, the fire team already worked on the Santa Fund year-round. The group received donated used toys that often needed repairs, like sleds, bicycles, wagons, and tricycles.
"Back when toys could be fixed," he remembered, "any down time we had from our normal duties, we were doing that."
The firefighters drew inspiration from their Santa Fund work, and from the sense that they were part of a tradition that began in the days of the Great Depression.
In fact, 90 years ago, the mission of making sure every child had warm clothes for winter and holiday gifts sprang at first from women leaders appointed by the town.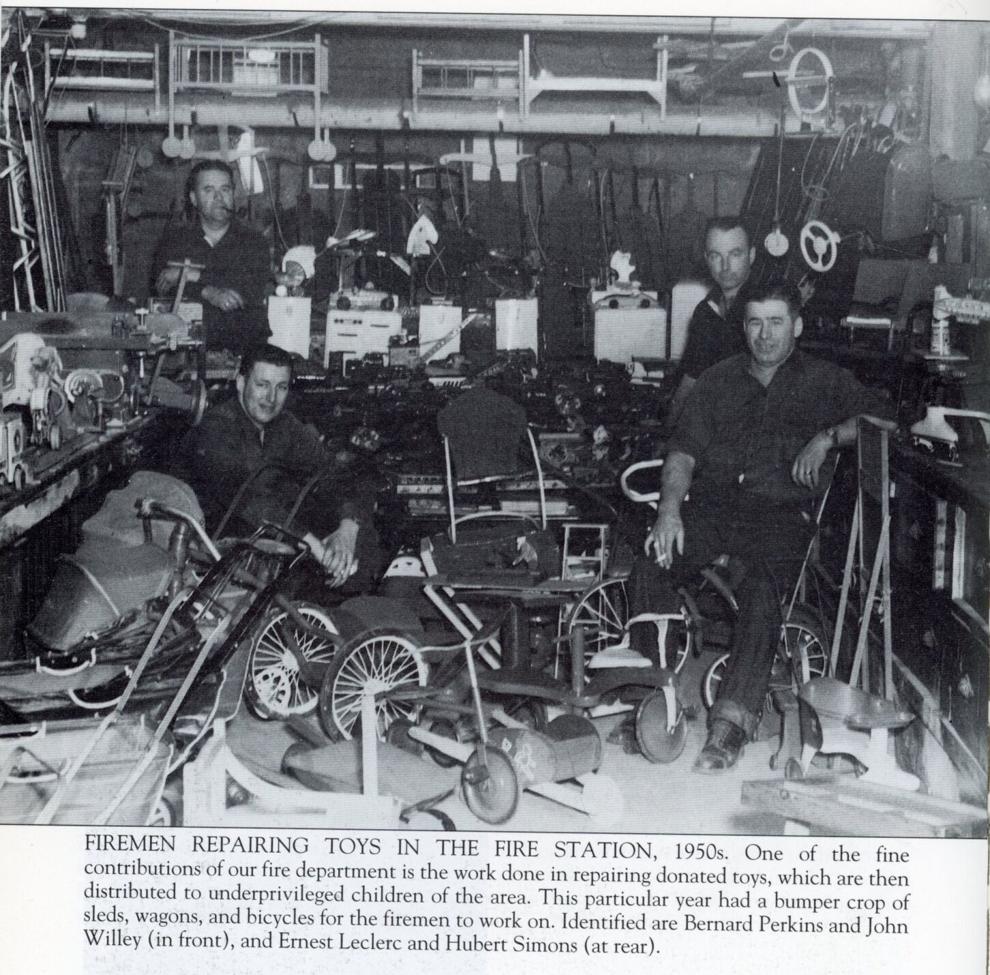 Family Welfare Society and the Great Depression
America's Great Depression began with falling stock prices in September 1929, and on October 29th of that year, the stock market crashed. During the next three years, U.S. unemployment would surge to more than 20 percent, and car sales had dropped sharply, an indicator of lasting trouble.
Effects in the Northeast Kingdom were hard to sort out—many farm families already got by on very little cash. But with no federal welfare system, towns faced responsibility for finding and assisting the poor.
As early as 1925, the local paper began to steer funding toward "the poor and ill of the town," with the Caledonian-Record Relief Fund. District nurse committee chair Mrs. Caroline Taylor distributed the funds. She raised attention by talking with community groups.
In October 1927, St. Johnsbury town manager Ralph Sherry invited Mrs. Taylor to describe cases of poverty to the board of selectmen. She spoke of a homebound handicapped man whose family all had to go out to work, leaving him without care. She described a husband and wife with seven children, the oldest 14 years old, where serious illness prevented the father from working, leaving the family "entirely without income and means of sustenance."
Northeast Kingdom pride was also an issue. "Mrs. Taylor finds that those most worthy of assistance are the most reluctant to accept it," the Caledonian-Record reported. "To those she offers the opportunity of reimbursing the agencies which she represents when fortune is more favoring."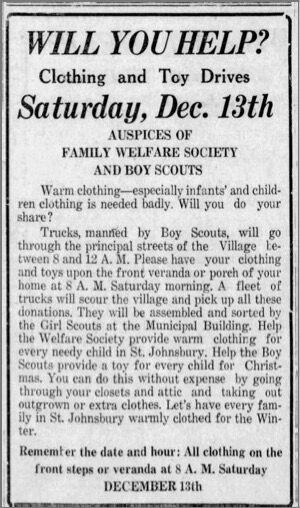 By 1930, St. Johnsbury had its own "Family Welfare Society" that reported to the town manager. Mrs. Taylor steered the effort, building holiday spirit as the weather grew cold. Then the Kiwanis Club jumped in, showing a "charity movie" at the Star Theater. People might not have much cash—from about 1400 people, the donations only added up to $32—but they brought food "in boxes, barrels, and every other kind of container imaginable," including a man who used a wheelbarrow to get his donation into the theater lobby. "One little tot, who couldn't have been more than six years old, came in lugging a huge sack of flour nearly as large as he was," the newspaper said.
Orders for hundreds of loaves of bread "to be used as needed" and a "freak" pumpkin that could make a hundred pies arrived, too. Fifteen men handled the accumulating donations, including home-canned preserves, peas, corn, jelly, and marmalade, and even the school superintendent pitched in; the total added up to $1,800 worth of food.
By 1931, the Family Welfare Society had its own space in the town's Municipal Building. "Never has the true spirit of the holiday season been more cheerfully and more generally shown than this year and, as Mrs. Taylor expressed it Tuesday morning, when Christmas comes there ought not to be a single family in St. Johnsbury where there is not a substantial, appropriate reminder that this is the season of peace and good will in which the whole community shares."
As the Depression deepened in 1932, St. Johnsbury's efforts blossomed further: The C. H. & George H. Cross Co. supplied 100 loaves of bread and a couple of quarts of beans. The Girls' Community League offered five quarts of cocoa. Boots, ice skates, and men's shoes came from James Cosgrove "of Main Street," and another man donated two sets of men's heavy winter underwear. Hovey & Chandler added sweaters, scarves, and woolen "sox"; and local knitters brought baby sweaters and mittens. Even a baby's "layette" complete with baby powder and soap arrived.
Rising from the Depression
Though the nation began to recover from its financial woes, poverty in the region continued. By 1937, the Family Welfare Society was officially assisting the "overseer" – that is, the town manager. A family of 11, impoverished despite the father being "industrious and hardworking," needed glasses for two of the kids; Miss Josephine Laughton, "Welfare Society Agent," made sure those were covered.
At this point, the group provided food, clothing, dental and medical care, glasses and milk. Miss Laughton added, "We supplement this when necessary by additional food, clothing wood and shelter." Her records showed 201 families helped, including 958 people—521 of them children. Help came from Rotarians too, as well as the district nurse, who made 3,335 calls that year.
World War II would soon break out, and evidence about the area's support for "the needy" became scarce. When America began to thrive again in 1949 the Elks Club hosted some 1,350 children for a Christmas party with candy at Tegu's Palace Theater, and the St. Johnsbury Mothers' Club managed holiday gifting for children. At last, the Fire Department showed up in the local paper: "Toys which members of the St. Johnsbury Fire Department are repairing have been coming in considerable variety since the outset of the drive." Central Vermont Public Service provided a truck to collect toys at the schools.
After a plea for more warm clothing, the organizing groups got personal. Town Manager Charles Sumner authorized two town trucks with drivers to help collect the toys, and Rosario Poliquin, Eddie Brooks, and Earl Orcutt pitched in; the Mothers' Club chairs Mrs. Howard LeBlanc and Mrs. Glenwood Morrison pleaded in the local paper for one more truck plus cartons or wooden crates.
The project engaged Girl Scouts to dress the dolls, and Boy Scouts to deliver Christmas boxes, as well as "numerous merchants" like Green Mt. Fruit Co.
The Caledonian-Record Steps In
The region's daily paper, the Caledonian-Record, printed news about these efforts and encouraged donations. In 1952 it took on a more formal role, keeping track of the cash coming in. It also provided a newspaper truck for toy pick-up in December.
But the paper warned with a headline, "Santa Fund Response Is Generous, But Children Outnumber Donations." It added, "The firemen's Santa workshop in the basement of the village fire station is still working a full shift but presently is running out of toys. A large basement room is stocked with completed toys … Chief John McGill and the members of the department are anxious that persons … visit the fire station and inspect the results of the year's work." The newspaper said the crunch was partly due to bringing together the work of several groups, including the Mothers' Club, so the list of kids and needs had grown. And now, families embarrassed to seek assistance could just submit their names to the paper.
Things worked out, though, with churches, schools, the "home dem" group, and more providing gifts and food, so some 350 children were served as well as needy families. "Members of the Caledonian-Record editorial staff worked for a number of days in advance of the distribution date and Sports Editor Jack Dunne assisted in checking the lists and loading. Reporters … assisted in the packing of the boxes." A pair of National Guard trucks with drivers turned out for delivery.
St. Johnsbury wasn't the only town with this kind of activity. In 1952, George Wishart led the Lyndonville VFW Post in repairing toys. "Members are being requested to wear their old clothes and bring a paintbrush and some tools," the group announced in early December.
But the newspaper's location in St. Johnsbury meant efforts there could be easily photographed. Throughout the 1950s, groups and businesses got involved, and one pickup for the fire station included "a brand new set of boxing gloves, ice skates, roller skates, ski boots, puzzles and assorted toys."
Facing Poverty and a Need for Caring
In the 1960s and 1970s, the program developed more, and the term "Santa Fund" stuck. Dave Brown joined as a "call firefighter" in 1968 and served for 43 years. His "Santa Fund delivery partner" was Dick (Richard) McGinnis. Dave found that most people appreciated the gifts. One memory he treasures is of a mother living on her own with two or three children in a neat, clean trailer, but with no money. She sent her well-behaved children to the other end of the structure so they wouldn't see the delivery, and she could surprise them on Christmas with Santa's generosity.
Richard Reed, the father of current assistant fire chief Bradley Reed, worked for the Fire Department from the 1960s until 2001 as a career firefighter. He repaired toys right away, though he didn't know a lot about it. "When I was a young fellow, I just followed along with the older guys there, and what they did, I did," he said. The Santa Fund work had to fit around firefighting and inspections, adding up to very long days.
Richard began to know the families in need, and adhered to the department's policy of keeping those identities private. What moved him most was the elderly people receiving food. "Some of them were quite lonely and were most appreciative," he recalled. "I didn't realize how many people in this area were desperate for food and for companionship."
The Women Get Organized
Richard Reed recalled that many firefighters' wives in his career years did the hard work of bringing up young children while their husbands tackled the long days of the job and its Santa Fund project. "All of us had young children back then," he said.
But there were Santa Fund tasks that women in particular picked up over the years. The Hilltop Quilters pitched in for 2011-2013. "Each member would make one stocking and fill it," Jen Paine said. "It started with Nancy Brown and (her husband) David's connection to the fire station." The filled stockings were added to the Santa Fund deliveries.
Beulah McGinnis of St. Johnsbury made a habit of supporting the firefighters by making hot breakfasts for their Saturday morning drills. Her late husband Richard, was a volunteer firefighter for over 55 years. "He just loved that fire department," she said. "He loved going out delivering" for the Santa Fund.
Beulah's committee work at Grace Methodist Church accidentally brought her connection to the Santa Fund. The church secretary received a call from the Caledonian-Record, saying the woman who'd been organizing knitters to make hats, mittens, and such for the Santa Fund could no longer do it. The secretary turned to Beulah and asked whether she'd tackle the job. "I didn't hesitate," she said. "I said yes, I would."
Then she discovered that the list of knitters had dwindled to just a few, so her first tasks involved making recruiting flyers and going out to speak at clubs.
"When we were younger," she explains, "I had two brothers and a single mom. We didn't have much for Christmas. It was the Fire Department that helped us. I've been paying back some of the times they helped us, years and years ago."
Now there are about 25 knitters involved (one in the past was a man), with changes from year to year. Last year their work filled 17 huge boxes. Many provide their yarn, for mittens, hats, scarves, baby sweaters, and slippers. In addition, a Christian group in Florida heard about the project a few years ago and sends boxes of knitted items all summer. Mrs. Maxine Bozzi of Deland, Florida, manages that effort.
For some of these volunteers, it's not unusual to make 75 to 100 pairs of mittens during the year. Edna Curtin from Barnet makes afghans as well. Other area knitters now include Alona Payette, Janet Weise, Susan Bourtelle, Pauline Gingue, Connie Quimby, Betty Maynard, Maxine Bozzi, Betty Counter, Mary Denio, Marilyn Gadapee, Lynn Fleming, Linda Lewis, Helen Laberge, Pamela Lamont, Shirley Warden, Sue Wood, Roxanne Price, and Andrea Laflamme; Beulah misses others who've had to stop knitting or passed away over the years, like Esther Cuthbertson. She sometimes visits her knitters to pick up items and maybe bring some baked goods, too.
Seven Towns and a Website
Today the Santa Fund serves more than a thousand children and about 650 families and has expanded beyond just St. Johnsbury. Names of people with needs are also invited for Lyndonville, Kirby, Concord, Waterford, Danville, and Barnet. The Passumpsic Bank donates time for accounting and checks.
Because toys have changed so much, from wood and metal in the old days, to plastic and electronics today, the St. Johnsbury Fire Department no longer repairs used toys. New toys, and donated money to purchase them, are very much needed. The target ages range from newborn to 14 years, according to Brad Reed, who says ages eight and up are tough for the firefighters to find things for, beyond the handful of sleds already at the fire station. The Santa Fund project also includes a festive holiday meal, provided by local merchants like White Market.
Executive Editor Dana Gray at the Caledonian-Record describes how the newspaper now partners with the Fire Department. "Our current role is to promote awareness through stories; document the support from area businesses and organizations; provide free ad space for the registration form for people seeking gifts and food boxes; and maintain a website (kingdomsantafund.com) that provides information about the program, ways to offer support and a link to the fire department for people to make online requests for toys/food."
"Nobody should go hungry or be cold and alone during this holiday season of light and love," the website comments. "And if everyone gives a little, it will help a lot."
In 2020 the COVID-19 pandemic changed how the gifts and food were distributed, but volunteers persisted, and with a mix of pickups and deliveries, the Santa Fund managed it all. This year, the Fire Department's Assistant Chief of Operations, Bradley Reed, says the team will go back to its usual delivery system, including Barnet, Danville, and Waterford fire departments carrying out their own deliveries.
The packing of delivery trucks will take two days," Brad Reed said. "We ordered five hundred food boxes this year." He's confident that people will get into the holiday spirit to help with the roughly $8,000 needed to purchase new toys and adds that the grocers have always been very kind in filling the food boxes. Businesses like the Barrett Insurance Agency, Wes Ward Auto, Fairbanks Scales, and others in Lyndonville also pitch in. Individuals come to see the growing stash of toys, and "it's not unusual for folks to come in and give us three hundred or five hundred dollars." When word goes out that help is needed, people open their pockets.
For Brad, although the toys have changed, the magic of the Santa Fund project is the same as it was when he was about 10 years old and came with his father Richard Reed for the first time, to ride along on the trucks making the toy deliveries.
"It gave me a snapshot of our community that I hadn't seen before," he reflects. "There's a lot of folks in every community across Vermont that can use a little help."
Brad shares the excitement now with his niece, passing it on to another generation. Is Santa real? "Of course he is, absolutely!" And Santa has the Fire Department ready to assist, no matter the winter weather, because "We've done it now for 90 years. … Firefighters just get it done. It's our nature."