The U.S. Census of 1850 for Danville includes a column labeled "Condition" where very few markings were made. But for sisters Ellen and Mary Currier, born in 1844 and 1841 to parents John and Amy Currier, this column is marked "Deaf & dumb."
In 1852, the girls became boarders at a special school in Hartford, Conn., where their scholarship level was marked "respectable," and here they remained while they learned communication skills and a way to get by. Ellen stayed there for seven years. In 1860, the census showed them home again in Danville—still with the mark "Deaf & dumb" in their condition column and living with their mother. A handful of other Northeast Kingdom children also attended the school.
In 1888, the U.S. government launched its own special census on "deaf family marriages and hearing relatives," and Ellen Currier appeared in it married with children. She had married Alonzo Allard from Newark, who'd been born deaf and attended the Hartford school. He became a shoemaker and of the couple's six children, three were born deaf. The family considered its home to be both Cambridgeport, Mass., and Randolph, Vt., at this time. Alonzo's younger brother Jonathan and Jonathan's son, Thomas, were also deaf.
Even more astonishing, the survey probed Ellen's own deafness: "Cause of deafness supposed to be grief of mother at learning that Mary [Ellen's older sister] had become deaf from scarlet fever."
Birth of a School for the Deaf
From 1830 to 1930, the U.S. Census included a question about whether a person was deaf. Every now and then, a Census page from a Northeast Kingdom town shows a notation about someone described as either deaf or "deaf-mute," a term that dates to when people believed hearing was necessary for speech.
But unlike the "special census," that bare census data reveals nothing about the cause of deafness in these individuals—a condition from birth, or caused by an injury, or discovered after an illness such as meningitis, mumps, or chickenpox.
In 1912, the Austine School for the Deaf in Brattleboro accepted its first 16 students. But before that, Vermont families with deaf children had two main choices: keep the child home and manage as best they could or send a child to an out-of-state school with the special classes and assistance needed.
The closest such school was "The American Asylum, at Hartford, for the Education and Instruction of the Deaf and Dumb"—soon shortened in conversation to "The American Asylum."
For its first two years, the school's name was a "Connecticut" version rather than "American," but the need for national attention changed that. Unlike today, in 1817 when the school opened its doors, "Asylum" didn't mean a place for the mentally ill, but rather, a location of help. The federal government even provided a grant of out-of-state land for the school to sell to fund its development. Impressively, the school's first principal was Yale-educated Rev. Thomas Hopkins Gallaudet. He'd become widely known for advancing American Sign Language with this new school, so that deaf persons could reliably communicate in depth, and learn. He held the job until his health failed in 1830.
When the next school principal, the already experienced Lewis Weld, looked back on the story of "the Asylum" from the vantage point of 1848, he pointed to 1825 as a watershed year. "The assembling of Commissioners from the states of Massachusetts, New Hampshire, Vermont, and Maine, for the purpose of digesting a plan… for the reception of pupils into the Asylum as beneficiaries of those states," he wrote in a report.
In other words, by contributing to the school's funding, Vermont would be able to send its deaf students to board and learn there. Vermont's commissioners for the project were the Hon. Horace Everett of Windsor, the Hon. Chauncey Langdon of Windsor and Castleton, and the Hon. Aaron Leland of Chester.
As of 1825, the expectation per pupil was $115, for which the school, according to Lewis Weld, would provide, "instruction, board, washing and lodging, and stationery for the school rooms, and to teach them mechanic trades."
"Mechanic trades" is a term that meant work done with one's hands. And pupils were to stay for at least four years, in order to be educated. By mid-century, the rate per pupil per year had gone down to $100, and each brought along the clothing and personal items needed.
Children from Many Kingdom Towns
Vermont legislators expected a report of how their money was spent, and each year, they summoned Principal Weld to the State House. He submitted a written report to the governor, listing the Vermont children attending his school, and the trades they were learning.
Although the Currier sisters didn't have a trade listed for them, and neither did Mary Lackie of Peacham, in 1855 Carlos Perry of "Irasburgh" studied cabinetmaking. The 1858 report shows other local siblings starting at the school: David and Thomas Moodie of Greensboro.
The school records could also be a bit off, like the line that says Mary Lackie came from Peacham. Frederic Palmer Wells, in his "History of Barnet, Vermont," describes her as a daughter of Andrew and Elizabeth Lackie, of a Scottish settler family in Barnet (one town over from Peacham). Wells wrote that Mary, "Lost her hearing and in part her speech at the age of six from scarlet fever. Educated at School for the deaf in Hartford, Conn. Employed at Lowell [the mills in Lowell, Mass.] for many years. Later, made her home with her sister, Mrs. McLaren. She learned the tailor trade at Hartford, Conn., and worked about five years in John Q. Hoyt's shop in Barnet before going to Lowell." And indeed, the 1900 Census shows her as a "hosiery stitcher" living in a boarding house in Lowell; her deafness may have counted as an asset in the noisy mill environment.
Likewise, David Moodie of Greensboro had most of his family roots in neighboring Craftsbury, where according to Eddie Moodie of the Moodie Ancestral Committee, this David's uncle, also named David Moodie, "was [a] teamster. He must have been a great horsem[a]n, he used his teams to haul everything and in those times there were hardly any roads. One of the records found was that he went from Craftsbury to Burlington, VT to bring Ann Moodie and others who had traveled from Scotland to Quebec, CA to Burlington VT by boat[,] and brought them back to Craftsbury. That would have been a 100 mile trip from Craftsbury and back."
Earlier school records show other Northeast Kingdom families where deafness affected more than one child. The Meacham family of Guildhall sent to the school James, who "lost hearing at 2 ½ by ulcers in head" and studied cabinet work, returning home to Guildhall as both a famer and cabinetmaker; and Allen and Byron, James's sons, supposedly deaf as a result of "sores in head" and "throat trouble."
The child whose life and early death sent this writer into research on the school was Pherney J. Davison of Waterford, daughter of Henry and Zariah. She entered the school in 1843, and four years later died there of typhus fever. Another Northeast Kingdom child attending at the time was Charles Tripp of Charleston.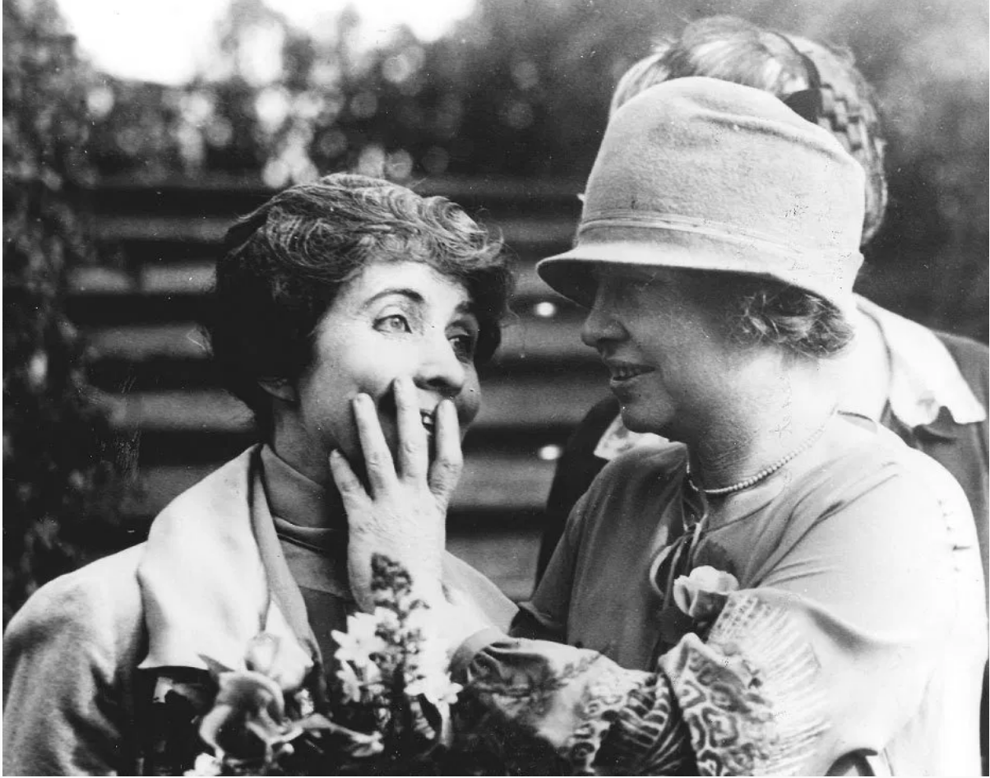 These "out-of-state" students "packed their trunks for one year," wrote "Asylum" historian Jean Merritt Linderman. "They did not go home during the year."
According to Linderman's archives, a boy around 1870 would be expected to bring an overcoat and two other "snug" coats, five pairs of pants and five "vests" (perhaps undershirts), four new shirts and nine partly worn shirts, four undershirts and two pairs of "drawers" (undershorts), nine pairs of stockings, and various suspenders, gloves, mittens, boots, shoes, wool caps, and one "Scotch cap." A girl, of course, had more items to pack, including work aprons, white aprons, and felt "scirts" and "under scirts," not to mention "pins, needles, combs, thread."
After the Civil War, special schools for the deaf multiplied. Although Vermont would not have its own special school until the 20th century, the Clarke School for the Deaf opened in 1867 in Northampton, Mass. This too had a residential format. Intrigued and determined to teach "little deaf children," Grace Goodhue Coolidge (raised in Burlington) became a teacher there and in her second year of employment met the man who'd become her husband, young lawyer Calvin Coolidge. Together they would devote much charitable energy to the school in their future. The Clarke program differed greatly from the Hartford one, because no sign language was taught, only lip reading and the "Oral-Only" method of attempted speech. Controversial though this change could be, the school still drew Vermont students: eight of them in 1911, for example, arriving through application to Vermont's governor. That year, Mary Ethel Bruce of East Burke graduated from Clarke. The daughter of Cyrus and Emily (Gorham) Bruce, she never married, and she returned to her hometown for a long life.
Today, continued changes in education and "mainstreaming" of students who are deaf or hard of hearing have closed the large schools that boarded and trained the Northeast Kingdom's deaf children for adult community life in the 19th century. Now a departure for such a special school is made by choice, as an added resource in life, rather than as an option that kept children away from their families for a year at a time, for at least four years.
But it's good to know from the evidence that the Kingdom's deaf and hard of hearing children in those long-ago years came home again, and often found long and meaningful lives near the towns where they were born.