From Victory, Vermont, to the national newspapers and beyond, the international career of Professor C.C. Bonette was remarkable. Rediscovering this outstanding balloonist and aeronaut began with a pair of black-and-white local photos that had nothing to do with the professor, but everything to do with flight.
Mysterious Biplane Photos Found
The two photos were tucked inside an album of David Grady's—his family had the 13 Ski Club (featured in the January edition of the North Star Monthly) at the south end of St. Johnsbury on their farm across from today's Comfort Inn. Grady's album contained many ski photos, but there also two photos of a pilot in a biplane, a Curtiss "Jenny," with "Charlie + Charlie" painted on it. And David recognized the barn of his family farm in St. Johnsbury but had no other clue as to who this was, or when.
Even without a name or date on the biplane photos, Jim Nash at New England Aviation History nailed the pilot: Lieut. Paul D. Robinson of the Charlie and Charlie Aviation Company in Brookline, Mass., a "barnstormer" – one of the pilots who learned flight during World War I and then brought aviation displays to crowds across America.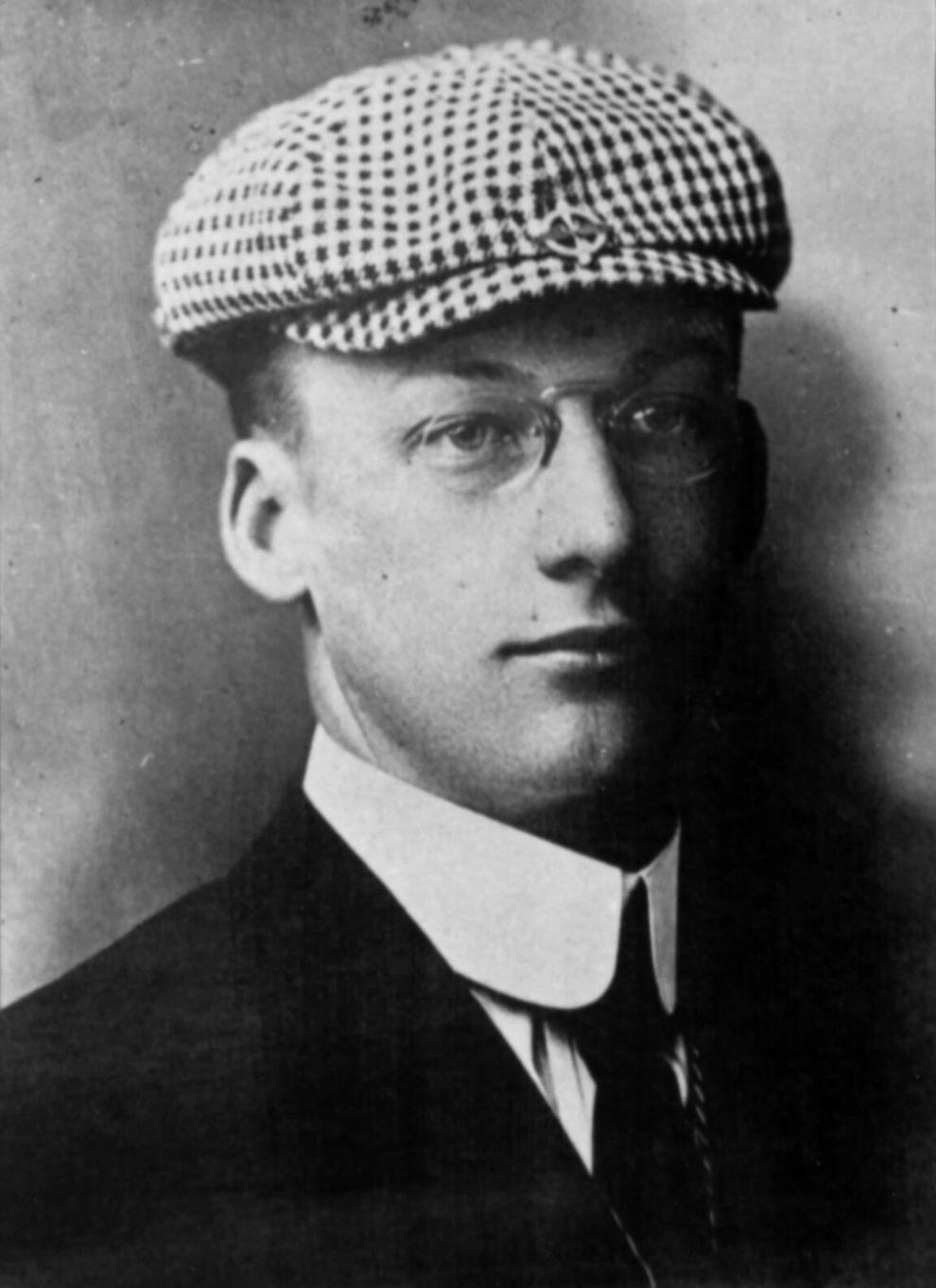 Paul Robinson, born in Bangor, Maine, had been a law student before the Great War. Curators Camille Arbogast and Jesus MacLean at the Brookline Historical Society identified him and found his war records. His service was short, but enough to open his new and adventurous career, becoming the first to do an outside loop in a Curtiss "Jenny" (JN-4) biplane, and soon to visit St. Johnsbury to give an exhibit of daring acrobatics with his plane.
Downtown merchants raised the funds for the pilot's Oct. 30, 1920, exhibition. The Caledonian-Record reported that Robinson "gave the most thrilling exhibition of aerial stunts ever witnessed in St. Johnsbury while nearly 10,000 persons stood on the ground or on rooftops amazed at the performance of the 'Daredevil' flier."
While the St. Johnsbury crowd watched Robinson fly into "the valley," he started with a spiral dive, followed by three loops, then played with the crowd's attention by rising almost out of sight and diving back so low that people could see him in the cockpit. His most daring stunt was a dangerous swoop to the steeple of Notre Dame des Victoires, the cathedral-like French Catholic church that was then a highlight of the town (it was later destroyed by arson). The flyer, said the paper, "came within an ace of hitting the steeple." A stunt along the river came close to striking the Summerville bridge that linked the east side of St. Johnsbury, and the pilot "cornered" many town buildings.
Robinson even gave a 15-minute ride to 74-year-old Ferdinand Dubois of Barnet, oldest employee at the Ely Hoe and Fork Company in town. Fellow employees paid for Dubois to take the ride and bundled into a truck to all watch from the field where Dubois took off. The newspaper reported Mr. Dubois declaring, "It's the best fun I ever had."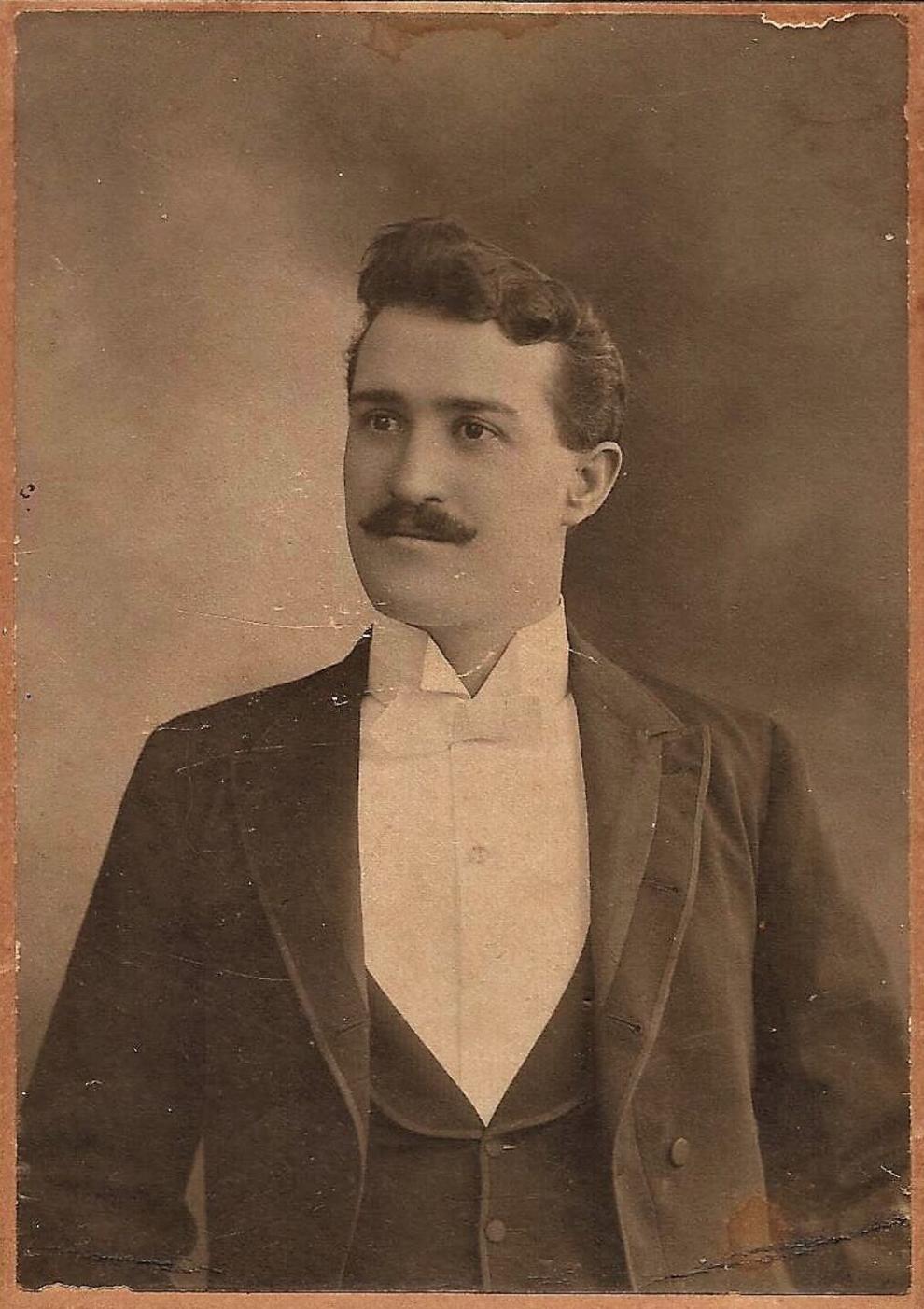 The next day, Sunday Oct. 31, was cold and dreary, but a big crowd arrived anyway at "Grady field" to witness more loops and spirals. More rides followed for people whose descendants still live in the area: A.W. Wakefield, Ernest Laferriere, Paul Hurley, Hugh MacDonald, Louise King, Fred Bedard, and even Miss Theda Corley, one of those who "called for stunts" in the air ride.
Lieut. Robinson and his plane had one more big task for the area, planned for Wednesday Nov. 3, the day after a major election. The Caledonian-Record had hired the pilot and his plane to "circle over towns of three counties" as a "modern Paul Revere" to bring word of the national winner of the "greatest political contest of years" – the plane would have a black circle on its underside if the new President would be James Cox, or a red one to signal Warren Harding as the winner. The newspaper added, "The color scheme is best suited to the eye and carries no political significance."
"Man Bird" to Be at Caledonia Fair
Caledonia County had embraced airplanes since 1910, when the first successful Vermont flight took place at the Caledonia County Fair. The St. Johnsbury Republican, a local newspaper, called 27-year-old Charles F. Willard a "Man Bird" when announcing his "sky-flying" exhibit scheduled in 1910. Terms like "flying machine" show how new this idea was in the news:
"That [Willard] is fearless is attested to by the fact that he is an aeroplanist. Like all other flying machine men, his characteristics are truly bird-like. His eye is as clear and sharp as the eye of an eagle, his movements quick and decided, his instincts regarding wind and possible danger being similar to the instinct of the feathered family."
The paper emphasized how dangerous the flight would be, mentioning that Orville Wright himself had been seriously injured. Plus, the plan included Willard shutting off his engine on purpose at a height of about 800 feet, to let his machine "hang in the air."
Willard's two successful flights on Sept. 15 would mark the start of Vermont air flight. But his booking at the Caledonia County Fair resulted from an earlier failed flight by local aeronaut "Professor" Clarence Bonette. Lawyer Joseph Fairbanks, whose family gave St. Johnsbury many of its cultural institutions and who supported the fair, revealed the story much later, in a 1943 newspaper account: Bonette, who lived across from the railroad station in Passumpsic, was originally recruited for the fair by its directors, when they visited the plane being built inside Bonette's barn. Fairbanks reflected, "How a group of cautious and presumably shrewd Yankee directors, no one of whom had ever seen a plane, could have entered on such a hazardous project with a man who had never flown and a homemade machine that had never left the ground, at this distance of time passes comprehension, but such was the fact."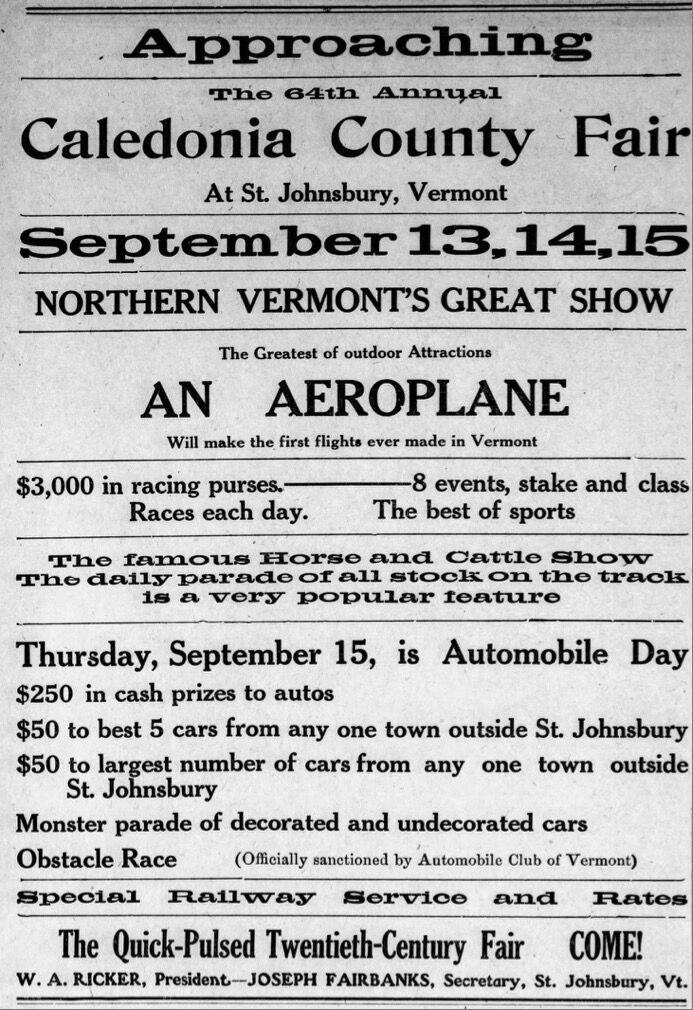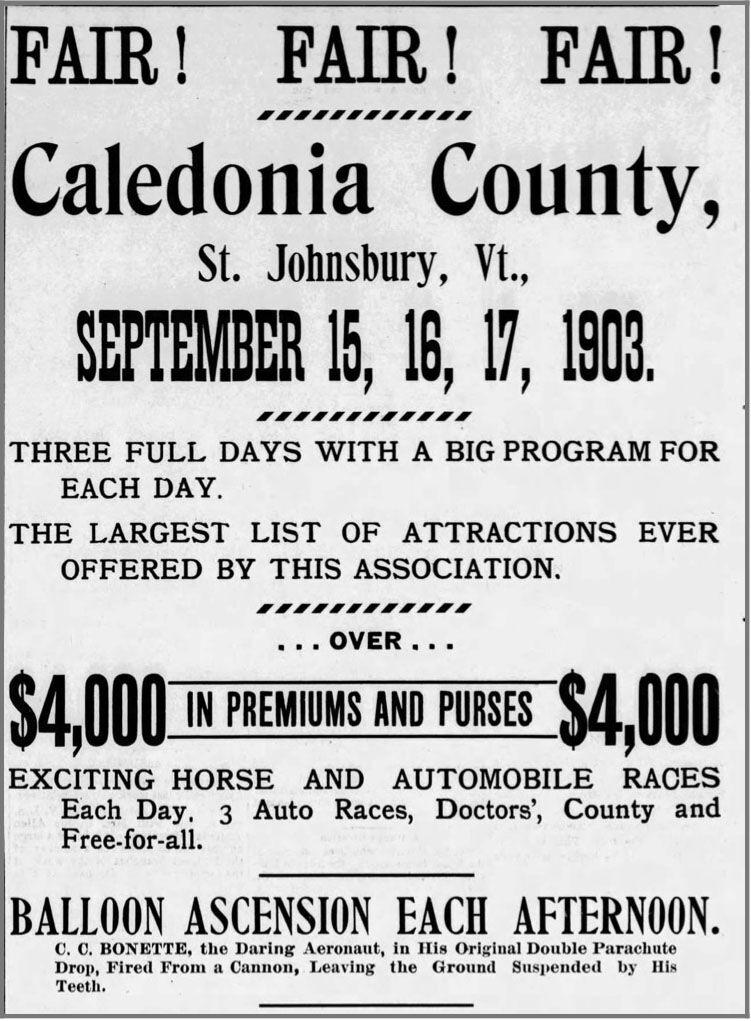 But Bonette's test flight over a riverside meadow in Lower Waterford only rose 10 feet before crashing. He was unhurt, but his machine was "a total wreck."
Unfortunately, the directors had already boasted about an air flight at the upcoming fair! So Joseph Fairbanks hurried to the first large aviation meet held in New England, in Boston, and for the enormous sum of $1,500, hired a "genuine flyer," Charles F. Willard, so the fair could proudly host "the first successful flight in all Northern New England." The Barre Daily Times reported that Willard's first flight covered five miles, along the Passumpsic River route, and rose to 506 feet. A shorter second flight circled the fair ground, "and his sensational landing created a whirl of applause."
A Handsome Athletic Figure With a Slight French Accent
It wasn't surprising, though, that the fair directors expected Clarence Bonette, parachutist par excellence, to put on a great show. He'd done it before at the fair in the 1890s: with a balloon instead.
Joseph Fairbanks wrote, "It was an event to watch the wood fire kindle and the big bag begin to swell in the space at the Fair Grounds … What a cheer went up from the eager crowd as the swaying balloon shed its last sandbag and Professor Bonette, grasping his trapeze, was yanked aloft. What suspense as the slowly diminishing figure performed startling gymnastics in mid air. Then came the climax, when at a great height the Professor and his balloon parted company, his parachute blossomed out, and while he swayed like a crazy pendulum, the pear shaped bag withered and fell. … Once, the Professor descended, red tights and all, in the field just back of Brantview, and I had the rare luck to be near at hand and to help him gather up his parachute, marveling at the lack of concern of this man who had just been up a thousand feet in the air."
Clarence Clement Bonette was born in Victory, Vermont, in 1871. He later said that at age 7, he started "stunts" using a broom handle suspended in his father's farm; at age 15 he tried to jump holding an open umbrella, which instead turned inside out before he landed in a haystack; and by 18 he could walk a tight wire between the roofs of buildings.
In the 1890s he began giving parachute/balloon exhibitions at fairs and "expositions" around New England. His second and third ascensions were recorded by the St. Johnsbury Caledonian on Oct. 19, 1893.
There are suggestions in photographs that he'd already started performing in Vaudeville and doing "teeth stunts" hanging onto trapeze, perhaps even in Paris, but the first startling detail of his adult life took place on Sept. 30, 1897, in Malone, New York: As he was doing a two-person ballon-plus-parachute stunt with Minnie Florence Wilson, presented as "Mrs. Bonette," tragedy intervened. Apparently, Minnie jumped at the wrong moment, trying to avoid a high board fence. The New York Daily Tribune said she fell 25 feet onto rocks, damaging her spine, and was "in precarious condition."
After that, Minnie was wheelchair bound. The couple must have been very much in love; more than a year later, on Jan. 27, 1899, they married officially in Boston. Minnie traveled with her husband to his performances, according to the New England Aviation History report. They adopted two sons, Daniel S. Bonette and Louis Joseph Lapointe Bonette, and they resided in Sutton, Vermont, until Minnie's death in 1921.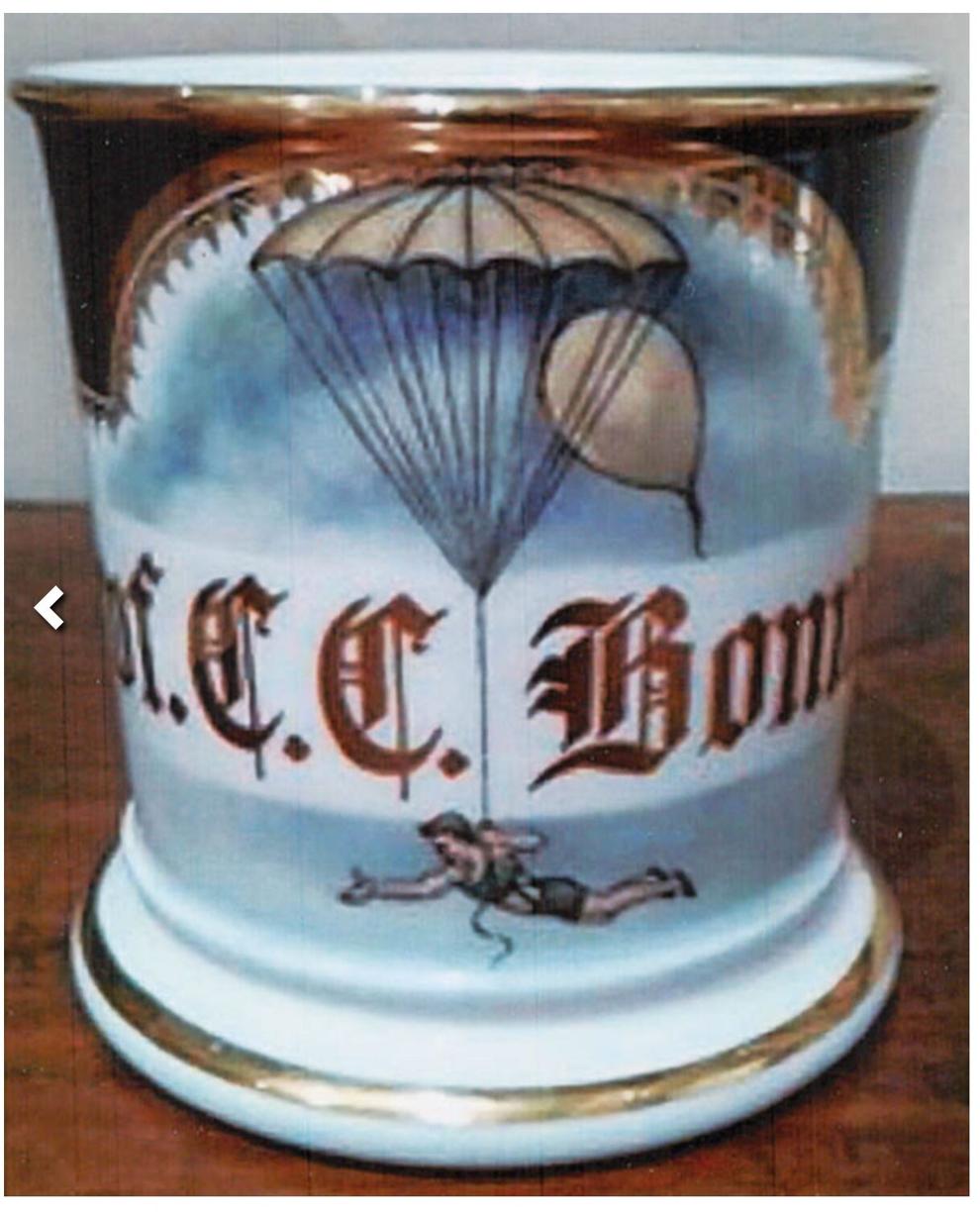 "Professor" C.C. Bonette continued to combine balloon ascents with parachute drops, adding up to some five thousand of these. Despite taking a bad fall himself in 1912, he continued his amazing performances. A later report in the periodical "Vault" said, "The carnival balloonists probably reached their peak early in this century when Professor Clarence Bonette used to go up hanging by his knees, explode bombs and finally emerge from behind a cascade of fireworks, hanging by false teeth from a red, white and blue parachute."
Clarence Bonette's experiments with airplanes did not serve him well even though he gets credit for building the first airplane in Vermont, boldly named "Vermont No. 1," in flight attempts his machines were plagued by mechanical problems, from guy wires to engines to a broken running wheel. In the 1920 Census for Sutton, he still described himself as a balloonist, not a pilot or flyer.
After his wife's death, Clarence moved to Warner, New Hampshire, where he and his son Louis were described as "aeronauts" or "aerial artists." In 1943, when he was interviewed by Yankee Magazine, he confirmed a rumor about his teeth: that he had a set of false teeth, made of solid gold, that he used to hang on when he'd be "yanked off the ground." He also told a different story about Minnie's accident, saying she'd grabbed at some live wires that broke and landed her in the street. As quoted by Alton Blackington in Yankee Magazine, Clarence said, "I made her a special wheel-chair-bed, and for 15 years she went with me and watched me jump. I never knew a braver woman. I promised her I would never marry again, and I've kept that promise."
A year later, the show-business periodical "The Billboard" reported that Clarence Bonette's home in Warner had been destroyed by fire. "He was an old-time parachute and balloon man and managed to save his balloon and parachute, radio, trunk and rope, but all else was lost." When the performer died three years later, in 1947, his body was interred with his wife's at the Sutton village cemetery. His obituary in New Hampshire described him as "world-famed" and said he'd performed in France, England, Germany, Canada, and South American, and that he was "the originator of the four-parachute jump and had made over five thousand jumps from balloons and dirigibles."
Regional residents who recall stories of Clarence Bonette include Denise Russell, who has a photo of him (he was the brother of her great-grandmother Agnes Bonnett), and Roberta Jean Ayer, for whom "the Great Bonette" was her grandmother's uncle. She shared, "My mother remembered going to watch him at the fairground (on what is S Main St). By that time I believe his wife was in a wheelchair due to a fall while performing. Apparently he was rather vain and blacked his hair, and the dye would run in the rain. It is funny what a child remembers." Shelia Iris Remick Lilley, Steve Bonett, and Christine Morey are also descended from the family. Christine wrote, "We are going up in a balloon this year. Very excited to do what a past family member did for work."
Professor C. C. Bonette set national records and scored a place in aviation history for Vermont—as well as demonstrating enduring love for the woman who leapt with him via parachute from a fiery balloon.