Peacham resident John Engle bought the former South Peacham General Store, located at 24 Governor Mattocks Road, back in 2002 with dreams of opening his own antique store. It took some time, but since July 20, the newly-named Peacham Carriage House has been open for business.
After 17 years, Engle chose the middle of February to remove a six by seven-foot window from the historic building to allow entrance for a c.1885 carriage he found in Colebrook, N.H. five years ago. Engle was told that the carriage, the inspiration for the new store's name, was supposedly utilized by President Abraham Lincoln in Boston.
The old General Store was the perfect candidate, Engle said, for one interested in antiques with a story. He made the purchase with this vision in his heart and mind -- one that never faded while he continued to live and work in Singapore.
Engle became interested in antiques when he was very young, buying rusty tools for 10 cents and selling them for 25, he said. He and his brother Peter attended markets at McIndoe, Chelsea and East Corinth with their mother, Priscilla Engle, who was known as "The Lavender Lady" for her niche selling home-grown lavender. Engle said the three of them endured, "many hot days in the sun without selling a thing…but it was something I was always interested in." The impact of his younger years at flea markets with his mother led to his dream of owning and filling an antique store.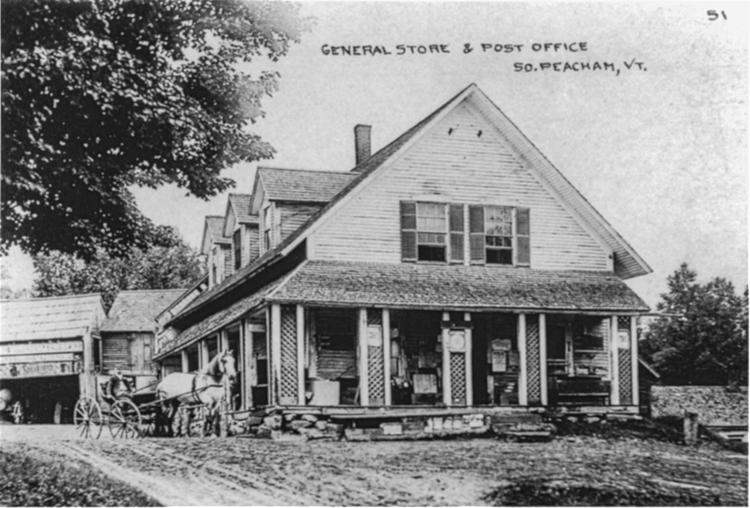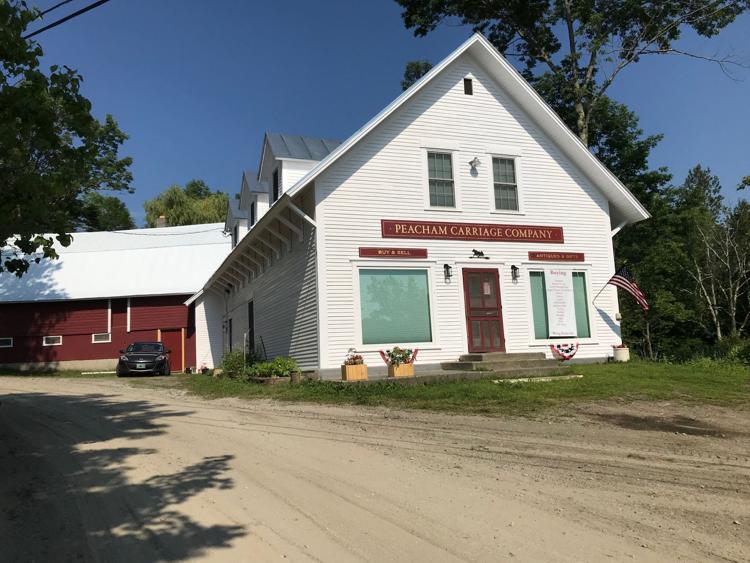 "My mom has a special eye for antiques, and she has passed it on to me over the years," he said. "And I have put in my tuition over the years, but my mom has always been a pretty good judge of things that I should buy and should not…"
Engle said that he asks himself one question when buying: "Is this something I want on my mantle piece in my home?" If the answer is yes, he says, it is likely something others may enjoy, too.
Over the past 147 years, the building that houses the Peacham Carriage Company has been home to a post office, a grain company, grocery store, gas station, and on-and-off community meeting place.
Engle focused on restoration rather than renovation of the old building, which parallels his love – and knack – for embracing history in each antique he brings into the store. He solicited help in repainting both exterior and interior, insulating, replacing windows, roof, sills, refinishing and color-matching the hardwood floors and repairing plumbing, among a slew of other projects to keep the building true to its original state.
On July 14, Engle hosted a community social. Cars lined the modest four-way intersection of South Main Street and Peacham-Groton road for the first time in decades. The inviting sound of music by Deb 'n Dean, local Peacham musicians, signaled that the building was alive again with local energy and excitement. The carriage was on display along with a multitude of carefully placed antiques and gifts. The carriage's wheels had been remounted since it was moved into the store to live to the left of the front door: the location of the cash register counter in past decades.
Folks from the community seemed encouraged to see an aspect of Peacham culture restored, and in more ways than one. Engle had unknowingly restored a piece of Peacham social life that was a staple back in its heyday: connecting a Vermont Castings parlor stove to the chimney in the center of the space. According to The Peacham Patriot of 1985, up until 1933 when then-owner Bert Wilson could no longer run the store, men in town would gather around the stove to share stories and discussion. This gathering was known as "The Store Court" and conversation would often progress well towards midnight.
"It was the [Peacham] café of its day!" said Bob Fuehrer, in attendance at the community social with his wife, Sharon, who remembers the convenience of being able to pop down for a pound of sugar back in the 70s.
And the Peacham Carriage Company certainly felt like a bustling new town hub, with the music playing, snacks scattered about on antique dressers and marble-topped tables, and conversation around the stove hibernating for its first summer in the new establishment.
100-year-old Olive Cheney, of Peacham, noted her grandmother came to the store in 1905 with her pennies in hand "to rifle through the barrels of penny candy." This would have been back when the South Peacham Creamery, formerly located adjacent to the store on Peacham-Barnet Road, was active. The creamery went out of business prior to 1935 and later burned.
Nicholas Potter recalled stopping to pick out a pack of gum several decades ago when his stepfather filled up on gas at one of the two pumps when the store was owned by Mary Williams from 1990-1996. Williams said she stocked it as a grocery store with souvenirs and home-baked goods. There was also a convenient hardware section at the back, but she ultimately had to sell because, "folks would need to go to town for something else and just do their shopping there."
The store went through several owners before it was sold to a family from Georgia in 2000, who ultimately sold to Engle. When the family put the store up for sale, Barry Lawson, who at the time was head of the town Planning Commission, felt residents were interested in the building's future.
Around 2004, Lawson, the Planning Commission and Peacham Community Housing approached Engle about renting the space for the purpose of starting the Peacham Café. Engle declined, still holding onto his "40-year dream" of opening an antique store.
'Finally Coming Good'
Some folks at the community social expressed concern about whether or not Engle will draw the traffic necessary to sustain a business of this nature. The greatest challenge for the store is that it is not centrally-located in Peacham. Engle is working on a marketing plan with Susan Chandler, formerly of the Hayes Group, an agency that has worked with national and local clients. The goal is to overcome the location challenge.
Engle said he is eager to get settled into a routine with the store and email sales prior to taking on other plans or projects. He admits the location of the store is his biggest hurdle, and that getting items listed on his website can support business that might not otherwise come by foot traffic.
Engle's nephew, Peter Anthony, will be the store manager and has already put in hundreds of hours logging inventory, moving items, and even attending auctions with guidance from Engle. Anthony is modest about his tremendous investment of time and energy. Anthony is still chipping away at 7000 SKUs (product codes) to log into the Point of Sale system. "Well, yeah, we're not going to sell them all right now, though…" Anthony clarified.
While Engle is busy finishing up restorations on the building, transplanting his tomatoes, and keeping the fields mowed at his other property in Groton, Anthony is serving as his right hand man in store operations. Engle said Anthony has developed quite a keen eye for things that "[he] might have overlooked."
During the July 14 social, Engle reflected on his journey to open the store.
"This is myself hopefully finally coming good with my promise to open up the store," he told visitors, "and hopefully everybody enjoys the store in the future."