A few weeks after his 1943 graduation from St. Johnsbury Trade School, drafted soldier Edward Meilleur met with a board of military men ready to send him into training. They asked him what he'd done so far in his 20 years in Vermont and he listed out loud all the sports he'd enjoyed at the school. When the men heard that Ed loved to ski, they said, "Well, how would you like to ski for the military?"
Ed's son Jason Meilleur, a long-time Vermonter now living out West, laughs as he tells the story, "They told him he'd be part of the most elite group of soldiers." But when Ed reached Camp Hale in Colorado, he discovered that hardly anyone in his platoon had been on skis, so he and some of the others set to work, teaching the platoon leader and the rest.
Teaching the others was urgent. Vermont writer Brian Lindner, son of another 10th Mountain Division soldier, wrote about the American "ski troops" in 2015. He reported that a Mount Mansfield skier, C. Minot ("Minnie") Dole, encouraged American officials to copy the example of Finland's ski troops, who'd fought effectively against the Russians in 1939 as the Second World War enlarged its battlegrounds. Two months after Ed Meilleur was recruited to the new force, the 85th Mountain Infantry Regiment formed at Camp Hale, Colorado, as part of the 10th Light Division. In autumn 1944, the group's name became the 10th Mountain Division, the name under which its successes would be celebrated.
Family memories make the 10th Mountain Division stories of the youths of the Northeast Kingdom come alive.
The training mission for the men at Camp Hale (written in the division history) was, "To be able to operate for extended periods over primitive terrain where road nets are scarce or non-existent, in deep snow and extreme cold." So the men got both ski instruction on the slopes around Camp Hale at 9,200 feet of elevation, and bivouac training on Cooper Hill, at the Continental Divide. In spring and summer, they also learned rock climbing. Their transport in Europe, besides massive trucks and their own feet, would be the Studebaker tank called the "Snow-Weasel," and ordinary mules.
They also had months of training at Camp Swift, near Austin, Texas, in heavy weapons training. Many of the men were considered engineers, ready to solve problems from supply, to transport, to aiming mortar rounds at the enemy. They also became riflemen and combat teams, coordinating with both their squad and the platoon.
At last, in December 1944 according to Brian Lindner, General Mark Clark specifically called for mountain troops to dislodge the Axis forces (Italian and German) from the dangerous cliffs and high mountains of Italy. The 10th Mountain Division's fame came from its successful battles along Italy's Riva Ridge, and especially at Mt. Belvidere. After four days of heavy fighting to clear the peaks, the division cut German/Italian communications in the Po Valley, and in early May they held back the German troops in the north, eventually receiving the German surrender in the Austrian mountains.
"Grief Is Never Ending"
Heroic though the actions of the 10th Mountain Division surely were, they were also costly in human lives. Of the planned 16,000 men in the division, the Italian battles yielded more than four thousand casualties, with 992 men killed in action. Among these was Delmas J. Devenger, known as either Dev or Demmy to friends and family. The Danville youth's death came just five weeks after he finally "saw action" in Europe.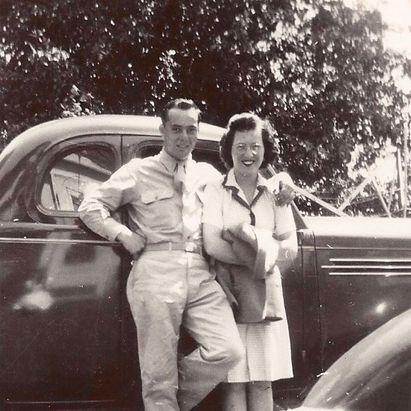 Sharon Jurentkuff, born in 1944, never met her uncle Demmy, but she idolized him. Growing up, she learned that Demmy had carried her baby photo in his wallet. A good skier in a family of ski enthusiasts—Demmy's uncle and cousin would later build the motor for the rope tow ski area on Danville's Webster Hill—the young 1941 graduate of Danville High School first trained in a tank destruction force of the Army. Then he applied to use his winter skills in the ski troops, landing at last in Italy, but only seeing action for a few weeks there, before his death from shrapnel on a craggy, snowy mountain.
Sharon reflected, "I don't believe I recognized the significance of my uncle's death until I was older. I knew my dad talked about him to us and I was always sad that we did not have that 'favorite uncle' in our lives, and I knew sometimes our dad was reflective about what might have been." Just as her uncle held onto her photo, she now shares photos of him, along with his fiancée Billie Carr.
This "missing" Devenger family member was so important and so missed that Sharon's brother was named for him, and this second Demmy embraced the family history, holding onto the Purple Heart posthumously awarded to the soldier after his death in the capture of Mt. Belvidere. Tragically, at age 47, the younger namesake died at the hands of a drunk driver.
For Sharon, the two men and their untimely deaths are linked in the sorrow she still carries. "Greif is never-ending, just relegated to a deeper place," she writes now. Losing her brother Demmy also gave her insight into her father's life, "He had unfinished business, unfinished living, and I can feel how my dad must have felt, living on, experiencing everything his brother should have experienced as well."
A Quiet Generation
Wendy Wakefield Beattie of Lyndonville knew her father had fought with the 10th Mountain Division. But she notes now that, like many of his wartime generation, the experience in Italy wasn't something he chose to talk about often. "He was pretty closed-mouthed," she said. And although during the war "he was religious about writing home about once a week or whenever he could," his letters to his mother and grandmother "made it sound like he was on vacation" in Italy. To his father, though, he "told it straight."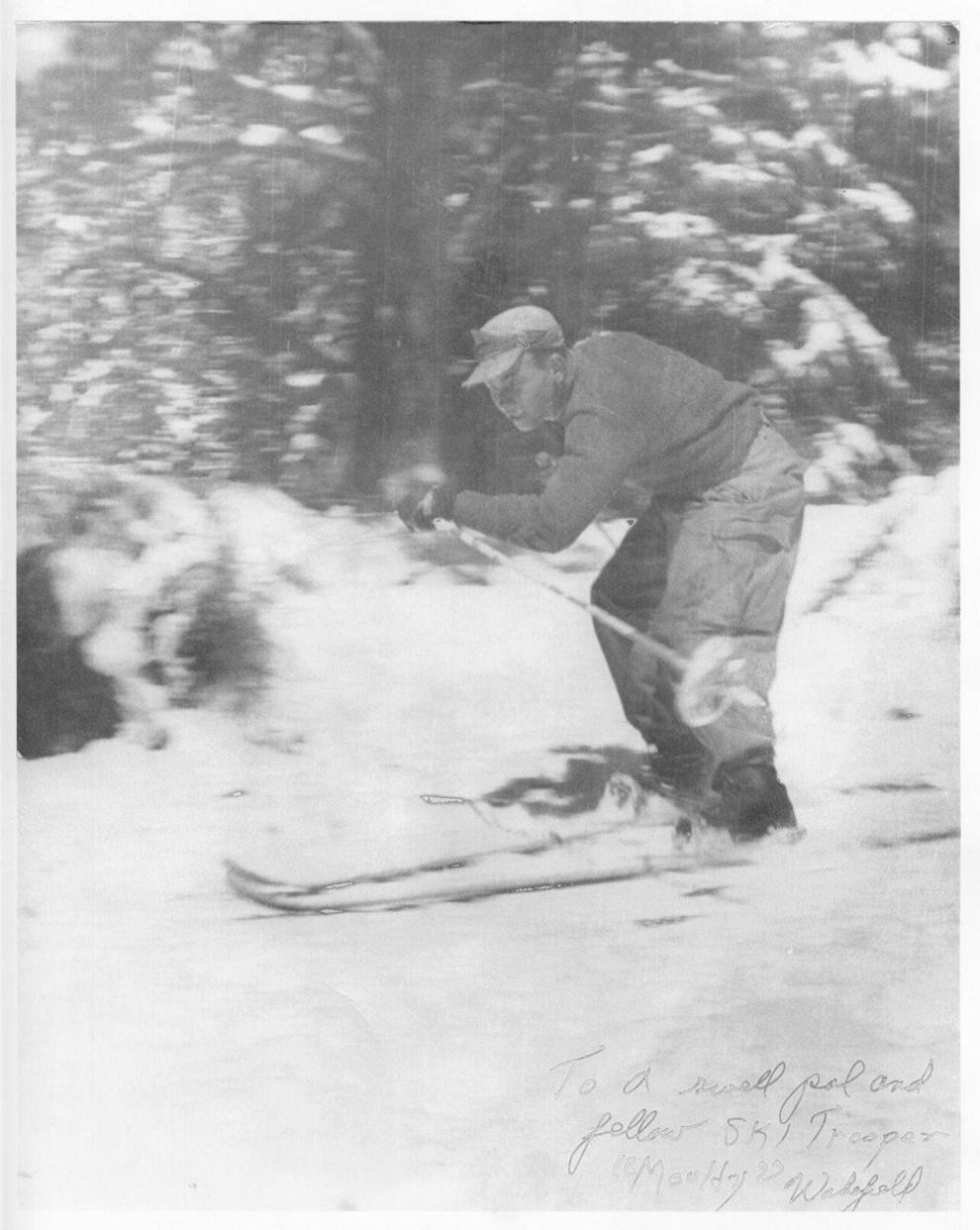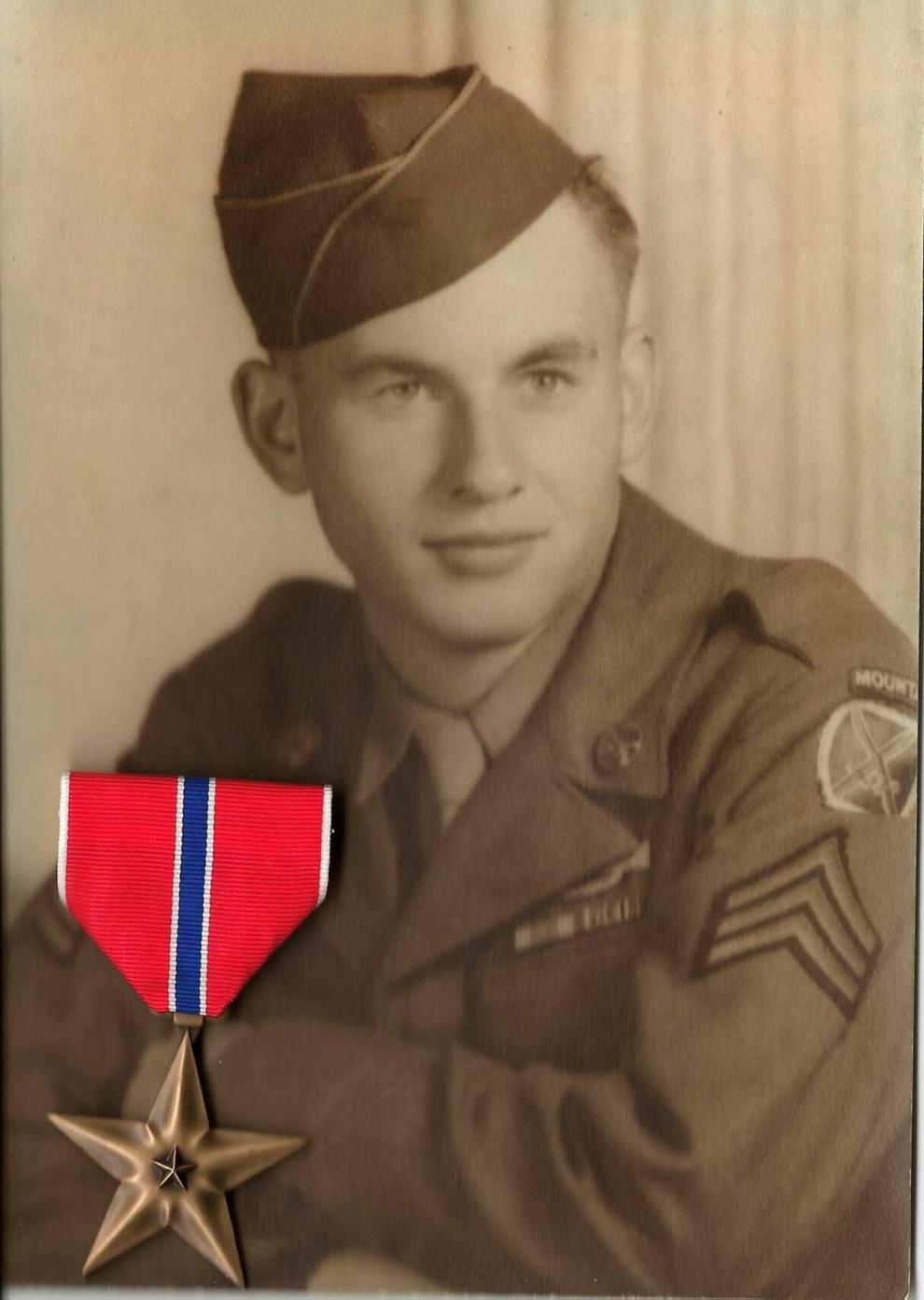 Bruce Wakefield told of his nighttime climb up Mt. Belvidere, and digging a foxhole on the slope before daylight. Wendy says, "When he woke up, he and a buddy were just a few feet from a trip wire," that could have caused them all to die in an explosion on the spot. He returned from the service with medals that he hung on a plaque, as well as his rucksack and crampons, and kept in touch with "war buddies." His only obvious sign of harsh memories was this: early in his marriage, according to Wendy's mom, her dad would close the curtains on moonlit nights.
But a letter that Wendy found (and later gave to the Denver Public Library collection of 10th Mountain Division memorabilia) shared deeper memories with Wally Thorne, who with her dad survived the attack on "Hill 913." Wendy says her father witnessed most of his men shot up, and only survived himself because Wally jumped on top of him to prevent him from taking a crazy risk as a result. "They lay in a ditch all night and he got pneumonia," she recalls.
Growing up in the Northeast Kingdom, Bruce Wakefield was a skier in high school, just as Ed Meilleur had been. For the 10th Mountain Division, Bruce became a ski instructor. Wendy notes that a "contingent" of young men from Lyndonville enlisted all at once in the war, including Sidney Nurenberg and Charles Gale (who were not in the 10th).
The youngsters would meet others from their hometown when they reached Europe. On Sept. 1, 1944, the St. Johnsbury Republican (a newspaper) reported, "An air base in Italy was the scene of an unexpected reunion of three friends from Lyndonville: Major Willard S. Harris, commanding officer of a service squadron in the Fifteenth Air Force Service Command; Major Howard W. Davis, also a service squadron commanding officer, and Captain George S. Lang, who is in the Area Command Tank Corps." All were 1928 graduates from Lyndon Institute.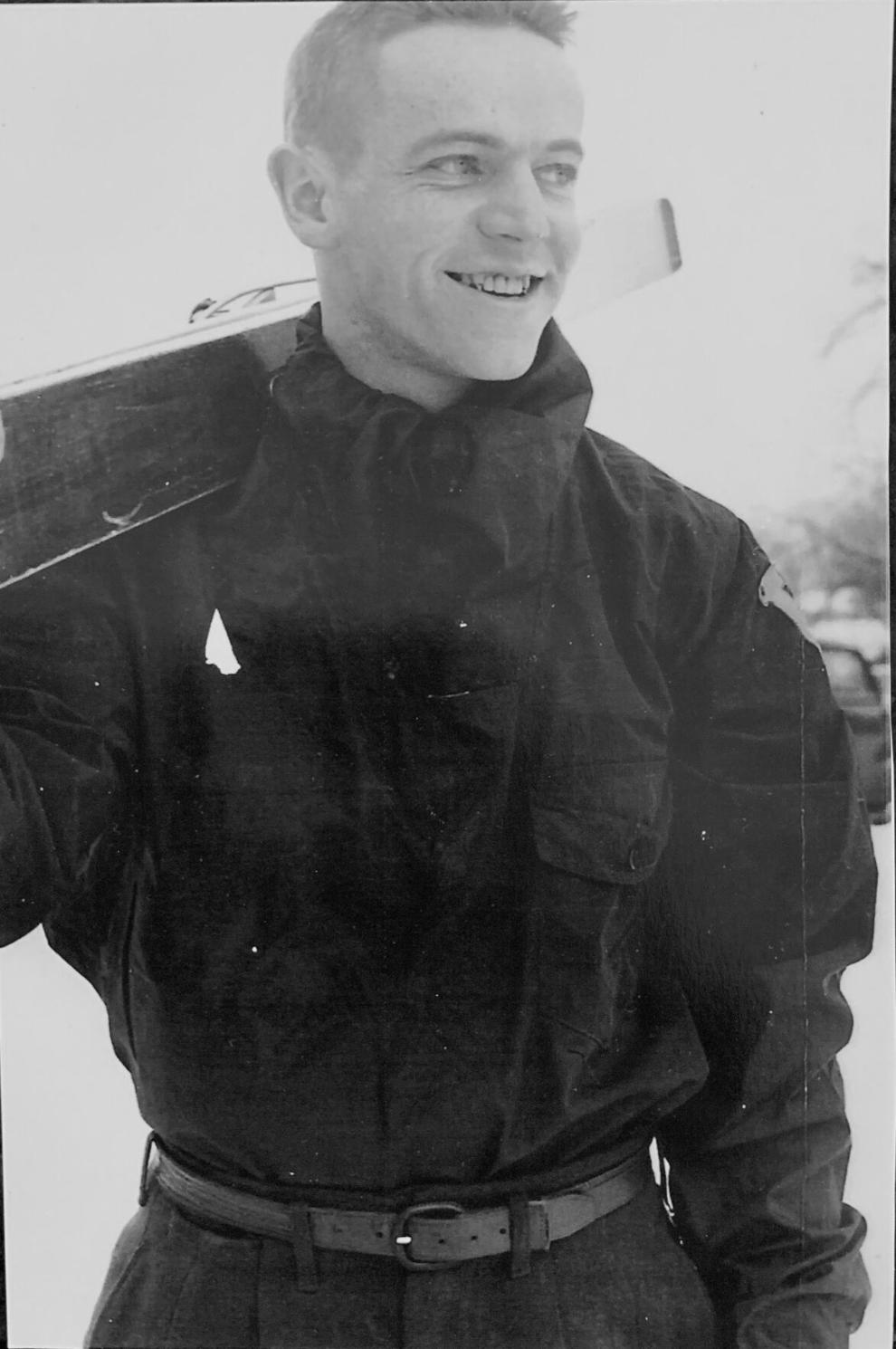 Another young man from Lyndonville who enlisted was Donald Erskine; like his buddy Bruce Wakefield and like Delmas Devenger, as well as other Northeast Kingdom residents Darwin Beck, Everett "Ev" Griffin, Norman Richardson, Theodore Buck, Willis Hennessey, and Maurice Finn, his name would be mentioned in 2003 as the Vermont Ski & Snowboard Museum began years of honoring the 10th Mountain Division soldiers from Vermont.
Talking At Last, Late in Life
Don Erskine's daughter Diane Erskine Matthews can't remember a time when her dad didn't ski. She says he probably skied from the time he could stand up. She gave the same kind of skiing exposure to her children, between the ages of two and three. "They don't care then if they fall down," she chuckled.
But Don didn't talk about his wartime experience at home much, and he is recalled often today by students who valued his teaching chemistry and physics at Lyndon Institute from 1951 to 1965. Tim Grant, a 1959 graduate of the school, wrote about Don Erskine as the ski coach there. Despite being shorter in height than many of his students, Don "exuded a lot of confidence in front of the class and on the ski slopes. … During our successful ski competitions one could tell he was very proud of us and he would certainly let us know. However, if a team member made a mess of things or acted inappropriately we definitely heard about it."
Science was her father's passion, and Diane described him as "a bit of a workaholic" who, when he ended his work at Lyndon Institute, became an engineer in metallurgy.
"He didn't talk about it [the 10th Mountain Division in the war] much until he was dying with lung cancer," Diane said. As she drove him five days a week to treatment in Hanover for the last year of his life, he told her about people he'd met and what Italy was like. "The kids would follow the troops around looking for handouts," and the GIs would hold back their eating, to be able to save food to give to the local kids—even used coffee filters, from which people could then make their coffee. "He talked about being without dairy for such a long time, and how good it tasted" when he finally had a glass of milk at last. And he described skiing the slopes in Austria, calling the experience of skiing the Alps "exhilarating."
Responsible in the signal corps for radio communication with the 10th Mountain Division, Don Erskine told his daughter about his training with the others, out in Colorado, sleeping in the snow in burrows. Diane notes that he signed up when he hadn't even finished high school yet. She feels, "he knew he'd be drafted, and wanted to be one of the skiers." His letter home describing ski jump training also convinced her. "I think he wanted to make sure that he ended up in the ski troops."
A Lasting Effect on American Ski Slopes
Camp Hale, Colorado, where the 10th Mountain Division trained, is no longer a military camp. But many veteran ski troopers returned to it in various ways. They founded the resorts of Ski Cooper and Vail. They taught their skills on the slopes to the new generation there.
Today a memorial in Leadville, Colorado, commemorates the camp and the men who became ski troops. Likewise, the Vermont Ski & Snowboard Museum maintains the history of the Vermonters in the group and welcomed a statue to mark their contributions. There is even a 10th Mountain Division Hut Association in Colorado, where Nordic skiers, snowshoers, and hikers can trek from hut to hut. That diverse experience mirrors what Jason Meilleur's father Ed found in Italy. "It was rare to be on skis in action—he said it was more snowshoes and hiking."
But Ed Meilleur never quite followed through on a pilgrimage back to Camp Hale. On one trip West with his wife, he looked for it and couldn't locate it.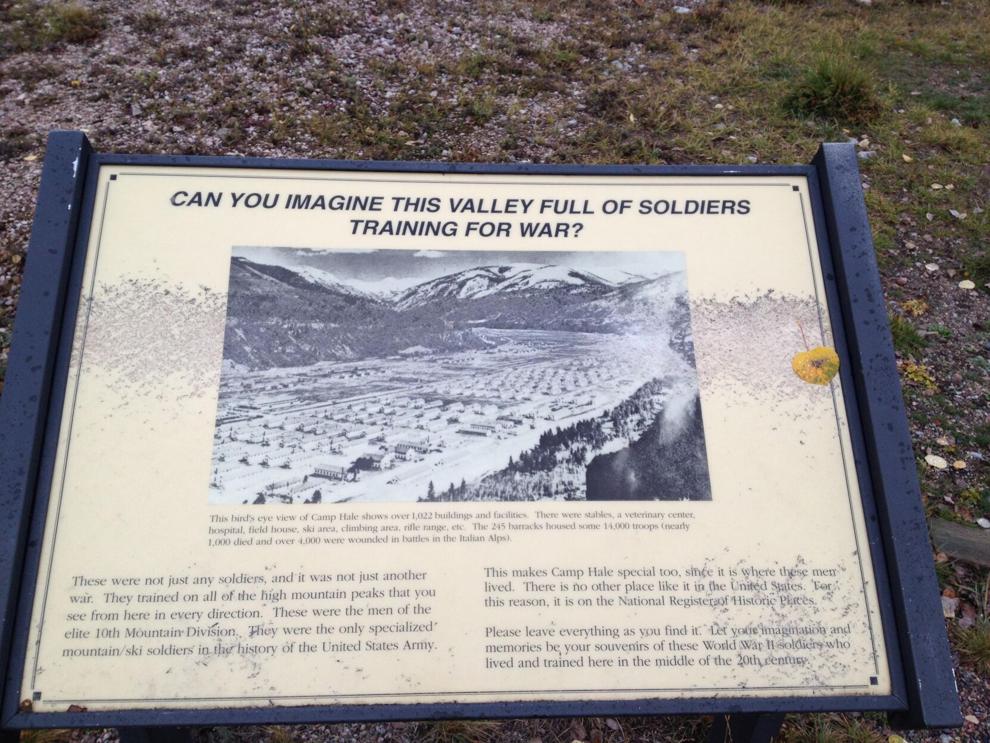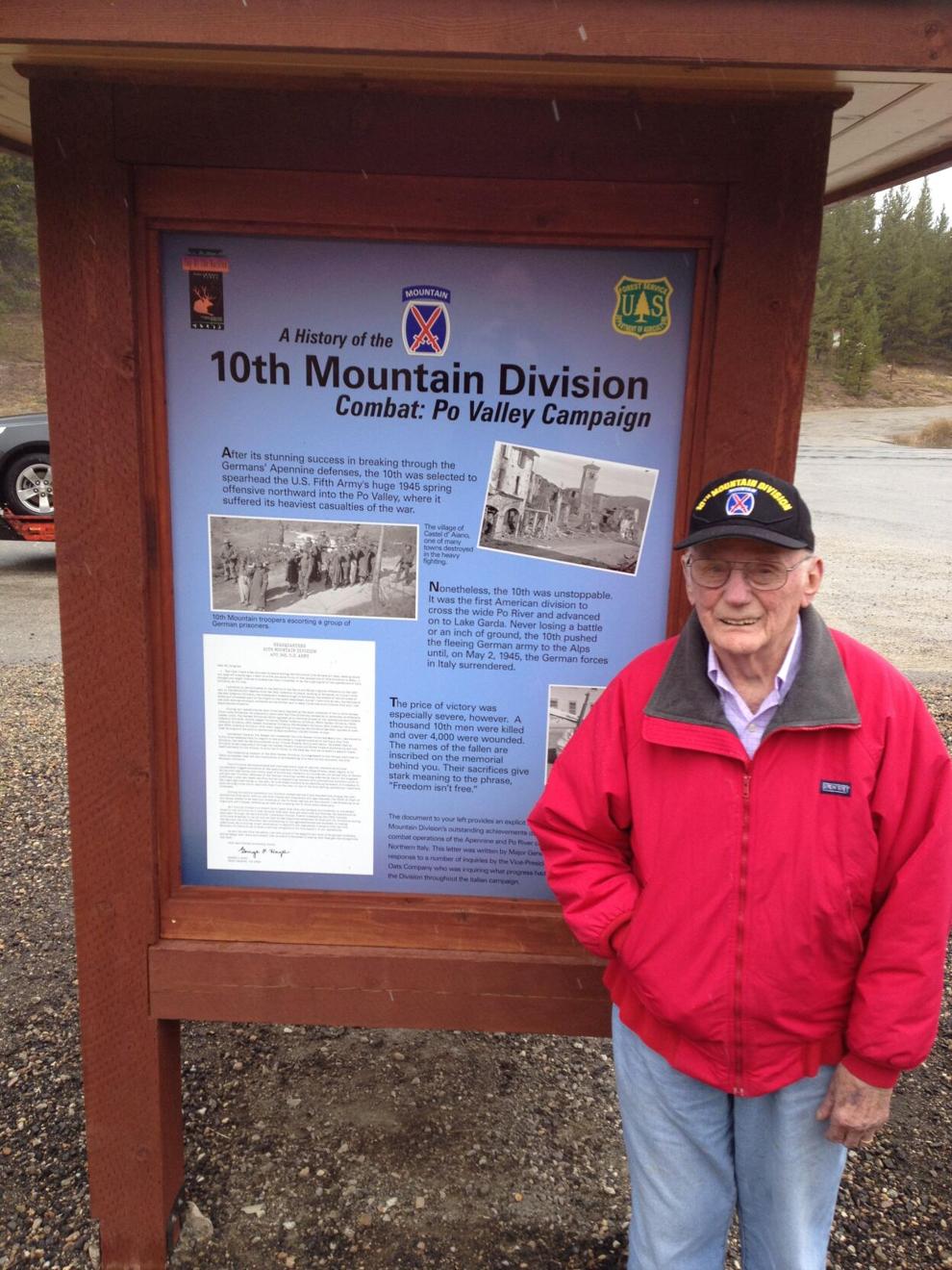 So in 2014, when Jason and his family moved Ed out to Las Vegas to live with them, Jason intentionally took a northern route with a truck and trailer full of Ed's things, to try to find Camp Hale for his father. While his elderly father watched silently, Jason located the memorial at Cooper Hill, and finally the view of Camp Hale itself. His father climbed out of the car.
"He pointed out where they'd trained and what they did there, like rappelling." Calmly, Ed Meilleur brought the experience back to life for his son and the next generation. Though Ed's death in 2015, at almost 98 years old, changed the conversation, the Meilleur family, like many other descendants of Northeast Kingdom men of the 10th Mountain Division, holds precious memories of these skiers and problem solvers and the stories they shared. If plans work out, Meilleur family members of multiple generations will meet in January 2022 at the Colorado mountain now called Ski Cooper, to let their skis glide over the landscape where Vermont's young skiers once shared their skills and their love of Vermont's winter mountain sports, and their willingness to risk their lives for their nation.