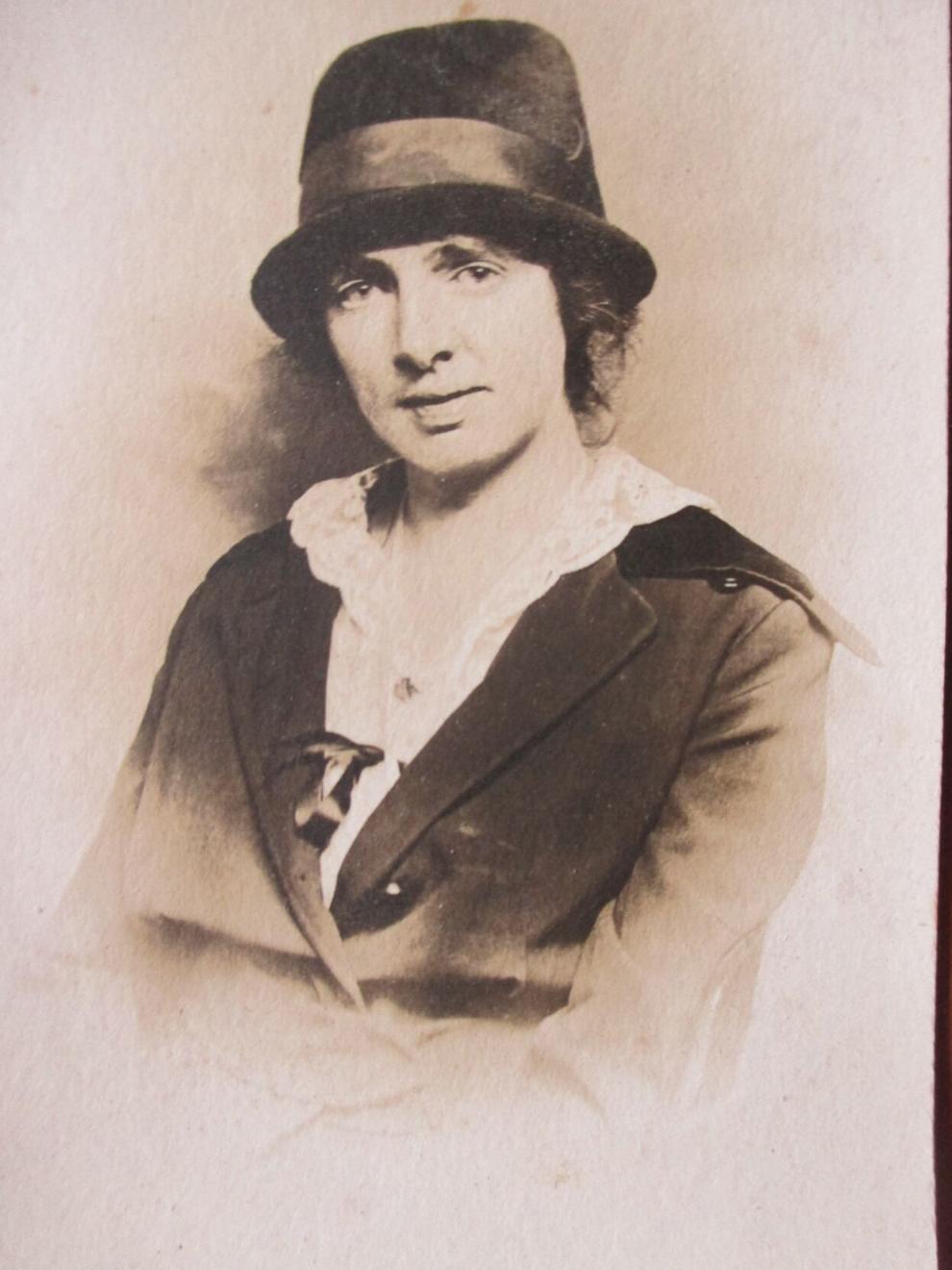 She called herself, "A Victorian Rolling Stone." One person at a time, this Vermont woman helped families learn how to live in America. Yet hardly anyone knows the name of Lyndonville's Dorothy C. Walter, or how she turned her rural childhood into a city influence, especially for the young nation's newest residents.
When she tried to explain her astonishing life's journey, she wrote, "I am the one in our family who has always been called on to take over in our emergencies of illness or invalidism; when the emergency was over, I would take such work as it came up. It does not make a very consecutive career, but it does make an interesting life."
Even for a writer like Dorothy, her work life was hard to explain so she drew her life as a round rock, surrounded by all the directions she'd gone. Her grandfather would have understood right away—his life was one rocky road after another.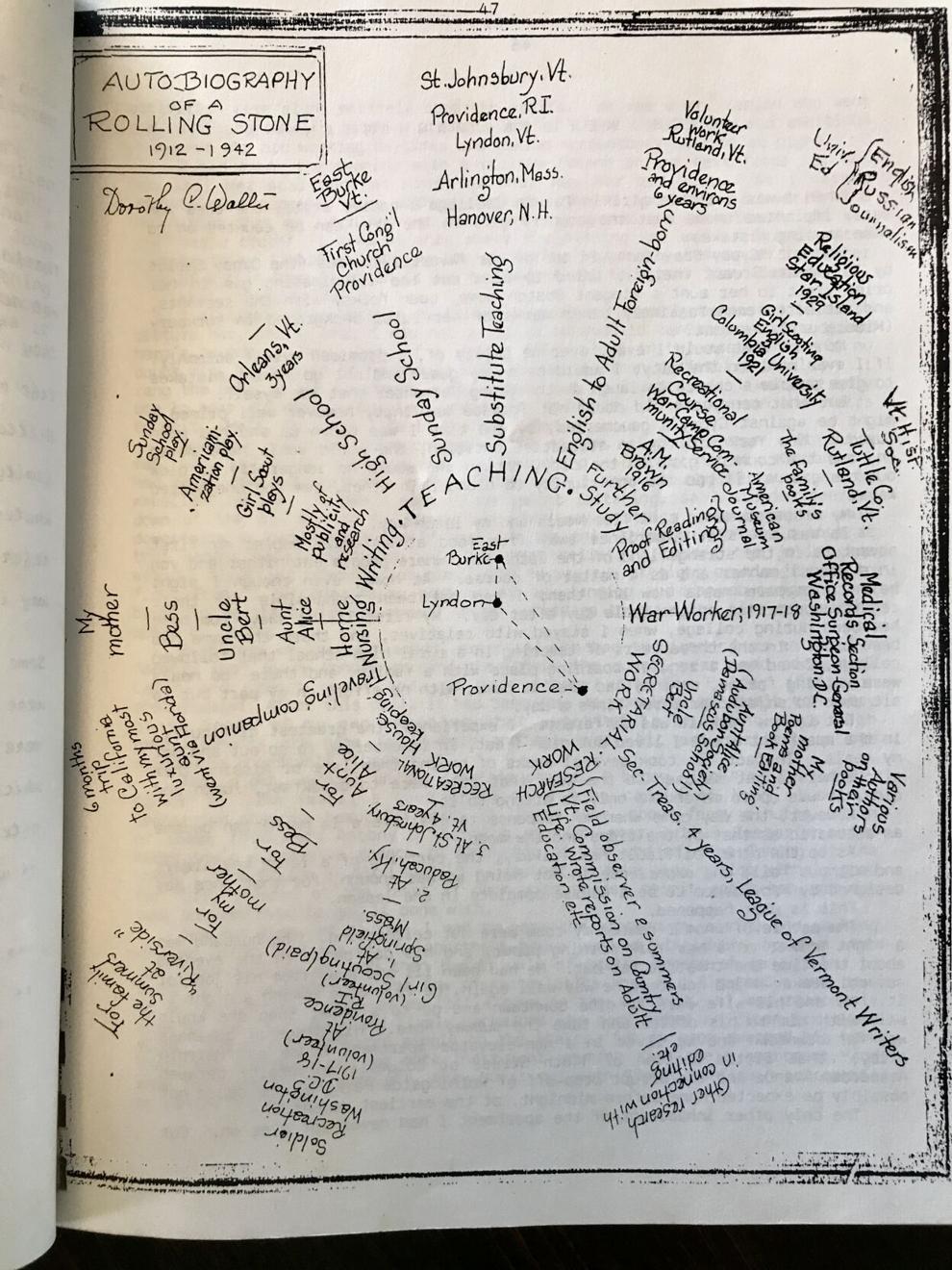 Harsh Beginnings
Her grandfather was mill owner Dudley P. Hall and he made a fortune, lost it, and made another.
In the tiny New Hampshire town of Bartlett, a dozen miles from Mt. Washington, Hall was born in 1895. His grandfather, Elias, was a Revolutionary War veteran who helped settle the town with two other pioneer families. Family lore includes the time he was delayed trying to get home with groceries from the seacoast. His great-granddaughter, Annette Nelson Gibavic, wrote:
"Elias, a small boy of 5 or 6, was eating dirt in the cold cabin. … It was more than two weeks since their father, Joseph Hall, had left for Portsmouth, a distance of seventy miles, to get provisions for the family, taking with him on his handsled the skins and furs he had gathered to exchange for winter supplies. Starting home, he had encountered a storm … Lost and blinded by the storm, he kept himself from freezing by beating a path around a large tree, circling it through the night. It was sixteen days later than he was expected that he found his way home."
Strangely, the two neighboring families dreamed that the Hall family members were starving, and took them moose meat and johnnycake, cornbread made in a frying pan. "Neighbors. They had saved his family, so many years ago, in that bleak countryside," wrote Annette, as she pondered her family's history. Although his family finally moved, for the sake of employment and survival, to New York City, Dudley soon fled city life and headed back north, arriving in Vermont.
In East Concord, Vermont, at the home of another veteran, Dudley met Deacon Hibbard's granddaughter Amelia Gregory. Family stories debate which he fell for first: Amelia, or her doughnuts—but the pair were soon married, in 1843, and moved to St. Johnsbury to work for the Fairbanks brothers, overseeing their model farm.
Their first child died in infancy.
Amelia wrote, "My little babe was hardly seen / Before his little grave was green." The devastated young couple moved out to Bradleyvale, or Bradley's Vale, a now-vanished settlement that was near North Concord. Dudley did more than get a lumber milling business started—with his friend, preacher Rufus Godding, he also built a church and improvised a youth choir. Then he enthusiastically bought another mill, this time in East Burke, built a home and moved his family there.
Tragedy struck again, as a flash flood washed away this mill. Harvey Prouty, of East Burke, recorded this in a poem:
I remember East Burke at the time of the flood
When the mill dam went out —and from Concord came 'Dud.'
He drove Betsey Baker right up to the bank:
There was fire in his eye and sweat on her flank.
He gazed at the ruin; it gave him a shock.
Said, "This dam thing is gone—but they've left me the rock.
Doggedly, Dudley Hall rebuilt the mill, then contracted to build a Baptist church and purchased pews for it, and set the village growing. It added several stores, shops, and even a hotel. But fate wasn't done with testing him yet: In 1856, his investments in two Portland lumber mills failed and, wrote Annette, "He lost in a day his entire fortune of $28,000. It took him years to rebuild."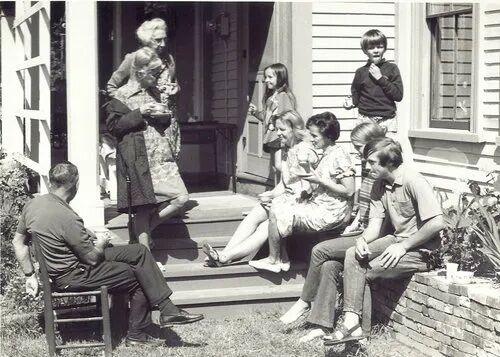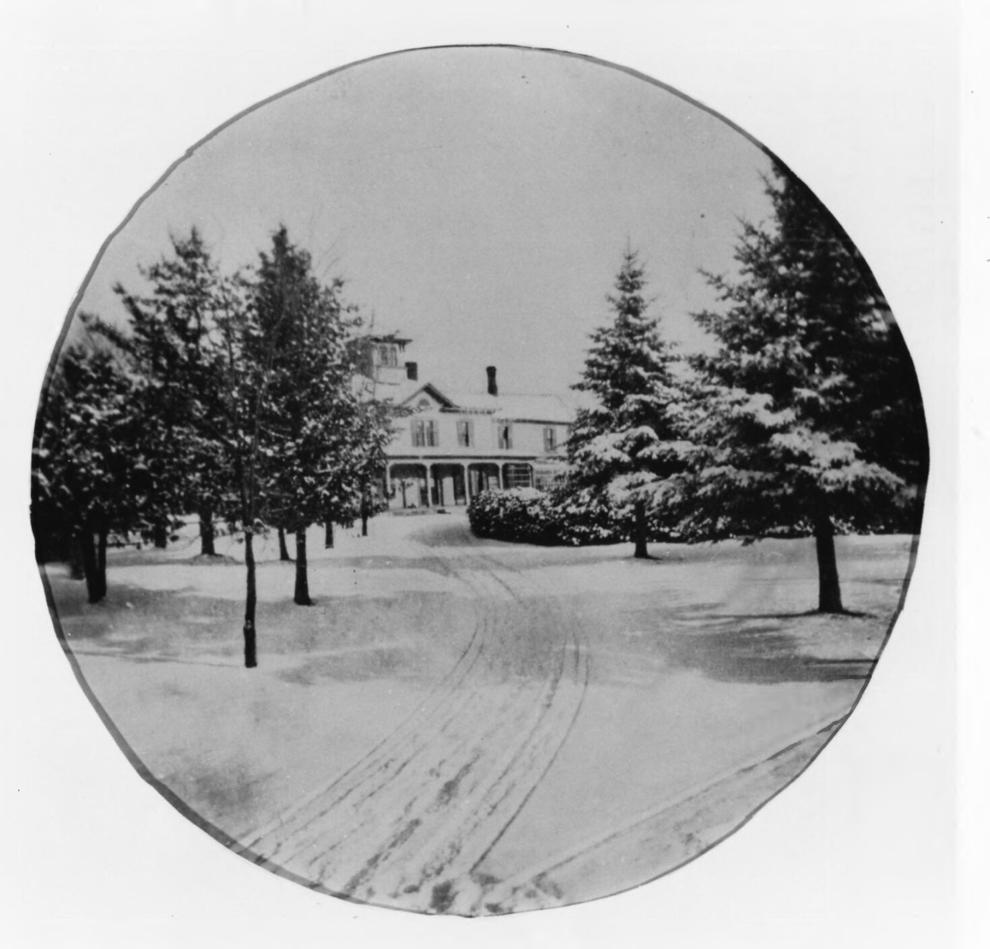 From the Lyndon Mill Company, to Riverside
Working out of state in his brother's woolen mill, Dudley saved up enough for a fresh start. Backed by his brother, Alvah, and the very experienced Fairbanks brothers of St. Johnsbury, he gathered partners Sumner S. Thompson, Benjamin F. Lincoln, and George Ide to form the Lyndon Mill Company on the Passumpsic River. Recently, historian Deborah Noble estimated the mills this company managed put out 5 to 6 million board feet each year from the Northeast Kingdom's forests, as confirmed in newspaper articles about the company's enormous log drives down the region's rivers.
Even this great turnaround might be long forgotten if it weren't for the gracious family home that Dudley P. Hall planned out on Red Village Road in Lyndon. The structure still stands as what is now Riverside School. In the fashion of the time, he called his posh estate "Riverside Cottage." From her childhood in the building that still stands today as Riverside School in Lyndonville, his daughter Mabel would go on to marry Charles T. Walter, who edited an amateur Lyndon Center newspaper called The Mercury and then became the manager and editor of a significant weekly newspaper, the St. Johnsbury Republican.
After the Civil War ended, in 1866, Dudley P. Hall had started making his dreams of a gracious Lyndon home a reality. To architectural historian Deborah Noble, the house (designed by architect George Ropes, Jr.) was an estate, meant to gleam with proof of the family's wealth through its opulence, as in the "gilt" room. Noble wrote, "The house is a fine example of the Italianate style … The house also has a notable interior with marbleized slate mantelpieces, ceilings with molded cornices and medallions … The barn has a cupola that is a simplified version of the belvedere on the house. The granary is exceptional, with round windows, a bracketed cornice, and six-sided bracketed cupola."
All this architectural glory meant little to the children growing up there, although it was the background to the upbringing of Mabel Hall and her siblings, and then to Mabel's daughters Elizabeth ("Bess") and Dorothy. A home meshed with community, bustling with business, and filled with books, it also hosted a great deal of writing. Late in life when Dorothy Hall described her childhood, she wrote: "Always when home with the family there was a great deal of typing, clerical work, editing, chart-making and proof-reading: my uncle and aunt were both authors; my father was a newspaper editor; my mother wrote poetry, did historical research and editing. I helped as needed on these projects."
But Dorothy, born in 1889, also had many of her own projects. Horseback riding, adventures in the woods and fields, visits to relatives' homes, and Riverside itself, all became fodder for the stories she wrote. With her playmates, she formed a Short Story Club as a child. As an adult, both a teacher and the designated problem solver of her family, "wherever she was, whatever work she was involved in, she wrote."
Her niece Annette quoted Dorothy's description, "I am the one in our family who has always been called on to take over in our emergences … when the emergency was over, I would take such work as came up. It does not make a very consecutive career, but it does make an interesting life." She pulled together scrapbooks as well as stories, including for her college days at Brown University's Pembroke College in Providence, Rhode Island, where she graduated Phi Beta Kappa in 1912. Her 1915 description of "Chautauqua Week in Lyndonville" would be published later, in Vermont History.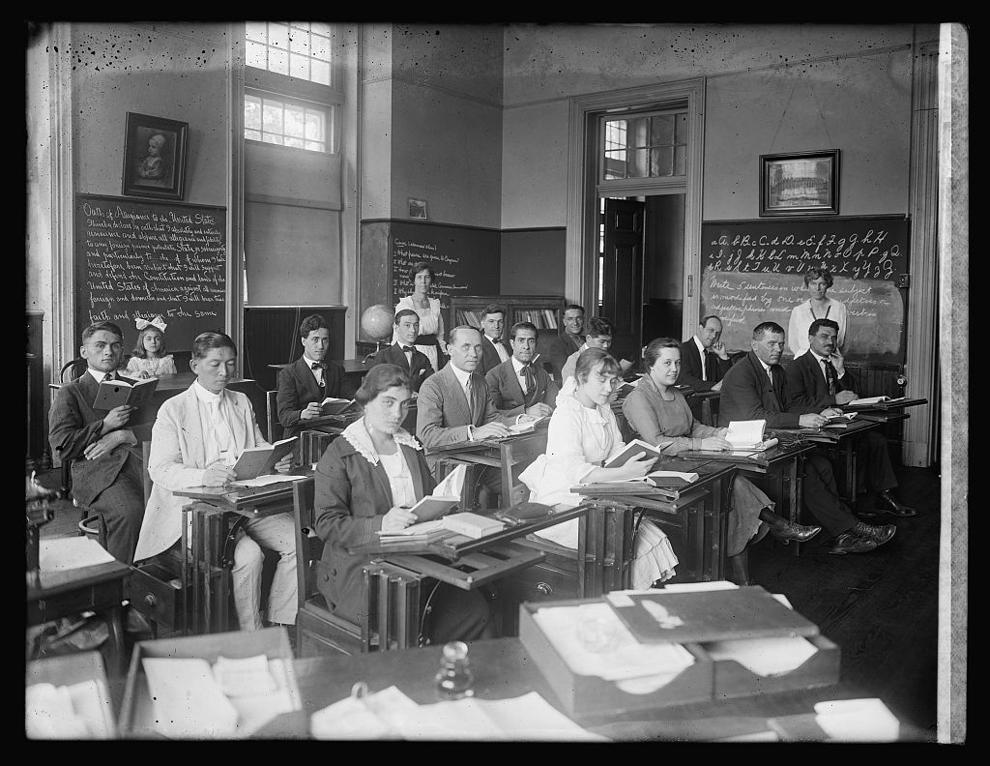 What Was Americanization?
With her father running the St. Johnsbury Republican, it seemed that every time Dorothy C. Walter spoke at a club or other meeting, the newspaper mentioned it. But she was a newsworthy figure for her time, a college-educated woman connected with many Vermont writers and publishers (especially Walter John Coates) and with a distinctive career in Rhode Island to describe to eager Northeast Kingdom audiences.
Before she headed into that career, she also wrote for the Vermont Commission on Country Life. She surveyed education for rural people, including adult education in the state. It appears that she only worked there for a year, and did not take part in the commission's notorious efforts in eugenics. Instead, she moved to her college city of Providence, Rhode Island, and began to teach "Americanization."
Explaining this work to her friends and neighbors in Vermont meant writing stories so that people could "experience" her daily efforts: meeting immigrants, teaching them English, helping them find the groceries they'd need to cook recipes from "home," and teaching them American foods and customs. Her biggest problem in sharing this with folks at home was countering their ready prejudice. Weren't immigrant homes dirty? Wasn't their food unsafe? Not at all, she explained. Finally, she resorted to writing her experience as stories, and in one special effort for St. Johnsbury's North Church United Workers, she wrote and produced a play.
"The First Lesson in English" was performed by Mrs. James Woods Mrs. Raymond Pearl, Miss Eleanor Fuller, Miss Dorothy Woods, and Mrs. Edward Farmer, reported the St. Johnsbury Republican. "Not to forget the big baby doll, which Mrs. Pearl, as Grandmother Macocci, tended so successfully for Mrs. Liberti, that it did not cry or make the least disturbance during the entire performance." The play replaced what would have been a talk on Americanization, and the paper called it an unqualified success, giving a vivid picture of Dorothy C. Walter's educational work.
A Surprise in 2021
Dorothy C. Walter alternated between work in other places, including visits to Washington, D.C., and time at home at Riverside, where she often did "home nursing." Under her stewardship, a well was added and the foundation rebuilt, and guests continued to visit, as they had when the house was a political center for a newspaper publisher. Dorothy even wrote about seeing Teddy Roosevelt.
But time brings change. Dorothy's grand-niece, Annie Gibavic, witnessed this beloved figure slowly age and need help herself. After Dorothy died in 1967, her sister Bess owned Riverside, followed by Bess's daughter Annette, and her child, Annie, grew up with both this house and another family residence in Burke. "Riverside was magic for me when I was a kid," Annie now recalls.
Annie also found much evidence of her great-aunt's passion: "Dorothy wrote everything, all the time," she now reflects, including descriptive tags fastened by string to the objects they described—for example, one said roughly, "No longer usable in the kitchen, could be used in the sand box," Annie says with a grin. For Annie's birthday, her great-aunt Dorothy would give her pieces of paper, each one blank with a picture pasted at the top that Dorothy had cut out of some magazine, and the youngster was expected to craft her own piece of writing there. "She was inspirational in that way," Annie notes.
In 1976 the family sold Riverside to Dr. Timothy Thompson, who eventually nurtured the growth of Riverside Day School there, from 1981 onward. In 1988 it became officially entirely a school, where traces of a once-luxurious family home still make the classrooms and office spaces unusual. Writings by Dorothy reside at historical societies; a collection of her books on Vermont went to Lyndon State College, now Northern Vermont University—Lyndon, with special bookplates to show the donor.
One day in 2021, Annie Gibavic, who became a choreographer, art teacher, hiker, and ESL (English as a second language) teacher, looked back at her great-aunt's career and had a sudden realization: "Americanization" as Dorothy worked with it matched Annie's own work with ESL! Like Dorothy, Annie is also an author; her book "Alone But Not Lonely" (on hiking Vermont's Long Trail) was published by Bondcliff Books in 2003, and she recently completed her newest manuscript, a biography of Dudley P. Hall's adventurous brother Joseph.
Meanwhile, Dorothy C. Walter's bustling years nurturing authors in Vermont also continue to have effects: An old postcard this writer brought back from an out-of-state sale, postmarked in August 1933 in Lyndonville, was sent by Lena Lopiansky to a New York City friend, describing her visit with Dorothy Walter and the pleasure of attending a League of Vermont Writers meeting together—according to the St. Johnsbury Republican, Mr. and Mrs. Charles T. Walter also accompanied the single ladies to this event.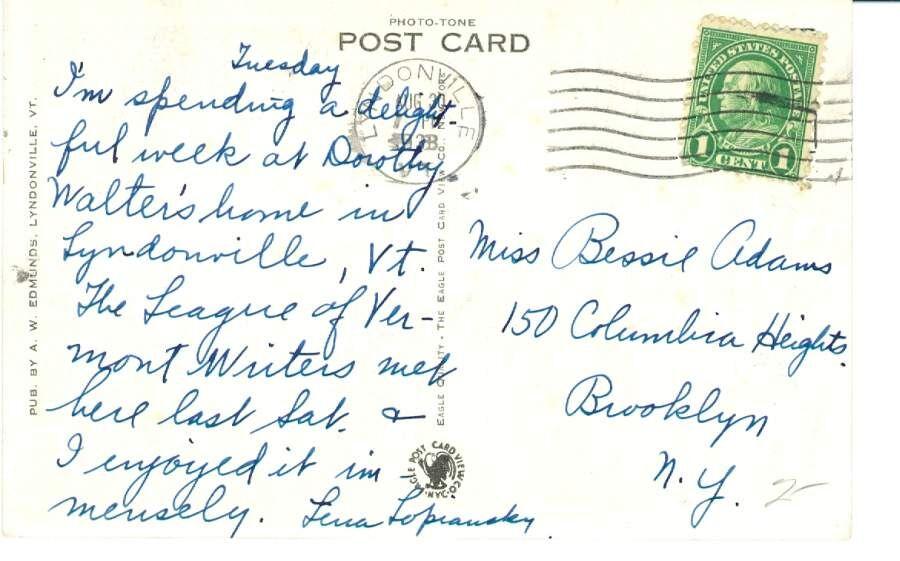 I puzzled over the card for several years, wondering how a conservative Jewish writer from New York City happened to stay at Riverside in 1933. At last, this summer, I found the answer: Lena too had attended Pembroke College at Brown University, so the "girls" were college friends.
With that incentive, I searched the local papers more widely and found Lena and Dorothy taking summer adventures together for years, including a 1923 celebration with Girl Scouts at "Ticklenecked Pond" in Ryegate. After the guests and Scouts climbed Blue Mountain, a whistle called them to assemble in front of a huge fireplace and savor a birthday cake together.
That would be one more custom for Dorothy Walter to explain to her Italian and Portuguese immigrant women in Providence, Rhode Island—and then to bring back to the Northeast Kingdom her vivid descriptions of the joy of these new citizens coming to understand the wonderful world of America, through the eyes of the lumber mill owner's granddaughter.