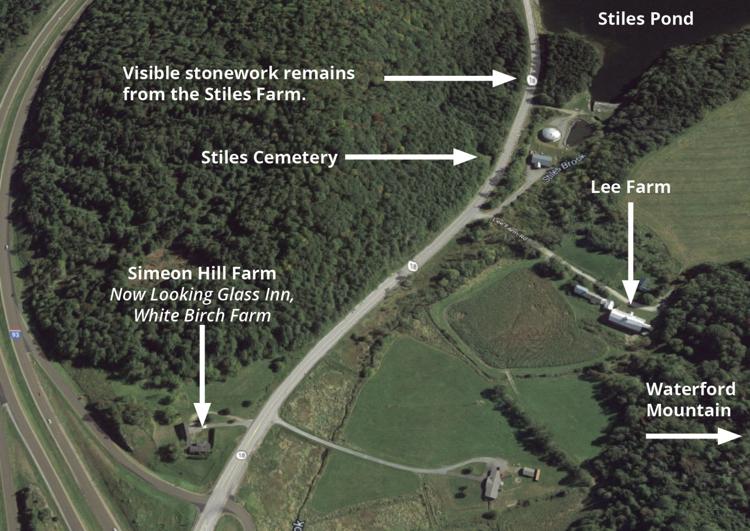 If you've driven up Route 18 by Pettyco Junction (formerly Aime's Restaurant and Motel), gone to a Pumpkinfest at the Gingue farm, or cruised along Stiles Pond, where anglers perch uneasily on heaps of rock—you've passed through Waterford Hollow.
Many know Waterford's White Village, on maps as Lower Waterford, home of the Rabbit Hill Inn, Town Clerk's office and the Davies Memorial Library. The town's other significant village of the 1800s and early 1900s, Upper Waterford, is gone: replaced by the scenic reservoir behind Moore Dam on the Connecticut River. Other village centers of the past include the Copenhagen District, where today's Waterford Springs development now stands (look for a Copenhagen Road street sign), and West Waterford, along Duck Pond Road south of the town fire station (watch for the historic West Waterford cemetery).
But Waterford Hollow? You've probably driven through it a dozen or a hundred times and never even known because the pieces have been scattered by development that began with the efforts of St. Johnsbury's Fairbanks family.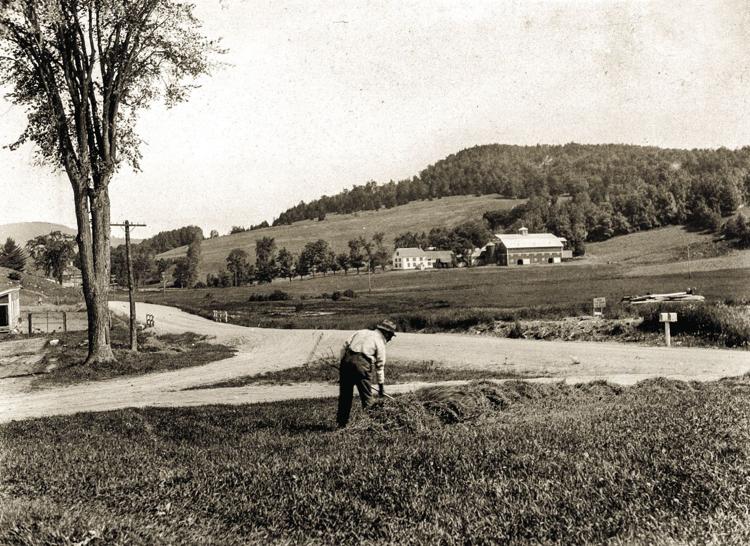 Waterford looks today like a sleepy "bedroom" town just east of St. Johnsbury, edging the Connecticut River. Although there are only two dairy farms still producing in town, Waterford's other diversified farms keep multiplying, along with its construction and road-related firms, and a quiet trend of successful small businesses adds to the town's prosperity.
Hamilton Child's Gazetteer of Caledonia and Essex Counties, the massive volume printed in 1887 that named everyone who mattered and every business that prospered, called Waterford Hollow "a village of considerable importance." Like so many small Vermont settlements, it had two terrain-related assets: fresh potable water pouring downhill, and established roads for commerce. Add to this four families who seemed driven to prosper in every way, and Waterford Hollow soon provided significant resources for the area's growth.
Although the land and waters created the opportunity, the families made Waterford Hollow important—and their stories are the adventures to explore today. So let's consider this settlement, one family at a time.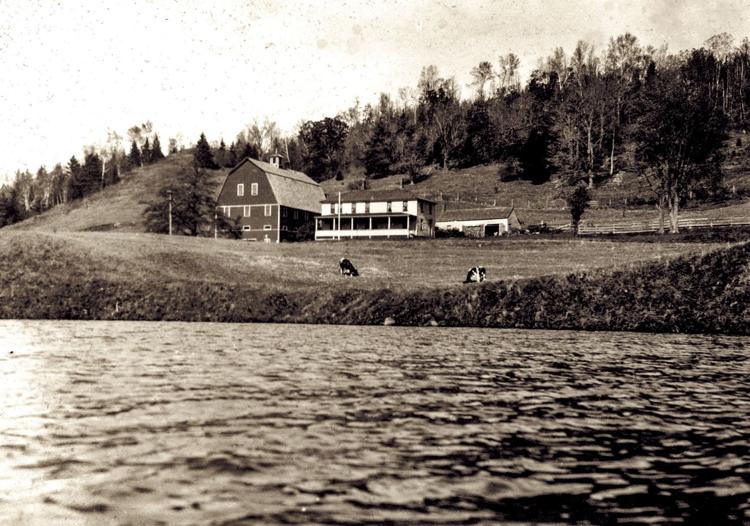 The Stiles Family: The Dam, the Meetinghouse, the Farm
John Stiles was born in Lunenburg, Mass., in 1749, and married Keziah Divoll. A carpenter by trade, he fought in the American Revolution. After the war, in 1800, the couple moved to Waterford, where they had eight children. Perhaps the area seemed peaceful after the chaos of wartime; at any rate, John Stiles put his battlefield problem-solving to work right away and built a dam at the outlet of what's now called Stiles Pond. Using the flow of the waters, he then powered a sawmill, as well as an oil mill (probably for linseed oil, an essential at the time).
In addition to these enterprises, John Stiles had a farm and in 1818 put up a meetinghouse near the cemetery at the current Gingue farm. Sometimes Waterford voters used this "North Meetinghouse" for town business. Importantly, the meetinghouse also hosted church services. John was a Freewill Baptist, and town stories, including one by local historian Eugenia Powers, say that John's ardent beliefs caused him to personally remove a Universalist preacher who tried to use the pulpit there. In 1850, the structure, purchased by the Methodist Conference, was moved downhill to East St. Johnsbury to serve Methodist worship there. John and some of his family members are buried at the Stiles Cemetery, across the road from today's St. Johnsbury water treatment plant.
John's son Nahum, who married Lois Pierce, also fathered many children (probably nine); his line of descent included long-time Lyndon State College and St. Johnsbury Academy historian Graham Stiles Newell.
The Stiles farm stood just past today's Stiles Cemetery, southward. Recently discovered photos of it, thanks to a Waterford Historical Society donation of photo albums marked 1926 and 1927 from Jamie Ide and family, show a large barn (built in the late 1800s) with a high drive and wide fields. Although the structures and fields have vanished, a lovely course of stonework along Route 18 edges the former homestead. "Bushwhacking" into the site, you can find the barn foundation, too.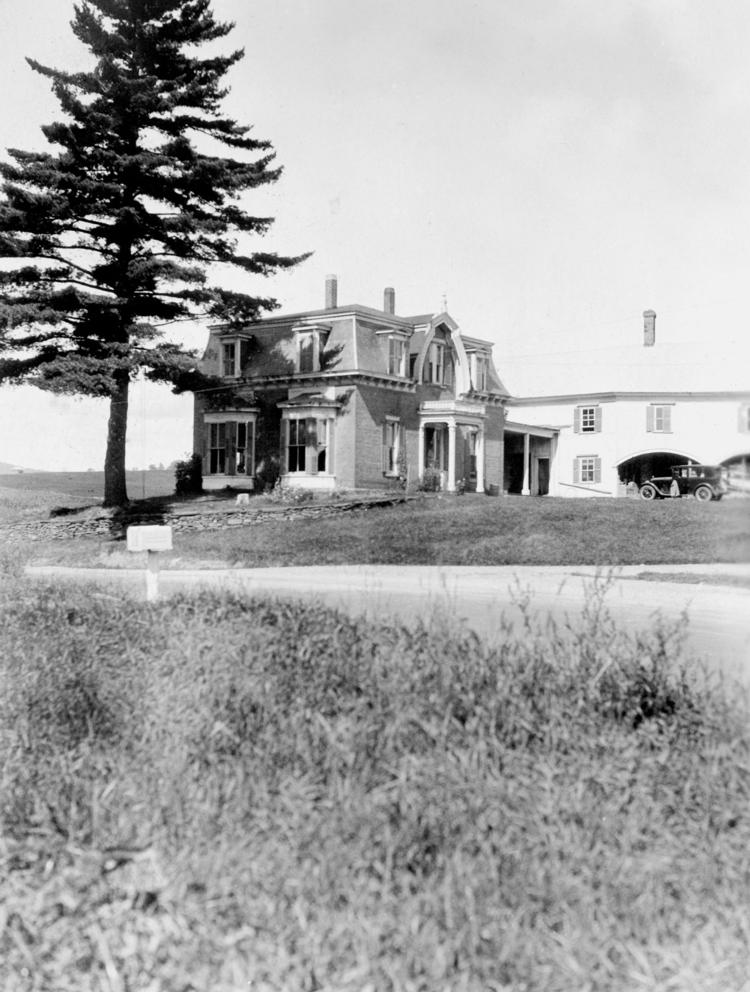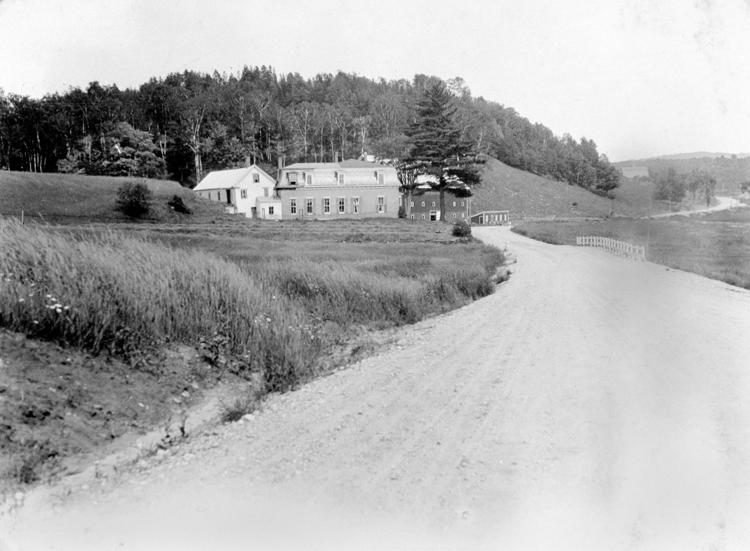 Simeon Hill's Family: Hospitality and Driving the Stage
Captain Thomas Hill (1751-1860) was another Revolutionary War veteran born in Lunenburg, Mass. This is not "coincidence," but a pattern common in Vermont's settlers: They often came with friends from home. His first home in Vermont was in Danville.
Captain Hill's son Simeon Hill arrived in Waterford around 1808 and developed two businesses. Eugenia Powers wrote that he operated "Hill's mills" on the Stiles brook, and he "kept tavern" in what's today known as the "former Begin place," or the Looking Glass Inn, or White Birch Farm – or just the house hidden by all the tall cedars, where Route 18 crosses Interstate 93. The inn later developed into a gracious Second Empire style home, and as part of Vermont's historic survey of local structures in 1980, architectural historian Allen Hodgdon wrote:
"Originally known as the Simeon Hill farm the [Antoine] Begin farm, also referred to as White Birch Farm, was settled around 1808 by Simeon Hill, a native of Walpole, N.H. Hill kept a tavern here until 1810. The timber-framed wing of the building predates the brick block. It exhibits a ballroom on the second floor, over the open-end carriage stalls. The northwesterly end of the wing may be part of the original house. The outstanding Second Empire style main block was built by Richardson B. Graves around 1881. Graves' son, Herbert K. Graves, continued his father's farm, and by 1904 it was considered "one of the most desirable farms in northern Vermont [according to William H. Jeffrey in "Successful Vermonters, A Modern Gazetteer of Caledonia, Essex, and Orleans Counties," 1904]."
Simeon must not have wanted to be buried with the Stiles family, even though he lived nearby. In 1816, according to Eugenia Powers, he deeded a piece of land "to the Inhabitants of the Northeast Part of Town" to be used as a cemetery, "a place for the burial of the Dead." This is the cemetery at today's Gingue Farm and is named to Simeon's grandson Charles: the Charles Hill cemetery.
Both Charles (1842-1932) and his uncle Hiram (1819-1874) were stage drivers, establishing a family profession that was even mentioned in the local newspapers, which might have exaggerated this a bit by saying Charles came from "a long time of stage drivers." Charles, unlike some of his forebears, was buried at the East St. Johnbury cemetery. His family ran this "card of thanks" in the local newspaper: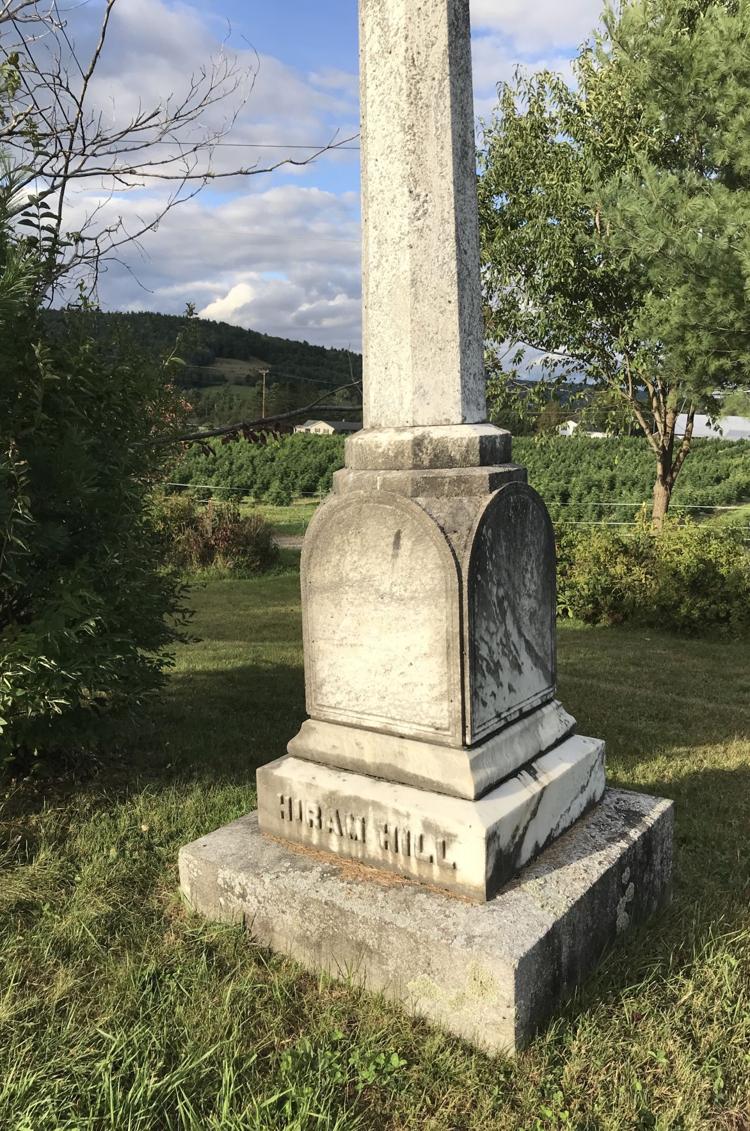 IN MEMORIAM
In loving memory of our dear,
dear father, Charles T. Hill, who
passed away Sept. 18, 1930.
Out on the sunny hillside
Where granite marks the spot
Just two years ago dear father
We placed you in the lot.
Not dead to us who loved you.
Not lost but gone before,
You live with us in memory still
And will forevermore.
The contracts for the stage were offered through the U.S. Postal Service, and Hiram Hill clearly was very busy: a set of 1857 contracts shows him committed to operating two, three, or six times per week a two-horse coach from Danville to North Craftsbury; another from Lower Waterford to Littleton, New Hampshire; from Barnet to Peacham; and from the McIndoes Falls Railroad Station to Lower Waterford.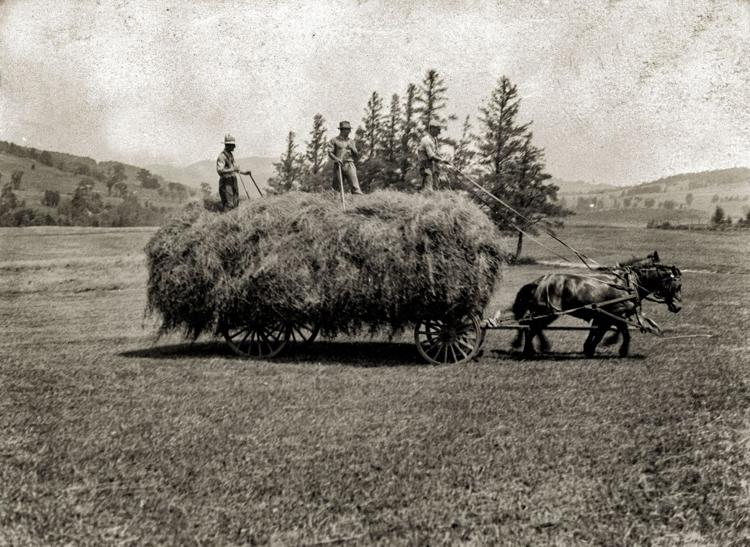 James Works, a "Prosperous Farmer"
Unlike his neighbors, James Works was born not in Massachusetts but in southern New Hampshire. When he and his wife Almira (née Aldrich) arrived in Waterford in 1816 (Eugenia Powers's date), they farmed on the hill above today's Pettyco Junction Country Store. As a result, the area was known as Works Hill. The next year, he gave a piece of land to the town for the 6th School District to use for a schoolhouse; located on what is now Route 18, the school was later called the Graves School, after Richardson Graves (see the Hill house description, earlier).
The Works family prestige is reflected in their mention by Hamilton Childs in his 1887 Gazetteer: "James Works, son of James, was born in Westmoreland, N.H., December 31, 1787, married Almira, daughter of Hezekiah Aldrich, and came to this town in 1816. He has had born to him two sons and three daughters, of whom Chandler lives in this town. Adaline died as the age of twenty-six, and Barton was born in 1829. The latter served in the late war, in Co. A, 11th Vt. Vols., married Laura Newhall, widow of Alvin Harvey, of Kirby, in 1881, and has one son, Walter C. Harvey. Barton occupies the homestead with his father, on road 3. The latter is the oldest man in Waterford."
When Eugenia Powers wrote about the town's settlers in 1983, she mentioned the "prosperous farmer" James Works as notable in town for his longevity: He had lasted beyond his 100th birthday, and perhaps exactly to his 101st, though records differ. It's interesting that his burial took place at St. Johnsbury's Mt. Pleasant Cemetery, possibly a sign of his high status in the region. His stone calls him "An Honest man, the noble work of God." For his wife Almira, however, the stone says "Dear Mother is resting now" – which may remind us that farming was hard work for all members of the family.
A Bustling Part of Town
Because the village was so close to the town line, Waterford Hollow did a great deal of business with St. Johnsbury and especially East St. Johnsbury. In addition to the families just described, the village also included the Lee Farm, still standing today, which had its own harness shop. There was also a shoemaker, blacksmith, and from time to time a doctor and a minister.
These professions have changed over time. The village still has a shoemaker, but a custom leather craftsman; if there's a blacksmith, the trade is for art; the village no longer has a doctor, but a landscape architect, musicians, and of course diversified farming. The geographical connection to St. Johnsbury remains a powerful one. On the 1875 map from the F.W. Beers Atlas, the mountain rising above Waterford Hollow is called Waterford Mountain, and near the top are both the "boiling springs," probably named for their action, not their temperature, and the St. Johnsbury Reservoir, which once sat, small and distant, upon the heights. Eugenia Powers wrote in 1983 that "Early residents of the village of St. Johnsbury had their own springs or wells or roof cisterns. As the town grew, these private water supplies became inadequate, and the St. Johnsbury Aqueduct Company was formed in the mid-1880s to provide village water. As early as 1861, Summerville (the Portland Street section of St. Johnsbury) was provided water by a pump-log line from 'boiling springs' high on the mountain." Later, Stiles Pond itself would see development as a reservoir.
This development of Stiles Pond, complete with its first filter house built in 1882, accelerated the vanishing of Waterford Hollow visibly, since the aqueduct company tore down many barns and houses close to the pond, for the sake of clean water.
But with two well-kept historic cemeteries, a thriving farm, and the former inn where Simeon Hill once greeted travelers in the early 1800s, there is still much of Waterford Hollow to explore and appreciate today.