Furbearer trapping in the Northeast Kingdom dates back to before Vermont was even a state. The coon-capped explorers of the 1700s entered a paradise of possibility, and their eagerness to obtain marketable fur pelts drove them into new lands. In the mid-1800s, natural history author Zadock Thompson admired Vermont's export to Great Britain of some 5,000 muskrat pelts annually.
Over the decades, though, perceptions of the lives of wild mammals changed the practice and the traps themselves. Trap teeth have been eliminated and more humane versions introduced. Supported by the Vermont Trappers Association, mandatory education is now required. You can't trap in Vermont without first learning how to minimize the hurt and fear of the animals and developing a respect for the environment and ecosystems.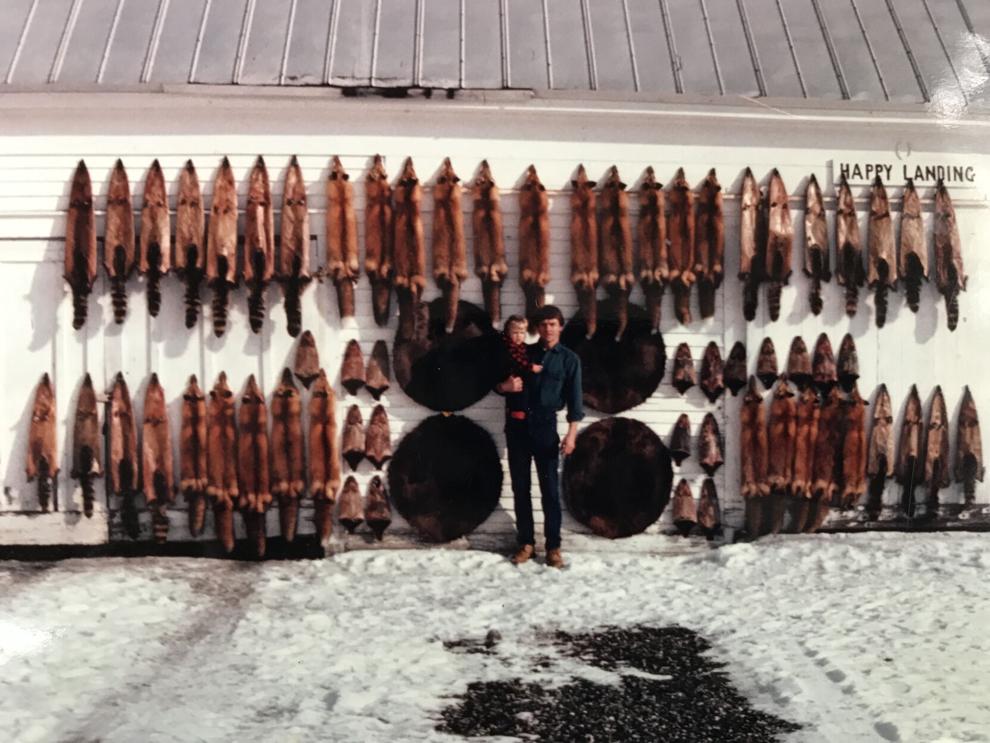 As trappers adapt to a changing culture, one that values predators in a way that land settlers and livestock farmers might have found baffling, they talk more about avoiding fragmenting the forests where those predators and other furbearers thrive—increasingly, their emphasis is on nurturing an environment that can sustain the furbearers that have fascinated them.
Their children and grandchildren, however, prize especially the connections across the generations: the teaching of rural ways and values.
Susie Reed, who grew up in the Lyndonville area, nostalgically remembers sitting in the barn watching her father prepare his traps with "dye" that protected them from rust and eliminated human scent, "and sitting on the basement steps watching him [clean] the pelts."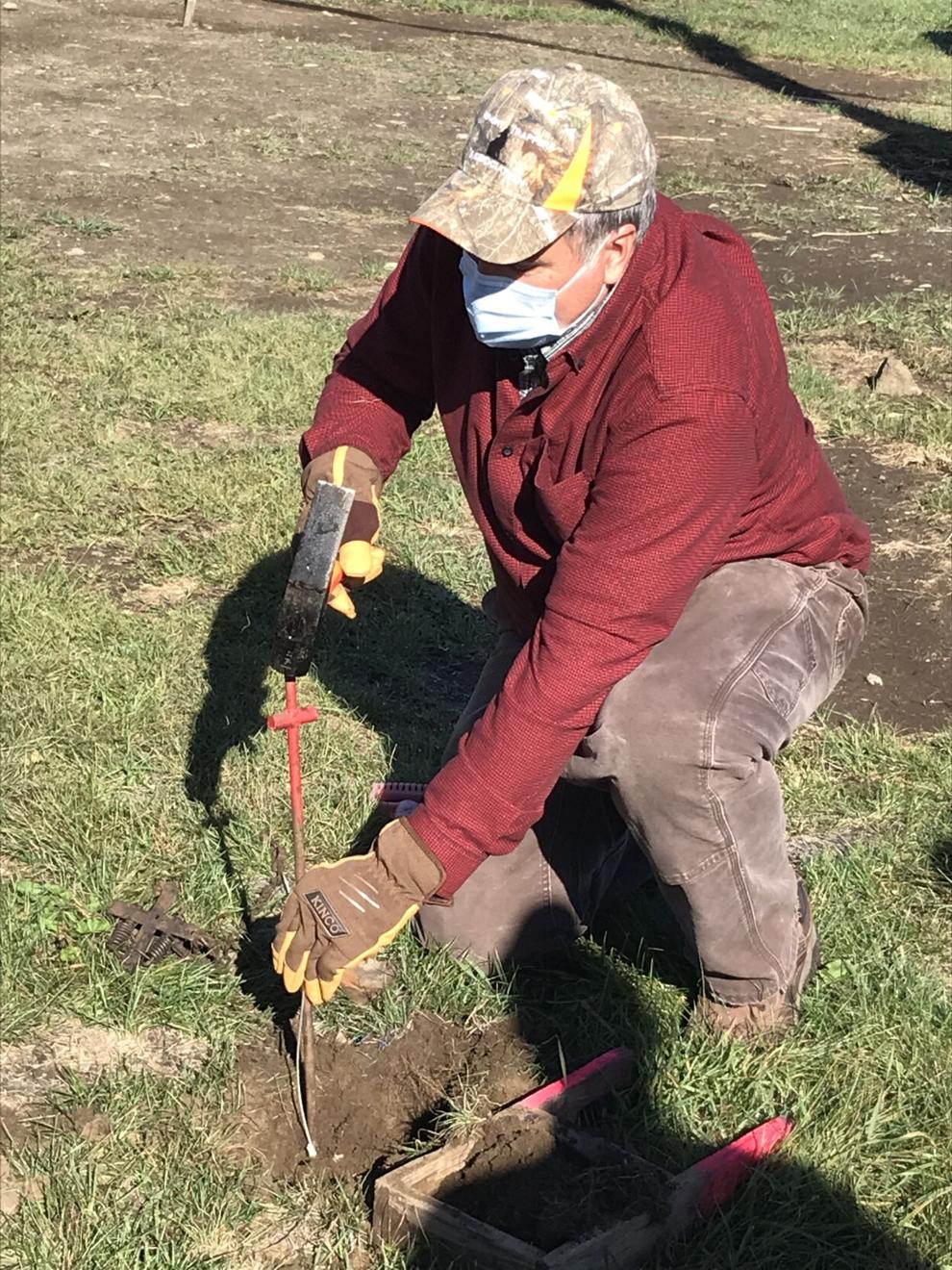 As an adult, she has a very different view of trapping, feeling it's cruel, and she's glad her father no longer does it. Organized opposition to trapping says the same thing (protectourwildlifevt.org). But Susie confirms, "Those are fond memories regardless."
Kevin Lawrence, who teaches work-based learning at the Riverbend Career amd Technical Center in Bradford, also teaches in-person trapper education so people who've taken the state-required online course can complete the requirements. As a boy, Kevin would have appreciated a mentor—but what he had instead was how-to books, and the inspiration of photos of his grandfather, Fred Johnson of Rochester, with captured bobcats. Using traps to capture furbearers, he said, took him more deeply into understanding the woods and the animals, who are both smart and wide-ranging.
Even today, he admits, "It's exhilarating to get an animal that has a free range of hundreds of acres and try to get him to step in a two-inch area." He adds, "It felt like unraveling a puzzle."
Now a grandfather himself, he takes seriously the task of bringing his family members to the woods and helping them learn to interact with the animals. He bought five lifetime hunting and fishing licenses as gifts for his grandchildren.
A Different Grandfather Story
Bill Jewell of St. Johnsbury knew his grandfather well. Together they had "quite a bit of fun," going out in nature and walking around.
Bill's grandfather, also named Bill, was road commissioner for the town of Lyndonville. Trapping beavers was a job of necessity to prevent road washouts.
"It's managing wildlife," he pointed out. "It's a tool. If we allow these beaver dams to get out of control, we can lose roads."
It was, "definitely a game of wits," according to Bill. Wild animals are smart, especially raccoons and coyotes. Techniques like a cover-up scent to remove evidence of humans, and positioning and hiding a trap correctly, are important. Even so, some savvy raccoons would tease back, by exposing the traps for all to see, without setting them off.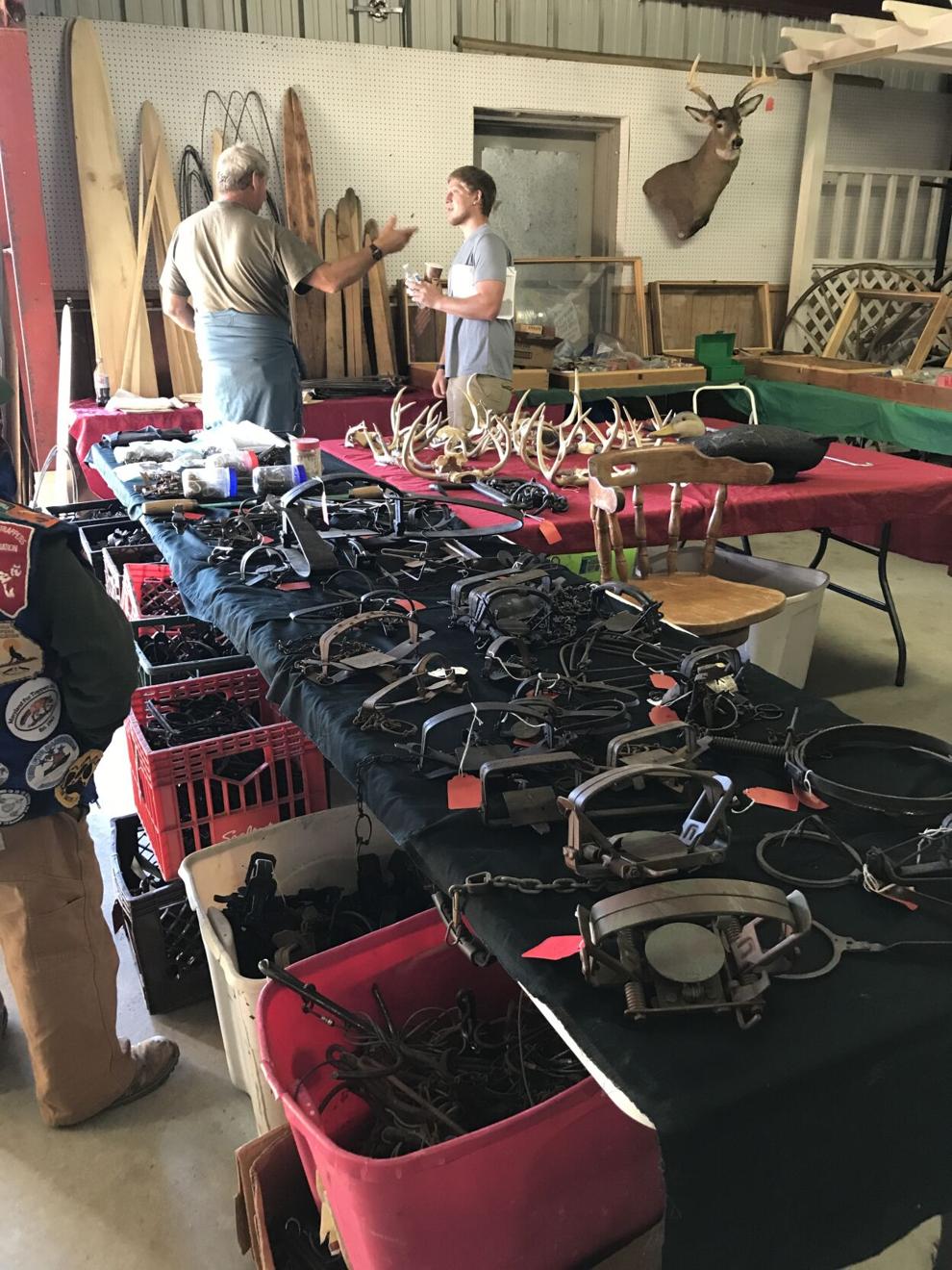 Not Your Grandfather's Traps
Concerns for animal welfare come as much from trappers as they do from those who prefer not to kill wild creatures at all. So the toothed spring-loaded traps of frightening films have been gone for decades. Instead, the most common trap, called a foothold trap, has two flat surfaces that spring together, holding an animal captive without injuring its skin.
Marvin Withers, of Danville, hasn't trapped in 30 years, because surging public opinion about the practice made him uncomfortable. He still sees trapping as an important tool in renewable resource management, though. "By trapping a few animals of different varieties, they all have a healthier life," he said.
Modern traps also take into account that even a well-designed "set," created with attention to other nearby animals, may sometimes capture an intended one—especially if a trapper is asked to work near a farm or home, but also if a young animal is pinned, instead of a mature one. So the trapper checks the traps often, usually first thing in the morning, and can release an unintended catch. "[The trap] holds them, it doesn't hurt them," Marvin said. "When you check in the morning, the animal's usually asleep," and without injured bones—he's released animals and seen them limp briefly, then be fine as they leave.
As a certified instructor, Marvin taught young people to avoid trapping near homes and to avoid over-trapping. "You don't want to take six or eight beavers out of one pond," he points out. "And stay away from [the beavers'] house, so you don't catch little ones."
His start in trapping came as a father one Easter when his kids were little and he got them each a duck. The ducks were fenced in the backyard and were affectionate pets. "One day they were missing and there was a trail of feathers to follow—to a fox den," he said. He bowled with an excellent fur handler and trapper, Dan Whitcher of Waterford, who taught him the skills. The first year he didn't catch one of those deadly foxes, but he improved to the point of having about 150 traps out and catching five or six animals a day: raccoon, fox, and otter. He even trapped coyotes, which he admits are, "awful to skin, they're stinky!" Today he worries that an overabundance of coyotes is depressing the deer herd.
Pelts of furbearers are usually sold to big processors. Marvin said, "The money was big when I first started," in the mid-1970s. He cites prices of $70 for a fox pelt, $40 to $50 for coyote, beaver at $45, and he could usually catch 50 muskrats back then, at $5 apiece. After two weeks of trapping, he'd take his pelts to a regional "auction." Adding in ginseng that he'd also gathered in the woods, he could bring home a check for $7,000.
The perception of trapping began to change roughly 30 years ago, and it deterred people from learning the skills. Marvin pointed out that farmers and other landowners often need to have nuisance animals trapped, and these are often furbearers. "Farmers loved to see me come around," when he covered the region of North Danville, Danville, and St. Johnsbury, trapping only the extent that a landowner wanted: one animal, two, or all of them.
Though he missed this effort, he said low pelt prices and high expenses made it not viable. "The markets weren't steady," he reflected, "you didn't know until you got to the fur auction. Italy used to buy all the mink. Russia used to buy all the coyotes."
At age 91, Mike Conant has a similar price perspective. He's seen the price for a fisher pelt collapse from $100 to $15 and blames political problems with China and Russia. One of 10 brothers, he's trapped all his life and as a kid, muskrat pelts used to bring a dollar apiece. A cancer survivor and recently widowed, he takes his grandson to the woods with him, and hopes for a chance to trap "nuisance beaver" for others.
Replacing the Fur Auctions
At the height of fur appreciation for New England trappers, "auctions" were held in Bethel, Vt., in a school gym. Long rolls of paper covered the floor, and trappers laid out their pelts on the paper for examination. Buyers could bid on them.
"The entire gym floor would be covered multiple times," Marvin Withers said. "Now they don't even cover a corner of it."
For Gaylon Smith of Wheelock, now 83, living close to the Canadian border meant he didn't have to travel to Vermont auctions. He trapped beaver in the 1970s with his brother Duane, as a team, at first with only snowshoes (no snowmobile) to take them into the woods. Duane was gone during the day, so Gaylon, then in his 30s, would check the traps. He'd bring the captured furbearers home, remove the pelts, and Duane would "flesh" them—that is, remove any fatty material—and stretch them on special boards. "The more inches you get, the more money you get," Gaylon explained.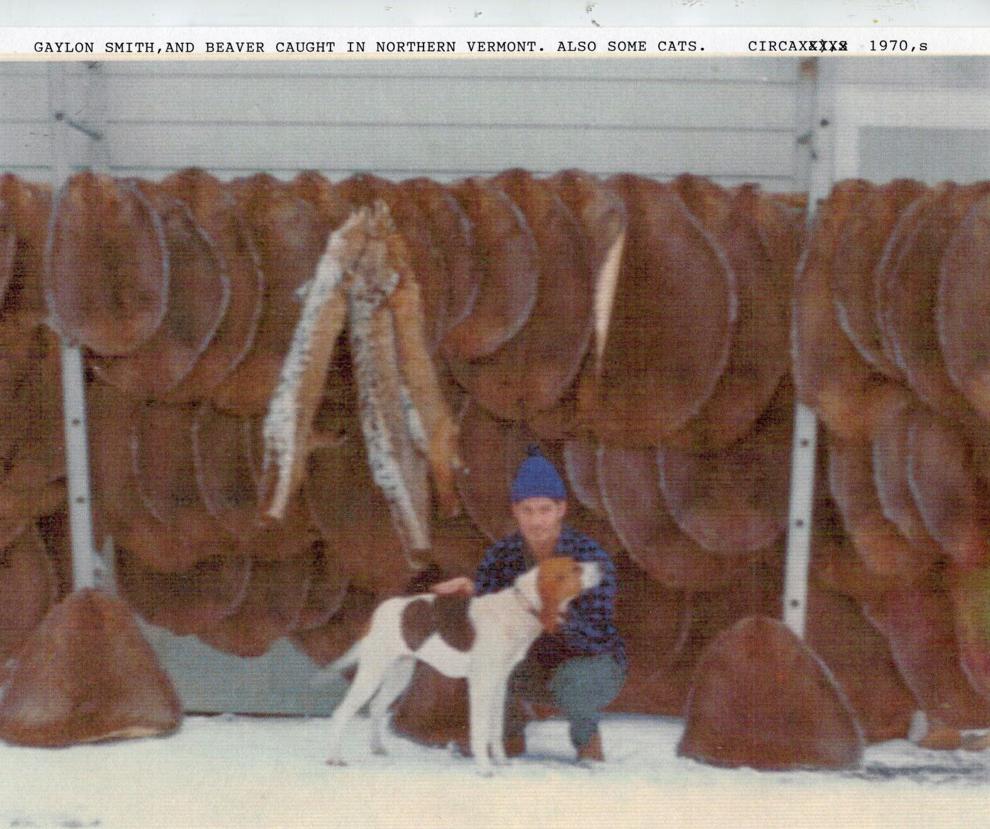 "At the end of the trapping season we would call North Bay [in Canada] and find out what the pelts were selling for," and then the brothers would take their pelts to the Canadian border and exchange them for payment.
Today there are also individual fur buyers, like Deb Healey of Ferrisburgh, who attends the annual Vermont Trappers Association fur auction, where she gives demonstrations of fur hat making. "I was looking for a creative outlet," she explains. "I love fur and I'm a sew-er." She purchases "green" pelts, sends them out west to be tanned and creates the headbands and hats she sells at Otter Way Fur Millinery. She also comes out to Vermont Trappers Association gatherings to meet trappers and learn about their efforts.
As the brother who checked the traps, Gaylon Smith particularly appreciated the change to more humane traps. Trapping results in a dead animal, but newer traps enable a simple release of an unwanted live animal, or immediately kill the trapped creature. The most noted of these is the body-gripping trap called a conibear, named for its inventor; used for underwater animals like beaver, Gaylon said, it kills the trapped animal immediately, "No suffering, that's what it is." But he also had to be very careful to avoid breaking his fingers on these.
Gaylon found the change in attitudes around trapping to be discouraging. People who didn't like traps weren't nice about it—his equipment got "sprung," damaged, and stolen. His best times trapping were when he worked for a "pulp" (trees for paper) harvesting company that needed beavers removed. His work was valued, and nobody spoiled his efforts.
He worked for 30 years in law enforcement, as a deputy sheriff in Caledonia County, and furbearer trapping helped him afford special care for his son. But now, he says, "I carry a camera a lot more than I do a gun. I find a lot more fun now watching animals than I do killing them," and he has sold all his traps.
Still the memories of sharing the outdoor experience with his brother linger, along with thoughts of the other proficient outdoorsmen they knew, like Bernie Whitehill, who "was one of the best fox trappers that I ever did see."
Growing Up With Trapping
Cheryl McMahon, of Kirby and Lyndonville, grew up with her father (Bernie Whitehill) trapping. "He did it from boyhood on, growing up in Kirby," she said. "It was an art and a science to him. He made his own lures," and trapped during his autumn vacation from his indoor labor at Lyndonville Tap and Die.
Cheryl remembers going with her father and learning to be very careful around the trap sites—for example, not transferring the smell of gas from the car into the environment. The adventures involved being outdoors and learning about animals: Her father even took her to a beaver lodge in winter and showed her the beavers swimming below.
A photo from Duane Smith's collection shows Smith and Bernie Whitehill with a wall of fox pelts. Cheryl believes there were 76 that year, the most harvested in New England.
She saw her father's skills as, "trying to outfox a fox." He'd look at a field, telling her about how a fox would see it and what would make the fox curious enough to approach, like a scent that suggested skunks had been fighting over prey, perhaps with leftovers. Of course, there were some drawbacks—UPS stopped delivering to the house, because of the skunk scent arriving in packages!
"It's just a balance," Cheryl says about trapping. "It was definitely the old way of doing things. You gave back to your environment, and it produced for you."
That's part of what Shane Stevenson of Barnet encourages his daughters Lucia, 13, and Lillian, 11, to discover. He grew up trapping, learning from Allan "Allie" Berwick and Robert "Bob" Hoffman. This year, Lucia and Lillian completed the online study course that Vermont requires first-time trappers to take, and their dad brought them to the Vermont Trappers Association "Rendezvous" in Barton in September to complete the training with Kevin Lawrence.
Launching a Wildlife Career
Will Staats, of Victory, caught his first muskrat at age 10. Although he had a mentor in the Middlebury area, he feels mostly self-taught. Trapper education courses didn't exist then. Tending beaver trap lines during college vacations helped put him through school.
College turned him into a wildlife biologist, fueled by a love of the high-elevation wild country and its revelations of how ecosystems functioned. Trapping also gave him a sense of being part of American history. "You're part of a long line of trappers who opened up the country through the beaver trade," he said. "You're part of something bigger." And, he found, you're endlessly learning about animals and habitats.
"It's been crucial to my career as a wildlife biologist," he added. "Hunting and trapping bring you really close to the wildlife."
Will said trapper education has done a great job educating people on how to use the most humane methods possible. He also feels the interaction with wildlife, during the pursuit and catching, forges a bond for trappers with the environment around them. But with less acceptance of trapping by the general public, depressed markets for furs, and fewer people with the time and interest to devote to the woods, he has seen trapping decline.
That's not always good for wildlife, he points out. "The real threat to wildlife is not trapping and hunting, it's loss of habitat," he said. "The Northeast Kingdom is the last holdout. This loss is already hurting them. All the species pursued in trapping and hunting are thriving because they are well regulated."
That's a point repeated by Kim Royar, another wildlife professional. As the Furbearer Project Leader for Vermont's Fish and Wildlife Department, she pointed out, "Today trapping is highly regulated, about 42 laws related to it, and none of the species currently legally trapped are threatened or endangered. In fact, many of the populations that have been restored were done so with the help of trappers."
She points to beaver as an example. "The northeast lost its entire beaver population about a hundred years before Vermont began to be settled," due to a European hunger for the animal's warm and waterproof fur. "In about a hundred years we lost white-tail deer, turkey, otter almost, bear almost, the passenger pigeon, and many others," either drastically reduced or extirpated (no longer living in the region).
In Vermont, the state began to reintroduce beaver in 1921, funded by license fees. The animals were trapped in New York and brought here from 1921 to 1937, and in 1941 there were about 400; in 1944, 100; and by 1949, some 8,000 beaver, along with an increase in complaints about the damage they inflicted. The next year, 1950, offered the first two-week trapping season for this furbearer, capturing 1100 animals and beginning the exploration of how to balance the prolific animal with the human environment it had re-entered,
Similarly, whitetail deer were brought back in 1878, and the 1950s, fisher cats. The American marten followed. And with the absence of wolves, bobcat populations recovered.
In addition to documenting how regulated trapping helps populations of furbearers stay strong or to recover from other losses, Kim watches for rodenticides accumulating in the tissues of bobcat, fisher, and otter, plus rabies and genetics work using carcasses after trappers take the pelts off. Trapping provides the bulk of the animals she works with.
She also observes trends among humans, noting "there are women [trappers] who have been raised that way or who appreciate living off the land," depending on local resources. "The locavore movement may be stimulating interest in hunting and trapping. … I feel that the more people value the land, the better off we'll be going forward."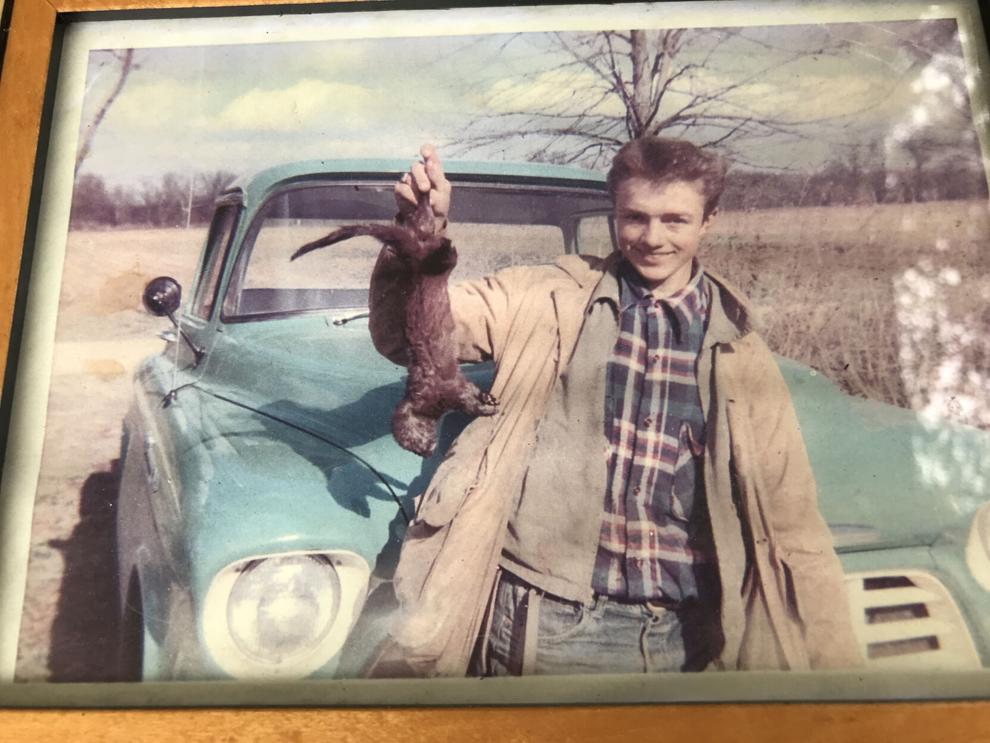 Preserving a Rural Culture
Bob Hoffman, now 82 and living in Danville, is a little surprised at the connections he still has among trappers in this area. For some years, around the 1980s, he took on the presidency of the Vermont Trappers Association, because he felt so strongly that the state needed mandatory trapper education—which it now has.
He didn't have a mentor when, as a kid, he first tried laying out traps on top of the ice with carrots on them, thinking that's what muskrats might want. When he tried putting them underwater, still without success, a local game warden in his part of Ohio sympathized, told him how to have his dad obtain a license for him, and taught him a bit about muskrat trapping. Then a couple in Mesopotamia, Ohio, taught him more.
You can see the pride and delight that still well up in him when he shows a photo of himself as a kid, with the first mink he successfully trapped, at age 16. After studying forestry in college, he came to Vermont, a place he already loved. Whether working for the state or independently, he was always in the woods. He trapped foxes and coyotes at a time when Vermont needed pressure on those populations.
Beyond the "fever" for the skills, he felt back then was a growing awareness of how the environment and a rural culture linked together. "I think trappers as a group are pretty ecologically savvy," he points out. He draws a contrast between the deaths of trapped furbearers, and the success of the species: "Trapping to me is a rural lifestyle that uses wildlife, without hurting the population of that wildlife."
Though he values his trapping years and experiences, it's overall rural life that he now wants to protect. "I don't want to see us lose that rural culture," he emphasizes.
Room for Diverse Views
Kim Royar, because of her job with the state of Vermont, has more experience than many in meeting people strongly opposed to trapping, feeling that its time has gone by. To protect furbearer populations, though, she says the information provided by trappers is vital.
Her department's long-term goal is the conservation of animals. She explains, "I care about these animals. I've devoted my career to the conservation of these animals. So I understand when somebody who hasn't had the same experience cares about them in a different way. … We all connect to the land in different ways."
Even vegetarians have an effect since growing fields of soybeans or cotton remove wildlife habitat, she pointed out. Admitting there are a few "bad apples" among trappers, she hopes to see those people removed from trapping and leave the field to those who care. "The bulk of the people are doing this for the right reasons," she said.