Almost two centuries after Ebenezer Eaton published the first North Star in 1807, my husband Dwight and I set out to bring a community publication back to Danville.
The first issue of the re-imagined North Star Monthly rolled off the Upper Valley Press in Bradford, mid-April 1989. The effort to make it happen is a good story.
The day before publishing, Dwight, who had just finished another grueling tax season, helped me paste up the first issue in an all-night push. As the dawn crept through the windows, we came up short on copy. He grabbed a clip-art book, thumbed through it, copied and pasted a big owl onto the bottom of page four and exclaimed, "Done!" Thirty-two years ago! And now, whenever the North Star Monthly arrives in our mailbox, I marvel at its longevity and the precious local voices that still grace its pages.
In 1985, Dwight and I purchased the first Apple Macintosh computer on the market. With 128k of memory, it cost us $3,000! The heavy old electric typewriter just could not compare with the bells and whistles of that beautiful little machine. The teacher in me had children writing stories and raising the fonts so they looked like real reading books. Between 1985 and 1989, the little MacIntosh put out many children's books. I worked with students in the North Danville School to turn out their own stories.
I was also closely working with Librarian Mary Prior during that period because I was the president of the Pope Memorial trustees. I became secretary for the State Library Trustees Association and began a newsletter for them, which led me to buy and learn a page layout program on the Mac. Newsletter writing is somewhat boring, though. I have a penchant for story telling, and Mary was full of stories. What Danville needed was a newspaper. We laughed and sighed at the thought, knowing that was certainly a "pie in the sky" dream.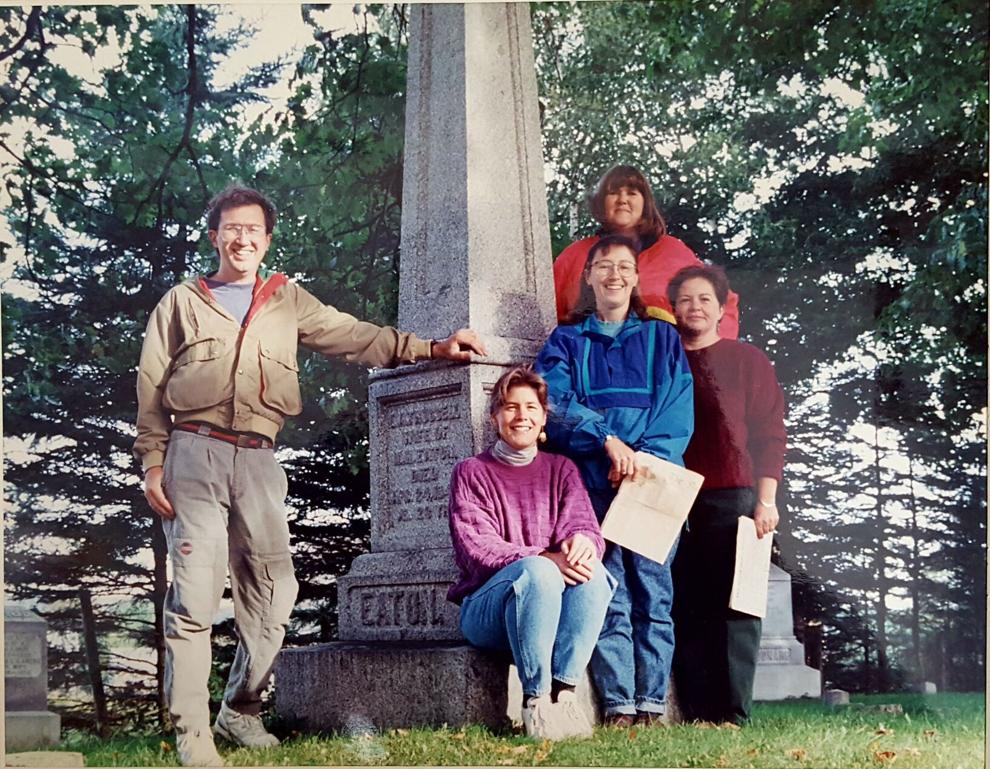 Not long after my term was up and I was no longer on the board, my Uncle George in Ft. Collins, Colorado, passed. He and my Aunt Leota, who had passed earlier, had no children and the couple remembered their nieces with a small inheritance. We had just moved into Doc Paulsen's old house on Hill Street in May of 1988. I wanted to do something special with the inheritance, and, truly, I was a little bored after my term as president was up at the library.
I got to thinking about that newspaper. Was it a crazy idea? I tried the idea out on Dwight, and he didn't flat out refuse to consider it. I decided to try the idea out on Mary. Of course, her eyes lit up. She did a library search and found me a book about starting a community newspaper. Well, there was no problem with reading a book, was there? It was a thin volume. A youngish man, looking rather like a hippy, was pictured on the cover, working in a newsroom. I took it home and read it, cover to cover. Written in a do-it-yourself format, it covered the basics of what one really needed to know about the basic elements of the newspaper business. I shared the information with Dwight, and he was receptive. Being an accountant, he could set up the business side to help it run successfully.
I could really see how it would work, but I was worried. I was an outsider to the town, a true flatlander having grown up on the plains of Colorado. How would that go over? I went to see Mary about this, and we brainstormed what to do. She thought we should hold a meeting with some people in town that could give me some feedback. Okay, I said to myself. I guess that wouldn't hurt.

One night I met around the long table in the library with several people. I don't know exactly who they all were, but I remember two distinctly: Reg Smith and Emerson Lang. The light over that table was very bright, and I was feeling rather small, but those two men smiled a lot. Reg handed me a paper with a poem on it that he had written. Like most of Reg's poems, it had a quirky ending to it, though the serious intent behind it came singing through. I smiled and nodded, encouraging him, but thinking to myself—that does not a newspaper make. Mary sat down at the table, too, and we all talked about what could be in the paper. She mentioned Irma McGill might write a cooking column. The best thing out of the meeting was the knowledge that Danville people would not necessarily look askance at an outsider editing and publishing their paper. But I also knew this would be a huge undertaking, and the real work would be mostly up to me. I did not know if I was up to the task.
We decided to go for it. Innumerable things needed to be done before the first issue could roll, but that little recipe book Mary had given me listed them all with instructions.
One of the most amazing things about America, I found, was that just about anyone could start a newspaper. I understood firsthand how absolutely "cool" freedom of the press is. All I had to do was write the State of Vermont and fill out a simple form, pay a nominal fee and register the name. First, though, I had to decide what to call it.
Historically, I knew the North Star would be perfect as it was Danville's original weekly paper that closed in 1889. Margaret Springer, who for years kept the Danville Historical Society moving forward, worked upstairs in an attic space at the Pope Memorial Library. She was there almost daily — sorting, gathering and cataloging. I felt if I wanted to use the name North Star in any way, I would need her blessing.
I went up those stairs at the Pope one afternoon and found her seated at a desk in a cramped space in the attic. It was dark up there except for a little sun that spilled over Margaret's desk. There I asked her, "What do you think I should call it?" She looked over at me over her reading glasses with an incredulous look on her face.
"The North Star, of course," she drawled. That is how I received Margaret's blessing and could proceed with the name The North Star Monthly. It also gave me a date to shoot for—May 1, 1989—100 years since the original North Star closed its doors after a fire that decimated the center of Danville, including the North Star presses.
There was so much to do: design the banner, decide the type, decide what should go in it, apply for an ISSN # through the U.S. Government, decide on advertising (amount to project, create an advertising sheet, hire an advertising rep, design the ads once they came in), get the writers onboard, choose a printer, figure out how to layout…the list went on and on. If I really had known how much work it was going to be, I might not have attempted it.
The best thing was having people around me who were truly interested in its success—particularly Mary Prior, who did her share of recruiting behind the scenes. I know that now, but at the time, I was lucky to get through each day, and each day was meaningful as May was looming.
I look at the first issue now and smile at the content. Listed in the masthead is the following information: Editor, Sharon Lakey; Advertising, Gail Calkins; Odd Jobs, Dwight Lakey; Contributors, Mary Prior, Doris Stebbins, Betty Page, Reg Smith, Seth Paul (Paula Eustace's pseudonym), Irma McGill, Dot Anterra, Louise Lessard, Terry Wells, Hollis Prior, Jean Ashley, Dick Browne, Steve Wakefield and Emerson Lang. Many more contributors from Danville and other towns in our area would come forth as the paper progressed. Elaine Stone Parker agreed to be the editor of the school section named The Signal. She continued to gather student work monthly and paste up the section, with no pay, for the time I remained as editor.
On the subscription page, I wrote:
"We are pleased to announce the revival of a newspaper. Over one hundred years ago, the original North Star printed its last issue in Danville. With the renewed interest people are showing in community, we think it is an idea whose time has come again. The North Star Monthly will focus on current issues facing the town, provide a monthly calendar of events, and print articles of human and historical interest. It will be written by free-lance writers of all ages and from different locales within the community. In May, the first issue will be sent to all homes in Danville, and thereafter be available by subscription and on local newsstands."
We input the Grand List from Danville into the computer in order to send this first issue as an introductory offer. Upon further thought, we decided to do this three times so that people would have confidence that it could go beyond its first issue.
Terry Wells offered to take up the task of getting statewide publicity for this new adventure. So numbed by the other details, I could have cared less. However, you could not deter Terry. She managed, through sheer determination and constant plaguing of former Channel 3 news anchor Marcellus Parsons, to get a WCAX camera team over for an interview.
I remember that interview most clearly. They finished recording it in our dining room on Hill Street; the papers stacked in plastic-tied piles of 50 by the French doors leading to Dwight's office. They just sat there, looking at me. Of course, as soon as I got them from the press, I had looked through the paper. To my horror, there were mistakes! Those two nice young people conducted the interview, but after they shut off the camera, I must have shocked them. "I want to burn the whole pile," I exclaimed.
Luckily, the sun did come up the next morning and after a day of rest, my family had a labeling party in the living room, the papers were in the mail, subscriptions dropped into our post office box and Gail was out selling ads. Doris called with a new idea for a monthly column…oh dear, I thought, "We've launched," and June was just around the corner.
The Lakeys continued to publish the North Star until 1998, when Terry and Kathy Hoffer, with Tim and Suzanne Tanner, took over. In 2008, current owners Justin & Ginni Lavely took the helm.