Bags of baby arugula and Mountain Mesclun sit ready for Vermonters in need in the refrigerators at the Hardwick Area Food Pantry, located on Church Street. The fresh, green offerings are rounded out with bins of local zucchini, cucumbers, and heads of green leaf lettuce.
"Most people are surprised to find so much fresh produce," says the Pantry's executive director, Laura Wilkinson. "There is this idea that a food pantry is just dry goods." She says her clients are very aware of the health benefits of local organic food and they trust the source when it comes from neighboring farms.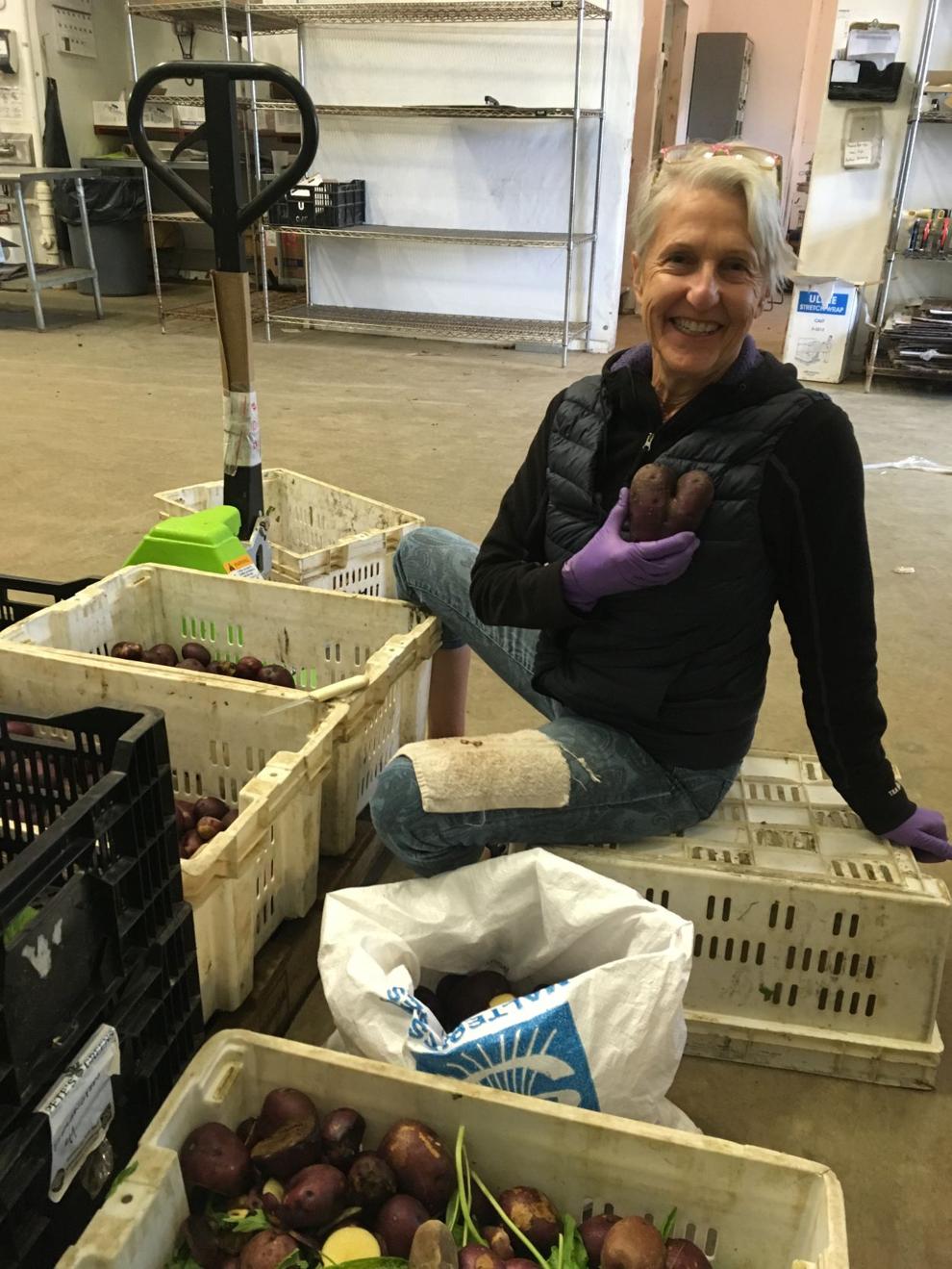 Pete's Greens, an organic 4-season vegetable farm in Craftsbury, was the grower of some of the fresh produce on offer at the pantry, which served 54,000 meals to more than 300 families in 2017, including seniors and children, from Hardwick and 16 surrounding towns like Craftsbury, Greensboro, Cabot, and Lyndonville. The greens came to the pantry by way of staff and volunteers with Salvation Farms, who coordinate with farms like Pete's Greens to glean, or collect, nonmarketable and surplus produce to make available to the charitable food system.
Salvation Farms, a nonprofit based in Morrisville and serving the land area surrounding the head waters of the Lamoille River, helps to manage Vermont's agricultural surplus, such as overabundant crops, misshapen and unmarketable seconds, excess storage crops, and crops left in the farm fields that were missed by the tractor. They collect and distribute what farms can't sell. In 2017, the program donated 48,159 pounds of crops from 20 farms, distributing more than 46 types of produce like apples, squash, carrots, cucumbers, onions, salad greens, tomatoes, and more to 24 sites in the Lamoille Valley. This gleaned food goes to programs like Meals on Wheels and others serving the elderly, youth and family programs, affordable housing programs, rehabilitation programs, and food shelves, which receive the largest portion.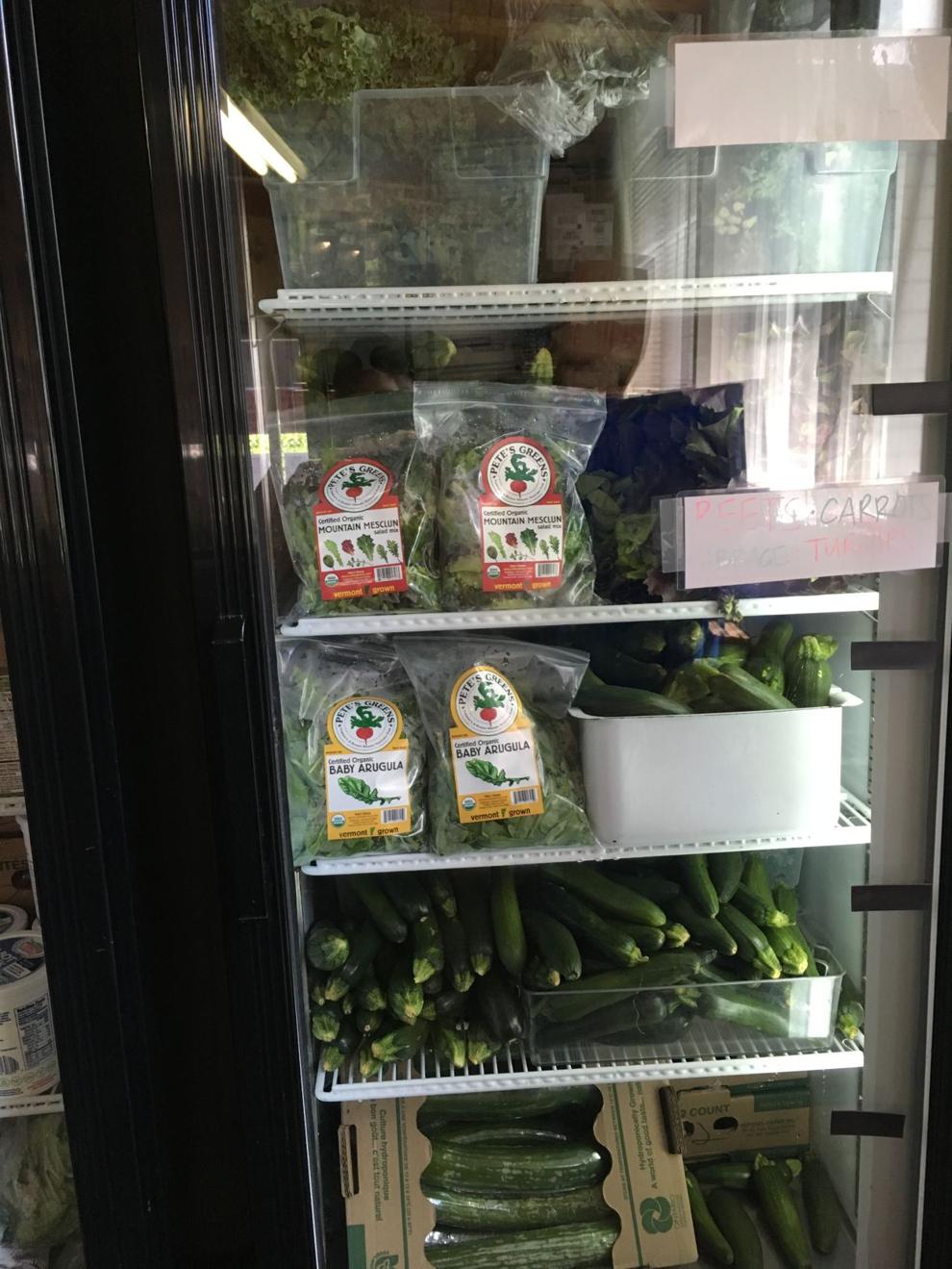 Founder and executive director Theresa Snow started the organization as a pilot project in 2004 while in her fourth year working at Pete's Greens. She said both her and farm owner, Pete, saw the opportunity to reduce food waste and to help get their fresh, local food onto all Vermonters' plates, not just the customers who could afford to buy their products. After a brief stint at the Vermont Foodbank, where Snow helped institutionalize fresh produce in their food pantry offerings, Snow negotiated the sole ownership of Salvation Farms in 2012 and continues to lead the charge as executive director.
"I wanted to help people in the community to eat our food, meaning everyone, including the people who aren't buying it," said Snow. A self-described systems thinker, she saw the opportunity to form the connections needed to create social and personal change by using food. By connecting surplus food from farms with charitable food programs like the Hardwick Area Food Pantry and Vermont Foodbank, she saw that she could use this program to give people multiple connection points to their community while building community resilience. The program gives people a chance to volunteer locally, to make local products more available to all Vermonters, and to provide a service to farmers, including a way to demonstrate their commitment to community.
"Clients at the food pantry say, 'It's really nice to know the community cares,'" says Snow. "I was really inspired about connecting people with their local farms, as well as volunteers and the local food scene."
Food insecurity is not something that Snow had personal experience with growing up in her own Vermont farming family. She arrived at her idea in part through her educational experiences studying ecological natural resource management and sustainable agriculture at Sterling College, where she developed a connection to place and a sense of her role within and responsibility to her own community.
A life-changing volunteer experience also helped to shape her view on how communities support their residents by working together to improve resilience. Post-9-11, Snow dispatched to Manhattan as a 23-year-old to help with disaster relief. While she was there, she worked to support people who had lost their jobs, homes, and family members. She witnessed a severe paradigm shift from being in Vermont, a place where people tend to practice subsistence living, to an urban environment where the natural environment was scarce and "peoples' sense of agency was scarce," she says. She was struck by the juxtaposition of knowing how to grow her own food and how to make fire and shelter but being in a place where it was all concrete, credit cards, and bank accounts.
"People didn't know what to do after they spent all the money in their bank accounts," she said. The experience pushed her to commit to working to reduce the overall vulnerability of her own community back in Vermont. She described her newfound awareness as visceral and real. "We're all really vulnerable," she said. "We're all really dependent on things that it would just take a storm to knock over," she said, mentioning Hurricane Irene and its effect on Vermonters' well-being as people lost homes, farms, and businesses from that particular recent example.
With stubborn determination, and the grit she was born with, she worked for three years to set up the program without taking a paycheck for herself. She lived frugally and worked a second job to pay the bills. "I don't know why, but I just felt the things I envision can happen," she says of her motivation to keep going at that time.
Now, the organization has three full-time staff and expects to bring on two more in the early fall, plus a cadre of Americorps staff and community volunteers. These are the folks who wind up at Pete's Greens on Wednesday mornings each week to collect produce, then package, weigh, label, and distribute it to food programs like the pantry in Hardwick.
Cynthia Green has been volunteering for Salvation Farms since the beginning. Responding to an ad in the paper calling for help, she thought, "What a cool idea." At the time, she was teaching a course on culture and cuisine at Johnson State College. "I'm a food person," she said. "I'm a waste-not-want-not person." The idea of saving food that would otherwise go to waste sounded like an important idea to her.
"It's inspiring," she says of the work. "Once people catch on to it, I look at peoples' faces and see them say 'What a cool idea!'" She likes that this work makes further use of efforts that were made to feed people.
Her work has brought her out into the farm fields at Pete's Greens and other area farms, like nearby Riverside and Hazen Monument Farms, to collect crops left behind in the field or those that are too overgrown to be marketable at farmers markets and in stores. Volunteers like her also frequently work in the wash house at the farm.
In the wash house, Taylar Foster, the Community Supported Agriculture (CSA) program manager, has helped to institutionalize donating food from the farm to Salvation Farms. A pallet has been set up specifically for gleaned produce, so she says workers at the farm have gotten good at knowing to put produce on that pallet. Salvation Farms has even brought their own bins for gleaned greens which helps to reduce the labor and packing involved in donating these products. "There are sometimes challenges, it's not always rosy, but we're getting there," she says of the strategies being developed between the farm and gleaning program.
Gleaning is a great way to use produce that the farm has invested in, says Foster. Plus, it's important to get food to the people who need it. But the farm itself didn't have the capacity to get leftover and unmarketable food out to people and so Salvation Farms has become an important intermediary. "The mission of our farm is Vermont can feed itself," she says. "Getting food to all Vermonters is part of that."