There are many things you could call it – a craze, a fad, a mania. In Vermont, it could perhaps be called "mural madness." The question is, why has the age-old art of decorating public places with hand-painted art and vibrant colors become so popular in recent years?
In the Burlington area, the newspaper Seven Days coined the term "Mural Roundup" during the summer of 2017 in an attempt to keep track of all the new murals brightening the landscape around Chittenden County.
In Rutland, 12 murals have been created throughout the city's downtown district over the past few years. In Brattleboro, a community long-known for its support of public art, the "Greetings from Brattleboro" mural that was created in 2006 was refurbished in 2018. In Bennington, the town's first downtown mural was painted on an old building last summer – "the first of many," said Forest Byrd, the founder of the Bennington Mural Project.
During the last six months of 2018, at least three towns in the Northeast Kingdom have been swept up in mural madness. Huge public canvasses have been created to decorate community spaces in Lyndonville, St. Johnsbury and Hardwick.
The Mural in the Age of Instagram
The photo-sharing social networking service known as Instagram was launched on Oct. 6, 2010, and in some circles that is the reason why everybody loves a mural. Who doesn't like to take a selfie – or a photo with a group of friends – in front of unique outdoor artwork?
And when the photo gets shared, and then shared again, and then shared again – it helps publicize the community hosting the mural. People might plan a trip to check it out, and while in town they might eat lunch in a local restaurant, or stop at a farmers' market, or see a cute dress in a shop window and snap it up.
"It's taken the ubiquity of a new medium – Instagram – to revive an old one: hand-painted murals," proclaimed businessoffashion.com in August of 2017.
Even a publication as renowned as The Guardian, a British daily newspaper that has been published for close to 200 years, has reported about the trend. In a June 2018 article it was noted, "As Instagram has become more popular, (mural) hotspots have emerged either organically or by design."
Of the three new murals in the Northeast Kingdom, the one created in St. Johnsbury can be linked most closely with an effort to create public art to advertise and lure business to the region – to create an Instagram "hotspot."
In September, ARCY, an internationally known street artist from Connecticut, created an eight foot by 12-foot movable mural during a "pop-up" event in St. Johnsbury. Tara Holt, executive director of the St. Johnsbury Chamber of Commerce said the creation of the mural was, "to build awareness of the Lamoille Valley Rail Trail coming to downtown."
Next spring, the mural will be installed on the side of the new trailhead center, which will be located on Bay Street in a building that formerly housed KC Rental.
The mural, which is currently in storage, is an abstracted depiction of a bike splashing through a puddle. In some ways, the mural serves a straight-forward advertising strategy – come and ride on the rail trail - but in other ways, it is also straight-forward art.
"It is a really active visual experience," said Holt, who hopes that during the winter months the mural can be displayed at either the Green Mountain Mall or at a St. Johnsbury restaurant.
Instagram has added a new twist on the value of creating public murals for advertising purposes, but there are many other reasons why public murals are created. "So much of art is about the conversation it sparks," said Holt.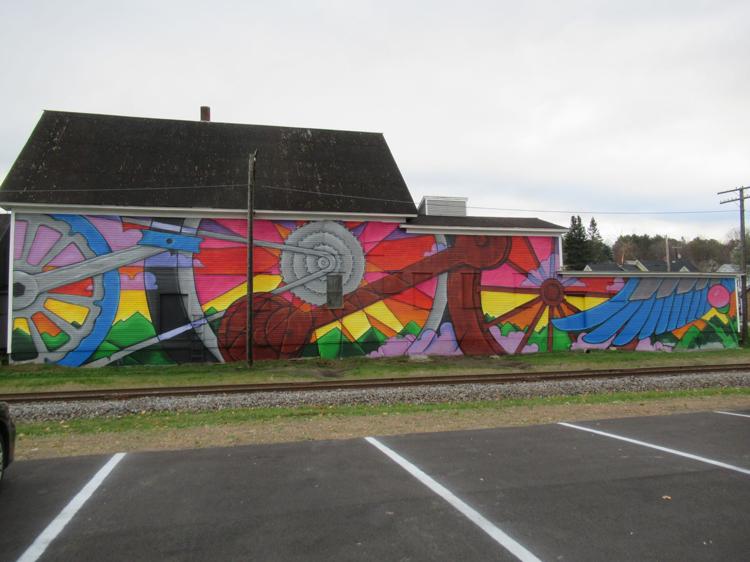 Lyndonville's new mural, an enormous sparkle of color painted on the side of a former Bag Balm building, in some ways is similar to the St. Johnsbury mural – it includes a bicycle motif, but unlike its St. Johnsbury companion, attracting riders to the region was not the main impetus for the mural project.
"I just wanted it to be art," said Kim Crady-Smith, the chairman of Lyndonville's Downtown Revitalization Committee, and the spearhead of the effort to bring the mural to town. She said the artists, Scottie Raymond and Brian Clark of a Hyde Park-based group known as Anthill Collective, were not directed to create anything in particular. "They knew about the train history (Lyndonville is Vermont's only municipality laid out and built by a railroad company) … and the bike represents the newer bike culture that's happening in Lyndon," said Crady-Smith.
"I just love murals and I wanted one for Lyndonville," she said. "It's the reason I got on the downtown committee." Crady-Smith explained that she often visits Philadelphia, which is known worldwide for the spectacular public murals that decorate the city's diverse neighborhoods.
"I wanted to share some public art in Lyndon … to brighten up the street," said Crady-Smith, and she hopes that in future years more murals can be commissioned for Lyndonville.
She added, "The public art lets people know we care about our downtown and our community."
Celebration of community has historically been a central element of public murals, and of the three new murals created in the Northeast Kingdom, the one in Hardwick perhaps best fits into that category.
The mural project was coordinated by the arts organization GRACE (Grass Roots Art and Community Effort) and it was created specifically to celebrate the town of Hardwick. The designer of the mural, artist Tara Goreau, studied at Johnson State College and lives in Colchester. She also painted another mural in Hardwick, which covers a large wall at Galaxy Bookstore.
Goreau designed five panels that celebrate aspects of Hardwick that range from early Abenaki culture to the town's granite and railroad industries, to local landmarks like Judevine Library and local events like the town's Tulip Festival.
On a "community paint day" that was held in early October, children and senior citizens alike could fill in the colors on Goreau's designs in a "paint by number" fashion. After the event, one of a planned five-panel set was affixed to a parking lot wall alongside Mill Street for a short public viewing period.
The panel was removed to Goreau's studio for the winter, where the four other panels are to be completed. It is planned to install the entire mural this coming May.
Not Without Controversy
As with all art, sometimes a public mural will hit the mark and enjoy goodwill and attention by most of the people who view it, but sometimes a theme or an omission will cause controversy and rancor – and murals in the region have not been immune from that.
A mural in Burlington titled, "Everybody Loves a Parade," which was commissioned to celebrate the 400th anniversary of Samuel de Champlain's "discovery" of his namesake lake, stood for five years to the delight of most before a controversy developed. Albert Petraca, who is described as a Burlington activist, headed a campaign to remove the 124-foot by 16-foot mural because it did not include the region's Abenaki heritage and depicted very few African Americans in the panoply of people included in the enormous artwork.
After a great deal of debate and soul-searching, the Burlington City Council voted in August to have the mural moved by Aug. 29, 2022. It was also recommended that Burlington update its "Art in Public Places" guidelines – and make sure that a diverse group of people review all new public projects.
At Dartmouth College, historic murals that were painted in the basement of the college's dining hall in the late 1930s have also become controversial and will be removed – even though they have not been accessible to the general public for several decades.
The Hovey Murals depict Eleazer Wheelock, Dartmouth College's founder, with a group of Native Americans that some have termed "stereotypical representations." Despite the fact that Dartmouth was founded with the goal of educating the Native Americans of the region, some students objected to the murals and petitioned college officials to remove them.
After consideration, Dartmouth officials decided to move the murals to an un-named, off-campus location. The removal was to begin in December.