Only in the Northeast Kingdom would a group of medical professionals gather as the "Women of Medicine Bowling League (WoMBLe)," every month. Amanda Van Straten, a neurologist at Northeastern Vermont Regional Hospital, began facilitating the casual meet up in the late fall last year. The group meets at Gold Crown Lanes in St. Johnsbury and is indefinitely on hold due to COVID-19, unfortunately.
"WoMBLe was born as a way for me personally, to socialize and meet and get to know my co-workers," said Van Straten, who moved from Oklahoma with her family to take her position at NVRH over six years ago. Van Straten said that, as a parent of two and a transplant to the area, it was somewhat challenging to get to know the community both beyond and within NVRH due to her team being small and located across the street.
Since Van Straten began organizing WoMBLe, NVRH has welcomed seven new female practitioners and seen the emergence of a community of women in leadership at NVRH.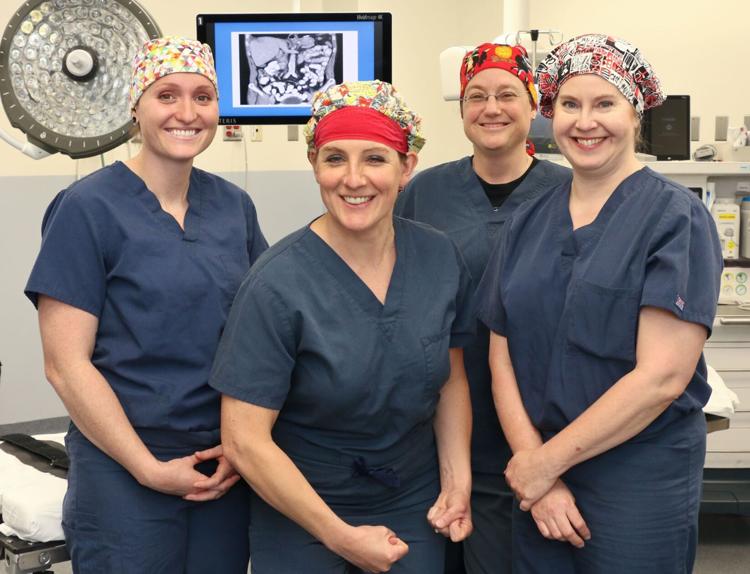 In June and September of 2019, respectively, doctors Wendy Frye and Laura Stoiber joined General Surgery with Annick Kaufman, who moved into the position as chair of the Surgical Department upon welcoming the two women to her team. Kaufman moved from Oregon five years ago because she "liked the feel of small hospitals" emphasizing that "it's definitely like a second family at NVRH."
Betty Ann Gwatkin, vice president of Human Resources at NVRH, said, "As far as recruiting is concerned, we always talk about lifestyle first."
Rather than focusing on the challenges of living here, Gwatkin (who has been at NVRH for 21 years) focuses on sharing the abundance of opportunities in the area with folks considering joining the NVRH team. When she leads with this in presentations, she said, it means that NVRH doesn't find it too challenging to find practitioners and care providers who want to embrace the opportunities rather than dwell on the challenges of living and working in a rural area.
Kim Johnson joined NVRH in the Women's Wellness Center this spring, amid Covid-19, and has not been able to attend a WoMBLe gathering yet, but was excited to hear about it in her interview. "It's not always easy as a female professional to interact with colleagues; there are so many pulls -- family and friends and work -- so it is nice to have that opportunity to interact with female professionals in a nonprofessional setting."
Johnson's family played a significant role in her making the move to the NEK from Michigan's Upper Peninsula, primarily for the opportunities this area has to offer. She said her children, 13 and 11, began asking more and more often, "Can we mountain bike together more? Ski together more? Can we be together more?" Johnson said that accessibility to locations like the Craftsbury Outdoor Center and Kingdom Trails, a selection of educational opportunities for her children, as well as being able to continue their family-run garlic farm made the move feel like an answer to those questions from her children.
Johnson also noted that seeing what sort of community support NVRH has as well as what NVRH is doing for the community was very attractive. "I am very dedicated to practicing in rural healthcare," she said.
Frye, also having moved from Michigan where she was a general surgeon at Otsego Memorial Hospital, echoed similar feelings about finding her new role at NVRH. "The hospital is so personable," Frye said. "It feels like a real team environment. You get that good vibe right away just by walking through the halls."
Stoiber, with experience working in rural towns in Minnesota, is an osteopathic general surgeon rounding out the now three-woman General Surgery team. Stoiber said in a NVRH press release that she really appreciates that NVRH is patient-centered.
Kaufman said she has found a solid, collaborative balance since working with the two other women for just under a year. "Surgery in particular is a place that has been dominated by males for a long time. It's starting to change a little bit," said Kaufman. Kaufman said she feels that Stoiber and Frye are very understanding as fellow women experiencing stress in the medical field.
For example, every winter since she moved to the Northeast Kingdom, Kaufman has taken off Thursdays to join her son, Sebastian, as a chaperone for his school ski program. It's an aspect of being a parent and mother that means a lot to her, and she has learned to advocate for this time with her son, for which her "NVRH family" is supportive. Stoiber and Frye didn't blink an eye when she mentioned this aspect of her work-life balance.
"I kinda finally just realized I needed to stand up for myself to continue to be healthy and be able to do my job, because you can't do your job if you're always exhausted, and you can't be with your family and take care of your family if you're always exhausted," said Kaufman.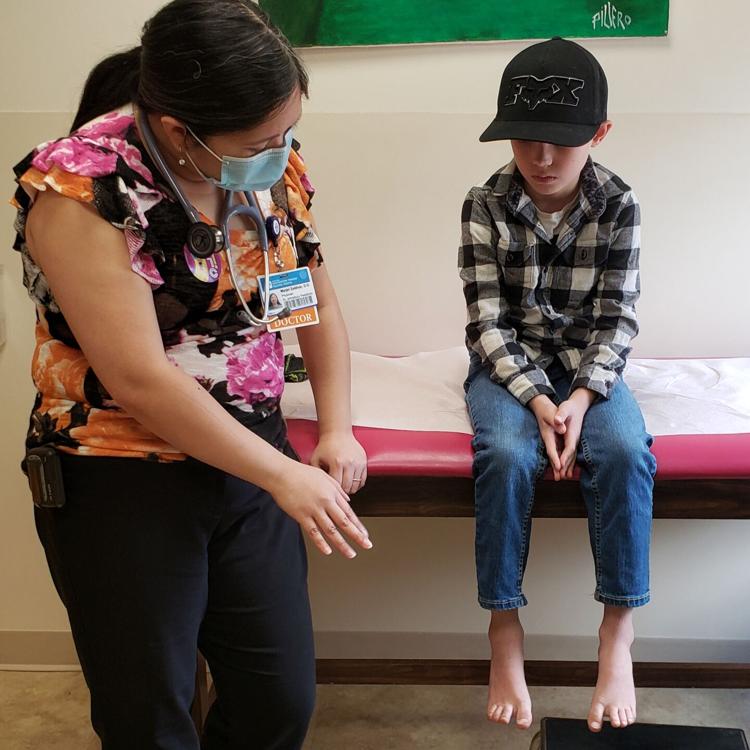 Attracting and supporting the NVRH community
Though Kaufman, Frye and Johnson all knew that they wanted to be in an area where it was easy to engage in outdoor activities like skiing and biking, not everyone is attracted by the rural lifestyle.
Before Covid-19 made in-person gathering challenging, Gwatkin gave a recruiting presentation through the local Chamber of Commerce. Her presentation is titled, appropriately, "Choosing the NEK" and she shares in her presentation that, "You have to want to live here, and we don't try to convince people to live here -- it doesn't work!"
Gwatkin hides nothing in these sorts of presentations, sharing honestly that a big challenge of living in the NEK is having "solid and rewarding jobs to offer." NVRH is doing its very best to be transparent about what it is like to live here, all while also trying to provide a desirable job and lifestyle in this rural area.
"The gaping holes that we do have are specialists that are hard to find no matter where you are -- it's not because we are in the Northeast Kingdom," said Shawn Tester, NVRH CEO since 2018. He said that having outdoor activities right out the back door, access to great schools, and being just under three hours from both Boston and Montreal position NVRH well for attracting top-tier practitioners.
"I think we work really hard to put our staff first and promote that work-life balance," said Tester. Gwatkin said part of fostering the work-life balance is offering staff a flexible schedule and regionally competitive pay so that it is possible to enjoy outdoor activities.
Tester said that with five other hospitals within a 45-minute radius and Dartmouth Hitchcock Medical Center only an hour away, some physicians and practitioners are also able to work at both NVRH and Dartmouth, for example. The two institutions offer slightly different experiences, as well.
"Dartmouth is a big institution, and they're an important partner of ours -- we refer a lot to them -- and so that relationship is important, but I think that here [at NVRH], you're not just another number. You're a person, and your contribution to your community here, to the entire team...it matters, and we know about it," said Tester.
Tester said that when he came into the role of CEO, "I truly feel that sense of community and belonging profoundly, and it means so much to me personally, and I am just so proud to be part of the NVRH team."
Supportive family: At NVRH and at home
Marin Katz is a third female practitioner who joined St. Johnsbury Pediatrics in December of 2019. Katz made the transition from the pediatric intensive care unit at Dartmouth to focus more on preventative care in pediatrics. Katz said she was eager "to make more of a difference in preventing those cases, so identifying the patient and families that were struggling and find the resources in the community to put them in touch with what they need." She, like Stoiber, was blown away by the attention to patient care first and foremost at St. Johnsbury Pediatrics.
Katz said that her team is always willing to support her, whether it be to care for her own sick child, or to respond to questions she has about the plethora of local resources for families. "It's definitely a really connected place – it's more connected than any other place I've worked at."
Marjel Zaldivar, also joined the St. Johnsbury Pediatric team in April of this year, having spent much of her career in the New York City metropolitan area. Attracted to Vermont after a vacation here, Zaldivar echoed sentiments about the NVRH community similar to those of Katz. "I really felt that I had found my home and my people," Zaldivar said in an NVRH press release.
Katz, like Kaufman, noted that they could not do what they do as medical professionals and parents without the support of their partners. Katz's husband was recently completing contracting work on the western side of the state while also fitting in time to take care of their then nine-month and three-year-old children.
Kaufman's husband, Eric, stays home to care for their son and many animals, while also serving their local Peacham community in a myriad of ways.
"It was rare – especially where we lived in Oregon, and even around here – that there was a stay at home dad," said Kaufman. "I don't think society has done well for men that stay at home with kids." Kaufman said that it's hard for her generous husband to see that he is contributing to supporting their family just as much as she is -- and arguably, more, given his tremendous volunteerism in the community.
Ashley Gerrish, who has worked at Corner Medical and at NVRH in the Emergency Department is now filling the role as one of two Certified Urology Nurse Practitioners in the state. Gerrish also noted that support from her husband and family as well as from the NVRH family have made it possible for her to stay at NVRH.
When Gerrish's husband, was offered a job several states away, she said, "I'm sorry they [NVRH] are a family here, I really like them, I don't see myself leaving the area." For about two years they made it work, traveling to and from the Washington D.C. area while Gerrish kept her job with NVRH and home in the Northeast Kingdom.
Gerrish described an instance last year when she had to take leave on short notice for a family burial. Her team at the clinic was supportive and encouraged her to "take whatever time you need, go, we got this." If they needed to get a hold of her, they could text or call her, and her team also offered to take her daughter to daycare, help out her husband, and more.
Gerrish emphasized, "We really are all there as a community to get together if there is someone who needs something, we find a way to help you. I think it's only gotten stronger as the time together has gone on."
The NVRH Family
As in any family, "You will have a riff with someone," Gerrish said of working in a tight-knit community setting.
However, the benefit is that, she said, "I can always pick up a phone or text someone, and they are there. I know who is on the other line, they know me, and I can understand them and they understand where I am coming from."
Kaufman said she has also had to learn to set boundaries with employees and support communication within the team. "I feel like a mom in the workplace sometimes!" she said. She also said that although her work-life balance has gotten easier, it can be a challenge to completely leave work at work sometimes.
Gerrish said, "This is the biggest difference between Dartmouth [Hitchcock Medical Center] and here: the small, friendly personality that shows vulnerability, that you are human, versus come in, you're another number, we're herding cows, and out the door. They like to see us as people, they ask us about our families."
Part of being a family is certainly about showing vulnerability and enduring challenges together. In 2017-2018, the NVRH community suffered three suicides by practitioners. The deaths of Karen S. Kenney in Women's Wellness, Certified Registered Nurse Anesthetist Charles M. Murray, and Ben McCormack of Northern Vermont Physical Therapy shook the community. Partially in response, NVRH now provides an on-staff counselor and a series of free sessions to providers.
Katz said she finds NVRH's regular emails from Lumunos Wellbeing inspiring as "a mental health support system for providers, because I think they recognize that it's a really hard job, and also they probably want to retain providers."
It is through struggles and change — and no doubt, the tribulations of COVID-19 -- that the NVRH family has been strengthened and continues to attract strong female leadership.
Other recent additions to the NVRH team include Speech-Language Pathologist Sierra Downs and Licensed Hearing Instrument Specialist Julie Hall at North Country Otolaryngology and Audiology.
Community in "WoMBLe" and beyond
Several female practitioners expressed enthusiasm for the creative social opportunity created in Van Straten's "WoMBLe."
In addition to being a networking opportunity for newer transplants, Van Straten said, it also offered a "safe place" as many women still work in male-predominated fields, though that is changing.
"It was trying to carve out a little social time with other women in medicine that understand what's going on and so that's been, I think, a great support for a lot of people," said Kaufman, who mentioned that she has been trying to get to a WoMBle meetup. An added benefit of WoMBLe, she said, is that she can connect with other professionals in the field who can understand what she is going through at work and help her navigate challenges that a partner might not otherwise understand.
And, like Kaufman, Van Straten's husband has taken on the role as stay at home dad for their two children since they moved to the area. She said that having a supportive husband and a network through the NVRH community of women and WoMBLe have helped her manage stress around being both a successful parent and practitioner.
Gerrish said, alluding to the strong community feel within the NVRH network, "We all have a lot of each others' cell phone numbers, and it's because of those sorts of activities."
NVRH regularly offers other wellness activities in which all staff may participate. During the month of March, for example, each individual of their office team competed to log 2.5 hours of activity per week for the team. The winning team was awarded a wellness-related prize such as a gift certificate to purchase a CSA share.
Following the death of Dr. Kenney and prior to the death of McCormack, NVRH formed a Workplace Wellbeing committee focused on addressing the question, "How can we create an environment at NVRH where it's okay to talk about how you're feeling, how your mental health is?" said Gwatkin.
It can be difficult for health care providers to speak freely about emotional and mental struggles in a field where vulnerability is not typically normalized. NVRH offers their staff health insurance coverage to meet with any counselor in the country, partially in response to the three suicides between 2017-2018, said Gwatkin.
Tester said, "We can't be caregivers for our community unless we are also able to take care of ourselves."
The sense of community and mental well being fostered by building relationships is paramount at NVRH, whether organized directly by the hospital or not. "Hopefully, WoMBLe unites us at NVRH a little better and makes us a little closer and a friendlier place to be," said Van Straten.