Mildred LaBeur is presently happy as a clam and as snug as a bug-in-a-rug in her new small house in the woods. She is contemplating making a cross-stitch taken from a Vermont quote she likes: "I wasn't born here, but I got here as fast as I could."
It's odd how things work out. In 2005, she and her husband, Howard, decided to travel the country as full-timers in their Pace Arrow motor home, so they up and sold their home in Milford, Pa., put their belongings in storage, and took off to spend the winter in Florida. It was there that Howard was diagnosed with lung cancer. Not long after, Mildred was alone, left with a motor home she didn't know how to drive.
Enter Vermont
Woody Starkweather, Mildred's son-in-law, drove the motor home to Danville, where he and her daughter, Janet Givens, live.
"There was a flat spot on their property near the house," said Mildred, "a good place to park." That was four years ago, and the beginning of her spending summers in the motor home and winters inside her daughter and son-in-law's house. The arrangement was nice, but being independent women, Mildred and Janet started investigating other ways to accommodate their living situation.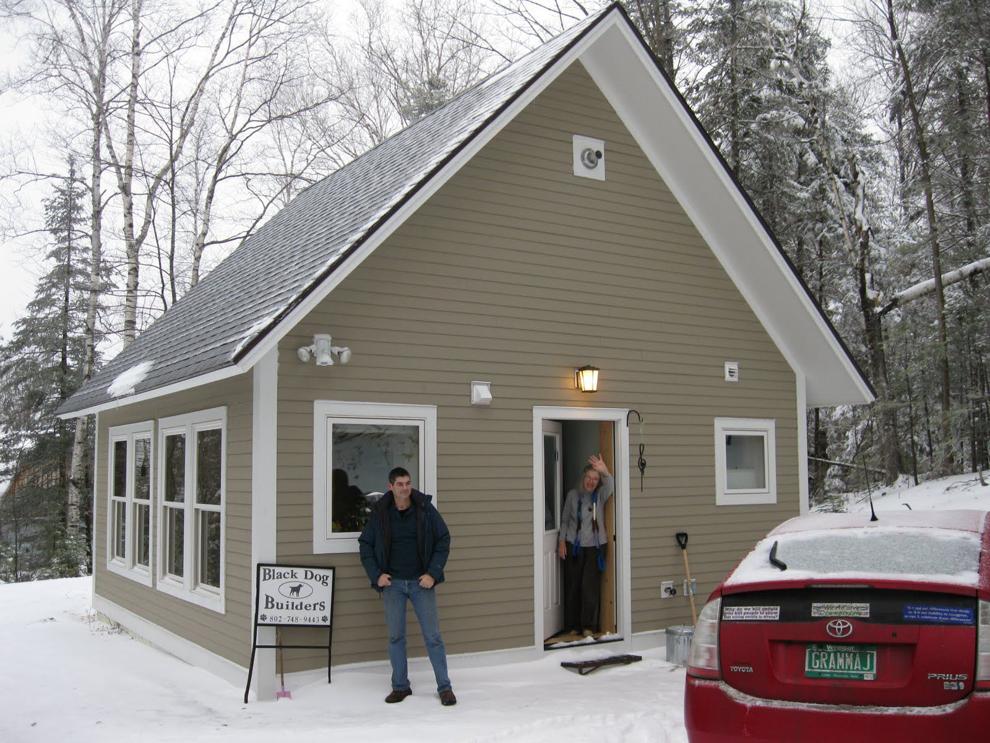 This took two possible directions: the first, and probably most obvious, was to build an apartment onto the house, making use of the utilities already in place; the second was to build a small, standalone structure nearby, on land they already owned.
Enter Fritz Fay, owner of Black Dog Builders in St. Johnsbury. He trained with Efficiency Vermont and was doing some retrofitting at Janet and Woody's house. Through conversation, Mildred and Janet shared with him their thoughts. "I've wanted to build something like this for awhile," said Fritz, "and I thought I could come in under the cost they were considering for completing construction on the small house kits Mildred was interested in."
"You've got to be careful with kit prices," shared Janet. "The cost of a kit house, which seems very reasonable at first, can change dramatically when you include labor and other items you will have to pay for to complete the structure."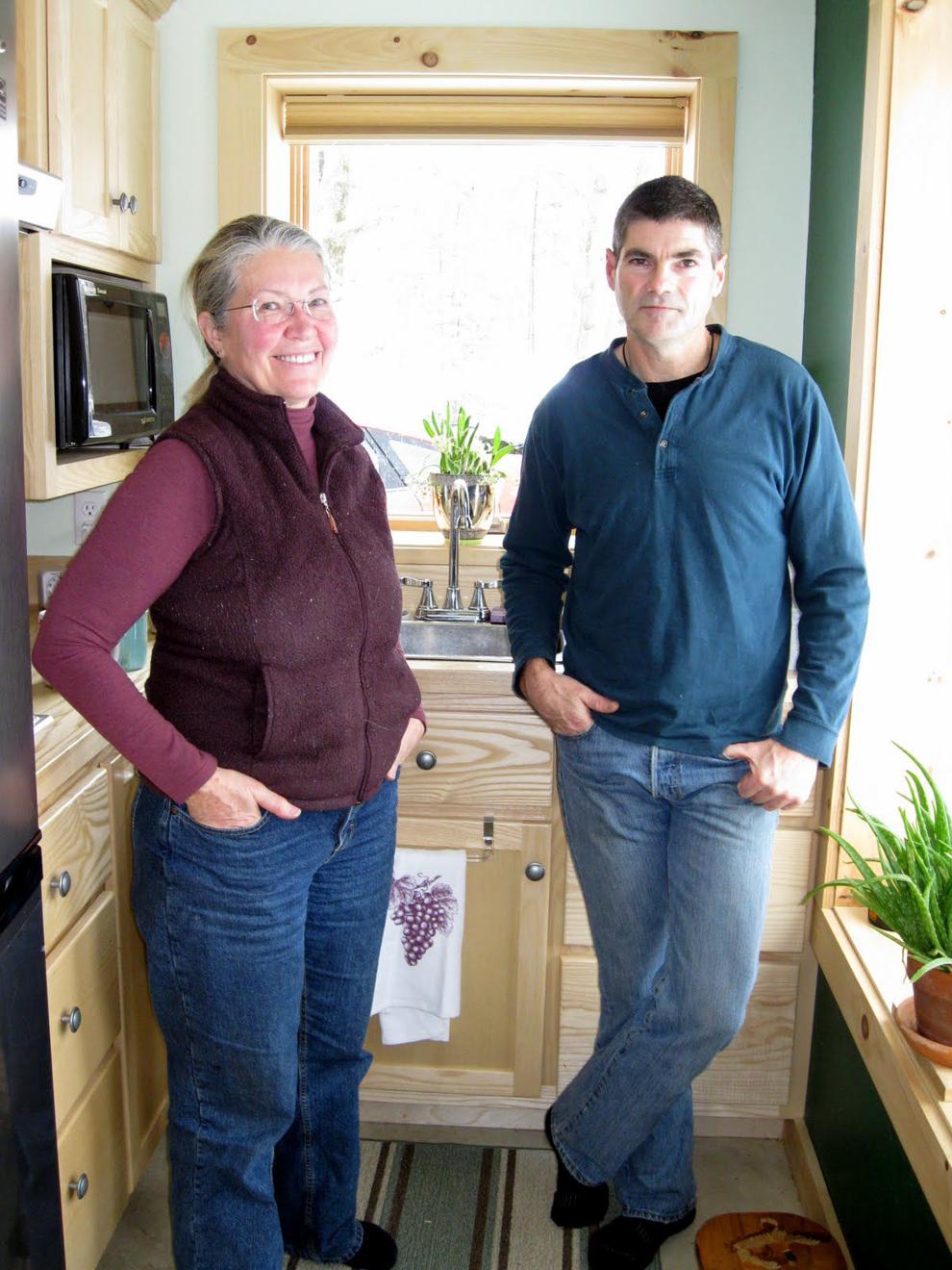 Fritz's idea was to build a small, super-efficient house. "I made them an offer," he said, which they accepted, and he began working with them on a design. "I wanted this house to far exceed the five-star rating that drives Efficiency Vermont. A house should be built to be around a long time. You need to put a lot of thought into how it is to be used and how sustainable it will be to live in for years to come." Everything, from the ground up, was designed with this in mind, and all products used in the construction were as green as possible.
The footprint of the house is 20 feet by 20 feet. Present day efficiency standards require 6-inch walls, but these are 12-inch, blown-in with a dense-pack cellulose insulation made from recycled newspaper and rated R-40. The depth of the walls made the interior living space 380 square feet.
"Exactly the same number of square feet as my motor home!" exclaimed Mildred.
The additional wall depth gave Mildred wide window sills, which she loves. The non-vented roof is rated R-80, with 18 inches of blown-in cellulose and two-inch sealed rigid foam backing.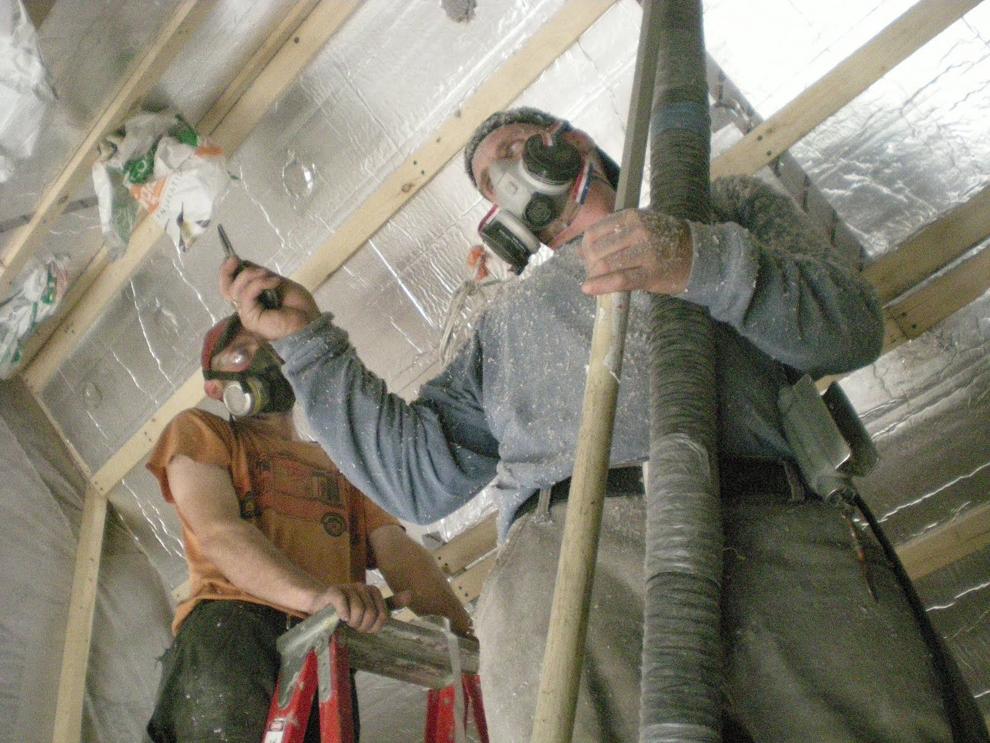 It is clapboarded with a fly-ash cement siding, another green product that doesn't need painting. The house is situated so most of the windows are on the south side, making use of passive solar.
"The 12-pitch roof on that side will accommodate solar panels later, if they want to add them," said Fritz. Electricity and a waterline run from the main house to Mildred's, but they did have to put in a 1,000-gallon septic tank.
"These are Vermont regulations," said Janet, "the minimum size house the regulations cover is two bedrooms, and that means a 1,000-gallon tank. It's twice the size of the tank for our home—built before septic permits were required—and my mom's got one-eighth the space. Ironic, but I know Vermont wants to protect its watershed."
The small house is heated by radiant heat in the floor, transferring hot water through piping from an on-demand propane heater near the peak. This heating system opens to the outside through a two-way vent. Two other vents exist in the house, one in the range hood, the other in the bathroom. The house "virtually has no air leaks," said Fritz, who went on to explain, "Air exchange is extremely important to air-tight construction. Without it, the house wouldn't function." He believes Mildred will be able to heat the house this winter for around $200.
Mildred and Fritz negotiated on a few items, sparring particularly over the bathroom.
"I didn't like his placement of the toilet and the fact that he dictated a shower—I wanted an old-fashioned tub," she said. Mildred won the tub debate, but he won the placement of the toilet.
"Thinking long term," he said, "I designed for ADA requirements, so that someone using a wheelchair could live here."
The windows were also part of the discussion. While Fritz recommended triple-paned windows, the cost was prohibitive for Mildred. The result: double-paned fiberglass clad windows with energy efficient window coverings. She chose a honeycomb shade that can be pulled either from top or bottom. Not only do they help keep the heat in during winter nights, they'll help keep the house cool in the summer.
"This house could seriously overheat in the summer," said Fritz. In the summer, the extended overhang on the roof will keep the sun's rays from striking the upper part of the window, while the bottom can remain shaded with the blinds.
"There should be no need to air-condition," said Fritz. The grove of deciduous trees along the south side will provide shade and cooling in the summer and lots of sunshine in the winter.
The interior layout of the house is simple but elegant. A small entry welcomes owner and visitors alike through the only door in the house—in the front. A special window in back provides an escape route in case of fire, a necessity to bring the house to code. Coats can be hung from Mildred's antique coat tree next to a handmade Karl Nitsche crafted bench. The bathroom and bedroom are on the right, closeable by pocket doors. The great room, which doubles as dining and living area, is the center of the home. Janet remembers the same drop-leaf dining room table from childhood. All is full of light as the windows are plenty. Mildred's wall color choices—shades of green—are appropriate as well as peaceful.
Above the great room, one sees clear to the peak of the house, creating a sense of spaciousness. A small sleeping alcove is set off in the loft area by stair railing.
"That is for my grandchildren," shared Mildred. "They haven't slept here yet, but they are pretty excited to visit now that it is finished."
A little work is required to get to that space. A ladder rests on the floor of the great room and is affixed to the loft. The piping for water and heating apparatus is directly across from the ladder. Mildred calls the loft her "project area" and has created a pulley system to raise things to work on up there, freeing her hands for climbing.
Having lived for a long time in the motor home, Mildred grew to appreciate the space-saving devices in it, especially in the kitchen. Her new one is located opposite the bathroom on the south side of the house, just off the great room. Like the rest of the house, it is full of light. A two-burner gas stovetop and microwave/convection oven are two ideas that came directly from the motor home. The ash cabinetry was made to her specs by Dave Patoine of Calendar Brook Cabinetry. The cabinets in the bathroom and kitchen were an upgrade for her, and she is happy with the beauty and smoothness with which they work. "I tried to have everything in the house created or supplied locally," explained Mildred.
From her smile, it is easy to see that Mildred is happy with her house. "In thinking back," she said, "I wouldn't change a thing. I loved working with Fritz and his crew. They are so talented and creative. There wasn't anything they couldn't do!" She wanted to thank them publicly: Francis Carlet and his son Ian, Colin Russell, Aaron Arioldi and Ed Pothier, with whom she worked most closely.
"It isn't often," said Janet, "that you have the opportunity to live your values and choose how to spend your money. Building this beautiful small house gave us the ability to make sustainability-conscious decisions."
As for Fritz, he looks forward to constructing more super-efficient homes. "People should spend money on building the best possible structure for their house. You can always upgrade a kitchen, but it's hard to change its underpinnings."