Karmê Chöling, a Buddhist retreat center, nestles in a restored farmhouse in the foothills of the Green Mountains on an expanse of rolling meadows. Frequently, passersby glimpse white, peaked event tents. Tibetan prayer flags punctuate Patneaude Lane. A rich red-paneled, side-lighted door with royal blue, brilliant yellow, and green accents welcomes visitors. The symbolic lattice-patterned endless knot decorates a gabled portico supported by turned wood columns.
How did this Buddhist retreat center, celebrating its 50th anniversary, end up on a former dairy farm in a tiny Northeast Kingdom town? Finding no local answer to my question, I became engaged in a journey across continents to solve the mystery.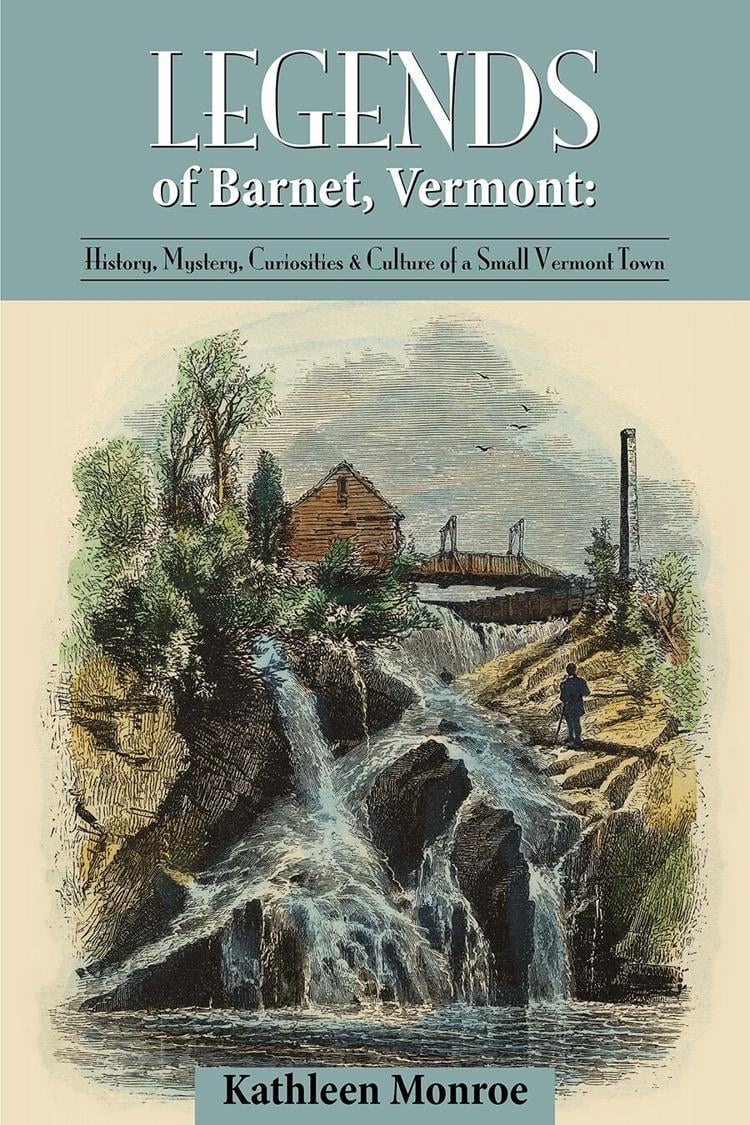 In February 1939, a baby boy, later named Trungpa, was born to the Mukpo family in Eastern Tibet. His mother dreamed on the night of his conception, "a being had entered her body with a flash of light;" that year flowers bloomed in the neighborhood although it was still winter…." At his birth, a water pail unaccountably filled to the brim with milk, and the village was blessed with a rainbow. Trungpa's relatives dreamed of holy Buddhist lamas coming in search of a reborn Buddhist saint.
Ordained at age 8, the boy was schooled in lines of Tibetan Buddhism emphasizing meditation practice.
In 1959, Chinese military invaders attacked Tibet's religious institutions, executing and arresting monks, looting, and destroying monasteries. Following the Dalai Lama's escape from Tibet, 80,000 Tibetans fled to India through the Himalayas. Trungpa, and a reincarnate custodian of another Buddhist lineage, Akong Rinpoche, were among them.
In India, Trungpa and Akong were befriended by Freda Bedi, an Oxford graduate and one of the first Western Tibetan Buddhist nuns (1964). Bedi's son recalled Trungpa as voluble, flamboyant, "a naughty boy but a brilliant teacher."
In 1963, having improved his command of English, Trungpa studied comparative religion, philosophy, fine arts, and Japanese flower arranging at Oxford University. Akong, a doctor of Tibetan medicine, supported the pair by working as a hospital porter.
Trungpa and Akong arrived on the scene at a time when the Beat Generation and the Civil Rights movement were in full swing. The free love and counterculture movement, along with such radical ideas as open marriage, were emerging. Beat idols Allen Ginsberg and Gary Snyder, as well as leaders in the psychedelic movement such as Richard Alpert (known as Ram Dass) gained momentum in the late 1960s and early 1970s. Middle-class young adults set out to find new spiritual paths as traditional religious practice decreased. An interest in Eastern religions, including Buddhism, gained marketability. Young people sought teachers and gurus who offered meditation classes. Trungpa was in the right place at the right time to capture the imagination of the spiritually estranged and those disgruntled by Western materialism and political and social turmoil.
In the Scottish parish of Eskdalemuir, an Ontario-born lama founded a retreat center. In 1967, the lama returned to Canada. Retreat center trustees extended an invitation to Trungpa and Akong to replace the leadership. Samye Ling—Europe's first Buddhist monastery—became one of the first stopping places for a hodgepodge of Buddhist scholars and hippies. In 1969, Trungpa published Meditation in Action, and his reputation spread like wildfire.
Trungpa sought to demystify the teachings of Tibetan Buddhism and make Buddhism accessible to Westerners. Akong wanted to hold onto the Tibetan cultural practices inherent in Buddhism. Friction intensified between the two men. Samye Ling, combined the rigors of a monastery with the unconventional freedom of a hippie commune. Aromas of pot and macrobiotic food wafted through the halls.
The villagers spread gossip about sex and orgies at the monastery. Trungpa struggled to impart the basics of Buddhist sitting meditation, but he remarked that most of those congregated "seemed to be slightly missing the point."
Trungpa's conviction was that the West was ripe for meditation. Akong, however, summed up the early days of Samye Ling by saying, "We didn't have so much spiritual activity—we had hippies."
In 1968, Trungpa spent 10 days in a Bhutan cliffside "tiger lair" seeking inspiration on how to bring dharma—Buddha's teaching—to the West. The message he realized was to expose "spiritual materialism," a term he coined and expounded on. In 1969, the unlicensed Trungpa suffered an alcoholic blackout, crashing his sports car into the façade of a joke and magic shop. The revelations in Bhutan, coupled with the accident, influenced Trungpa's decision to renounce his monastic vows and fully embrace Western living. He believed the teachings of Buddhism should be free of cultural trappings and religious fascination to take root in the West. To proclaim the dharma to Westerners, he doffed his monastic robes, eliminated Buddhist jargon, co-opting vocabulary from other world cultures.
In December 1968, 15-year-old Diana Pybus caught his eye. A rebellious schoolgirl, delighted by the Tibetan's offer of marriage, Diana and Trungpa eloped on Jan. 3, 1970. Upon hearing the news, Diana's mother fainted. The conflict between Trungpa and Akong Rinpoche intensified. Living in Scotland became increasingly uncomfortable for the young newlyweds.
Diana urged Trungpa to move to the United States. But how did his first meditation center there come to be located in Barnet?
Early followers, Tania Leontov, John J. Baker, Jean-Claude van Itallie, and Fran Lewis were able to piece together the story of the founding of Barnet's Tail of the Tiger. Patience Lindholm, Jo Ann Newman's daughter, helped fill in the picture.
In July 1967, thirty-one-year-old Tania Leontov (1936-), an off-Broadway costume designer, and Jean-Claude van Itallie, an American playwright, took van Itallie's hit play, America Hurrah, to the Royal Court Theatre in London. The controversial play was forced to close. The director, Joe Chaikin, met Vietnamese Buddhist monks at a retreat center in North London. He encouraged members of the cast and crew to expand their life experiences and suggested they visit Samye Ling. Leontov, who knew nothing about Buddhism, set off to check it out. There she met Richard Arthure, Trunga's secretary, who in turn introduced her to Trungpa.
"I realized I wanted to be in his presence," Leontov recalled. Trungpa expressed his curiosity about the United States to Leontov. He wanted to lecture in America.
Studying under Trungpa at Samye Ling at the time was Josephine Ann Williamson Newman of Branford, Connecticut. Newman appreciated Trungpa as "a wonderful teacher." She and Leontov became friends. Jo Ann, married to James A. Newman, Jr., vice chairman of international consulting firm Booz Allen Hamilton, was very wealthy.
After a time, Leontov returned to the United States. Over lunch, Leontov and Newman shared Trungpa's curiosity about the United States and described her ambition to open a meditation center here in the States. "What are you going to do?" Newman asked. Leontov explained they would have to find farmland suitable for the venture. Impulsively, Newman piped up saying, "I'll buy the farm." The pair wrote letters to Trungpa, telling him of their plans and urging him to come to the United States. Leontov's interest in convincing Trungpa to come to North America was driven in part by the hope that "Rinpoche could be back in my life."
Discouraged after visiting farms in New York, Connecticut, and Massachusetts, the women approached real estate broker, banker, and auctioneer Ken Rogers of St. Johnsbury, who suggested they look at a piece of property in Barnet.
In early January 1970, Newman, Fran Lewis, and Leontov pulled into Barnet. Beneath dark trees, silhouetted against the sky, they checked out the snow-covered babbling brook, and the good bones of the sunny, cheerful Patneaude farmhouse. Lewis recalls her first impression of the land—"Amazing! I am a big walker … and I looked at the land and said, 'Man, I bet this is going to be a place to take long walks' … but, at that moment the snow was so deep." With funds from the Newmans, the group purchased Patneaude's 430 acres for about $54,000.
Four followers—Fran Lewis, Jo Ann Newman, Richard Arthure (Trungpa's secretary), and Tania Leontov settled on the Patneaude land on March 16, 1970, establishing Tail of the Tiger (TOT), the first Kagyü Buddhist meditation center in the United States. The name "Tail of the Tiger" was chosen using an I Ching hexagram which says "Treading upon the Tail of the Tiger. It does not bite the man. Success."
As can be imagined, the arrival of these new landowners caught the attention of Barnet residents. Cathy Ryder Thomas, formerly of McIndoe Falls, recalls:
"We heard that the Patneaude Farm was sold to Buddhists. We didn't know what to expect. I was a teenager waitressing at Phil's Drive-In in McIndoe. Phil's was a car-hop place with a sit-down option in colder weather. I recall serving a table full of Buddhist women all chatting, laughing, relaxed, eating ice cream. We expected them to be more godly, or hippies, or a cult, but turns out, they were completely normal.
"At the Congregational Church in McIndoe, the congregation was concerned about the influence Buddhists would have on the local people. Gradually, we found they were generous, had a tradition of helping people, and they turned out to be a positive addition.
"Buddhists bought gas, shopped locally, and ate at the restaurant. The Buddhists gave people here broader cultural exposure and brought out the best in us. So many Buddhist people moved into town to be at the center of things! We have a tradition in Vermont of not getting too judgmental or we balance our prejudices with empathy. The Buddhists fit right in."
At TOT, preparations were underway for Trungpa's arrival. Richard Arthure, Trungpa's student since 1966 was better known by his Buddhist name, Kunga Dawa. As Trungpa's secretary, Dawa was asked to give seminars in Burlington, Lyndonville, New York, and Boston introducing Trungpa to eager listeners.
Trungpa's 1969 book Meditation in Action could be purchased at New York City's Samuel Weiser Bookstore—America's "premier establishment carrying all manner of books relating to alternative religions and the occult." Readers enthralled by Meditation in Action returned to the bookstore asking, "Where is this man?" The answer—"In Barnet, Vermont."
A Trungpa biographer wrote, "… Tail of the Tiger was a cross between a hippie community and a Buddhist monastery and practice center, even if, at the time, the first element was still dominant."
Trungpa dressed in colorful, loud, western-style clothing. He might wear flannel shirts or cravats. He left his shirt unbuttoned at the top, defying Barnet's image of a spiritual master. Wildly charismatic, clever, inspiring, and brilliant, Trungpa encouraged acolytes to question their thinking, challenge their opinions, and urged generosity, patience, dedication, unceasing effort, spontaneity, outrageousness, and compassion. In the farmhouse and poorly-heated Barnet Town Hall, people wrapped themselves in blankets and rugs and huddled amongst pillows to listen to Rinpoche.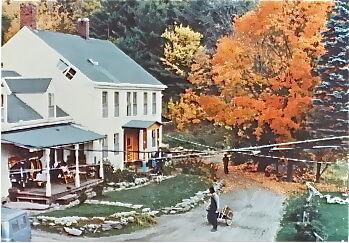 Newman sold the Patneaude property to TOT in about 1974.
The Karmapa, head of the Karma Kagyü lineage, came to America that year. Hosted by Trungpa, he was so impressed by what he saw that he renamed TOT "Karmê Chöling," which means "Dharma Place ("place of cosmic law and order") of the Karma Kagyü."
Trungpa predicted he would live only a dozen years beyond 1970. He planned the important details of his funeral years before his death.
In 1986, he moved the international headquarters of his organization from Boulder to Halifax, Nova Scotia. There he suffered cardiorespiratory arrest in September. On April 4, 1987, aged forty-seven, Trungpa died. No one doubted that his death was accelerated by his legendary drinking.
At his spacious home in a posh Halifax neighborhood, Buddhists came to mourn his passing. Trungpa's body remained in a state of samadhi, without decay and with the area around the heart remaining warm, for as many as five days after death. On April 11, 1987, his corpse was transported to Barnet where he rested in the shrine room at Karmê Chöling.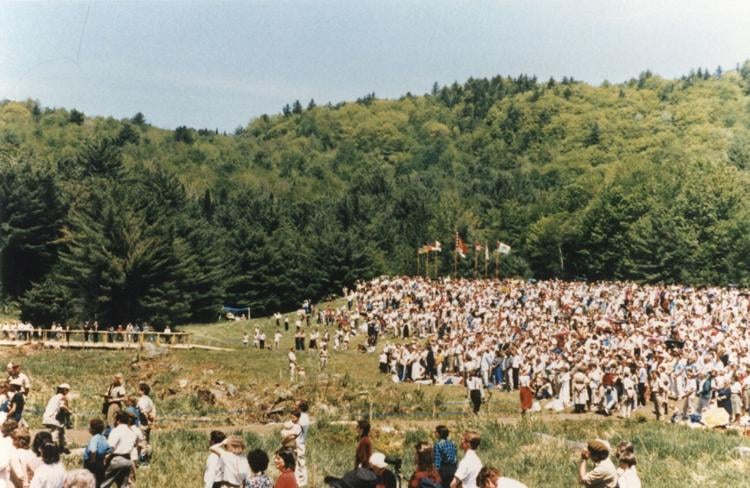 The population of Barnet—1,300 at the time—swelled for the May 26th cremation—irreverently referred to as "The Barbecue" by locals. Residents rented out rooms. The Barnet Congregational Church bagged 3,500 lunches for visitors. Money collected went to the support of the U.S.-U.S.S.R. Bridges for Peace program. Three thousand students, fifty Tibetan monks, and Joe and Alice Patneaude attended the ceremony.
Karmê Chöling installed an office trailer, a refrigeration truck, a medical facility, and an administration tent to handle mourners. Motels, hotels, campgrounds for sixty miles around were sold out. Dyer's Town Market, Barnet Village's general store, did a landslide business, selling "lots of cigarettes and lottery tickets." Eight Vermont Transit buses ferried mourners to the site. Citizens sold parking spaces at Harvey's Lake, Dunbar's field, Wendell Goss', and the Barnet athletic field.
After four days of rain, the cremation day sky was heavily overcast, the treetops shrouded in fog. The procession began with a lone bagpiper playing "Farewell to Nova Scotia." Fifty maroon-robed monks followed, playing six-foot-long ceremonial horns, conch shells, reed instruments, and drums.
Trungpa's body, facing east in a sitting position, was put into a structure called a purkhang, twenty-five feet high, topped with a gold spire. The outline of his face, a crown atop his head, could be seen through an ornate window. A cannon fired, startling the crowd, followed by a series of Buddhist chants echoing against the foothills. Fog gave way to a blue sky. "Within an hour, clouds crept above the horizon—long streaks, cobbled textures, mares' tails. Then we saw it: a bright, circular rainbow around the sun. Then we saw another: a long stairway rainbow, on the edge of a violet smear of mist. The crowd cheered." Meteorologists explained that the crowd had been treated to a glorious solar halo swiftly accompanied by cloud iridescence.
Legends of Barnet, Vermont: History, Mystery, Curiosities, and Culture of a Small Vermont Town, offers an in-depth study of the contradictions in Trungpa's life. 'Legends' dives deep into researched tales answering: What's the story behind eleven-year-old Jacques Cousteau's first dive ever—in Barnet's Harvey Lake? What is the truth behind the claim that the Goodwillie House was an Underground Railroad hiding place? How did the actions of a Barnet physician result in a change in New Hampshire law? Have imported Scottish clocks been ticking for centuries? Hells Angels roared into bucolic Barnet seeking summer lodging. Paranormal activity? We have our share.
To order a copy of Legends: Contact author, Kathleen Monroe, speakvt@sover.net or 802-633-3052.