Local volunteers are breaking ground on new mountain bike trails in the St. Johnsbury and Danville area called the Kingdom South Trail Project, a satellite endeavor under the umbrella of Kingdom Trails in East Burke. The effort is a collaboration between local enthusiasts, volunteers, schools and RecFit, a non-profit community health and wellness center.
Kingdom Trails is backing the project, providing guidance, expertise and organizational support, according to Chris Dussault, Saint Johnsbury Academy teacher and former board president of Kingdom Trails. "The vision is to open a small network of mapped and signed trails, hopefully with access from the Lamoille Valley Rail Trail."
The group is very early in the process, the project itself is only a year old and initially started out as a Tuesday afternoon trail crew club last fall at St. Johnsbury Academy under the leadership of Sustainability Coordinator James Bentley. He has helped to organize large volunteer efforts on the trails.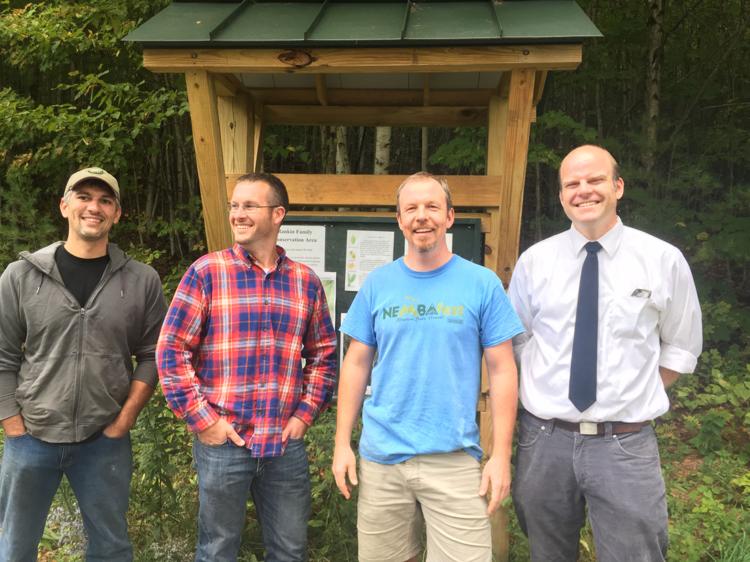 Trail work has been happening on Clement Dussault's Library Road property in Danville. Approximately one mile of trail has been built so far thanks to the hard work of students, community volunteers and area youth enrolled in the St. Johnsbury Recreation Department's summer adventure camp program.
Joe Fox, St. Johnsbury Academy director of recreational programs, is a Kingdom South Trail crew leader and has led many trail days with youth groups since summer.
"I'm very excited about this project," said Fox. "It's hard not to get excited about the thought of having a trail network in such a beautiful area, minutes from a population center, that encourages people to get outside and connect with nature as well as get their hearts pumping. The project is already serving this purpose, before any mountain bikes even touch the soil."
Creating an inventory of existing roads and getting to know the lay of the land and natural trail connections has been the first step, followed by the hard work of flagging, clearing and building trails.
Building these types of trails requires a lot of work. Volunteers clear brush, rake, cut side-hill tread ways, dig, level and tamp. Volunteers remove stumps shape trail features, carry buckets of dirt, and rake debris.
Once completed, the trails will be available for use by the public and will consist of both single track (narrow trails about the width of one bike and built around the natural terrain - trees, roots, rocks) as well as existing wood roads. Trails currently under construction are geared more toward intermediate and advanced riders.
When I spoke with Dussault, he was on-site with 12 Burke Mountain Academy students, coaches and faculty for a workday.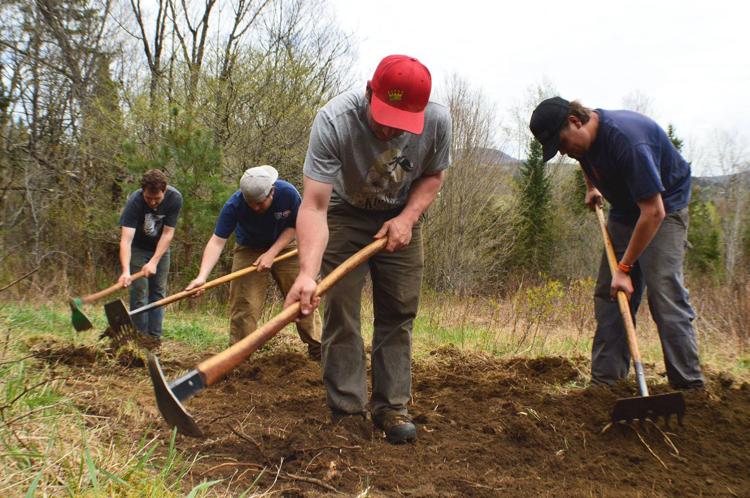 "They [the students] will be with me for three more days and we have several more trail workdays lined up throughout September," he said.
He estimates the students' week long work contribution helped to install a half a mile of brand new single track. Other student groups involved have included the Trail Crew Club, St. Johnsbury Academy forestry students and Sophomore Stewardship Day, St. Johnsbury Recreation Department camps, Lyndon State College's Mountain Recreation Management students and Good Sheperd Catholic School.
Area schools are also promoting biking through school clubs and after school programs, but they need safe and accessible infrastructure nearby. Dussault founded the St. Johnsbury Academy Mountain Bike Club during his first year of teaching in 2000 and students continue to take weekend trips to Kingdom Trails in East Burke to ride. Now, through the new Trail Crew club, students from the Academy have the opportunity to work and ride closer to home. Last year, the Danville School also added biking as an option for students in grades 3-8 in the after-school program.
Additional community programming and partnerships are also possible, according to Fox, like mountain bike clubs and group rides, trail running workshops and races, and conducting interpretive nature walks along the trail system. The Kingdom South Trail project is helping to get youth excited about participating in outdoor recreational activities and the opportunities will only continue to grow. Their contributions to the project are giving them a sense of ownership and an opportunity to give back to their community.
"This is empowering [for the students]," Dussault said. "The work is hard, but they are motivated to see the finished product, and to share it with others."
Dussault was also excited to report that a new landowner, Bill Elder from St. Johnsbury, who owns approximately 100 acres on Farr Road in St. Johnsbury, had enthusiastically signed on to the project just a week before. Bill's property abuts the Lamoille Valley Rail Trail and could be a potential link to connecting to the larger trail network. Elder cites the relatively low environmental impact the project has and the recreational resource it provides the community.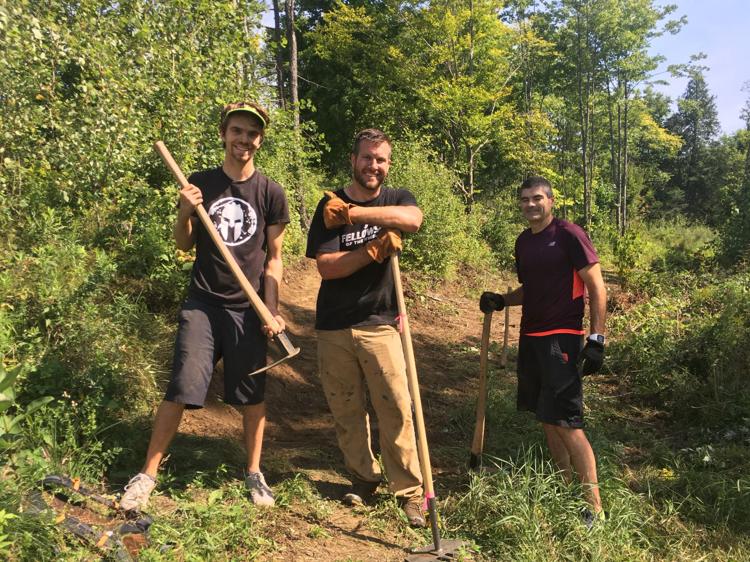 It is the generosity of the local landowners, who have opened up their land and allowed these trails to be built, who are helping make this project a reality. Dussault spoke of how Kingdom Trails initially got their start and mentioned former Burke Mountain Resort owner Doug Kitchel's passion for the project and his community outreach as being key to bringing private land owners on board. Doug was a well-known and respected man in town. He reached out in a way that really pulled the community together and helped people to see the bigger picture. He helped to get people excited about the potential of what was to come.
Now, Kingdom Trails maintains miles of multi-use trails in and around East Burke. The network has been lauded by users and the press. The culture, vibrancy and energy that Kingdom Trails has created is being felt throughout the Northeast Kingdom and it's impact on the region is clear. Year round the village is teeming with activity, drawing in both locals and visitors from around the country to share in and enjoy this amazing recreational resource.
Though the link between recreational opportunities and the local economy have been well documented, recreational use on private land is still quite often a sticky point. Concerns over liability issues and general respect for the land can make private property owners apprehensive to opening up their land to the public. Kingdom Trails has been tremendously helpful to the project in this regards. They have offered professional advice and expertise on many levels from trail layout to land owner agreements and communications.
The Vermont Statewide Comprehensive Outdoor Recreation Plan (SCORP), prepared and updated every five years by the Department of Forests, Parks and Recreation identifies recreational access to private land among the top 10 priority issues affecting outdoor recreation in the state. Youth involvement in outdoor recreation was also mentioned. According to the report, "Vermont has close to 850,000 acres of public lands open to recreation and thousands of miles of trails on public and private lands land that serve hikers, mountain bikers, snowmobilers, all-terrain vehicles and other trail users." Vermont's recreational use statutes help protect and support private landowners from being liable for property damage or personal injury sustained by a recreational user.
The movement towards bike-friendly communities and investment in supporting alternative modes of transportation is becoming more of the norm and part of the bigger planning picture. From an economic, environmental and public health perspective, the planning and development of interconnected multi-use transportation networks and recreational trail systems bring tremendous benefits to communities.
Donna Higgins, board president of the Friends of the Lamoille Valley Rail Trail, supports interconnected trail systems and speaks to the benefit of linking existing and future trails and pathways to the LVRT.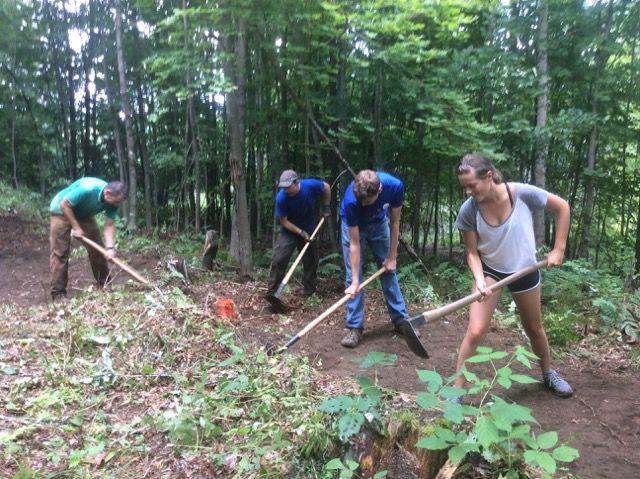 "We feel that the more trails that connect to and lengthen the experience of the Lamoille Valley Rail Trail for any users (bikers, walkers, horseback riders, etc.) will enhance the entire trail and help bring more people to the area," she said. "We hope in the future that many trails will continue to link to this resource. Any linking to the trail will help Vermont and our communities' future ability to market Vermont as a recreational destination."
Mike Heath business owner of Kingdom Crust Co. located in St. Johnsbury is a supporter of the Kingdom South Trail project. Mike has helped to spearhead landowner outreach and has donated pizza to the hardworking volunteer trail crew folks. He has experienced first-hand just how important Kingdom Trails has been to his business.
"If you were to drive by the Comfort Inn or Fairbanks Inn in St. Johnsbury on a summer weekend you would see that at least three-quarters of the vehicles in their parking lots have bike racks on the back.," Mike said. "We see the same thing happening at our business as well. The economic activity happening around mountain biking and the potential to have a trail system here in the St. Johnsbury - Danville area is huge. The terrain and soil here in the Northeast Kingdom is well-suited for this and the investment is minimal compared to the return. Mountain biking is an under-serving industry right now, it has turned into a year-round sport and from my perspective it out-rivals the ski industry in terms of possibilities."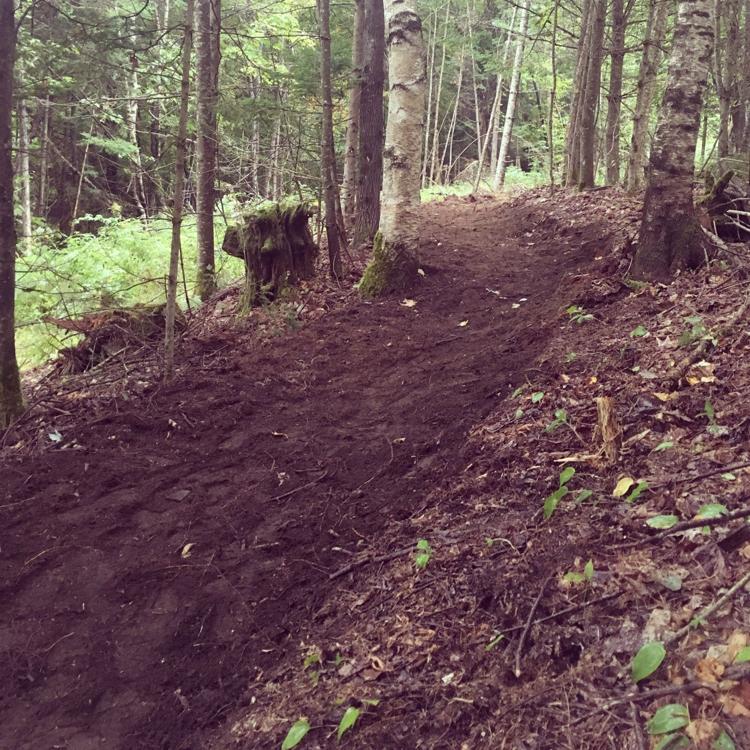 The public health community also recognizes the importance of investing in and making bike and pedestrian friendly community design a priority in community planning policies. In 2014, The Vermont Department of Health invited Tim Tierney, executive director of Kingdom Trails to participate in a panel discussion as part of the VT Healthy Community Action Institute workshop in Montpelier. It was the success of Kingdom Trails and the community-based effort of garnering the support and resources necessary to make it happen that was highlighted as a model for other communities to use. It also helped to demonstrate the incredible economic growth that the town experienced and how biking and active living became a part of the culture. Research in this field continues to show that improved quality of life and better health outcomes can be directly linked to communities that make a concerted effort to plan for and build this infrastructure into the fabric of their communities.
With continued momentum and larger community involvement the hope is to eventually develop a system of trails and terrain geared towards all skill levels from beginner to the more experienced rider.
To truly bring this vision to reality, it will require the continued generosity of local landowners and support of volunteers. It's hard work but you don't need to be an experienced trail builder to help. A typical trail workday will start with a brief meeting followed by orientation and instruction.