An expanding area around the modest village of East Burke and nearby Darling Hill has been transformed into one of the Northeast's premier mountain biking destinations, thanks to the foresight of a visionary group of people who came together 25 years ago to create the Kingdom Trails Association (KTA).
Between 2016 and 2018, the number of rider visits increased by nearly 50 percent from 94,000 to 137,000. In 2017, KTA took in over $1.1 million in revenue against $640,000 in expenses, according to Executive Director Abby Long.
The nonprofit organization is celebrating its 25th anniversary this year by reflecting on the past and planning for the future. The influx of visitors and revenue is worthy of celebration in the Northeast Kingdom, where economic success stories are rare, particularly for a community as small as Burke, population 1,753, where the effects of growth tend to be magnified.
The popularity of the trail system and what it brings to the region has Long excited, and she believes balance and collaboration will be important moving forward.
"Eighty-four percent [of visitors] are coming from out of state, 38 percent of those are Canadian, and with them comes an economic impact, she said, "so how do we harness that while still being responsible is how I look at the future."
Vermont Trails and Greenway Council conducted an economic impact analysis in 2016 on behalf of KTA and three other trail networks.
KTA hosts a welcome center in East Burke Village and currently operates with four full-time staff, 30 seasonal employees and a trail crew. The 100-plus miles of mountain bike trails form a spiderweb around the village of East Burke, on both sides of Darling Hill Road, and now across county lines to nearby East Haven. The trail network runs across private property with the permission of 92 individual landowners.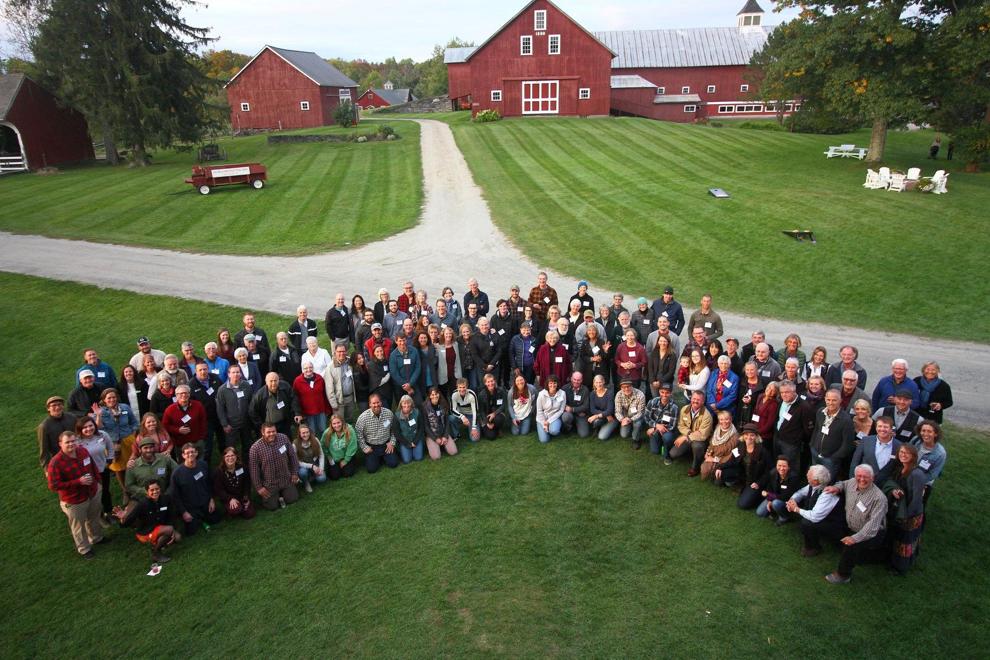 Riders can buy day memberships for $7 to $15, and annual memberships are available for individuals and families from $75-$150. Northeast Kingdom residents get a 33 percent discount, an initiative taken by Long, who took over as executive director last year.
On busy summer days, the adventure for riders begins with the search for a parking spot at popular access points around East Burke village and on Darling Hill. After parking and unloading bikes that can range from hundreds to thousands of dollars in value, riders pedal to the trails to enjoy a variety of doubletrack (wider trails generally used as arteries) to singletrack (shorter sections just wide enough for a single rider). Like ski trails, routes are labeled green circle for beginners, blue square for intermediate and black diamond for advanced. Green and blue routes typically consist of snowmobile trails and gravel forest roads that are generally suitable for beginners, while the black diamonds appeal to the adventurous looking for berm turns, rocks, roots, drops, and jumps. The riders are diverse – everything from families with young children, to single riders and large groups. On summer Wednesdays, a large group of women of all abilities gather for weekly rides. Smaller practice areas called "pump tracks" draw kids, some barely old enough to walk, who hone their skills so they can join their parents someday on the harder trails.
Nearby Burke Mountain Resort also offers 20 mountain bike trails geared more toward ski lift-assisted, downhill riders of all levels. The resort's director of marketing, Jessica Sechler, said the bike park sees an average of 10,000 visitors per season and in 2019 they saw an increase of 25 percent. She also estimated on summer weekends, bikers represent 50-60 percent of the traffic at the Burke Mountain Hotel and Conference Center.
These visitor numbers are a boon for local business, according to Burke Area Chamber of Commerce President John Kascenska, who says several establishments have opened over the years as a result of the trail network's success. A quick search of chamber membership shows 67 listings in the dining, lodging, recreation, and retail categories. He also noted a 100-site campground that was just approved on Route 5 in Lyndon and the number of property rentals that have popped up in recent years. A quick search of the popular rental site Airbnb produced 114 possible listings in the Burke area from $15 a night for "primitive camping with incredible views" to $850 a night for a "ski chalet/mountain bikers dream."
But there are challenges that increased visits put on a community, Kascenska said. The AirBnB-style options put a strain on traditional inns, motels, and hotels because they are not subject to the same regulations and taxes. Other complaints are clogged roads, full parking lots and conflicts with pedestrians and local traffic. The small village of East Burke can fill up fast on busy weekends and during major events like NEMBAfest, a New England Mountain Biking Association festival that drew 4,300 attendees in 2018.
These issues have been identified, and everyone is working together to best address them, said Kascenska. "As a chamber, we've been thinking about ways to better serve these visitors. Like pointing them toward other activities in the Northeast Kingdom. They may have come here to bike but many of them are interested in day hikes around Lake Willoughby, renting a canoe, or attending events in St. Johnsbury."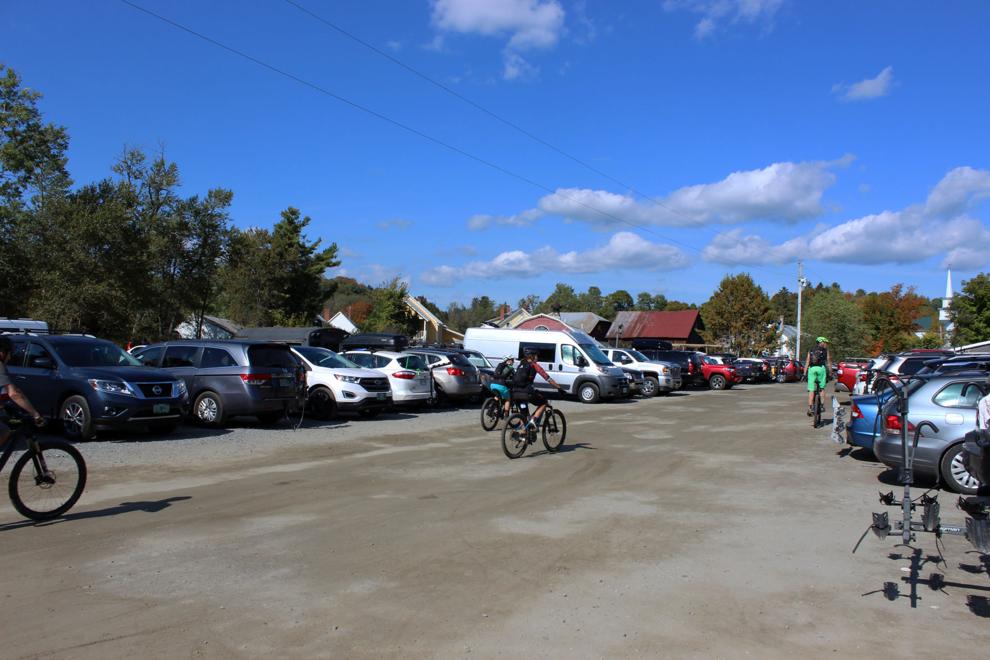 For their part, KTA is working on several initiatives to relieve some of the pressures on infrastructure.
"Kingdom Trails is aware of [these concerns] and knows that we need to participate and help manage," says Long, who has introduced initiatives that build upon the foundational work of past directors.
In July, KTA was awarded the USDA Rural Business Development Grant, which will allow $100,000 of funding to go toward a feasibility study to evaluate infrastructure needs such as trail capacity, signage, and safety concerns, as well as parking and traffic issues. KTA will invest $25,000, and the grant will match with $75,000. The grant may offer clarity about how to disperse traffic in the region.
East Darling Hill Road
East Darling Hill Road climbs from East Burke village, where the KTA welcome center and a large amount of visitor parking is located, to Darling Hill Road, where bikers can access additional trailheads, lodging, bike shops, and restaurants along Darling Ridge.
The combination of bikers and motorists on the busy route create safety concerns because the road is narrow and pavement along the shoulders is deteriorating. This was partially helped with the creation of a new climbing trail called "Uptown" that keeps riders off the pavement for a portion of the climb.
KTA and the town of Burke were co-applicants for a Northern Border Regional Commission Grant and were awarded over $438,000. Engineers are currently working to redesign East Darling Hill Road and a complete reconstruction and widening of the road is expected to begin next year. A new bike lane is also planned. The project is expected to take three years.
KTA will partially match the NBRC grant with $135,000 to purchase two land parcels adjacent to East Darling Hill Road. The acquisition of these parcels ensures trail connectivity and could lead to new trails that would allow riders to avoid the road altogether.
Trail expansions
In the last year, KTA budgeted $336,000 for trail maintenance and expansion. As a nonprofit, all surplus funds must be re-invested and a reserve fund has been created to help sustainability year to year, according to Long.
Over the years, the network has expanded, most recently with the addition of the Flower Brook Connector, which joined Caledonia and Essex counties and the Moose Haven trails in East Haven. KTA established this trail connector to increase safety for riders.
"The connection last year was Route 114 with cars and logging trucks, and this offers a route that is off the highway, and trail users don't have to worry about speeding cars or driver-rider conflict," said Trail Manager CJ Scott.
Bringing on new staff
Katie Carroll is serving in a new role as event coordinator, which is especially needed to accommodate the demanding task of organizing NEMBAFest.
This 25th anniversary year also celebrates the first time Kingdom Trails Association has hosted a LEAP AmeriCorps member with the title of Education Outreach Coordinator. Keara Kresser just recently elected to stay on in her role as Education Outreach Coordinator to continue to extend the impact of KTA by providing in-school educational programming to local students.
Long participated in AmeriCorps herself and recognizes the necessity "to successfully reach and educate our local community." KTA staff is often spread thin and does not always have the time to commit to this important aspect of the nonprofit's mission.
"Really," said Long, "the whole goal is, if these kids, at their young age, are exposed to outdoor recreation and nature and just being outside in general, they won't just grow up and have a healthier life, but they'll also grow up and respect the environment that surrounds them. It's a wonderful cycle, and hopefully, they then instill that in their kids and so forth."
Regional co-operation
KTA has joined forces with other mountain bike trail networks in New England on a group marketing effort called "Bike the Borderlands," an initiative through the Northern Forest Center.
The collaborative brings together trail networks in Vermont, New Hampshire, Maine, and Quebec to promote recreation and tourism-focused around single track trail systems.
Long says the primary goal is to unite rural areas that are known for a working landscape and transform the landscape so that traditional industries such as logging and forestry can coexist with the expanding recreation industry. Together, the trail networks and local communities have marketing power.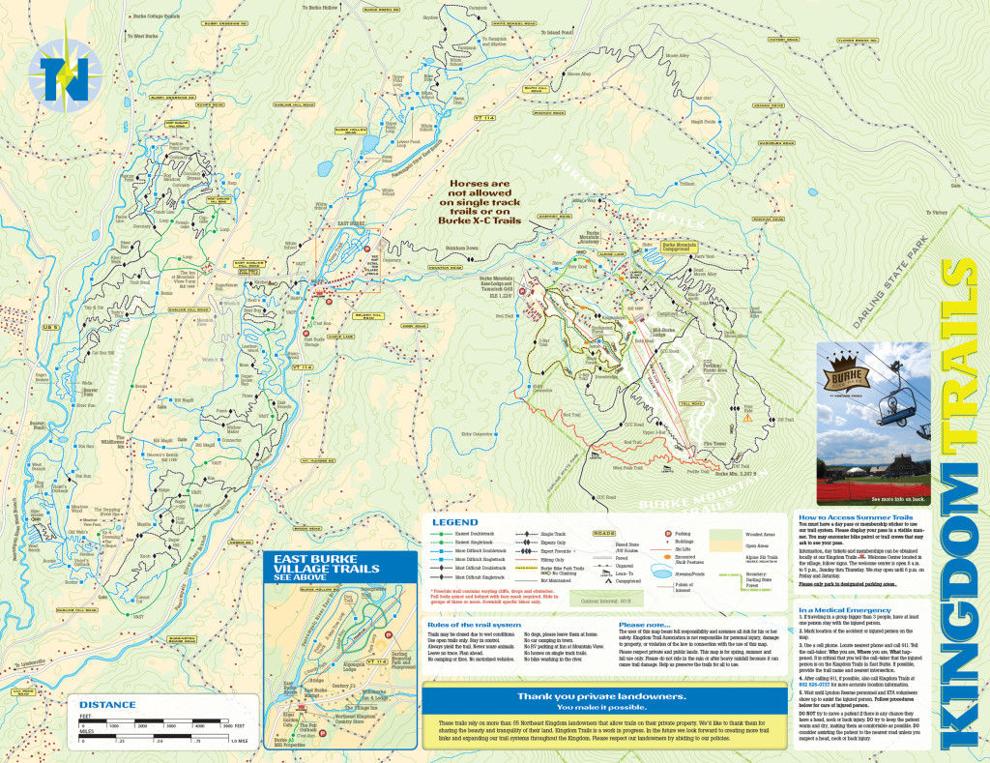 Looking back
Twenty-five years ago, the trail network got its start using existing logging roads and Nordic ski trails. In 2016, one of the founding board members, John Worth, talked to The North Star Monthly about the early days.
Worth and his friend Vince Jacob opened a small ski shop called East Burke Sports in 1988. To stay open year-round, they sold mountain bikes, but in order to have a successful mountain bike shop, you need high-quality trails to ride on. Which, to some extent, Darling Hill had. A Nordic trail system, which dated back to Elmer Darling's time, lay dormant, waiting. Darling made a fortune operating the Fifth Avenue Hotel in New York City. He purchased thousands of acres on Darling Hill and throughout Burke and made countless contributions to the region over the years.
Worth and others began riding and improving existing trails while the late Doug Kitchel, a local politician and former Burke Mountain owner, envisioned Burke as a year-round sports hub.
As Worth and others rode, the Nordic trails morphed into bike paths. The network relied on landowner permission, which was obtained by Kitchel, who went door to door. Kitchel joined Worth on the first board of directors with Jim O'Reilly, Marilyn Pastore, Jake Wheeler, Stan Swaim, Dixi Nohl, Howard Crawford and Bruce Heinrich.
In 1994 Kingdom Trails Association was officially founded. Two years later, they came out with the first trail map.
"We've really been celebrating all year," said Long, "and we have the original board members to thank, for having the foresight to form Kingdom Trails 25 years ago."
She wishes she could have been there: "If only I could have been a fly on the wall when the founders – those visionary group of folks – got together and said "Hey, let's actually establish this non-profit trail network and put some umph behind it and see if we can get some folks to come and bring some vitality to our region."
Gretchen Boswell contributed to this article.