Smoke billowing from sugarhouses is a welcome sight after a long winter. Sugaring is a back-yard hobby for some — an important business for others. On a small, sustainable farm nestled between the hills of Cabot and Marshfield Reservoir, Kempton and Carrie Randolph are blending pure maple sap into specialty whiskeys to create a smooth blend of all-natural ingredients that have been harvested directly from their Hooker Mountain Farm.
In operation since last October, Hooker Mountain Distillery is New England's First Diversified Agricultural Distillery. The Randolphs built the distillery to further enhance the sustainable practices of their 65-acre farm where they have been selling pasture-based meats (beef, pork, poultry), produce, naturally-flavored sodas, and maple syrup since 2012. They are pleased to now offer spirits, essential waters, and flavored vinegars.
Hard-working, do-it-yourselfers and the parents of two young children, the Randolphs are friendly and good-humored. Walking through the front door of their distillery is like walking into an inviting home with its cozy crackling fire, stuffed arm chair, small library of books and an aesthetically-arranged display of products for sale. Their Bernese Mountain dog tags along during tours of this one-of-a-kind distillery and welcomes a friendly scruff behind the ears. Kempton cheerfully leads the tours and offers samplings of spirits. The atmosphere makes a person want to pull up a stool, have a drink and sit and talk awhile. A hand-made sign on the wall creates a deeper sense of awareness and pride in Hooker Mountain's efforts to provide the community with quality products: "We plow, seed, grow, cultivate, harvest, dig, pick, combine, tap, sugar, boil, mill, mash, ferment, double distill, age, blend, and bottle every last drop of an alcohol created on our 65-acre farm and if bottles grew on trees, we'd raise those too."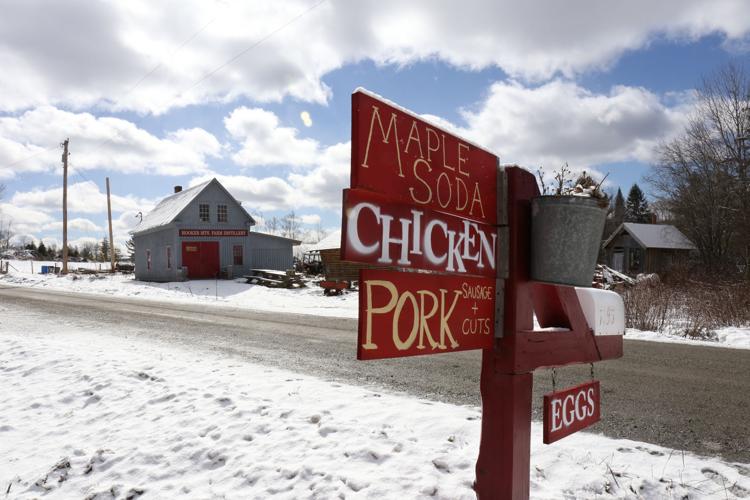 Throughout the tour of the distillery, Kempton eagerly discusses the principles on which the farm operates. "Raising pork or beef isn't enough to sustain a small farm," he says. "Diversified farming makes a better use of agricultural resources. This distillery was built around the needs of our farm, as opposed to being a foundational piece that the farm functions around to gain profit. Grains harvested on this farm are used in the distillery to make whisky, the spent mashes are then fed to the animals who expel waste, and the waste is used for fertilizer for growing crops. It creates a regenerating cycle of agriculture."
"This is how farms used to operate," he explains. "Before Prohibition, many farms had stills and the leftover mash was used to feed the animals. There was little waste. After Prohibition, the agricultural equation was removed. I'm bringing it back to our farm as an improved model for other farmers to follow."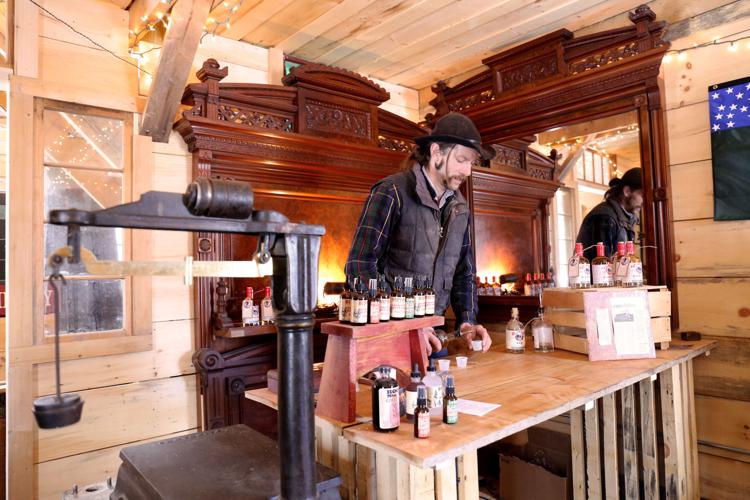 Kempton also discusses the learning curves of sustainable farming. Thirteen years ago, after graduating from Skidmore College, he moved to Cabot. He began Hooker Mountain Farm six years ago, raising pasture-made meats; but he realized they were having to buy a lot of inputs, such as flint, corn, and oats. In 2012, Hooker Mountain began to grown their own grains for the farm. After milling these grains, there was still too much waste. Kempton realized that building a distillery on the farm would eliminate this excess waste and create additional income.
Using their own small sawmill, they harvested lumber from their land and built the distillery on the original foundation of a previous barn. The distillery took three years of planning and building and a year of permitting before it was officially licensed. First sales were last December. Customers can purchase Hooker Mountain spirits directly from the farm. The spirits will also be sold at the Montpelier Farmers Market, and possibly at the Stowe Farmers Market.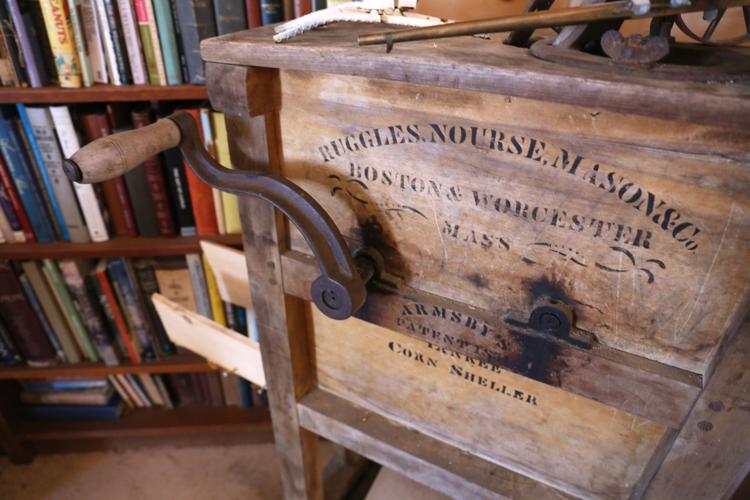 "We put a lot of work into our products," says Kempton. "Selling directly to the consumer allows us to set a price point. I wouldn't want to pay $54 for a bottle of alcohol, and most of the people I know don't want to pay those prices either."
Selling through the state's liquor stores, he explains, would force him into charging higher prices to see any profit. By selling at the distillery and Farmers Markets, he says, he can sell bottles for $35.
"At that price, and with the quality of our products, our local customers will keep me busy."
A sign the family places on Route 2 draws quite a few customers. Some are simply curious, but, after tasting the spirits, many become repeat customers and have been referring friends and family.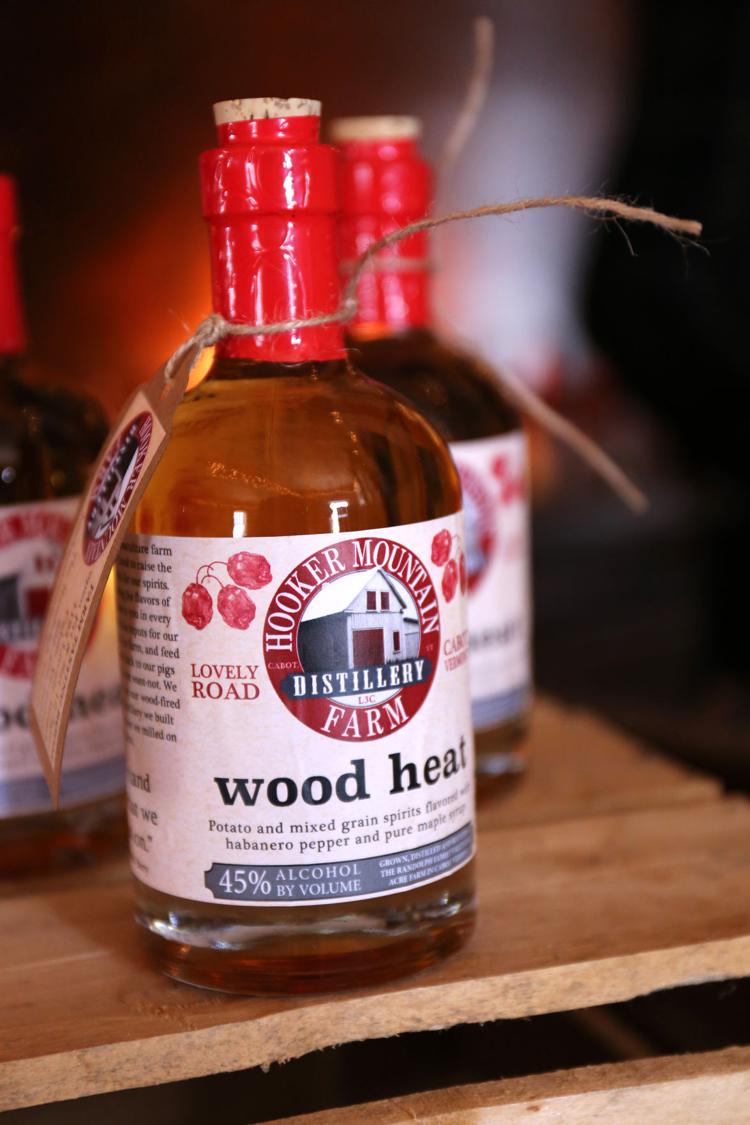 "Being able to live off the land we live on is a gift," Kempton says. "I've never felt richer than I do now, because we provide so much for ourselves."
Hooker Mountain Distillery is open every Friday and Saturday from noon to 6 p.m. Sap, Birch, and Wood Heat Whiskeys are available to sample and purchase. The birch spirit is a grain spirit that has been aged on chaga and toasted on yellow birch wood. Kempton freezes some of the maple sap they gather from their sugarbush to use in batches of sap whisky. Farm-grown Thai peppers are used in the wood fire whisky. Hooker Mountain also offers a regular whisky, unsweetened. New flavors, such as blackberry and apple jack (an apple brandy blend), will be introduced as seasons change.
"We use what is in season in our whisky," says Kempton. "Many distilleries don't distill anything. A lot of distilleries buy premade alcohol, flavor it, bottle it, and sell it. We pride ourselves in that we make everything from scratch. Our primary mission in doing all of this work is to be farmers. I think a lot of people get into distilling alcohol as a way to print money, but that's not why we got into it. Farming always come first. Always has. Always will. We want to show others the sustainability of putting the agricultural process first."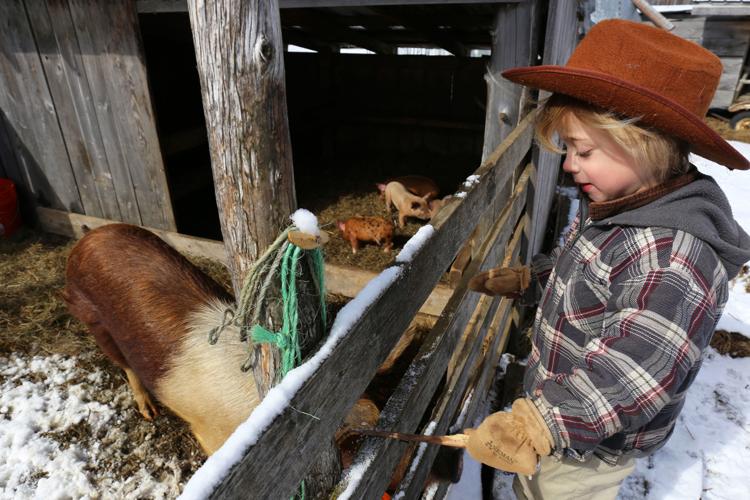 In July 2017, Kempton and Carrie will be opening their farm and distillery for a two-day distillery, hands-on learning class that explores small grains and fruit imports in distillation (spirits and essential oils), and farming and distillation practices. They have an open enrollment on their website hookermountainfarm.com. They also anticipate offering summer cocktail parties.
Kempton admits, "We enjoy making Hooker Mountain available to the public. It's inspiring to meet the local people who are coming in to see what we are doing, and to share their stories. If people want to stop in to see the animals, or to cross country ski, snowshoe, or hike through our land which adjoins a State Forest, I welcome them to Hooker Mountain."