There used to be a hobo jungle at the south end of St. Johnsbury, and there were homes and farms in the region known for welcoming these transients of the early to mid-1900s. Stories of those days are still handed down across generations of families.
A hobo jumped onto trains for free rides, on the way to working in another place. A century ago, that kind of life looked exciting, even romantic to many settled New Englanders who'd seen the thrill of the Western Frontier slip away from them, and as America returned to normal life after taking part in World War I.
But during the Great Depression, the hobo life became a necessity for many, searching for their next meal. Local readers wanted to hear about both the harsh experiences of hobos and the adventures of their lives.
So when "Hobo A-1-1" paid a visit to St. Johnsbury in the summer of 1921, it was front-page news in the Caledonian-Record, which reported his arrival via "side door Pullman"—that is, on a freight train's boxcar, this time from Montpelier. Hobo A-1-1 (James Moore, of Smyrna, N.H.) left word at the local newspaper office that he'd just visited all the nation's state parks, interrupted now and then by time spent in jail for the illegal act of riding a train without a ticket. One of his lock-ups, in the south, even included a ball and chain. A licensed electrician, he made a living on the road, "by catching chickens on a fish hook and selling puzzle cards."
The local newspaper was careful to remind readers not to confuse this rider of the rails with the even more famous hobo A No. 1, who was a friend of author Jack London and who'd already made several visits to St. Johnsbury, after starting his hobo life in 1883. That rail rider, born Leon Ray Livingston, was then called the King of the Hobos. Despite his rough way of life, he wrote books himself and had a lot to say. In 1913 when he visited Newport, the Orleans County Monitor interviewed him and featured his campaign to encourage youngsters not to ride the rails: "Whenever 'A No. 1' meets a runaway boy upon his journeys, he gives him a talking to that is sure to make the lad homesick, and glad when 'A No. 1' purchases a ticket sending him home to his parents," the newspaper enthused.
These men also had big reputations. And they were linked to the railroad life that helped support St. Johnsbury and Lyndonville, as well as residents. John McClaughry, of Kirby, who enjoyed the hobo life under the name Feather River John for about three years and five thousand miles, recalls when the great Steam Train Maury came here to visit him. "He looked like a Santa figure, round, with whiskers and a big smile," he said.
Hobos, Tramps, and Bums
McClaughry is quick to add that for him, the taste of hobo life was an adventure, for a week or two at a time. He reflected, "I was the only guy who ever rode across Nevada in a boxcar reading Plutarch's 'Lives.'" But as a kid in Paris, Illinois, a division point on a railroad line, he'd often watched his grandmother feed the traveling men a sandwich on the back steps. When he took to the rails himself, he enjoyed it so much that his first wife, appreciating his stories, bought him a real caboose as a birthday gift.
"Tramps walked, hobos rode the rails, and bums drank," McClaughry specifies now. He's written more about the lifestyle. "There was always a hard core of old-time hobos for whom hoboing was not so much a harsh necessity as a special way of life. As a rule, these professionals were resourceful, resilient, merry, generous, industrious (as required), responsible, and on the average as sober as the average reader of this publication," he wrote in "The Alternative" in 1977.
Though he'll still spin a good story when asked, McClaughry is quick to refer to others in the area with railroad experience, and that includes Archie (Archile) Prevost of St. Johnsbury, an engineer first on the St. Johnsbury and Lamoille County (St J & LC) Railroad and then on the Canadian Pacific Railroad (CPR) until retirement. Even in retirement, Prevost embraced the fun of regular performances on the Hobo Railroad, a tourist enterprise in New Hampshire.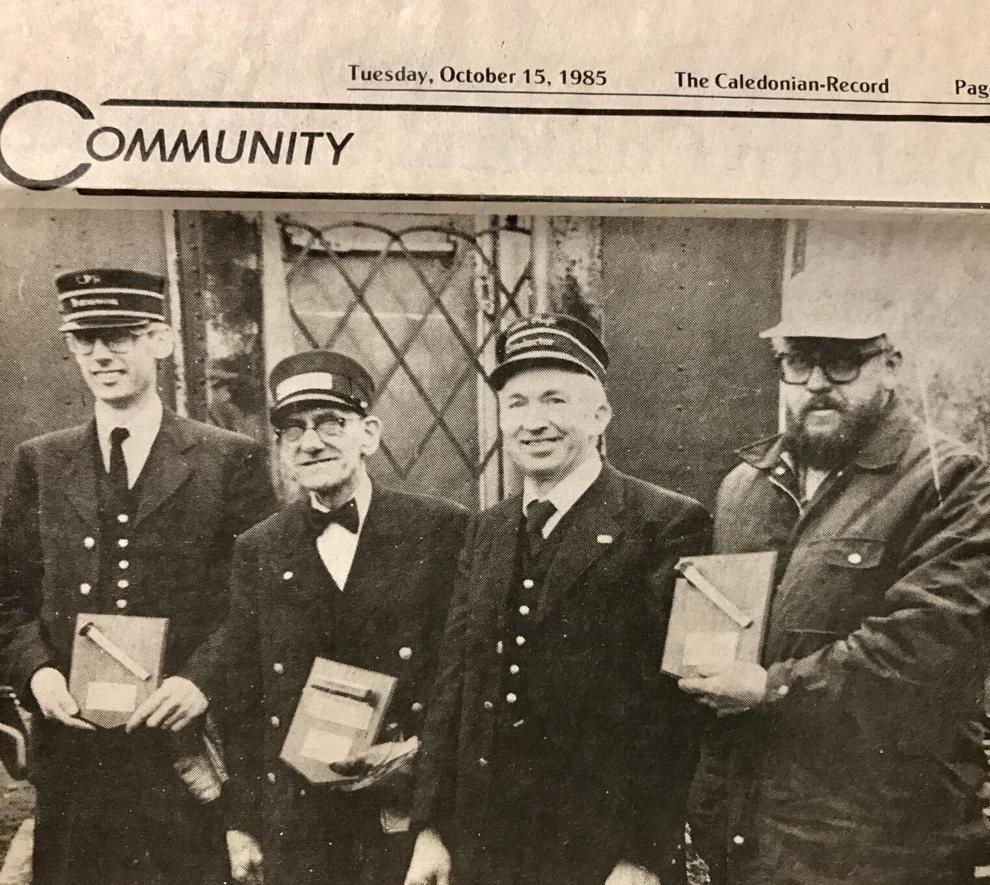 Archie Prevost's railroad career began in the 1950s, and there were still hobos then.
"One time there was a hobo that I let ride on the engine with me," he recalls, something he'd allow more often in the cold of winter. "I didn't want to get caught, I would be fired," he admits.
Often Prevost didn't know he had riders, who hid and were discreet. Though he didn't get to know any personally, he remembers one who brought a guitar along. "He rode the train several times, so I invited him [also] to ride on the engine." If he saw the same hobo for four or five years, Prevost liked to invite that rider to come up to the engine, especially at night.
"They were hungry, and I always had a little food with me. I'd give 'em a sandwich. I had a little coffee pot on the engine and I'd give 'em hot coffee."
Kindness didn't blind Prevost to the usual condition of the lives of the hobos he met, though.
"They were mostly rummies, they drank canned heat [denatured alcohol, eventually toxic], they were kind of rough," he said. Still, he loved his railroad work, and being friendly with the hobos added to his pleasure. "When you have a job and you enjoy it, you never have to work a day in your life," he laughs today.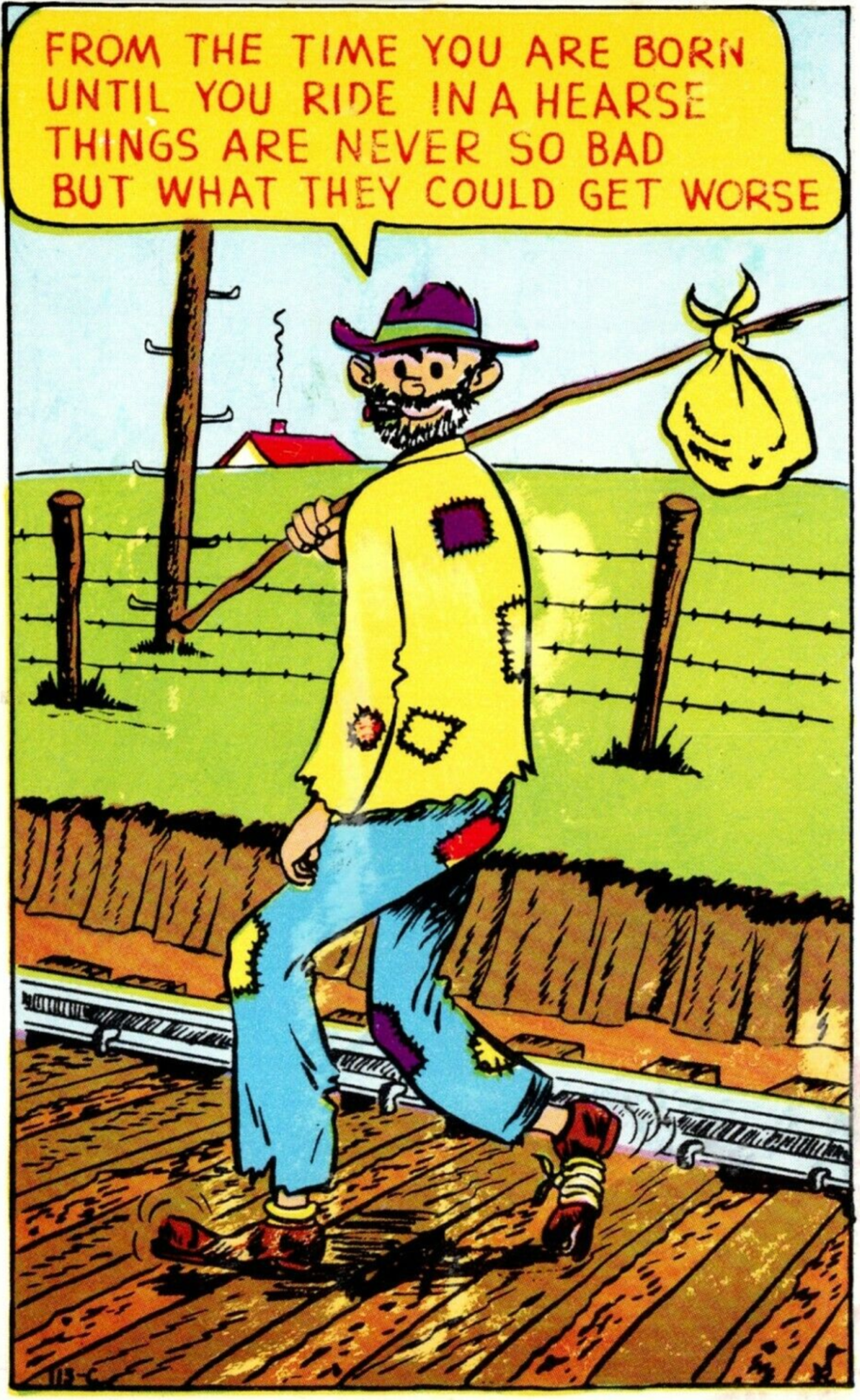 Our Own Familiar Hobos
For Paul Chouinard, growing up in Passumpsic (the first Barnet village south of St. Johnsbury) in the 1940s and 1950s, hobos had a softer, kinder appeal of their own. He met them within the comfortable village safety of Henry Hamilton's general store and post office there, and that made quite a difference. The merchant himself was a friendly, outgoing individual who loved children and also became the village host for hobos coming on the railroad line in the spring and fall.
Chouinard explained that the men worked in resort hotels in Florida in the winter, and in the grand hotels of the White Mountains—Maplewood in Bethlehem, Hill House in Sugar Hill, the Franconia House, Mt. Washington Hotel, Crawford Notch House—in the summer.
The men had a camping place beyond Passumpsic's railroad station. Henry Hamilton befriended them and would provide food. Chouinard recalled, "They weren't individuals that people feared, because they became familiar. They were the same group of men every time." Traveling without family, and usual middle-aged and older, the men could easily drop from the six trains each day and night that would slow and sometimes divert onto the generous siding in the village. Though they might stop for a while to work in Passumpsic, and sleep in barn haylofts, they had regular employment waiting for them, complete with housing and food.
"I would describe them as being very gentle human beings," Chouinard reflected. "Their survival sort of depended on that. [To receive a meal] they had to be non-threatening."
Though the traveling hobos made an enormous impression on him, Chouinard estimates they added up to six to eight men each season.
Feeding the Men of the Hobo Jungle
There may have been more hobos sheltering in a year-to-year camping area further north, at a bend of the Passumpsic River just south of St. Johnsbury's railroad district. The camping terrain, steep to climb down, then more level by the river, was called the Hobo Jungle by David Grady's family, who shared their farm life with the traveling men under specific conditions.
"In the 1930s, men riding the rails used to camp there," Grady now recalls his grandparents and father telling him. "My grandfather allowed the use." There were very big pine trees at the campsite, and Grady's father explained to him that "signage" at the site told arriving hobos that the farmer across the road (Route 5) would provide food.
Grady's grandmother "was terrified" of the hobos, so his grandfather was the one who carried milk, eggs, and butter across the road, and the hobos understood they were not to cross the road to the farm. "Us kids always referred to it as the jungle," David Grady confirmed, and the term "hobo jungle" was a common one in other places too at the time.
How Scary Were the Hobos?
Marjorie Brown LaValley, age 100, grew up by the railroad tracks in Lunenburg and recalls a hobo who went to her sister-in-law's house every summer. This was just part of life. Similarly, Larry Coffin, of Bradford, has written of a polite visitor stopping at his parents' home in Orford, N.H., to ask for raw ingredients to take back to the "hobo kitchen," and of another neighbor whose family agreeably provided work like chopping wood, then fed the traveling men, without any fear.
Goldie Bourgeois, of St. Johnsbury, remembers her mother telling of the hobos stopping for work at the family farm in Jefferson, N.H. "She said one would do school lessons with her and another one put sugar on his baked beans. To this day my family puts sugar on their baked beans," Bourgeois reflected. She places the events around the early 1930s. Theresa Robinson's husband Bud (Clayton) Robinson, growing up with railroad tracks behind the Passumpsic farm, said his family "would feed them and they'd go on their way" quite often. And Betty Beattie Bolevic recalls, in the mid 1940s, "riding the train from Lyndonville to St. Johnsbury and seeing the 'hobos' with their small campfires living along the banks of the Passumpsic River as we approached the train station."
But for Cathy Ryder Thomas' mother's family on the North Danville Road, at the MaGill home, the hobos were the same as tramps, and tramps by experience were scary. "There was a family story [from the 1930s] of one of the tramps putting my aunt, who would have been a preschooler, into a sack to take her away, but my great grandfather heard her screaming and stopped him," she said.
Sometimes it was just the unexpected arrival of a stranger that scared people. Eugene Wheeler's family farm stood at the junction of Routes 5 and 122, just north of Lyndonville, and he recalls hobos stopping to ask for food and occasionally offering to work for it.
"My mother would put together a lunch bag and water for them and off they'd go—either toward Lyndonville or north to Burke. One was brazen enough to come to the open but screened window at the back of the kitchen while she was cooking for our farm family of nine. He startled the daylights out of us. We eventually concluded they must have passed the word on to one another about where there was a good chance for getting a meal."
And at Linda Whitehill's grandparents' home on Concord Avenue in St. Johnsbury, "They were to sit on a chair on the porch while my grandmother fixed them something to eat. I now have that chair," she said.
Brent Passut also remembered his dad talking of this, in the same area. "They would hop off the train and knock on our grandparents' door asking for food. My grandparents didn't have much, but they shared what they had. [Hobos] weren't allowed in the house but some slept in the shed if the weather was bad."
A Controversial Social Issue
Paulie St. Hilaire's father worked for the Canadian Pacific Railroad (CPR) in St. Johnsbury and used to talk about men hopping the boxcars, sleeping there, and riding to Massachusetts and Connecticut in the 1940s and early 1950s. "They would also do the same in Lyndonville," St. Hilaire confirmed. Scott Cahoon remembered a summer visitor that he assumed was a hobo, walking the roads around Danville in the late 1950s, and the myths around him—that he'd been named "Old Scratch" in reference to the Devil, and had died with a bundle of cash in a car accident.
The bite of poverty, especially during the Depression, could turn two ways: people could see hobos and tramps together as freeloaders (in the late 1800s the local papers often wrote of homeowners in Lyndonville being frightened by them) and drunks, or see them as people in trouble who should get a hand.
Chuck Older Badger's father, born in 1911, lived in Danville and described the time. "My Dad said they were so poor they did not even know there was a depression … he did remember men walking the back roads looking to work for food," at a time when people in town could no longer afford to buy the firewood sold at the family farm.
Douglas Wheeler of Lyndonville, now 92 years old, remembers when he was about 10 and would see men sitting on the guardrail opposite the barn of the family's farm north of the railroad town, waiting to hitch a ride. "Some would come over and ask if they could work for a meal. Mother would feed them, whether or not." During haying season, a working man might stay a week or two.
"Most of them were polite, courteous," Wheeler reflected. "They were just on hard times. Back then, people kept their clothing in pretty good repair, and they were clean … They had pride, and self-confidence, that things were going to get better."
To Wheeler, these men were more oriented and focused than he would have associated with the term "hobo"—he saw them as transients searching for employment.
Even the news coverage of local "tramps" softened over time, in contrast to the reports of the 1870s, which featured brawls, break-ins, and in 1878 the complaint in the town report that taking in the poor had cost $3,268.23 for the past year, including housing 162 tramps overnight. At that time, the cost for "the poor" represented more than 10 percent of the town's expenses.
An Era Vanished, at Least in Name
Chuck Woods, who grew up in St. Johnsbury, remembers the hobos in the 1940s. "They would come from up north and from Maine to St. Jay, where they could hop a train south for the winter. They camped along the railroad and never caused any trouble that I knew of," and he pinpointed the area as behind what was then Moore's Hotel (also known as Bertrand's Hall, on Railroad Street, a few structures north of the Portland Street bridge).
And Joyce Evans of Passumpsic once heard Barnet elder Mildred Denio tell that people who took in a hobo could be paid by the town in those days, the grand sum of fifty cents a month.
But as the nation's economy began to recover from the Great Depression, "hobo" in our area became a theme for parties instead. As early as 1932, the Concord Sunday School class held a "hobo picnic" where children visited designated homes and received a "hand out" if they were "willing to work," winding up at the fairground for sports and games. A 1940 "local news" snippet from Irasburg in the Caledonian-Record reported a hobo party at the home of Mrs. Esther Webster, where, "Some of the costumes created much merriment," and refreshments "were served in true hobo style, with newspapers for tablecloth, coffee served from an open kettle and drunk from tin cups, sandwiches tied in napkins."
Even the Kiwanis Club got into the action, staging a 1938 ladies' night that featured tramp "jungles," costumes as "tramps and lady tramps," a mouth organ (harmonica) solo and tap dance, and a menu of mulligan stew, baked beans, custard pie, doughnuts, and coffee, with an option of visiting the "canned heat" corner (booze).
The old signboards of hobo symbols are gone, and so is the local hobo jungle. Almost the only reminder of the hobo era here today is the presence of a Salvation Army store in St. Johnsbury. Of course, it's only a used clothing store now, but as John McClaughry recalls, the "Sally"—that is, the Salvation Army—provided "the main feeding stations" for hobos in the western part of the nation as recently as when McClaughry himself rode the rails in the 1960s among these "migrant workers."
And for long-time engineer Archie Prevost, the Hobo Railroad of his "second career" years provided entertainment, and a chance to still enjoy his railroad license while perfecting a clown performance enjoyed by 22 years of tourist riders.
Maybe most striking of all is the change of "hobo cuisine" in the region's quintessential railroad center of Island Pond/Brighton, where the Hobo's Café today is "home of the Northeast Kingdom's only original BBQ, open for breakfast, lunch, and supper," according to its Facebook page. Smoked corn beef and raspberry cream-filled crepes sound a bit different from a shared sandwich with the engineer, and coffee kept hot at the train's engine.