The mountains of New Hampshire and Vermont have been calling to people for hundreds of years. Before there were trails, peak-bagging pioneers bushwhacked their way to the high summits, discovering hidden waterfalls, intriguing rock formations and incredible vistas along the way.
Luckily for those of us who live here or visit the region today, there are myriad trails that allow us to enjoy hiking the hills and mountains without the need for a machete. And the natural wonders found in the mountains are just as awe-inspiring as they have always been.
Hiking is an ideal family activity, because it can be tailored to all ages and abilities, and it's an adventure that can be pursued for life. Whether you pack up the kids and head to a high peak or just hit the trail to the local pond, hiking is a great way to get outside and explore the world around us.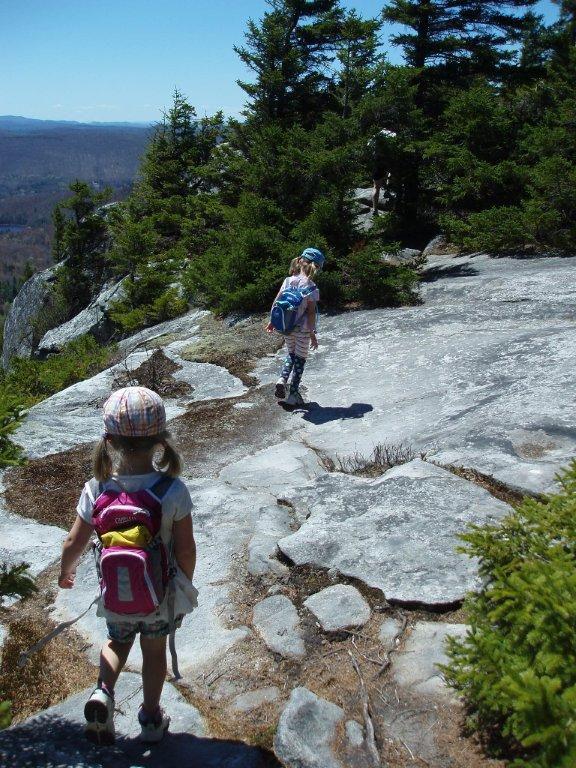 Expectations in check
One key to keeping the family hike fun and successful is having realistic expectations of what the kids can handle. Mom and Dad may have climbed all the 4,000-foot peaks in the White Mountains, but for junior, a trek along the mile-long path around a lake might be plenty adventuresome. It could also take the same amount of time as a long hike might for a more experienced hiker.
"It's key to have an idea of where you're going, so you're not setting yourself up for failure," says Luke O'Brien, trails coordinator for the Northwoods Stewardship Center in East Charlston, Vt., author of the Northeast Kingdom Mountain Trail Guide, and father to a six-year-old hiker.
O'Brien and other experienced trail trekkers stress that when planning a hike with children, it's essential to have an idea of how long and difficult the hike is – and to understand that little hikers take more steps and often get distracted along the way, which means you'll have to alter your timetable. Planning accordingly, and being flexible with your own expectations, will make the outing much more enjoyable for everyone.
"My most recent revelation regarding hiking with the kids is that we don't have to make it to our destination," says Martha Wilson, who has a five-year-old daughter and a three-year-old son and who Blogs about outdoor adventures for the Bretton Woods resort in New Hampshire. "There are times when I really want to go, go, go, but the kids are so happy to be throwing sticks in a stream or searching for toads that I have had to force myself to just appreciate that we are outside having fun. Although I may not be getting a workout, the kids are having a blast exploring."
Young hikers should be encouraged, but not overwhelmed, agrees Nancy Ritger, huts program manager for the Appalachian Mountain Club (AMC).
"For our family, it was always important just to get outside. And the more we did, the more comfortable [the kids] became," says Ritger, who has been hiking with her now teenaged children since the days when she carted them uphill in the baby carrier. "We learned to amend our itinerary to accommodate everybody. Sometimes that meant one parent would hike further, while the other one stayed with the kid who wanted to just play in the pond."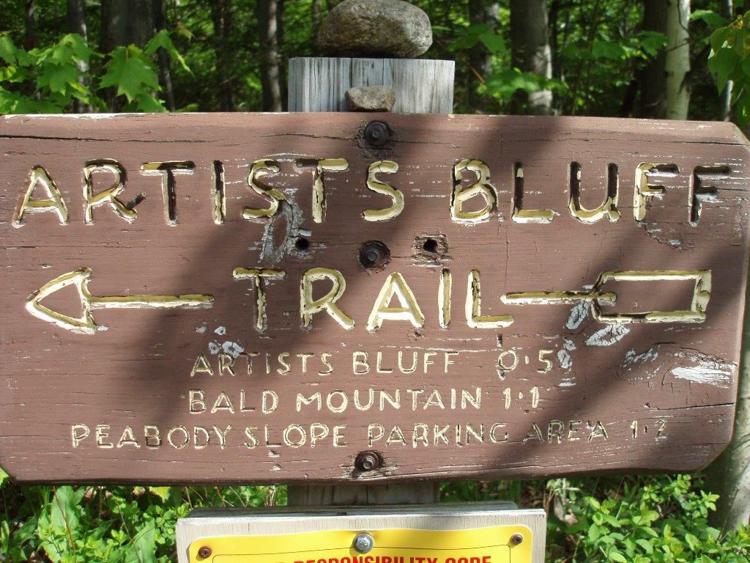 Journey & destination
A fun destination is often the motivation necessary to get kids out of the car and onto the trail. That destination doesn't necessarily have to be the summit of a big mountain. It could be a waterfall or a rocky outcrop with a stellar view. Of course, having fun things to look at along the way makes getting to that great destination a blast.
"I always liked to try to involve my kids in the planning," says Terry Hoffer of Danville, Vt., whose two children, now grown, had climbed all the 4,000-foot peaks in the White Mountains by the time they were ages 8 and 10.
Looking at the map together and selecting a route for the hike became part of the fun for Hoffer and his family, and fun is key to keeping little hikers happy – now and years down the road.
"I want my kids to have fun and love being outside," says Amanda Guilbert, a New Hampshire mom of two sons, ages three and six.
"I always try to pick a hike where there is something cool at the end – a waterfall, a pond, or a cool rock formation," says Guilbert, who also encourages her sons to keep an eye out for natural treasures along the trail. "We always look for frogs, toads, red efts, and any other creature or evidence of a creature."
That's a good tactic, says Ritger: "If kids are engaged in what they're doing and not focused on how to get from Point A to Point B, they're having more fun."
Creating an impromptu scavenger hunt of things to spot along the trail provides a fun distraction. Listening for birds or looking for wildflowers encourages hikers to notice and explore the world around them. Watching for and counting trail blazes on trees and rocks can become a game that also teaches young hikers how to stay on track should they ever lose the trail. Bringing a friend along for the hike can be a good motivator, too.
Water – as a destination or a diversion along the trail – is a favorite for children of all ages. Kids love to splash, and having a place to cool off and slow down is a good change of pace.
"If there's a possibility of swimming or wading along the way, the kids practically run to get there," says Wilson.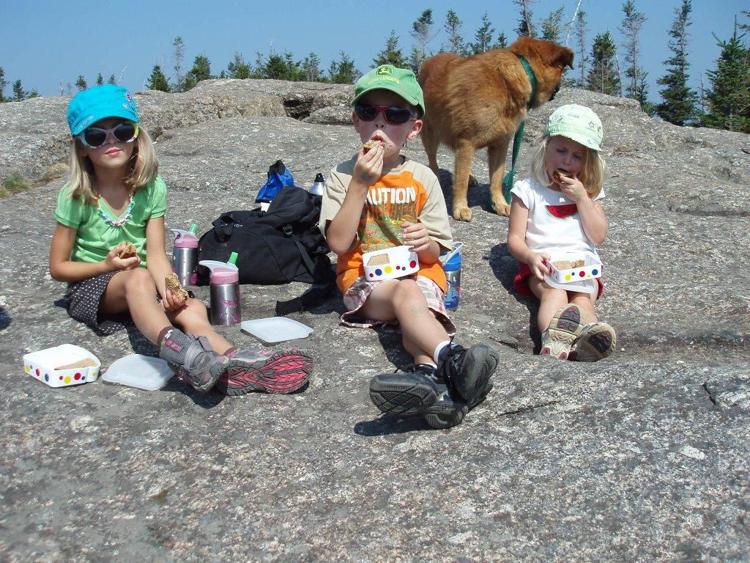 Be prepared
While a great destination is a good incentive for hikers to make it to trail's end, sometimes even the most determined hiker needs a little boost to keep going. For Hoffer, that boost was provided through M&Ms doled out along the trail. For Guilbert, it's the promise of a cookie or juice box at the top.
Keeping hiking fun isn't complicated, but there is a basic checklist for an outing on the trail with kids: proper footwear, suitable clothing, snacks, water, sunscreen, bug repellent and basic emergency supplies.
Your children don't need expensive hiking boots to hit the trail, but they shouldn't head out in flip-flops or Crocs, either. A good sneaker with a grippy tread will work fine, although waterproof hiking boots are better for wet conditions. Make sure the shoes fit well and have been worn for a test run or two before a big hike; blisters can quickly ruin the fun.
Especially if you're planning a mountain hike, be prepared for the weather to change. It might be sunny and hot at home, but breezy and cool at a higher elevation. Packing an extra layer or two, including a waterproof jacket, is always a good idea. Better to have it and not need it than wish you did as your kids are shivering halfway through the hike.
Snacks, of course, are key for any family outing. Anyone who has spent even a few minutes with a hungry child knows that a hungry kid is never a happy kid. Feed young hikers before you leave home. Bring lots of snacks – granola bars, gummy treats, fruit, chocolate, whatever it takes! Stop every now and then to refuel. A treat or a picnic lunch at the hiking destination makes for a great break and the necessary calorie intake for the return trip. The promise of an ice cream cone on the drive home generally perks up tired hikers, too.
Water is also essential. Kids tend to get so busy playing that they forget to hydrate. Water bottles should be packed along with the snacks. Camelbak makes a variety of kid-sized packs for carrying water, including some with pockets for snacks and a light extra layer of clothing – or for stashing treasures like rocks and pinecones found along the trail
"My boys love their packs. They're not too big or heavy," says Guilbert. "I love it because they drink the whole way up."
The adults along for the adventure should also add a basic first aid kit to their own packs, as well as matches and fire starter and a flashlight in case you run into an emergency on the trail.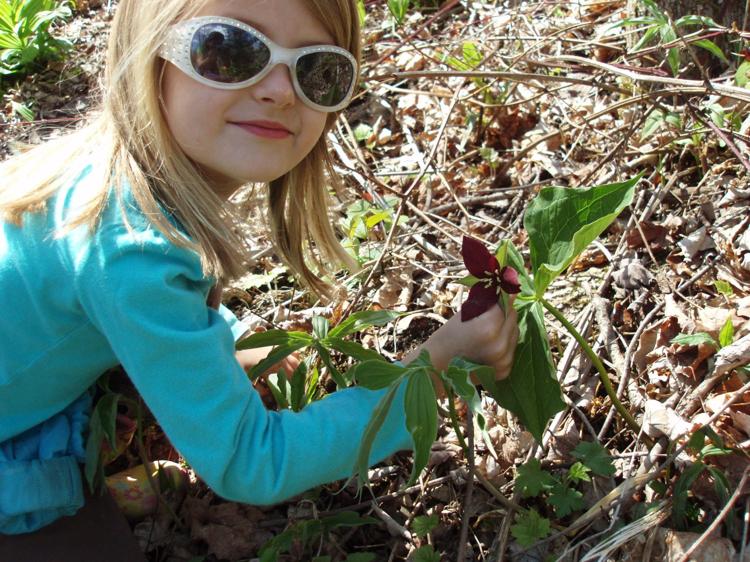 Fun with benefits
There are plenty of studies out there that indicate children today spend increasingly more time in front of an electronic screen and too little time outside. Groups ranging from environmental organizations to the American Academy of Pediatrics have conducted studies that reveal many benefits to children spending more time outside, from decreased obesity rates and lower incidences of attention deficit hyperactivity disorder (ADHD) to improved motor skills and a generally more positive outlook on the world.
Embarking on outdoor adventures as a family can have positive ramifications that last from infancy all the way through adulthood.
"The benefits [of hiking] to kids are the same as for all of us," says Sara DeLucia, adventure programs manager for the AMC. "It provides great exercise, which leads to better overall health and sense of wellbeing. It is a confidence booster. It's a fun social activity. It connects kids to their environment and cultivates a sense of stewardship. It encourages curiosity and discovery."
For Hoffer, getting his children on the trail at a young age became a lesson in setting and reaching goals. After his son and daughter knocked off the list of 48 4,000-foot peaks in the White Mountains, they moved on to the remaining 19 4,000-footers in New England.
"This became a thing that they were chasing more than we were pushing it," he says. "They couldn't wait to see their name on the list.
Joining the Four Thousand Footer Club isn't everybody's goal, and it wasn't the most important thing for Hoffer and his family. The real goal – and biggest reward – was creating and experiencing outdoor adventures together, learning about the natural world, and fostering an appreciation of the outdoors that lasts longer than any hike. Perhaps even for a lifetime.
Meghan McCarthy McPhaul, an award-winning writer, is the author of the book, A History of Cannon Mountain, Trails, Tales and Skiing Legends, published in 2011. She lives with her husband and three children in Franconia, N.H., where she writes a blog, writingsfromafulllife.blogspot.com.