Editor's Note: The following is Part 2 of a two-part series on local rope tow ski locations. The December 2020 edition's article focused on slopes in St. Johnsbury and Peacham.
Danville often gets more than its share of snow. Before skiing developed into a lift-assisted major mountain sport in Vermont, Danville had its community ski slope. And before that, it held winter attention for an earlier ski "resort" with a lodge, music in the trees, a jump, and an ambitious rope-tow lift with a spectacular view.
Starting in January 1956, for about 80 years, Danville had one of the most family-friendly ski slopes in the region. Remembered today as the Webster's Hill ski slope, its official name was the Danville Community Ski Tow, described on a state map at the time as "Where the beginner begins: Novice family skiing," with a 500-foot rope tow, "gentle open slopes, southern exposure, night lights."
Danville resident Tim Ide was a teenager when the rope-tow ski slope idea originated.
"I was involved in raising the money to build that," he recalls now. The notion became a reality when Gilman Long of the local American Legion group, Henry L. Danforth Post #53, proposed that his group be a sponsor. According to a report 20 years ago in The North Star Monthly, while Gil Long worked at Comerford Dam on the Connecticut River, he dreamed of being able to ski close to home, at a time when the much larger ski slopes on Burke Mountain were being developed.
In Tim Ide's memory, the fundraising tickets sold for $5 each, and the Legion then matched the amount raised. It wasn't needed for the actual slope—dairy farmers Vernon and Louella Webster welcomed the ski group to their pasture north of Danville Village, where the family now opens its Emergo Farm Bed & Breakfast to guests while continuing to farm. Instead, the funds raised paid for buying rope-tow machinery: an electric motor and the crucial long loop of rope, located in Hardwick.
As they prepared to install this, Gil Long, Wendell Devenger, Richard Ide, Clarence Emmons, Hank Balivet, and others worked out the kinks in the project and opted to change to a V8 engine and transmission from an old car. In the years of rope-tow action, Tim recalls that the machinery wore out often, with repairs and changes needed that he said came from both Wendell Devenger and Kenneth Perkins.
"The most satisfactory came out of a Plymouth," he said, "that one seemed to last the longest." Car wheels also served as pulleys for the tow.
"It worked pretty good," he added. "There was a safety gate at the top. If anyone went through, that would shut the whole thing down. Everyone would have to let go (of the rope). It took a lot of power to restart it!"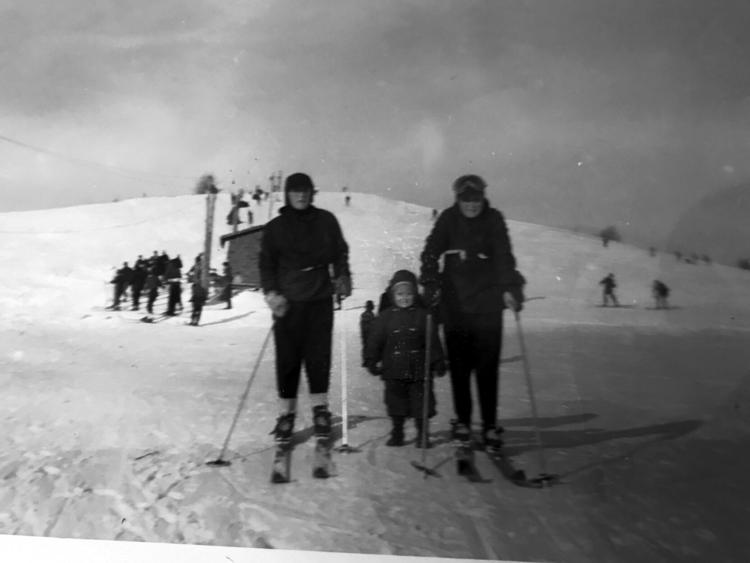 Vernon and Louella Webster's children enjoyed the ski slope and all the community fun. Their son Bebo Webster, who lives at Emergo Farm today, began to ski there when he was about six years old. Not yet strong enough to hold onto the rope to be pulled up the hill, he would lean between an older kid's legs for the ride.
His sister Mary (Webster) Randall remembered ski instructor Franz Smith, who came to Webster's Hill.
"All of us had lessons," she said.
Mary's mother Louella fixed up the back shed of the farmhouse as a "warming hut" and provided hot cocoa, hot dogs, and chips. Volunteers ran the actual tow, and the family-friendly operation charged 25 to 35 cents for an all-day pass. Volunteers also helped "pack" the slope, and Bebo Webster said that on a Friday night he'd look out the farmhouse window and see six or seven high schoolers side-stepping up the hill to prepare it for the weekend skiers.
The slope operated mostly on weekends, but it also offered night skiing with lights. Mary explained that the school used it for Winter Carnival too, with events held on the hill. She was a freshman and her future husband, Paul Randall, was a sophomore at Danville High School when he broke both legs skiing during Winter Carnival.
Sharon (Devenger) Jurentkuff enjoyed Winter Carnival too, with its ice sculptures in the park in the village, skiing on the slope, and then a dance to wrap things up. The carnival lasted two days, with snow sculptures created in advance, and a king and queen and a court—one year Sharon was the Winter Carnival Queen herself. She also recalled her father Wendell Devenger breaking his ankle while skiing there with friends.
Tim Ide described the constant community contributions to the slope, including from his father Richard Ide, who also skied at 13 Ski Club in St. Johnsbury, and by Clarence Emmons and Hank Balivet.
"I think (Hank) Balivet was a pretty good promoter of skiing," Tim said. He has memories of Hank often taking a big group of kids to try other slopes, too, like the ones in Lyndonville, Burke, and Stowe.
Although ski injuries on the slopes were memorable, the experiences came with laughter, and care from Dr. Farmer of St. Johnsbury. Even though modern concerns about liability might prevent a slope like this from operating today, the expected bumps, bruises, and breaks weren't what eventually closed the slope. Partly it was the drifting of volunteers to longer runs and more advanced skiing at Burke Mountain. But Bebo Webster described the last crisis as being when the massive rope wore out and broke.
"I can remember them (the adults) saying it was going to cost a thousand dollars and they just didn't have it," Bebo said.
Cross-Country Skiing
A few years later, in 1970, Bob (Robert) Nitsche began to teach science and coach skiing at St. Johnsbury Academy. He started to ski in college and coached in Rumford, Maine, and at Colgate University in Hamilton, New York. With his wife Tania, he opened a ski shop and rental business for both cross-country and alpine skiing at the North Danville store.
To go with this, the Nitsches, also in the mid 1970s, created a set of cross-country trails near their North Danville home. Bob's coaching took him all around the region: St. Johnsbury Academy hosted a girls' downhill ski race, inviting the four top schools from Maine, New Hampshire, and Vermont to compete, and including a race on the steep rope-tow ski slope in Peacham. According to Bob, the program at St. Johnsbury expanded, and with Al Eaton, "we must have had up to 40 cross-country skiers," as well as about 25 more for alpine (downhill) skiing.
As Bob found his ski shop extending to both high schools and colleges, the business became overwhelming.
"It was getting a little too big—I wanted to keep teaching," he said.
In the 1980s he continued to provide ski rentals for a few years, but skiers shifting to downhill skiing at Burke Mountain contributed to closing down this local asset.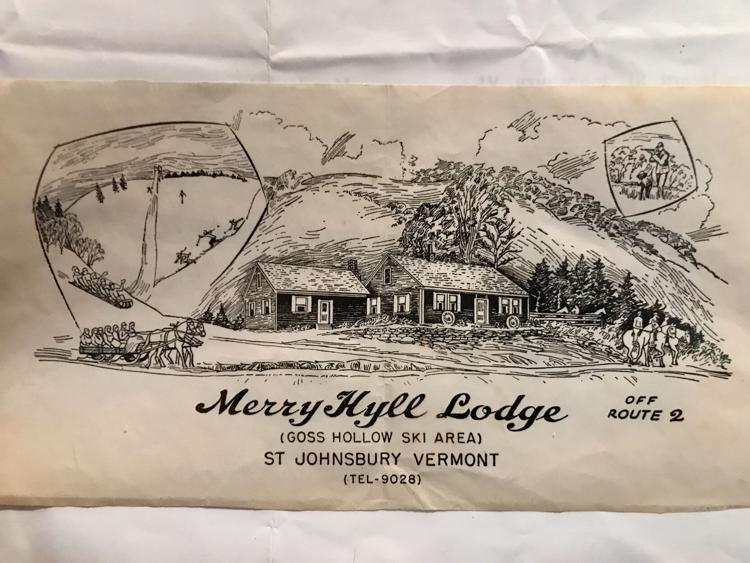 The Original North Danville Ski Tow
Almost 30 years ago, Claire MacDonald and Sharon Lakey collaborated to tell the story of Merry Hill Lodge and the Goss Hollow Rope Tow, which began when Claire and her husband Harold moved to Vermont a year after the end of World War II. Claire had summered in Vermont for 45 years and found herself drawn to the little Goss Hollow farm sold to them by Burns and Hazel Heath. With Harold's mechanical skills and the popularity of rope-tow ski slopes at that time, the couple opted to create their own ski "resort," with a slope, a jump, and a lodge.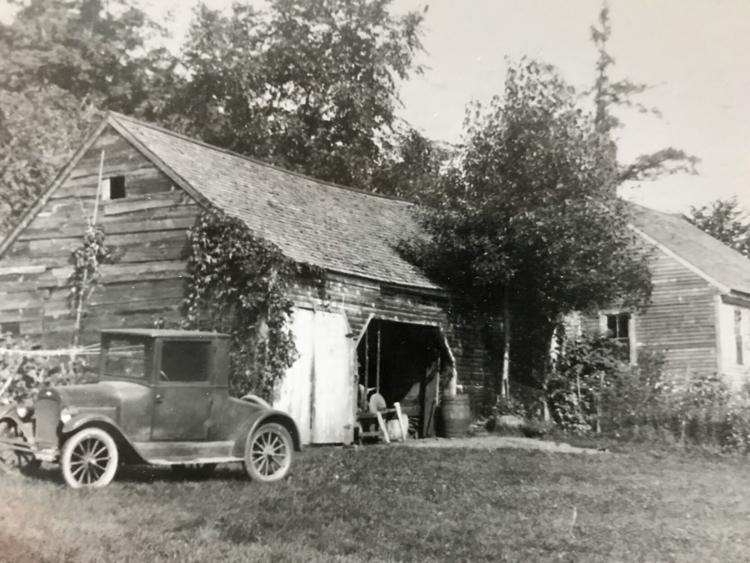 Along with creating the ski slopes, the MacDonalds tore down an old sugarhouse on the property, to provide timbers and lumber. At the "ell" of their old farmhouse, they constructed a stylish lodge that was far more than a warming hut: With windows looking to the hillside and a massive stone fireplace, and a chandelier crafted from a wagon wheel, plus framed ski posters and art, it set the mood for winter entertainment and sports, opened in 1948 with the name "Merry Hill Lodge." The "Macs" even engaged a ski instructor, Fred Connor of St. Johnsbury.
Today, their son Steve MacDonald and his sister Ellen live at the property. Few in town now recall the ski slope operation (although the road is called Ski Tow Road). But Steve enjoys talking about it, and there are hints of it all around him. An old truck, from which just one fender still shows above ground, provided power to the rope tow. The slope opened for evening skiing as well as on weekends, complete with lights, and loudspeakers on trees that would carry music from the jukebox.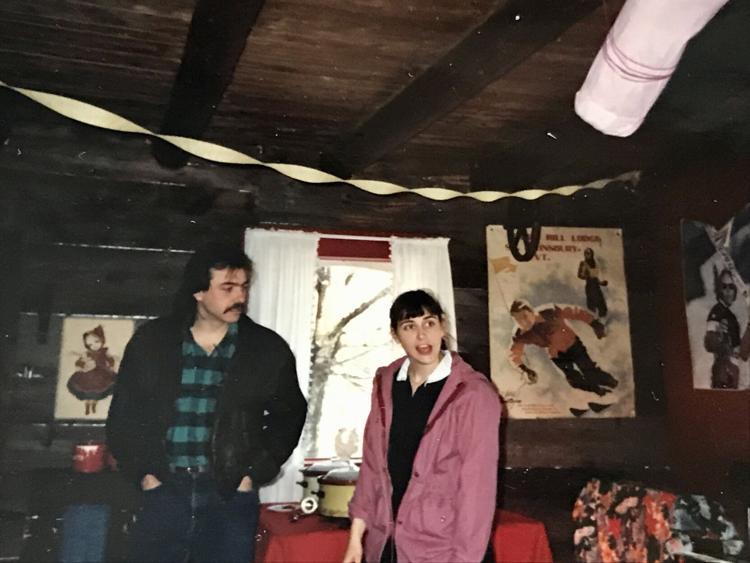 A "Dutch" door from the house kitchen allowed Steve's mother to prepare refreshments and pass them into the adjoining lodge room. Steve recalls her serving coffee, sweet treats, and even baked beans. The biggest painting on the wall is of his father Harold on skis; a cartoonist from the Boston Herald travel pages, Jim Dobbins, provided artwork. In addition to local skiers, St. Johnsbury Academy held its February Winter Carnival at the site.
A 1950 photo from the Caledonian-Record lists many names of families still in the area. It was taken at a graded school ski meet sponsored by Nate's, Inc. (the clothing store where Ben Harris worked), and featuring the "Hickory Riders" skiers listed by surnames: Sears, Desrochers, Clark, Caplan, Kitchel, Gould, Waterman, Stanyon, Cole, Bailey, McGregor, Coburn, Baldwin, Ricker, and of course Harold MacDonald and instructor Fred Connor.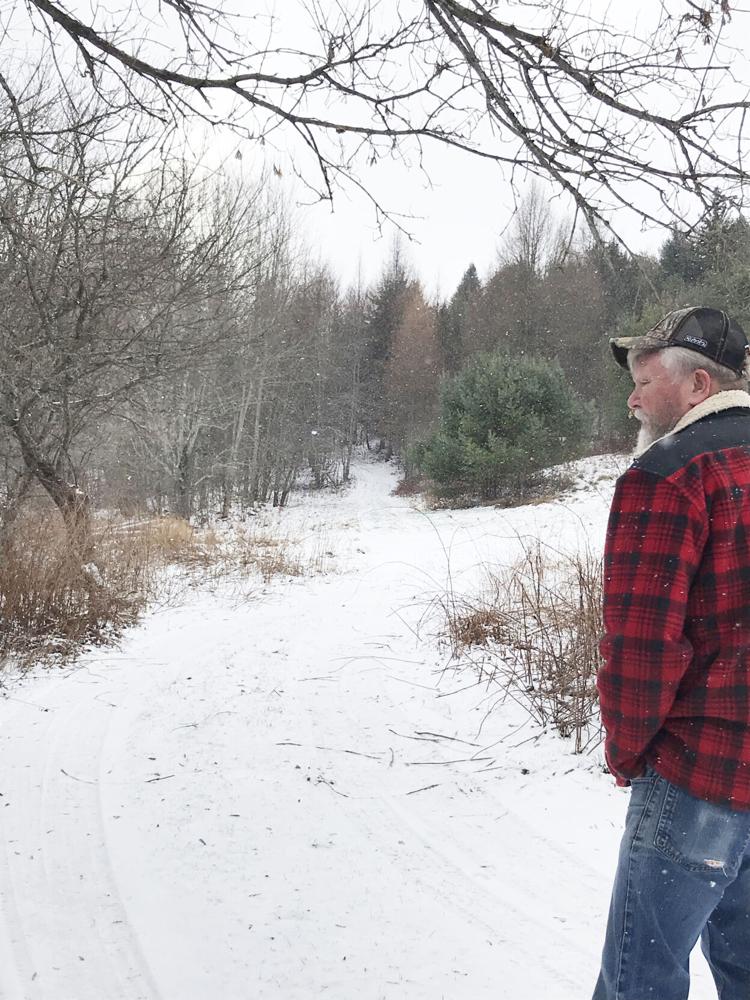 But a ski slope depends on "good snow," and after that 1950 photo, influenced by three years of little snow, Merry Hill Lodge closed in 1951.
Merry Hill Lodge is now among the "lost ski areas" that are featured on historic online sites. With its two rope tows, its 20-meter jump, and its night skiing, it showed up well among the local slopes promoted at the time. But today the slopes have full-grown trees on them, and only the lodge with the hand-painted sign that Harold MacDonald crafted remains almost as it once was.
Patty Conly can list many cousins who took part at Webster's Hill. Jennifer Johnston learned to ski at Webster's Hill and reported, "My ability to ski was directly related to how long I could stay on the rope before it peeled through my mittens. She also said hot dogs never tasted so good as when you enjoyed them during a day of skiing the local slope, a taste experience verified also by Rob Balivet, who probably was about 10 to 16 years old when he skied there.
Later, local slopes still made good "sliding." Lee Langmaid Beattie wasn't a skier herself, although her children enjoyed it. But she recalled toboggan and traverse sledding on the Danville hills. Douglas Ide too delighted in sliding on Webster's Hill long after the rope tow had vanished.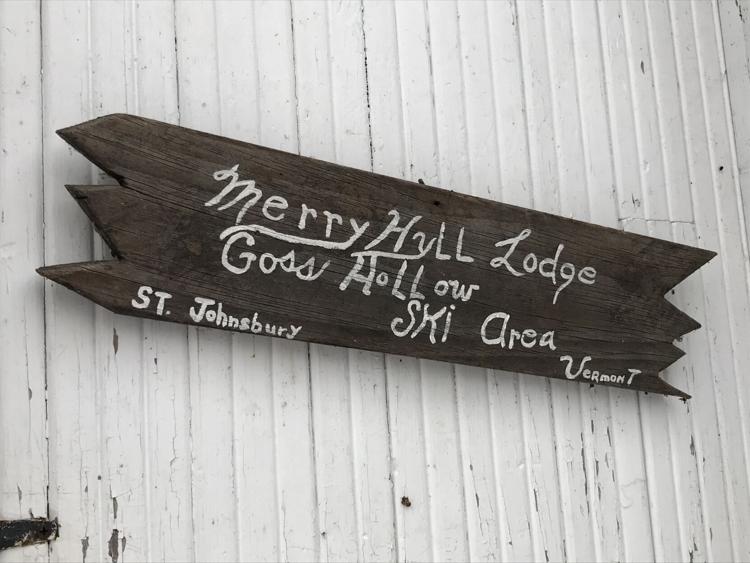 Groton, Bradford, Plainfield, Barton, and even Monroe, N.H., offered ski slopes or trails in the past, as early as 1937 in Vermont's promotions of its winter sports. East Ryegate had its ski jump; Morrisville, further west, offered a 1,800-foot toboggan chute, and Concord, to the east, provided "numerous open slopes for skiing and tobogganing." Lyndonville added to its winter sports with a special Washington's Birthday celebration that featured harness horse racing, with 40 to 50 horses. In 1959, the Lyndon Outing Club claimed 1,600 skiers per hour and offered sleigh rides and square dancing. There was also a "Vail Hill Tow" at Lyndon State College.
Looking into the region's ski-slope past brings to light another significant effect of local skiers: The winter skill pulled many Northeast Kingdom men into the 10th Mountain Division during World War 2, and some of the push for ski slopes after the war came from those returning soldiers. But that, of course, is another story, for another day.