After a year-long analysis, consultants hired by Kingdom Trails Association (KTA) recommend building a new welcome center in East Burke Village and creating new access points and parking for its popular 80-mile trail network.
KTA, a nonprofit organization, manages a spiderweb of trails around the village of East Burke, extending west into Lyndon on both sides of Darling Hill Road and east into East Haven. The network relies on the generosity of over 90 private landowners, who allow trails on their properties without compensation. A decade of rapid growth led to stress on residents, landowners, and infrastructure. In December 2019, three landowners along Darling Hill decided to no longer allow bike access on their properties. The restricted land totals hundreds of acres and contains some of the network's most popular and beginner trails.
KTA's consultants, the SE Group of Burlington, and Stantec, a global engineering firm, were hired to conduct a planning process to address a variety of issues and enhance the network's positive impact on host communities. Their study, titled the Kingdom Trails Network Capacity Study, explores new welcome center locations, access portal improvements, connections and crossings, and opportunities to disperse users.
From 2009 to 2019, KTA membership sales increased by 186 percent, an average of 15 percent annually, according to the study. In 2019, Kingdom Trails recorded about 150,000 annual visits. That summer during peak periods, KTA could see 4,000 to 5,000 visitors per week and on busy weekends the numbers were 800 to 1,200 users per day. In 2020, the study said membership and visitation numbers dropped 50 to 75 percent due to the COVID-19 pandemic and related restrictions. Likely, the busiest weekends last year drew an estimated 700 to 900 guests. Visitation totals and trends are uncertain this year as KTA is not offering a daily membership.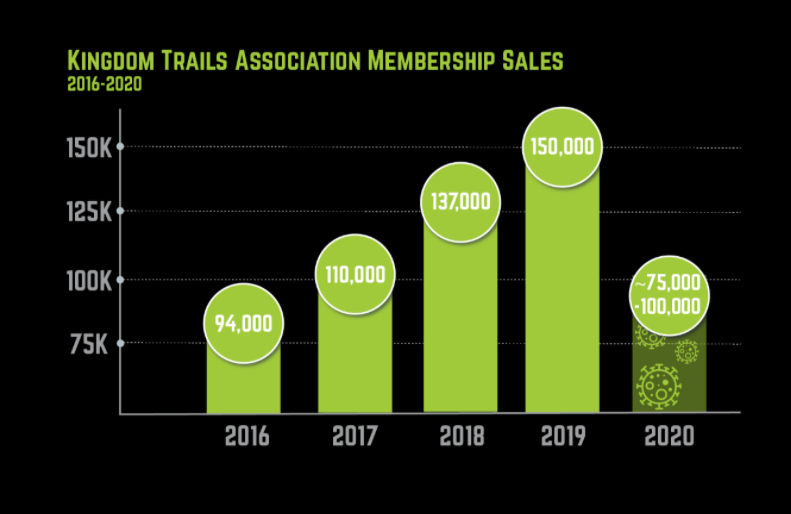 Key Takeaways
The study determined the trail system has sufficient capacity, but there are imbalances, pinch points, and opportunities to better disperse use. For example, there are many miles of trails on the southern end of Darling Hill, with very limited immediate parking and Burke Mountain offers hundreds of available parking spaces that have been underutilized. There is also a shortage of parking in the village, given the level of use in that area.
Consultants recommended building a new welcome center on KTA-owned property where the balance bike pump track is currently located. According to the study, this location was selected due to its connectivity to the trail system, existing KTA-ownership, topography, proximity to village businesses, and the importance of the center remaining in East Burke. This new center could offer guest services and office space, programming and events space, ample parking, a picnic area and river access, and other amenities. This new welcome center could act as a portal and tourist information center for both the trail system and the Northeast Kingdom more broadly. Additionally, a crosswalk was recommended in the village across Highway 114 in a location that would not result in the removal of on-street parking.
The existing trail system was divided into seven pods, according to the study. These pods represent distinct riding zones within the system, and many have their own parking infrastructure. For each trail pod recommendations were made to increase, maintain, or decrease trail capacity, parking and access capacity, connectivity, food & beverage offerings, and lodging. Pod recommendations are based on capacity imbalances and identified opportunities for improvement. For example, at locations where the trail capacity far exceeds parking, a recommendation may be to expand or create new parking lots.
The study also offered potential designs for enhanced road-trail crossings, a new village trailhead, and mobile welcome center units. The mobile welcome centers would be "food truck-style" trucks or vans located in satellite parking lots that offer the indoor/outdoor service typically found at the Welcome Center, along with ambassador presence, membership, merchandise, and map information. The study also recommends better messaging around parking, alerting visitors to available parking spaces and satellite lots via additional website information, signage, and an integrated phone app.
A key community priority that emerged was dispersing users and spreading the economic impact of the trail system. There are several opportunities to do so in the nearby town of Lyndon. The land surrounding the new Kingdom Campground and the Lyndon Outing Club could be developed with 10 to 15-mile trail networks, and Northern Vermont University would be an excellent partner for future events and programs, given their campus and educational opportunities.
For more information, visit https://segroup.maps.arcgis.com/apps/MapSeries/index.html?appid=ff307acd023440d585c3c62aec25b47c