Last September, hooked rug artist Delsie Hoyt donated a wooden box to the Waterford Historical Society, a farming artifact handed down in her family. "Return to C. R. Hoyt, Lyndonville, Vt." Was written on it in bold blue-black painted script. And on the end, in stenciled "type," was the label for the artifact: Bishop's Improved Egg Case, Manfd [Manufactured] by E. E. Bishop, Lower Waterford VT.
Inside the box, thin cardboard strips were woven into dividers that could each hold three dozen eggs in a layer. Some other pieces of cardboard, in matching light yellow, clearly were meant to set between the layers, five layers deep. And the second half of the box had room for the same size stack. The "improved egg case" could hold 30 dozen eggs (360) at once, safely boxed for transportation.
Where did those eggs get sent? When? Who was C. R. Hoyt? And who was E. E. Bishop, the inventor?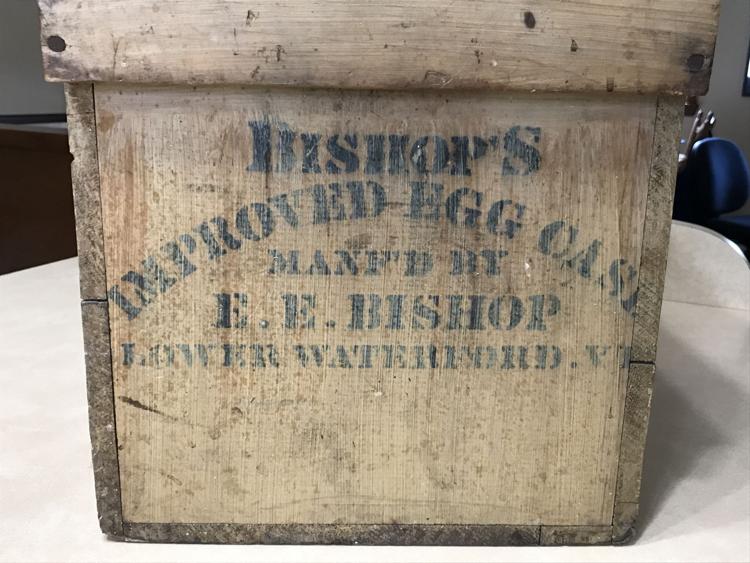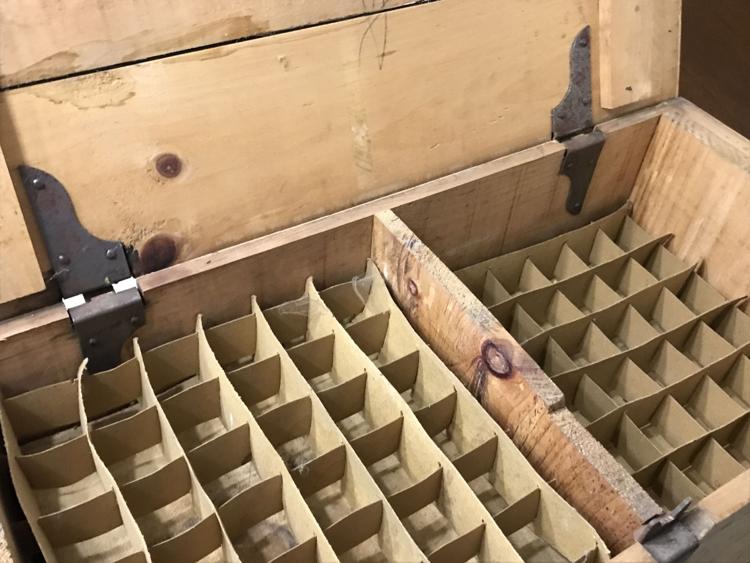 A Scavenger Hunt for Details
The first clue for the box is the town name: Lyndonville. The "Ville" did not exist until 1866 when it was created within the town of Lyndon, as the center of the new large railroad depot there. And the second is the box size, which suggests shipment on a train to a larger town or being delivered locally by wagon to a shop with a large customer base. Next, we add the history of egg cartons, which were invented in 1906 when a British patent to Thomas Peter Bethell recognized the Raylite Egg Box. Bethell "created frames of interlocking strips of cardboard, and packed these frames in cardboard or wooden boxes for transport by road or rail," reports the online summary at Wikipedia. Between 1911 and 1921, versions of the familiar egg carton were developed. So the wooden box we're looking at, with its woven strips like the ones in the 1906 patent, probably dated to between 1880 and 1900, and rode on trains or trucks, or both.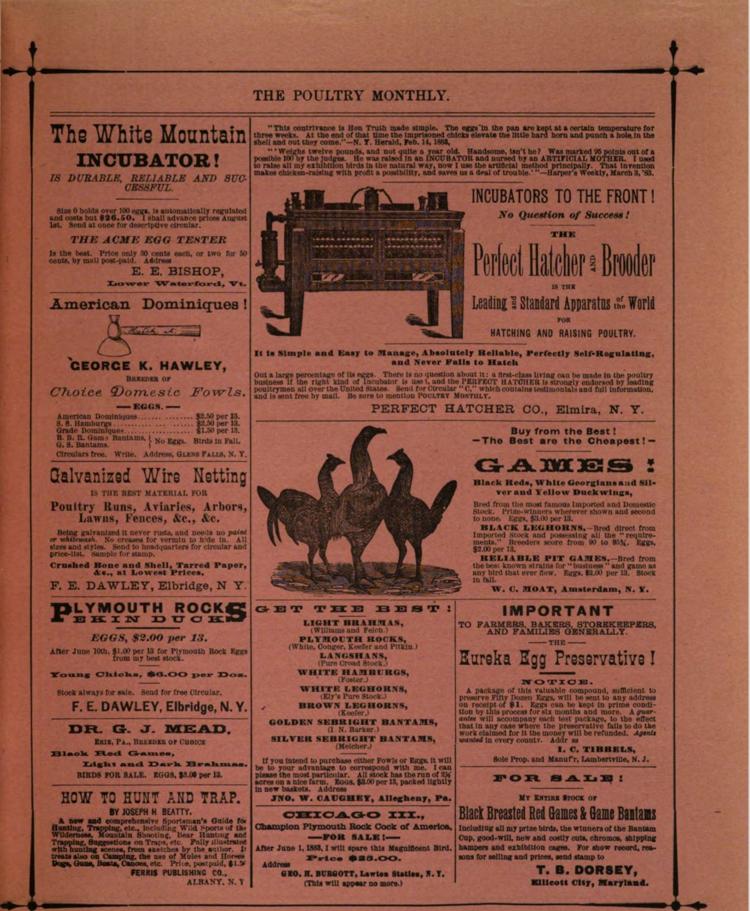 Since Lyndonville was a major train depot during this period, it makes sense to picture the box riding on the trains and being returned, as requested, to Mr. Hoyt.
"C.R. Hoyt" of Lyndonville shows up in an ad in a 1907 issue of a farm-related magazine called "The Irrigation Age." He gives a recommendation for a calf tonic made by Our Husbands, a Lyndon manufacturer of animal supplements, preceding the Bag Balm company. Mr. Hoyt said the product cured his calves of a terrible case of "the scours" – better known today as "the runs."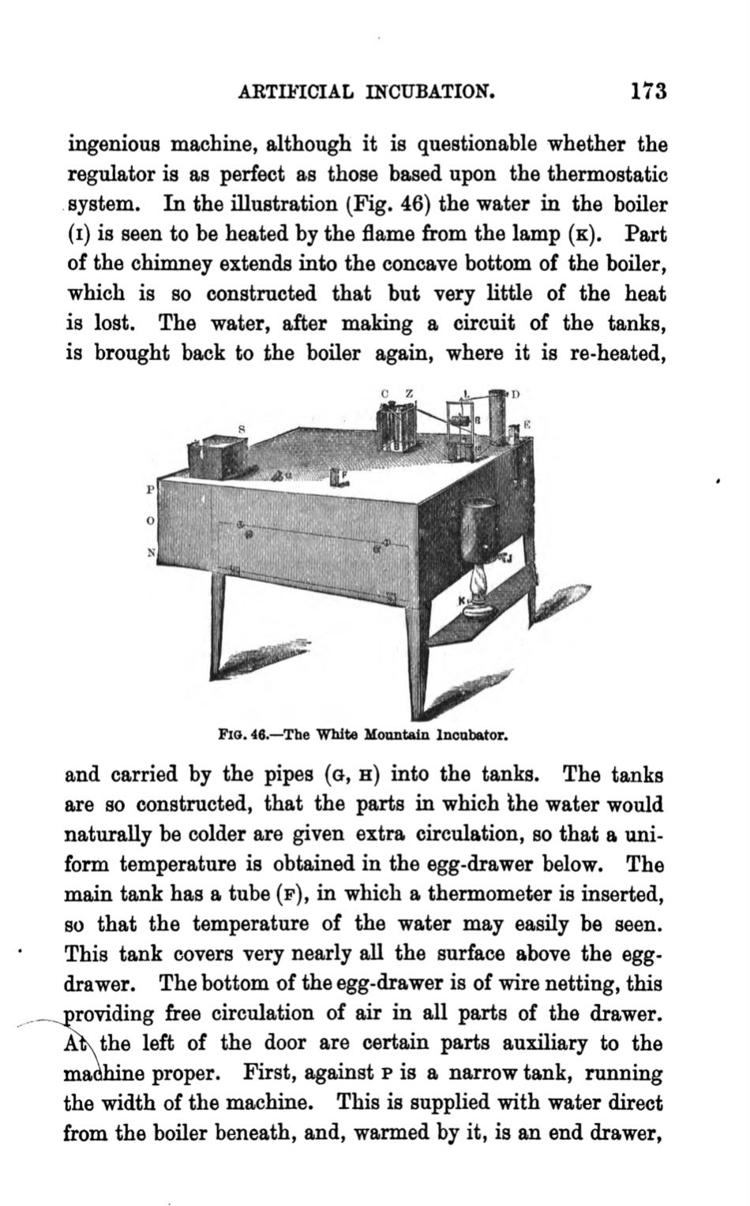 The 1887 "Gazetteer of Caledonia and Essex Counties, VT," compiled and published by Hamilton Child, provides three Hoyts farming in Lyndonville at that time: Charles L. Hoyt, a significant figure in town with 11 Durham cattle and 900 "sugar trees" (and also listed as a carpenter), Charles R. Hoyt in Lyndon Center with 24 head of cattle and 90 acres, and another Charles R. Hoyt listed as "farmer with his mother, Hannah M.," who owned 15 head of cattle, 8 sheep, and 650 sugar trees on her 110 acres. This last one seems most likely as the farmer shipping out the eggs, or else the box would have said Lyndon Center instead.
Extreme Poultry Raising
Now let's look at the inventor, E.E. Bishop of Lower Waterford. That was Edward Everett Bishop, 1859-1926, son of Horace Armington Bishop and grandson of Nathaniel Bishop, the first postmaster of Lower Waterford.
Following the generations of Bishop men through the existing records is quite an adventure. Both their work and their families show up in the "History of Littleton, New Hampshire Vol. III," by James Jackson and George Furber (1905). There isn't a comparable history of the much smaller town across the river, Waterford, so it's handy to have the Littleton one. Grandfather Nathaniel (1798-1883) married Olive Ide, a daughter of Timothy Ide of Lyndon. Yes, the same Ide family that owned a mill in Lyndon and then sold out and invested in St. Johnsbury, where the E.T. & H.K. Ide mill developed. Their children, Horace, Olive, Ellen, Willard, and Emma were born in Waterford, and so was Nathaniel's second wife, 20 years later, Abigail Freeman.
Nathaniel's son Horace seemed to embrace change. First he married Sarah Brown of Newbury, who died soon after, and then Martha Jones of St. Johnsbury. He and Martha moved to Littleton, and then he took a decade off to live somewhere else (the book is vague about where), as a boot and shoe manufacturer. On his 1861 return to Littleton, he "engaged in the poultry business, and when he [died] he was the largest poultry and egg dealer in Northern N.H.," reported Hamilton Child.
Although Horace and Martha's son Edward (E.E.) spent his prime years in "Littleton," his actual location must have been on the Vermont side of the Connecticut River. He was a graduate of St. Johnsbury Academy in 1876. His egg case tells us he took pride in being from Waterford, and so do his advertisements in farming-related magazines across the nation. Obviously drawing on experience in his father's poultry business, Edward become a nationally known inventor.
Everything for the Modern Poultry Farmer
By 1883, Edward's products included more than just his "improved egg case." In 1883, he had a substantial ad on the back cover of "The Poultry Monthly," promoting The White Mountain Incubator! Is Durable, Reliable and Successful," describing it as holding 100 eggs, automatically regulated, and costing only $26.50 (and warning that the price would go up in August!). The 1886 "American Agriculturalist" magazine ran an ad for him, selling "The White Mountain Incubator, and Acme Brooders."
Most impressive of all, Edward's main invention, his incubator, made it into a book in 1886. James Long's "Poultry for Prizes and Profit" gave it two pages, including a diagram of the parts of the device. "The 'White Mountain Incubator' is an exceedingly ingenious machine," Long wrote. The device not only included a flamed heating source and a regulator, but also, in the regulator, a batter and an "electro-magnet" as well as a tube of mercury, essentially an automatic thermometer adjustment to keep the eggs at a perfect temperature, along with newly hatched chicks that would "remain until they are dry and strong."
Waterford's Egg Story Continues
All this egg-sploration of farming history came from one handed-down wooden box. Of course there were sidetracks, like looking into a Charles R. Hoyt in Lyndonville who bred Morgan horses, maybe the same as C.R. or maybe a cousin, and discovering that many of the Bishop family members from the 1800s were baptized in the 1970s and 1980s into the Church of Latter-Day Saints in two California temples of that church. One of the Bishop wives was a Rowell from Albany, which opens the door to another set of stories.
But staying focused on poultry and eggs brings the narrative back to Waterford, at the finale, since this is where E E. Bishop's Improved Egg Case now resides. Coincidentally, Waterford also now hosts very large poultry barns again, as a next-door neighbor to Monroe, N.H., the home of Pete and Gerry's Organic Eggs. Now all we need to do is find a remaining White Mountain Incubator, to honor Mr. Bishop's poultry heritage.