The eastern-most section of the Lamoille Valley Rail Trail (LVRT) winds its way from St. Johnsbury through Danville along the Route 2 corridor. In addition to being a recreational path, town officials in both communities view it as a source of economic development.
The 93-mile LVRT, when completed, will extend across northern Vermont from the Connecticut River to Lake Champlain. It's a four-season, multi-purpose recreational trail. After decades of research, planning and construction, 33 miles are open and officials are working to complete the remaining sections over the next five years. The 15-mile St. Johnsbury-Danville portion of the LVRT opened officially in 2015 and from Aug. 1, 2015 through Sept. 4, 2016, an automated counter in St. Johnsbury recorded over 51,000 people on the trail, with a daily average of 130.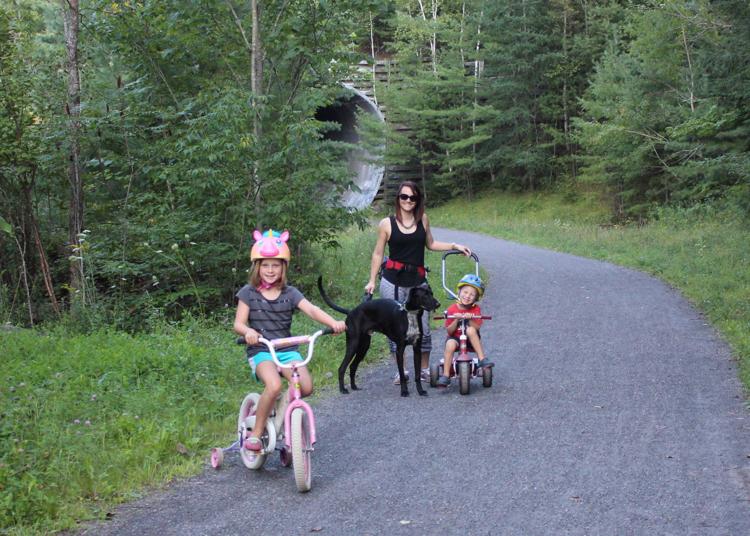 Those numbers caught people's attention.
"If we can capture 10 percent of that and bring them into downtown St. Johnsbury, that would be a great thing," said St. Johnsbury Assistant Town Manager Joe Kasprzak.
The problem for St. Johnsbury is the existing trailhead is located on South Main Street, over a half-mile from downtown businesses. That could change next spring when the town begins construction of a new trailhead, parking lot and bike/pedestrian path.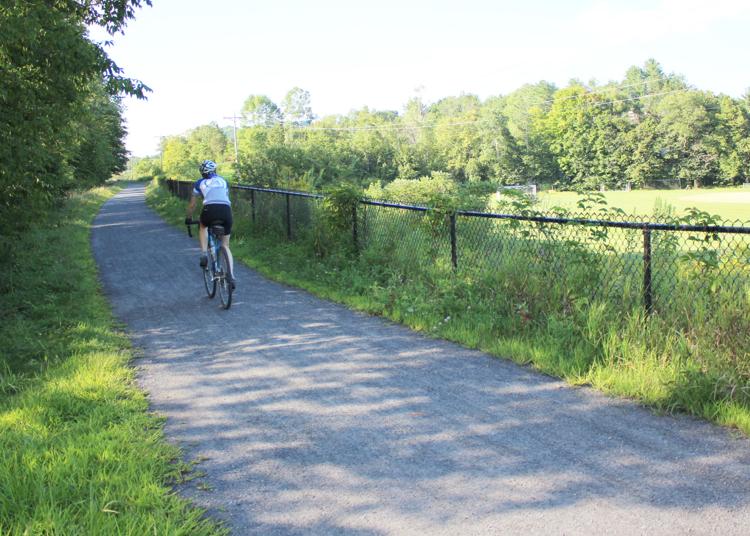 Bay Street
The $540,000 project, funded primarily through a grant from Northern Borders Regional Commission, is scheduled to break ground next spring. A new parking lot and trailhead facility is planned for a .21-acre parcel on Bay Street in St. Johnsbury, which the town acquired by tax sale. On the parcel, sits the former KC Rental building, a 5,000-plus square foot warehouse space. An architect is currently studying the possibility of renovating all or a portion of the structure into space for boat/bike/fishing gear rentals, and river and trail specific information to welcome visitors.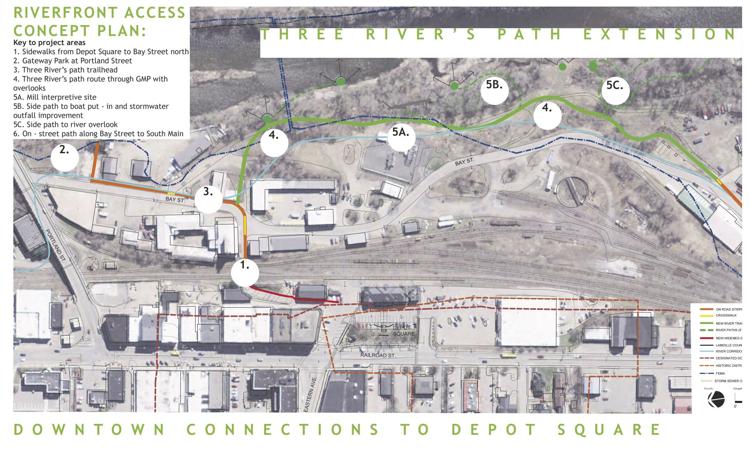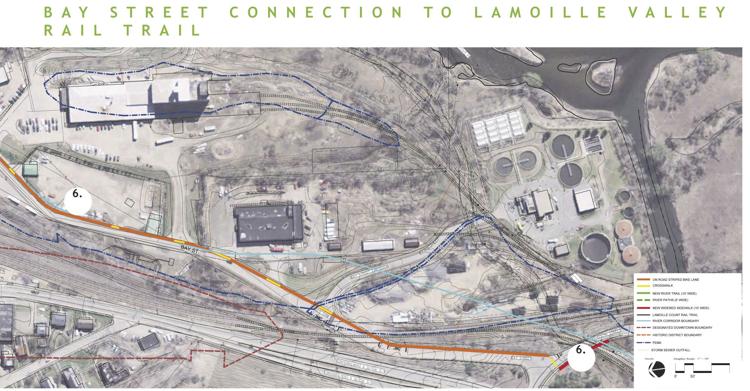 From the new trailhead, the town will construct a .33 mile stretch of new pedestrian/bike path on town and Green Mountain Power-owned property, which will terminate on Bay Street just north of Myers Containment Service. From there, a striped bicycle lane along Bay Street will connect to the current LVRT trailhead. There are also plans to improve sidewalks, crosswalks and signage from the newly constructed trailhead on Bay Street, through the "honking tunnel" and up to the downtown area. Additional signage will also be installed at the current South Main Street trailhead directing users to continue down Bay Street. Trail head kiosks, including a map of the area, could alert users to area services, restaurants and shopping. Trail directional signs pointing to features while giving distances and destinations. Interpretive signs with narrative and graphics in locations along the way to impart environmental, historical, cultural, recreational, and other information are also planned, according to the study. The town has hoped for over a decade that the Passumpsic River area could be an impetus for redevelopment for the former industrial properties along Bay Street.
The trailhead project, which will be completed by October 2019, is an important first step toward that goal, said Kasprzak, and town officials intend to continue working with property owners on Bay Street to expand the trail a redevelop the river area.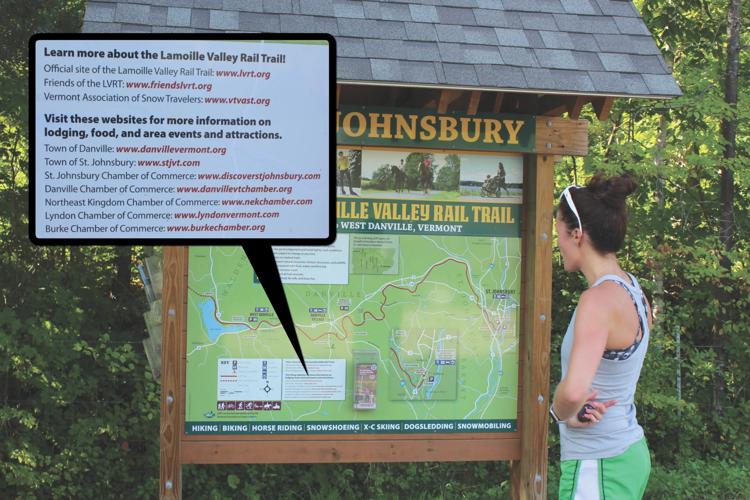 Danville Planning
Just a few miles to the west, the LVRT winds through Danville providing access to a number of community assets, including Joe's Pond and Danville and West Danville villages. It is a popular resource for locals and visitors, making it a valuable asset to the town from an economic and recreational standpoint.
A $63,000 grant awarded earlier this year launched the Danville Village to Village Project, an effort to create a "road map" to enhance connections along the trail in order to maximize outdoor activity and economic vitality. The study area extends west from Parker Road along Route 2 to Joe's Pond in West Danville. Local planners have hired a consultant, DuBois & King, Inc. of Randolph, to help develop a "big picture" strategy over the next 14 months and provide technical assistance. An action plan to improve safety along Route 2 and strengthen the connection between the villages and the LVRT is in the works. The funding is through the Vermont Agency of Transportation in partnership with the Vermont Agency of Commerce and Community Development through the Better Connections Program.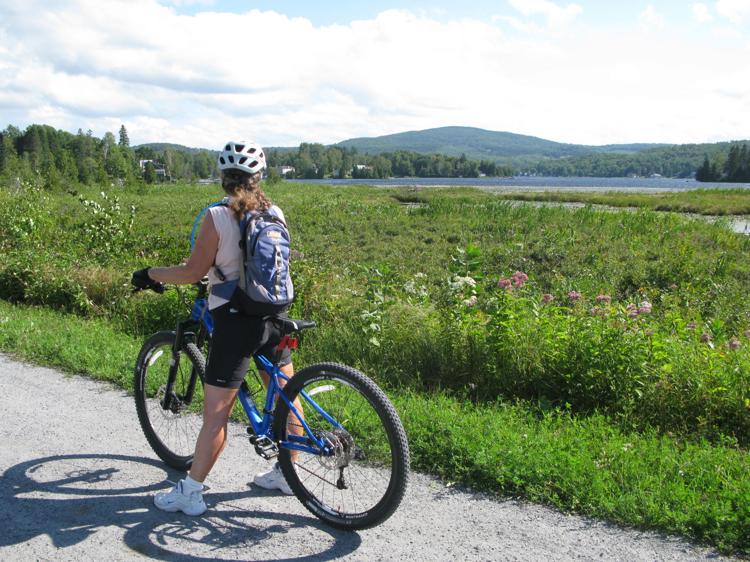 Creating links between these adjacent hubs of activity can help revive them and open up opportunities for them to grow and work together, according to Danville Planning Board Member Catherine Whitehead. Current parking in and around the activity centers will also be evaluated and wayfinding (or instructional signage) will also be planned to help direct trail users to local businesses and other area destinations. Activity centers are defined as priority growth or re-development areas where commerce, transportation and information come together. This is an opportunity to look at these junctures where redevelopment may occur, where future businesses may choose to locate or where current businesses exist and provide more specific opportunities for accessing them by bike or foot from the Rail Trail and Route 2.
Community visioning sessions will be held throughout the year, Whitehead added, to engage residents and groups in regard to the existing conditions of the bike and pedestrian network, suggestions for future improvements and feedback on the final implementation plan.
The historic Danville Depot Station, built in 1871 and located along LVRT at the intersection of the Peacham Road, will also be a focus of the grant. Through surveys, planners hope to gauge public opinion for the best uses of the building, which currently serves as Danville's Recycling Center.
"This is an effort to clarify the big picture," said Alison Low, of Northern Vermont Development Association. She added the committee would like to look at concepts for the train depot and how it fits into that bigger picture. "I think there's a general feeling that it's under-utilized now as a recycling center."
A local steering committee of residents and local officials, have already began administering surveys at key points along the LVRT and last month during the Danville Fair. Survey questions relate to travel, parking, usage, business patronage, access points, and safety.
Prior planning efforts will also be called upon during the process, such as the VTrans Bicycle and Pedestrian Scoping study that was completed for Danville in 2014. This study evaluated the Hill Street to Peacham Road corridor and provided alternative options for infrastructure improvements such as bike lanes and sidewalks to improve the walking and biking conditions and provide a direct connection from the LVRT to the village.
More information on the Danville project, along with the survey, are available at the Village to Village website: www.v2v-danvillevt.org.