Many Vermonters know that this state banned "slavery" in its 1793 Constitution – the enslavement of adults, that is. The actual text is, "no person born in this country, or brought from over sea, ought to be holden by law, to serve any person as a servant, slave or apprentice, after arriving to the age of twenty-one years, unless bound by the person's own consent, after arriving to such age, or bound by law for the payment of debts, damages, fines, costs, or the like."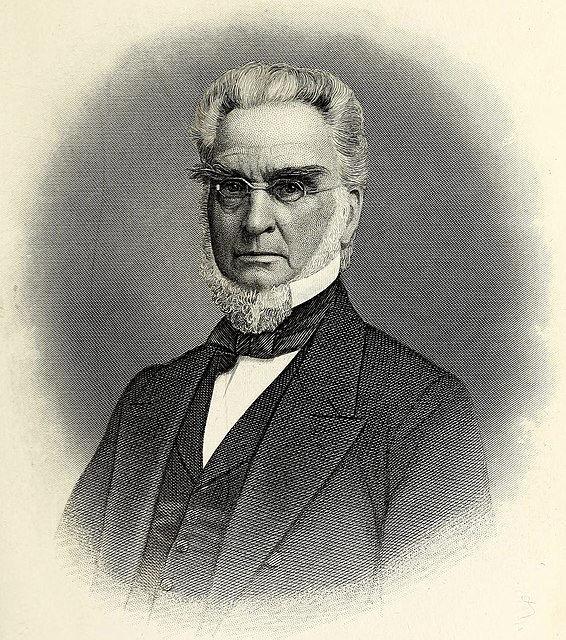 And for most Vermonters in the 1800s, slavery looked cruel, sinful, and uneconomical. One of the best stories of the time comes from a case brought to Judge Theophilus Harrington, serving on the Vermont Supreme Court in 1804, when an enslaver from outside the state wanted to reclaim his "property." Legend says that Judge Harrington demanded proof of ownership, then said the documents presented didn't go far enough back in time. When the plaintiff asked the judge what paperwork he wanted, Judge Harrington is believed to have said, "Nothing short of a bill of sale signed by God Almighty Himself." His fellow judges agreed, and the formerly enslaved man continued his freedom in the Green Mountains.
Unfortunately, since court decisions weren't recorded at the time, the quote can't be verified. But it certainly spoke for a strong Vermont attitude.
As the century reached its midpoint, many Vermonters took strong personal positions saying that slavery needed to be abolished – they favored "abolition." But how should this happen? In the decade before the Civil War, from 1850 to 1860, some strong opinions and actions came from leaders in St. Johnsbury.
One of the founders of the town was Jonathan Arnold, a physician and statesman (and eventually a judge) from Providence, Rhode Island. In Providence, Arnold in May 1776 – before the Declaration of Independence – drew up an bill that repealed allegiance to the British king, allowing Rhode Island residents to instead give their allegiance to the state. He also took part in the Providence Society for promoting the abolition of slavery, which called for elimination of the slave trade. How embarrassing it must have been for him to be given an enslaved person as a gift – Ruth Farrow. Although he "freed" her, she declared a fondness for his family, and when, after clearing land in 1787, he eventually moved his entire household to St. Johnsbury, and she came along. St. Johnsbury history author Edward Fairbanks commented that she preferred to be a servant to the Arnold family for the rest of her life, and that she "was the only negro who ever lived any very long time in this town during the period of a century and a quarter."
By 1840, Dr. Arnold's point of view prevailed among many leaders of the town. For example, one of Arnold's granddaughters married Dr. Morrill Stevens, who lived in a small house on Eastern Avenue "near the village pump," wrote Edward Fairbanks. Dr Stevens's brother, the Honorable Thaddeus Stevens, had moved to Pennsylvania for his legislative career, but continued to visit St. Johnsbury, as he become increasingly noted in Congress for his antislavery speeches. Morrill Stevens not only shared abolitionist views, but also "kept anti-slavery literature in his house for distribution," said Edward Fairbanks.
The town already had its own St. Johnsbury Anti-Slavery Society, formed in 1836. Among its members were Ephraim Jewett, a merchant, and his brother Dr. Hibbard Jewett. Strong advocates of eliminating slavery – starting with its existence in the nation's capital – members of this society encouraged tolerance for different views on how to deal with "the slavery question," because it wasn't simple.
In addition to despising the idea that any person could "own" another, Vermonters had a strong sense of property rights. They puzzled over the idea that southern plantation owners, who by that time were the major enslavers in the nation, had invested their business money in the "purchase" of Africans and African Americans. Should a decision on moral grounds remove the enormous financial investments of those business owners?
One industry leader who spoke for "gradual abolition," to ease this financial trauma, was Erastus Fairbanks. He and his brother Thaddeus founded a mill-based business, taking advantage of the town's abundant water power, and began to manufacture stoves, plows, and other items from iron. When they added the handling of hemp – a rope component, grown locally – Thaddeus developed an invention called the "platform scale" that a wagon could drive onto, full, and later be weighed again empty, giving an exact weight to the purchased load of hemp it had brought. The brothers developed a good partnership, with Thaddeus inventing and improving, and Erastus managing the business and diversifying investments into railroads. Their brother Joseph P. Fairbanks, elected to the state legislature in 1845, became a significant voice in Vermont's chapter of the American Colonization Society, which proposed to "send Africans home" under an African Colonization project – "the most effective plan yet devised for benefitting an oppressed and injured race," the group announced in the Dec. 10, 1847, issue of the Burlington Free Press. Members asserted that their "enterprise" was "sanctioned by reason, by patriotism, and by Christianity."
It's puzzling to watch the Fairbanks brothers putting their money into this effort, as revealed by the group's records. Couldn't they do the math? With more than 3 million Africans and African Americans enslaved by 1850, the value of that "ownership" added up to something like a $100 million, an incredible amount for the time. Even though the brothers donated generously for that period, their chunks of $10 each were insignificant compared to the problem in front of them.
But maybe it was the only solution they could imagine. At least, it would avoid breaking up the young nation's Union over the issue. And when Erastus Fairbanks won the Vermont governorship for his second term, in 1860, he and Thaddeus dreaded the idea that the country could fracture and begin a civil war. After all, the surging growth of St. Johnsbury-based Fairbanks Scales meant they had enormous investments in machinery and sales force in the Southern United States – all of which would be lost if a war broke out.
So it's strange now to think of Gov. Erastus Fairbanks receiving a request from President Abraham Lincoln to send forces to the newly declared conflict in the spring of 1861. According to popular anecdote, as cited by Rutland Herald writer Mark Bushnells (and more broadly by author Howard Coffin), "As the Civil War was breaking out, President Abraham Lincoln telegraphed Vermont Gov. Erastus Fairbanks urgently: 'Washington is in grave danger. What may we expect of Vermont?'"
"Vermont will do its full duty," Fairbanks wired back." Losses and all.
Then, of course, the next hard part began for Erastus Fairbanks, as Vermont had no troops ready and no equipment for them, and the St. Johnsbury-based governor on April 23, 1861, asked the state legislature to provide $500,000 toward quelling the rebellion.
The amazing response from the legislature was double his request: It voted a million dollars, plus a pay bonus for Vermonters enlisting, adding $7 per month per soldier on top of the federal pay of $13 per month.
Vermonters might set aside their opinions over abolition, and join together for a more overwhelming cause: to hold the Union together, and quell secession. But in fact, the arguments continued, with some saying that there wasn't a constitutional right to abolish enslavement. Still, news of the war soon overwhelmed their voices. Many predicted the fighting would be over in three months – but it would take more than four bloody years, and Erastus Fairbanks died in November 1864, before the Civil War, known to Northerners as the War of the Rebellion, was over. By then, St. Johnsbury's news focused on war and death, and battles won. A new chapter was beginning.