Around 1832, a small group of Northeast Kingdom people and two visiting missionaries witnessed a miracle. After, a small hamlet called Chesterfield, outside East St. Johnsbury, would vanish—and the 14 linked families who'd connected there, whether from Waterford, St. Johnsbury, or Charleston, Vt., became pioneers in opening the American West with the only religion "born in America."
In many ways, the story begins with Olive Hovey Freeman, a Waterford girl, who in 1816 married a man from just across the town line, named Winslow Farr. Winslow had grown up in a small district on the Concord edge of St. Johnsbury called Chesterfield. The pair settled in Waterford. Six children and 13 years later, they moved north: The couple bought the Jacob Lang farm in Charleston, near Derby.
Many of their Chesterfield neighbors also spread north around the same time. The 14 or so families would become part of American pioneer history. But it was really the miracle, and the sense of faith afterward, that led the cluster of homes in Chesterfield—off what's now Severance Hill—to be abandoned. Today only fragments of cellar holes mark the hamlet.
But Olive Hovey Freeman, and the families who traveled West when she did, became increasingly important over time, starting with that Northeast Kingdom miracle. It was part of a new American religion, now called the Church of Jesus Christ of Latter-Day Saints, or in those days, the Mormons, and it arrived at her very bedside.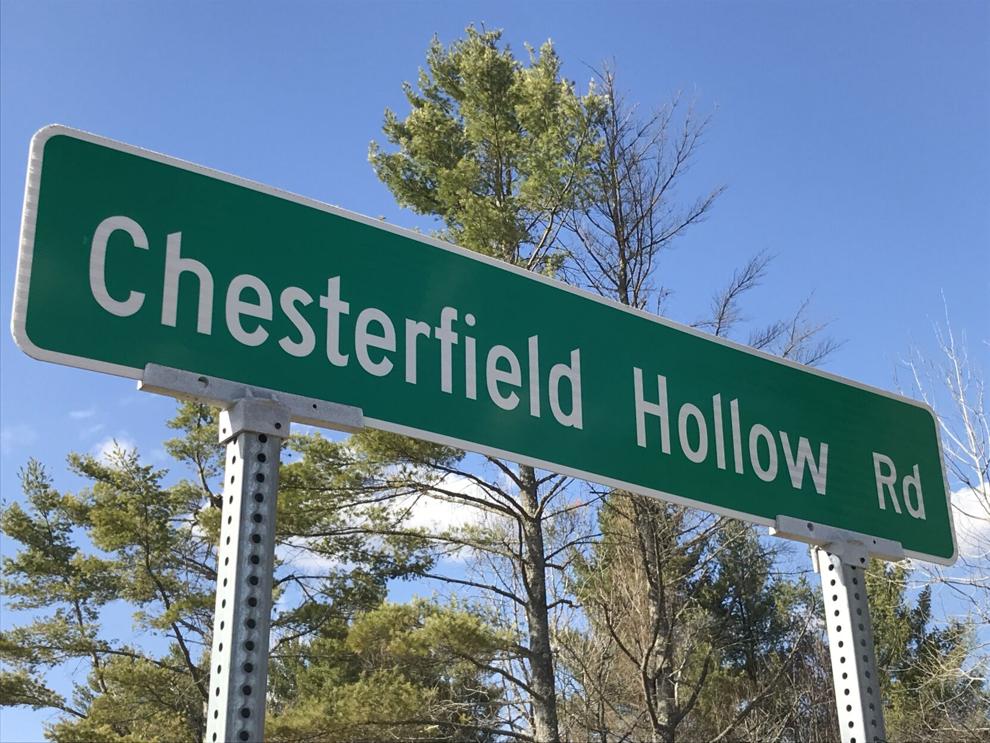 Where and Why Was Chesterfield?
Genealogists commonly make mistakes when trying to place people's births and lives in Chesterfield. Take Winslow Farr's family as an example. Winslow's father, Asahel Farr (1766-1823), was born in Chesterfield, New Hampshire, before the American Revolution. The town was (and is) just across the Connecticut River from Brattleboro. Several people from the New Hampshire town moved north to St. Johnsbury and nostalgically named their new hamlet Chesterfield also. Iowa's frontier-era Census in 1850, when Winslow lived there, stated that he'd been born in January 1794 in Chesterfield, N.H.; Utah's Pioneer Index, however, pins his birth to January 1795, in Chesterfield, Vt., instead. Family records left behind also vacillate between the two states for Winslow's birth.
Importantly, Winslow's mother was born Lydia Snow, who was probably born in Chesterfield, N.H., and by 1799 seemed to live in Waterford. At least five of Lydia's children, though, were probably born in Chesterfield, Vt. The wider Snow family moved to Chesterfield, Vt., around the same time as the Farr family. Lydia's nephew Zerubbabel Snow, born in 1809, becomes another important person in the Chesterfield, Vt., story.
If you take the road called Severance Hill, which runs from Route 2 north to Lyndon's Red Village Road, you pass a road sign for Chesterfield Hollow today. Nola Forbes, historian and resident of the hollow, estimates that 14 families lived there in 1832. Also connected with them was the Bingham family. Elisha W. Bingham is one of the early Waterford settlers buried in the Adams-Babcock Cemetery, and his son Erastus Bingham married Lucinda Gates, whose family also came from Cheshire County, New Hampshire, the area of the "first" Chesterfield.
This tangle of family names and two Chesterfields isn't just a puzzle. It's how some 14 families, intermarried in some ways and with tender memories of a southern New Hampshire location, paid close attention to what happened in St. Johnsbury, and especially in its hamlet of Chesterfield, in 1832.
Two years earlier, in 1830, one of Vermont's most famous residents published a revelation and a translation of a set of golden plates he'd found in upstate New York. Organizing a "Church of Christ" as a restoration of the early Christian church, Joseph Smith soon held the title "Prophet," and organized a set of elders and missionaries around himself. Two of these were Orson Pratt and Lyman Johnson. Sent forth by Smith as missionaries, they reached Vermont in 1832.
At that time, the commercial center of St. Johnsbury was along the Moose River in what today is the sleepy village of "East St. Johnsbury," or "East Village." Historian Edward Fairbanks wrote, "In 1830 there were at East Village two taverns, three stores, two blacksmiths, two shoemakers, a harness shop, a tin shop, a grist mill, fulling mill, tannery, carding mill, one or two doctors and a lawyer, all doing a brisk business; more in amount than was done at that time on the Plain." (The "Plain" was today's St. Johnsbury Main Street area.)
So this was where the missionaries for the new American-born religion arrived, and here they met the Snow and Farr families, who would form the enthusiastic core of new branch of the church—complete with a move north to "Charlestown" (now East and West Charleston, near Derby), miraculous healing, and within a few years, a new Westward adventure.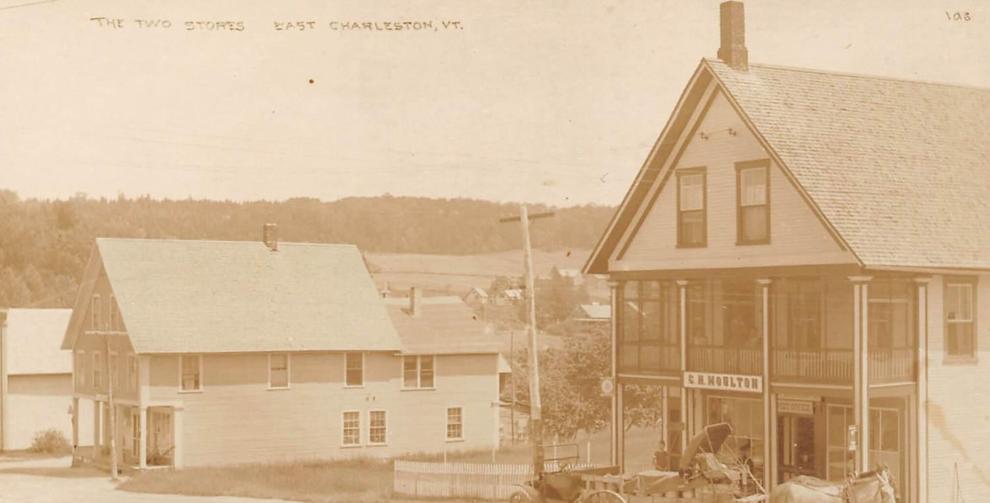 The Missionaries Make New Converts
According to Donna Hanson Woodward, the Levi Snow family, living in Chesterfield Hollow (that is, the St. Johnsbury hamlet), took part in this Mormon "invasion" in two ways: converting to the new religion, and making available their big new barn:
"In 1826 Levi and his sons finished a new barn for their farm," Woodward wrote. "While Lucina and the girls were helping clean up the newly completed barn, Lucina laughingly remarked, 'I think, girls we should move into the new barn and let the cows and horses live in the old house.' A few weeks later the Snow home burned to the ground. With the help of their neighbors most of their furniture and books for their children were saved and the new barn became their home for the rest of that summer until they were able to finish a new home late that fall."
Woodward also explained, "Levi was a devoted and God-fearing Christian although he never belonged to any organized religious group. He did, however, study the scriptures intently and encouraged this amongst his family members. The Snow family was known as 'Seekers' or those who were seeking after God's truths."
In 1832, Levi's sons Zerubbabel and William were working up north in Charlestown (later Charleston), Vermont, but living with their cousin Winslow Farr in Chesterfield Hollow. Woodward said, "They were blessed to hear the gospel of Jesus Christ from Elder[s] Lyman Johnson and Orson Pratt. After hearing the Elders' message they returned home very excited to tell the rest of the Snow family. It was not long before Orson Pratt came to St. Johnsbury and taught the many interested families in the area in the Snows' new barn."
That barn has long since vanished—but Edward B. Lee Jr., who compiled the history of East St. Johnsbury, declared that it was used as a meeting house for the new religion, and nearby Gage Brook became a site for baptisms. Lee wrote, "This performance drew large crowds at one time. A boy who had climbed a tree to get a better view had slipped and fell plump in the water, receiving what was called an 'involuntary baptism.'" At least six people in East St. Johnsbury chose baptism, and Levi's son Erastus Fairbanks Snow eventually become one of Joseph Smith's 12 apostles of the Mormon church. Erastus's brother William Snow, another apostle, would be one of the first two Mormon pioneers to enter Utah's valley of the Great Salt Lake, where today the denomination has its headquarters.
Sunday meetings in the barn grew in popularity. The Mormon church records even report a participant's memory: "There was a big crowd that gathered at the Snow barn. The Mormon Elders sat along the high beams. They let the women folks in lower down like, and gave them seats in the bay. The other men and we boys were packed in helter-skelter around, the best we could. It was. Sunday but a regular holiday for everyone."
A Miracle! A Miracle!
Because the Chesterfield Hollow families spread also to the northern town of Charleston, Winslow Farr invited Elders Orson Pratt and Lyman Johnson to visit his home up north. Winslow and his wife Olive were devout members of the Congregational Church at the time.
Mrs. Farr, Olive, "had been sick for nearly seven years with the liver complaint, and had been confined to her bed most of the time," report the Mormon church records. "Her husband had been to a great expense with the doctors, who said that she had gone into consumption and could not live another year."
"After prayer Elder Pratt went to the bed-side where Mother Farr was lying … he asked her if she had faith to believe that she could be healed. She said she had some faith; she knew all things were possible with God. If it was His will that she might be healed, she believed that it would be done."
"Elder Pratt then took her by the right hand and asked her her name, and said unto her, 'Olive, in the name of Jesus of Nazareth I command you to be made whole." She was healed and made whole, in the twinkling of an eye. She raised herself and sat up in the bed, called for her clothes, dressed herself, walked the room and sang praises to God."
"It caused such rejoicing in the family that there was no sleep that night." The Charleston town history reports that Mrs. Farr was soon baptized in the waters of the Clyde River.
The miraculous healing of Olive Farr spurred others to be baptized by the missionaries. Erastus Snow at age 14, in 1833, would be baptized in the iced-over Derby Pond, where the Snow brothers helped chop through the ice. According to the Mormon church records, "Erastus, familiar with the Bible despite his youth, liked what he heard and then experienced something powerful. 'They bore their testimonies, which I readily received … the Holy Ghost descended upon me, bearing witness that it was true, and that they were messengers of God.'"
Westward, Ho!
Soon there were 18 believers where the Snows lived, organizing a branch of the church. Erastus' brother William was ordained a priest in July 1832. In September, he preached at a schoolhouse in St. Johnsbury.
While the local groups in Chesterfield Hollow and up north in Charleston were growing, so was the wider church led by Joseph Smith. A few years later, probably in 1836, most of the families sold their farms to travel to the "Promised Land," which at that point was in Kirtland, Ohio. Edward Lee reported, "That was a long distance to go … Travelling was done in large canvas-covered wagons, men, women, and all their household goods."
Lee also quoted a Mrs. Ayers of East Village, who wrote in her diary, "I remember seeing them start off and one woman stopped as they passed the cemetery [which was then located near the Schoppe house] and went in to visit her children's graves before they left forever." Rolf Schoppe, contributing to Lee's village history, identified the woman as "Mrs. Snow," probably Levi Snow's wife Lucina.
So the Chesterfield Hollow families joined the westward movement, and many even reached Utah. Their lives, their plural marriages, and their decades of contributions to forming towns on the raw frontier are documented enthusiastically in Latter-Day Saint church records today, and in many books about the growth of the American pioneer religious organization.
Should you visit Ogden, Utah, today, look for the locations once known as Farr's Fort and Bingham's Fort. Those are named for these early believers from the Northeast Kingdom. The pioneers from the Chesterfield Hollow section of (East) St. Johnsbury are recalled as brave and faithful. After all, they had seen a miracle, right here in Vermont, and they had reason to believe.
A note from the writer: The names of Snow, Farr, Hovey, and Bingham are still very much present in our communities. However, diligent family tree research did not find direct connections to descendants in the area today.