From the majesty of Mount Washington and the grandeur of its namesake hotel and resort to the quiet hamlets around the Craftsbury Outdoor Center deep in the Northeast Kingdom, there's plenty of winter fun to find on skinny skis and snowshoes. Beyond the health benefits of being active and outside in the colder months, Nordic skiing and snowshoeing are also easily accessible, easy to learn, family friendly and affordable.
"The trails always feel empty, and everyone passing by says, 'Hi,' and smiles," says Tina Mangold of Franconia, N.H., who skis primarily at nearby Bretton Woods Nordic Center and lists numerous reasons to love the sport. "We are outdoors in nature. It is quiet and peaceful. I am warm, getting a great workout, and my entire family loves it. It is just our winter thing."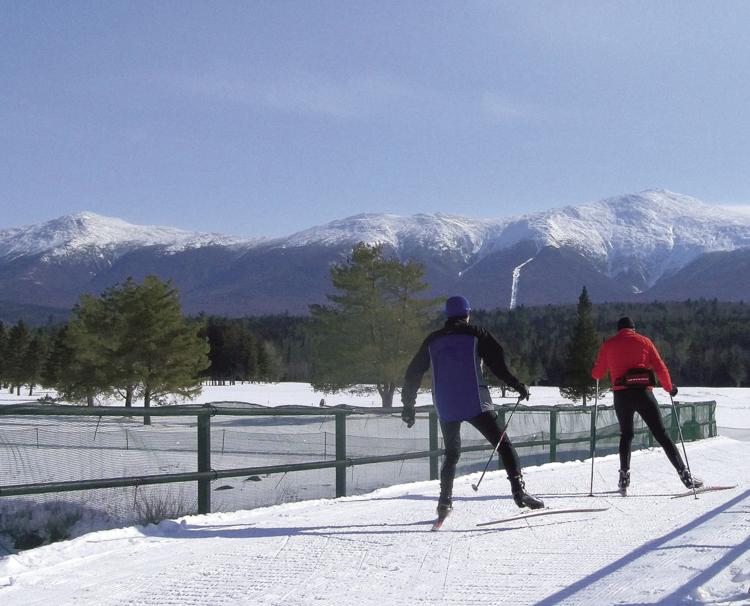 Kick, glide, skate and 'shoe
There are various style distinctions in Nordic snow sports. The most common of these include classic skiing, skate skiing and snowshoeing. Most Nordic centers offer instruction in each style, as well as equipment rentals suitable for the different disciplines.
Classic skiing involves kicking and gliding. Skiers "kick" straight back with one ski while gliding forward on the other. Skate skiing is, as the name implies, something like ice skating – only with long skis instead of short blades, and with the added propulsion of long ski poles. In skate skiing, the skier uses a V-stance (with ski tails close and tips spread away from each other) and transfers weight entirely from one ski to the other with each stride. The equipment for classic skiing is different from that used by skate skiers, so it's important to match your skis, boots and poles to the style you choose.
Generally, it's best for beginners to start out classic skiing, and for many cross-country skiers, this remains the preferred style. But skate skiing can be a bit addictive.
"What appealed to me (about skate skiing) was the grace of it. It looked so effortless to be moving along that quickly," says Dave Brown of Craftsbury, Vt., who can ski from his front door onto the network of trails maintained by the Craftsbury Outdoor Center. "It's great exercise. It feels to me that it should be illegal, how easily you can move."
Originally from Salt Lake City, Utah, Brown started out as an alpine skier, but became almost exclusively a Nordic skier when he moved to Vermont 40 years ago. He is a regular on the Craftsbury Outdoor Center trails, where he tries to ski several days a week through the winter, including stops by the post office in Craftsbury Common to check his mail.
While Brown is a self-taught skate skier – he learned from watching some of the elite skiers who train in Craftsbury, along with a few YouTube videos – he recommends newcomers to the sport take a lesson to get started. That's a sentiment shared by Martha Wilson, a Bretton Woods skier, who says professional instruction can benefit skiers of various abilities.
"I've taken lessons in both skate and classic," Wilson says. "The amazing thing about Nordic skiing is that you can just head out with the basics, but you can always learn something new to refine your technique."
Some Nordic centers also offer snowshoe lessons and guided snowshoe tours. While there are different types of snowshoes – from traditional wood-and-rawhide varieties to assorted plastic and metal models, some with crampons or other traction systems – there's not much to snowshoeing other than strapping them on and hiking through the snow. Joining a guided tour, however, can be a great way to learn your way around the trails.
Beyond the different Nordic disciplines and equipment (check with the pros at a shop or Nordic center to find out what's best for your adventures), there is also an array of terrain, from the sleek groomed tracks surrounding Nordic centers to the more off-the-beaten-path trails through forests and up and down hills and mountains.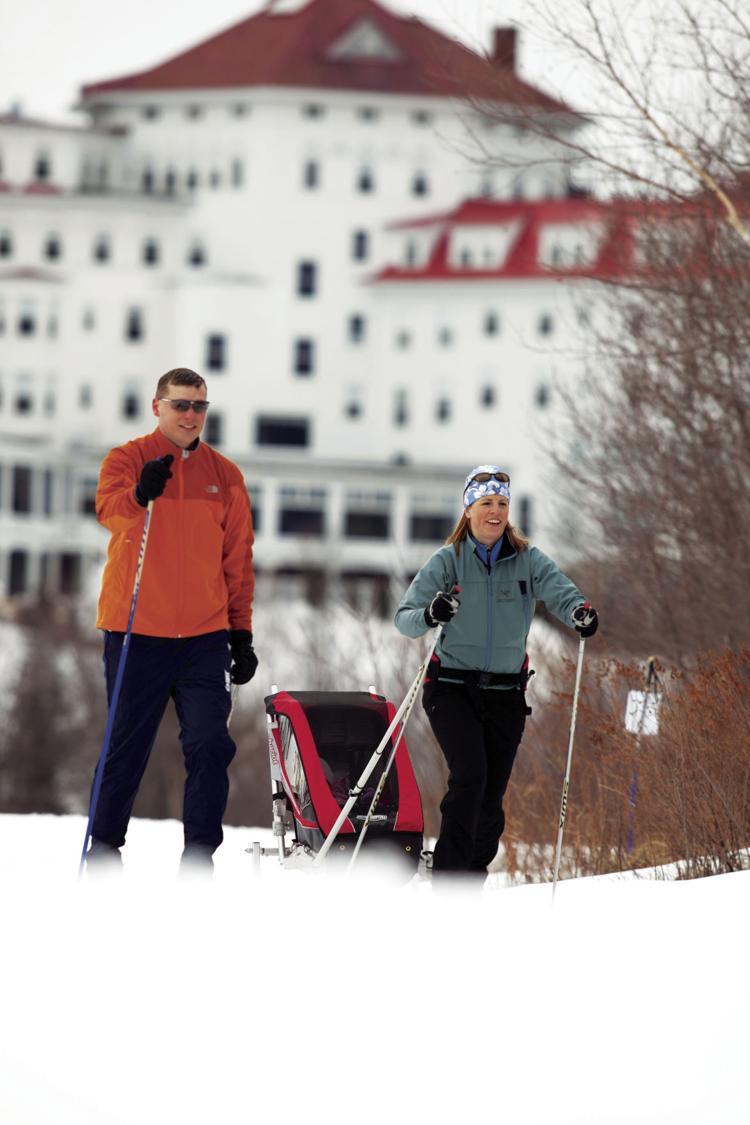 The ski ties that bind
When skiing started to become popular in New England and throughout the United States in the 1920s, there was little distinction between cross-country skiing and downhill skiing. To come down a hill or mountain, skiers first had to ski or climb up it. (The first rope tow in the United States was installed in Woodstock, Vt., in 1934. The first chairlift in New England opened in January 1938 at what is now the Gunstock ski area in New Hampshire, one winter after the country's first chairlift, at Sun Valley, Idaho. The first aerial tramway in North America opened in 1938 at Cannon Mountain in Franconia, N.H.)
Many of the region's first ski trails were eventually developed into "ski centers," where various wintertime activities were offered – cross-country trails, downhill trails, ice-skating rinks and small rope tows. Some of these centers ultimately evolved into modern ski areas. The blurred lines between alpine ski areas and Nordic ski areas continue in many centers, including at Bretton Woods in New Hampshire.
With 6,288-foot Mount Washington as its backdrop, the Bretton Woods Nordic Center sits near the majestic red-roofed Omni Mount Washington Hotel and just down Route 302 from the Bretton Woods alpine ski area. With 100 kilometers of groomed trails, Bretton Woods has a little bit of everything for Nordic skiers – including lift-serviced skiing at the periphery of the alpine trails.
"What is unique to Bretton Woods is the Mountain Road trail network, which is accessible by the chairlift," says Nordic Center Director Peter Smith.
For $10, Nordic skiers may ride the chairlift to the new High Country trail and explore the higher – and, therefore, sometimes snowier – tracks of the Stickney Trail System. Skiers will also find the Mount Stickney Cabin, a warming hut offering hot soups, beer and wine, a warm woodstove and an outside fireplace.
Beyond the Stickney trails, Bretton Woods Nordic Center includes the Deception Trail System, which runs between the hotel and Mount Washington, and the Ammonoosuc Trail System, meandering south toward the Appalachian Mountain Club's Highland Center. Skiers are welcome to bring their dogs along for a ski in the Deception area.
For beginning skiers, Smith recommends starting off on the B&M trail. Named for the Boston & Maine Railroad, which once traversed the area, this trail follows the old railroad bed along a gentle track into the woods. There's a warming hut about 5 kilometers from the Nordic Center along the trail.
Martha Wilson, who spends lots of time exploring both the Nordic and alpine trails at Bretton Woods (and writes a Blog titled Outdoor Mom about family adventures at the resort), has a hard time picking a favorite trail.
"Honestly, I just love being out there," she says. "It's a treat to follow along the Ammonoosuc River on Bridal Path, listening to the river flow even on the coldest of days. I love to cruise up to the yurt on B&M and then see how fast I can make it around all the roller-coaster turns down Sebosis. And the Abenaki Crossing trail gives the feeling of kicking and gliding virtually to the foot of the 'rock pile' (Mount Washington)."
Other ski areas where Nordic and alpine mingle include the Northeast Kingdom's Jay Peak and Burke Mountain.
Jay Peak Nordic Center offers full and half-day passes, rentals, lessons and guided snowshoe tours. The Nordic Center is located at the resort's golf clubhouse with some 20 kilometers of trails winding along the golf course. The trails are groomed for classic and skate skiing.
Burke Mountain collaborates with Kingdom Trails to offer Nordic skiing and snowshoeing on more than 60 kilometers of groomed trails. The Nordic system is separated into two areas: Dashney Farm and Darling Hill. The Kingdom Trails Nordic Center is located near the base of the alpine area on Dashney Farm (1.3 miles off Route 114 past the lower Burke Mountain entrance). While the Nordic Center does offer season and day passes, it does not rent equipment, so be sure to bring your own or rent from a local shop before heading out.
Dashney Farm includes trails through farm fields and forests with trails suitable for all skiing abilities. Darling Hill (parking is available at the Children's Theater on Darling Hill Road) offers trails for beginner and intermediate Nordic skiers and inspiring views of Willoughby Gap.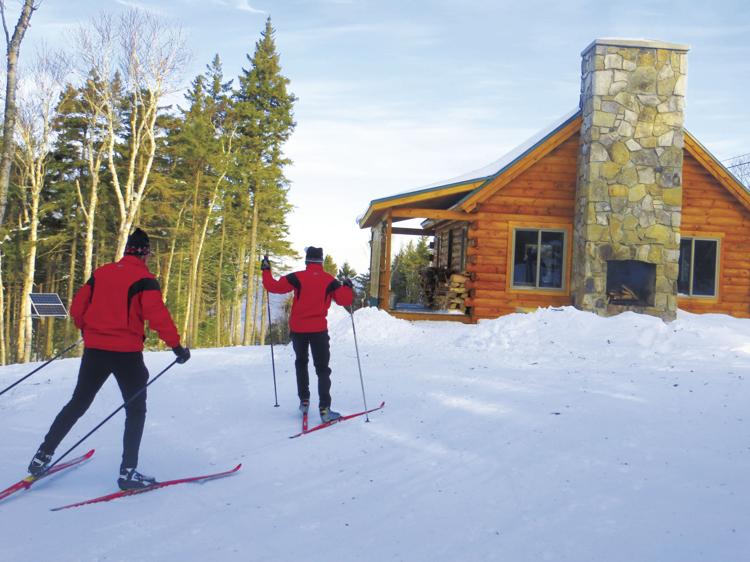 All Nordic, all the time
At the Craftsbury Outdoor Center and other purely Nordic ski areas, the focus is solely on cross-country skiing. With more than 100 kilometers of ski trails, Craftsbury really does have something for every skier, and that is evidenced by the locals like Dave Brown, who cruises the trails in his green Dickies pants and leather chopper mittens, and the Lycra-clad elite athletes speeding along the track with visions of Olympic medals dancing through their heads.
Operated as a nonprofit organization since 2008, the Craftsbury center has a duel mission of promoting participation and excellence in lifelong sports (with a focus on Nordic skiing, running and rowing), along with employing sustainable practices in its operations and protecting the land surrounding the center.
On the Nordic skiing side of that mission, the center maintains a looping network of trails that ramble through fields and forests, across lakes and ponds, along rivers, and through the villages within the town of Craftsbury. A few years ago, the center also installed a small snowmaking system, with the ability to cover about 5 kilometers of trails in the event there is not enough natural snow to do the job.
"Craftsbury Outdoor Center has it all," says John Monaghan, who attended local Sterling College in the early 1990s and visits the area annually from his home in New Hampshire. "First time skiers and families can have fun learning the sport, as well as serious competitive skiers who need miles of challenging terrain to ski on."
The center is home to the Green Racing Project, an Olympic development program that offers training to elite athletes year-round. When they're not training, the team's athletes help out with various projects at the center, including many environmentally-based initiatives. (For more about Nordic racing, from the junior Bill Koch League offered at many of the centers mentioned in this article to masters and elite competitions, visit the New England Nordic Ski Association website: www.nensa.net.)
For beginning skiers, Craftsbury's Nordic director John Brodhead recommends the short (just under 5 kilometers) Duck Pond Trail. For a longer outing, Brodhead suggests the Grand Tour, a 16.7-kilometer loop through Mill Village, Craftsbury Common, Craftsbury Village and Albany.
On the rare occasion Dave Brown chooses a ski route he can't access from his front door, he tends to make the short drive to the center and ski around Big Hosmer Lake. "It's just a really nice ski along a mostly undeveloped shoreline," he says. "I'll find all kinds of (animal) tracks on the ice, and once in a while an ice fisherman."
Beyond lessons, rentals and uber-affordable trail passes (a day pass is only $10, and an annual membership – including use of the gym and rowing facilities in summer – is $50 for an adult and a mere $100 for a family), the Craftsbury Outdoor Center also has an eco-friendly lodge that can accommodate 100 people in private rooms. Lodging includes hearty meals in the dining room, with much of the food grown and raised locally.
Another Nordic-centric ski area, albeit on a smaller scale, is the Franconia Village Cross-country Ski Center in Franconia, N.H. Offering ski and snowshoe rentals, day and season passes and instruction, the center is located at the Franconia Inn and covers more than 65 kilometers of trails in the Easton Valley. Trails range in difficulty from beginner to expert and travel through field and forest along both sides of the Ham Branch of the Gale River, with views of mounts Lafayette, Cannon and Kinsman.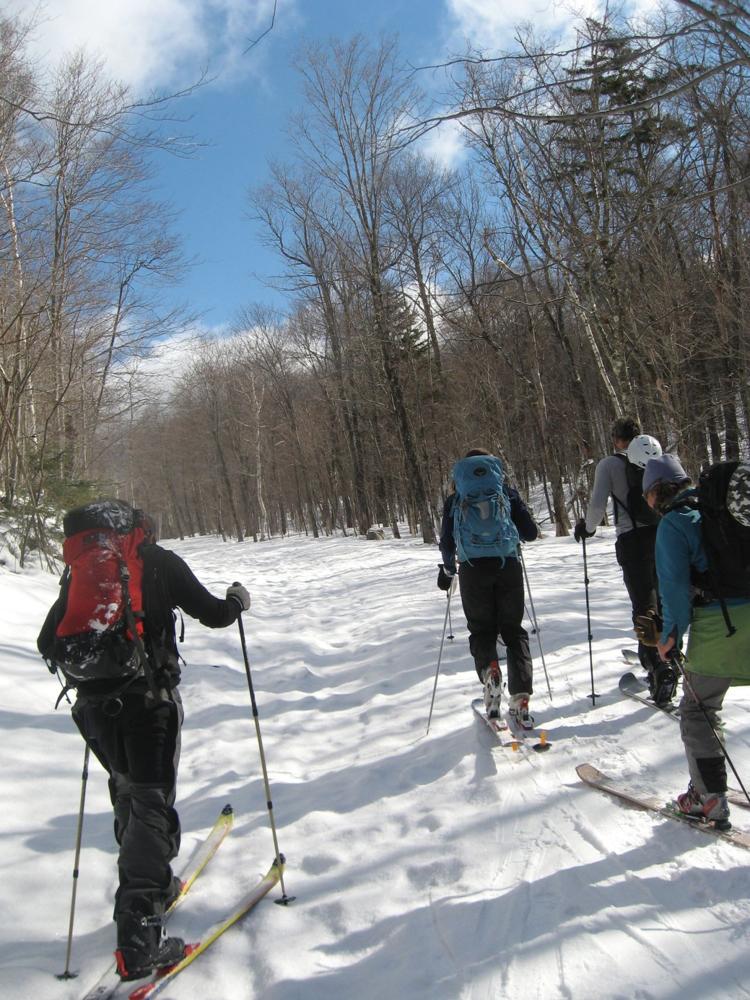 Off the beaten path and groomed track
For those who prefer to explore beyond the groomed trails of Nordic centers, there are myriad local options for both skiing and snowshoeing. Essentially any trail used for hiking or mountain biking in the summer is easily transformed to a classic cross-country (skate skis are best on groomed tracks) or snowshoe trail by a cover of snow. Most golf courses also allow skiers and snowshoe trekkers free winter access.
In northern Vermont and New Hampshire, there are endless miles of trails through National Forest lands, state parks and conservation land. Some of these trails are also open to snowmobiles, which lay down a nice track to follow, so be aware of shared use. While options are too many to list, here are a few local favorites:
The Lafayette Ski Trails on Route 141 in Franconia are quiet and offer a few short loops for skiers and snowshoers just off I-93 and a stone's throw from Cannon Mountain. The Franconia Recreation Path which winds through Franconia Notch from Franconia to Lincoln, and is well knows as a bike path, is also a good skiing option.
The Society for the Protection of New Hampshire Forests conserves and manages several thousand acres of land throughout the state, most open to the public. In the North Country, Forest Society land with trails open to snowshoe and ski outings include The Rocks Estate and Bretzfelder Park, both in Bethlehem, and the David Dana Forest in Dalton.
Crawford Notch State Park and the AMC Highland Center are also home to many snowshoe/ski trails, along with great views.
The Northwoods Stewardship Center in East Charleston, Vt., maintains a network of hiking trails on nearly 3,000 acres of preserved land. Many of the trails are also marked for winter outings and make for fun ski tours or snowshoe treks. The center also offers occasional guided snowshoe and ski tours.
Beyond state parks and national forests, locally-held public lands are also generally open to winter trail use. A good example is the Hardwick Trails, 6 miles of wooded trails behind the Hazen Union School that are perfect for a gentle ski or snowshoe outing.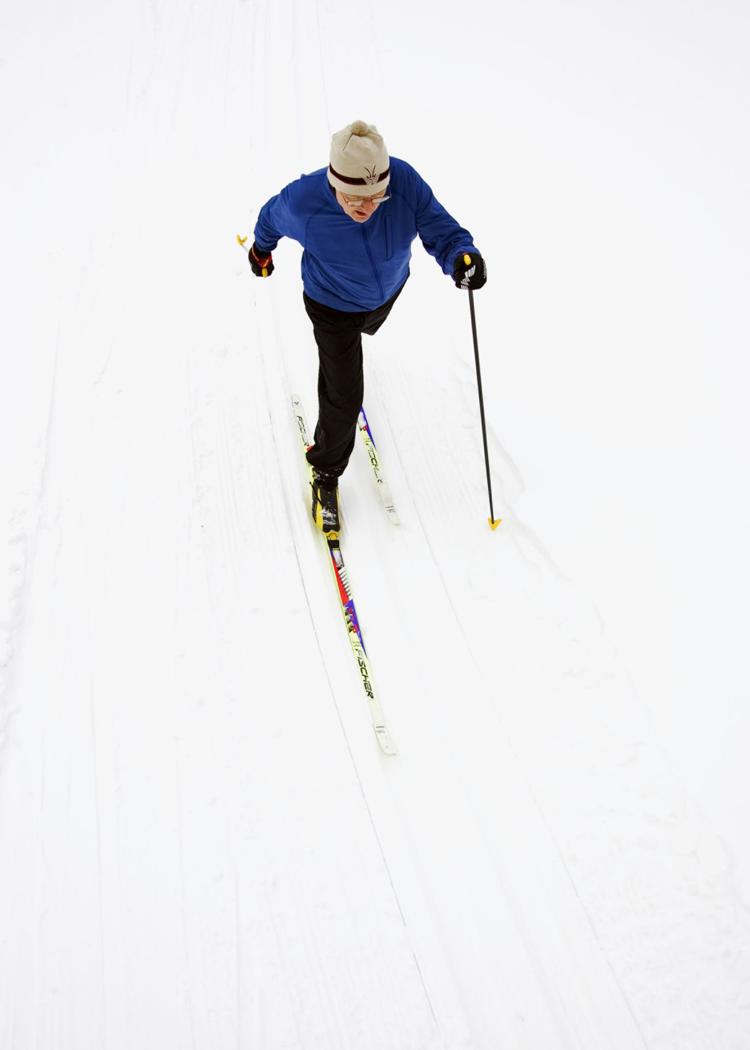 The Hazen's Notch Association, a conservation land trust and environmental education center in Montgomery Center, Vt., maintains more than 30 trails for cross-country and snowshoeing, including some trails that are groomed. Trails range from gentle to challenging, including a snowshoe trail to the summit of 2,800-foot Burnt Mountain.
Many people who enjoy snowshoeing and Nordic skiing find their favorite trails are often the ones right outside the back door, whether those trails lead to a greater maintained network of tracks or just into the quiet of the woods. Wherever you choose to ski or snowshoe, chances are you'll find beauty in the snow-covered forests and peaks and return with rosy cheeks and good cheer.
Meghan McCarthy McPhaul, an award-winning writer, is the author of the book, A History of Cannon Mountain, Trails, Tales and Skiing Legends, published in 2011. She lives with her husband and three children in Franconia, N.H., where she writes a blog, writingsfromafulllife.blogspot.com.