Vermont's natural beauty attracts outdoor enthusiasts and artists. The Northeast Kingdom's trails, ponds, rivers, and lakes are a favorite for those looking to hike, bike, kayak, swim, and...a sport that has begun to increase in popularity...paddleboard.
Taylor Peyton, an artist and resident of West Burke, is using his talent and vision to create custom-made paddleboards with James Mayer, business partner and co-owner of their two-man entrepreneurship, Idlewild Paddleboards.
The business started as a dream about seven years ago when Peyton, who grew up in Northern California, began to miss surfing.
"The first wave I hit hooked me and I fell in love with the romance of surfing. I wanted to become a beach bum. When I lived in San Diego, I surfed every day. I've also surfed in Mexico and off 12-13 islands in the Philippines. There aren't exactly any waves here," he laughs, "but this area is a beacon for outdoor enthusiasts. Burke's close proximity to Willoughby and Crystal Lake, as well as Lake Memphremagog, and, of course, Kingdom Trails, offers so many possibilities. After a day of hiking or biking, what better way to relax than on a paddleboard? I also think that living in a state that's cold and snowy much of the year really draws people outside when the weather warms up. Lakes, ponds, and rivers become the preferred attraction."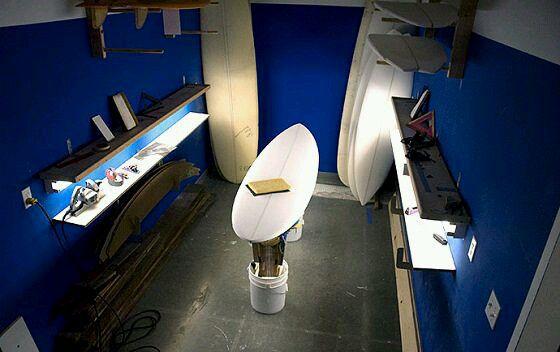 Along with his enthusiasm for being on the water, Taylor's story is intriguing.
"I currently work on shaping paddleboards when I'm not bartending at the View Pub at Burke Mountain. I'd love to be self-employed, but Idlewild is just in its beginning stages and I have bills to pay."
Taylor hasn't always been a bartender though. He was first a rafting guide in Northern California. Most recently, he has been a chef at Burke Mountain's former Tamarack Grill and at St. Johnsbury's The Kingdom Taproom. He's also been a snowboarding and swim instructor, a glass blower at Lyndonville's former Liquid Glass shop, and a construction worker. When he first moved to Vermont 10 years ago, he worked in human services for Common Ground in Woodsville and volunteered as an EMT for Calex for a while.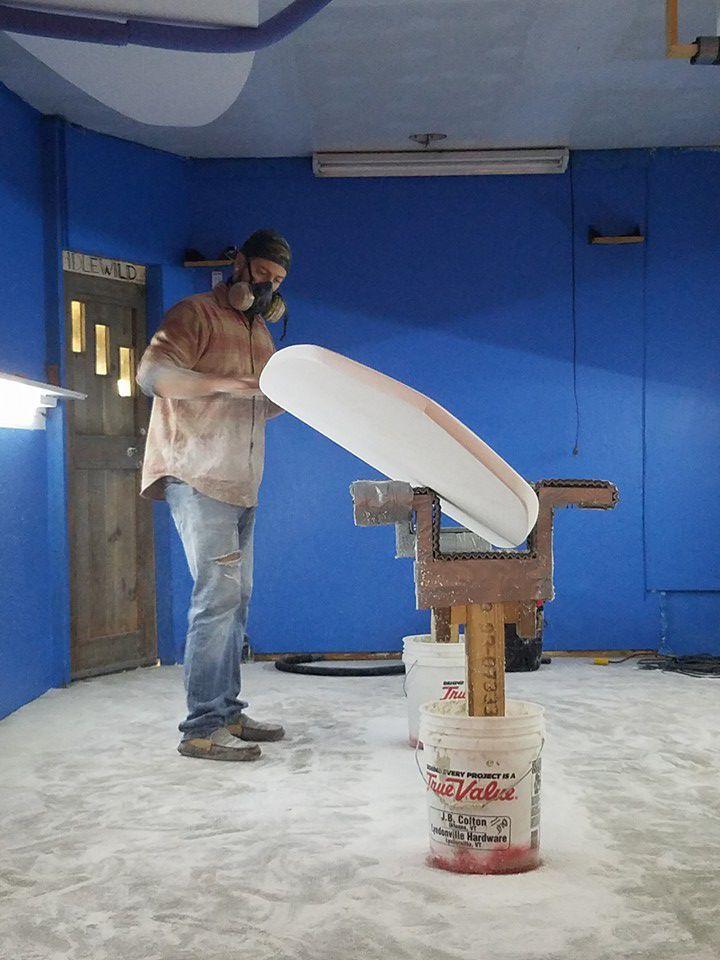 "I guess you can call me a Jack-of-all-Trades," he jokes. "I was just trying to figure my life out and I was trying to decide whether or not I wanted to stay here in the Northeast Kingdom. I originally came here because of family."
His career pursuits started in Rescue, Calif., as a firefighter, before a law passed requiring all paid firefighters to also be certified paramedics.
"I didn't want to gamble on the $10,000 it would cost to become a trained paramedic, because that was money I didn't have at the time," he says. "That's when I moved to Vermont to be close to family while I tried to figure my career out."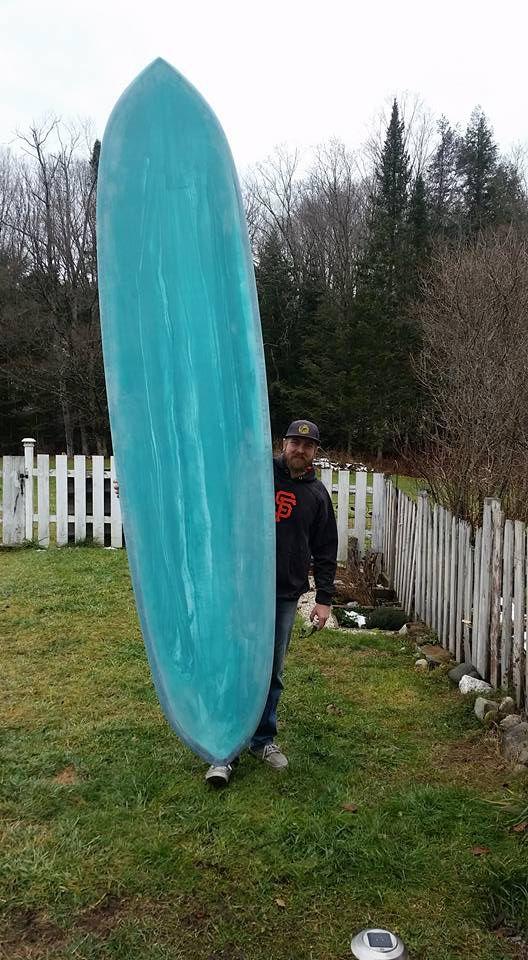 "Originally, I looked into the St. Johnsbury and Lyndonville fire departments, but they only had volunteer spots available. My father, James Peyton, is on the school board in Lunenburg and he runs the Lunenburg transfer station. His involvement with the local community has inspired me to really make myself a part of the community I live in, so I really just tried different jobs to find something that worked for me while I established new roots. Here in Burke, I see great potential to better the community while pursuing my creative side. I hadn't planned on staying here, but I had a daughter shortly after I moved to Vermont. That was the game changer. I fell in love with her and the Northeast Kingdom. She and this area have become my world."
As time consuming as working full-time and parenting is, Peyton knew he also needed a creative outlet. After moving to Burke Village, he converted a barn on his property across from Aldrich's store into a shop where he can craft paddleboards. Idlewild officially opened in September 2016. Admittingly, he's hoping to establish a more thorough business plan and eventually move into a larger shop to make production easier.
"The resin needed to make the boards doesn't work well in conditions under 60 degrees," he explains. "I've had a lot of trial and error trying to shape boards in the wintertime. We are searching for a heated space that is also large enough to create four to five paddleboards a week. We're also trying to secure grants and interest investors in order to expand."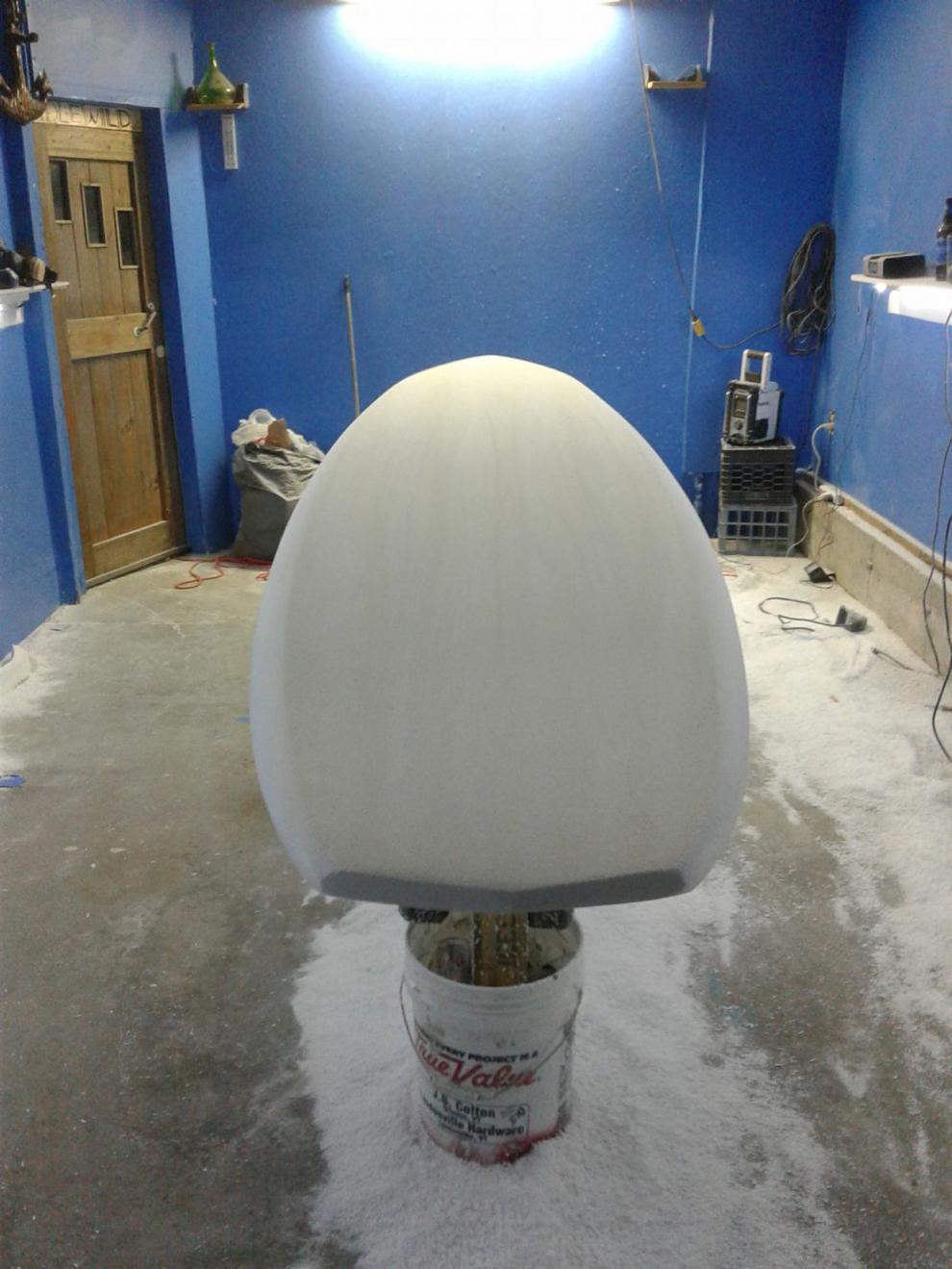 Securing funding would also allow them to hire local people for manufacturing.
The Market
"Not many places rent or sell custom boards and a custom-made board is going to be light enough that even my 80-year-old grandmother could easily lift and carry it," Peyton says. "The paddleboards sold around here are heavy and mass-marketed. I want to offer a quality product that is easy to handle."
Essentially, they can specialize in any size or shape of board, he explains. Paddleboards designed for yoga are bulkier to provide better stability. Down-wind boards are thinner and shaped to cut through waves. Boards designed for the ocean's surf can be made with different fins. They can also make a cruiser board, ideal for Vermont's fresh water recreation.
The first board Idlewild sold was purchased by a man in Connecticut. It was designed to be used for both ocean and river water. Once a board is made it is set aside to cure and then shipped directly to the customer.
"I enjoy the artistic process of taking a piece of Styrofoam and shaping it to a customer's needs," Peyton says. "I carve. I mix resin and paints. We can create a marble effect or even glow-in-the dark boards."
He explains that the lights in his shop are low so that he can see every detail as he carves and finishes each paddleboard. He can also can take any images from rice paper and transfer them to the board.
As for the future of Idlewild Paddleboards, Peyton says he's letting Mayer take the reins on the business-end of their partnership.
"I prefer to spend most of my time in the shop creating, but Mayer and I have some great ideas we are pursuing," he says.
One of the obstacles the partners face is that many people say they can't justify spending an average of $900 and as much as $3,500 on a custom-made board. Peyton and Mayer hope to offer paddleboard rentals as well, so people can see the value and want to purchase their own.
He is quick to add that he doesn't want Idlewild to begin and end with the customer, but rather he sees the business as an opportunity to give back to the community.
"I'd love to hold classes and teach people how to craft their own paddleboards," he says. "I hope to be able to rent a booth and have a certified paddleboard instructor give lessons on a nearby lake. Yoga on a paddleboard in the morning on Lake Willoughby is quite amazing. I'd love to bring that opportunity to the community."
Ultimately, his aspiration is to be self-sufficient, use his artistic skills every day, and give back to the community.
"I always miss surfing, but I can go on vacation for that," he says. "I've made West Burke my home now and developing a sustainable business in this community is my focus and passion."
More information can be found on Instagram at idlewild_sup or at idlewildsup.com.