Catamount Arts has opened a new StJ Art on the Street exhibition, "Evoking Spring," which will run through May 28.
The spring exhibit, a walkable gallery along Railroad Street and Eastern Avenue in St. Johnsbury, will showcase the work of renowned Northeast Kingdom artists and is available for free outdoor viewing in downtown storefronts and windows.
Patrons are encouraged to stroll among the window galleries, perhaps enjoying a coffee or sandwich from a local eatery. There is even an opportunity to participate in the show by answering a call for haikus: anyone who wishes is invited to pick up a paper circle at Boxcar & Caboose, the Cosmic Cup Café, or Moose River Lake & Lodge. Write a haiku on your paper circle and then drop it off at Catamount Arts to be pasted in downtown storefronts in April for National Poetry Month.
Artists featured in the "Evoking Spring" show include Alista Alanis, Frederick and Frances Alger, Nanine Beard, Curran Broderick, Keith and Florence Chamberlin, Craig Harrison, Carolyn Hawkes, and Crystal Matthew, as well as Naomi Bossom, Carol Lebarron, and Cynthia Steil in a special group show. Information about the artists and their work, including purchase details, is available via easily accessed QR codes in the window displays.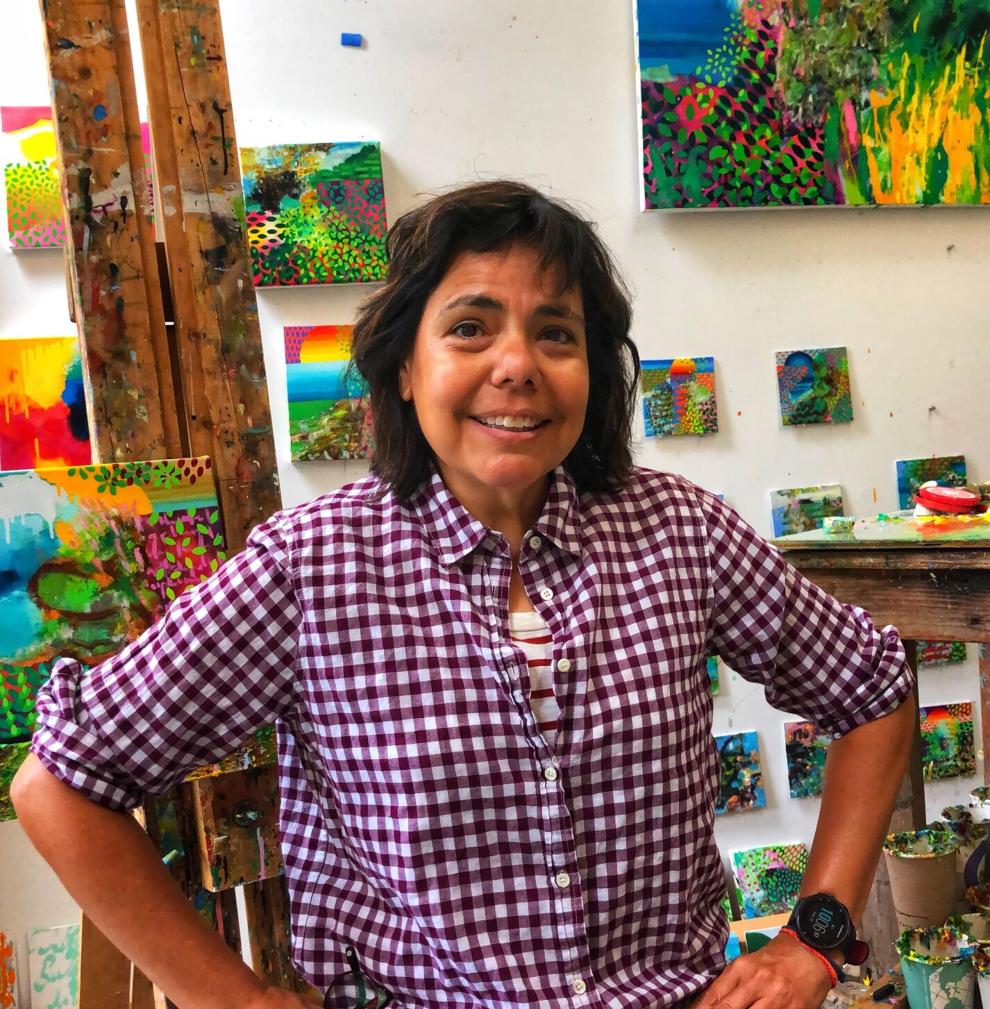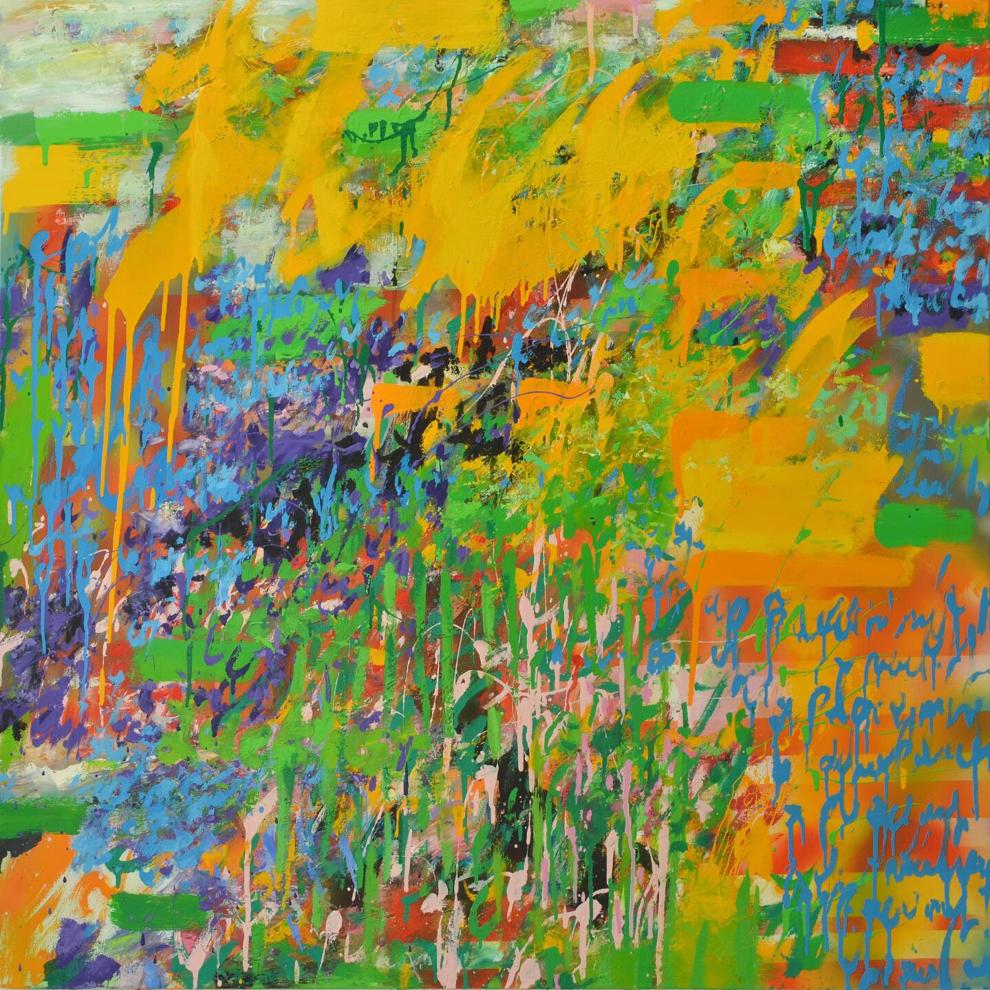 Arista Alanis is featured at the Rural Edge Gallery at 418A Railroad Street. Her paintings, drawings, and monoprints are derived from the landscape. Places and experiences take on significant meaning: Vermont's landscape in all its seasons, the tides on the coast of Maine, or travels to new places with her sister and family. The artwork is not about specific places, but about significant moments that ignite a feeling of being alive in the space. The formal structures of nature directly experienced, or recalled, give her work the solid foundation upon which she improvises abstractions.
Originally from Texas, Alanis has been on staff at the Vermont Studio Center (VSC) for the past twenty-four years. She received an MFA from Louisiana State University and a BFA from Texas Woman's University. She is currently the Community Arts Program Coordinator at VSC.
Frederick and Frances Alger are featured in the Railroad Street Gallery B at Northern Express Care. The Algers started collecting driftwood washed up on local beaches 55 years ago while on their honeymoon. The Algers continued walking the beaches and collecting until retirement when they started producing driftwood art on a large scale for sale and charity.
Frances and Frederick consider some pieces of driftwood real treasures in their interesting design and history. "The waves, wind, sand, rocks, worms, and sun do the artistic work," they have said. "We are just the collectors." Frederick and Frances Alger reside in Barnet, Vermont.
Nanine Beard is featured at the Rural Edge Gallery at 418B Railroad Street. In 2015, Beard was introduced to the brush and mentored by a Colorado artist who specialized in encaustics. Upon returning to Vermont from that visit, she supplied herself with the basics for acrylic painting and hasn't stopped since, going larger and larger as she explores color combinations, paint movement, collage, and texture.
Primarily self-taught, Beard enjoys the process of coming to the blank canvas with or without ideas and watching the process unfold naturally. She has been selected 3 times by the annual Catamount Juried show and had her first solo show at Peacham Library's Gilmore Gallery. Beard has lived in the Northeast Kingdom of Vermont for the last 15 years as a single parent, raising her daughter while running her landscape and gardening business.
Naomi Bossom of Lyndonville is featured in the Evoking Spring group show at 462 Railroad She graduated with a BFA from Columbia University and is widely known for her expertise in printmaking. Bossom is a member of the Society of American Graphic Artists (SAGA) and has been exhibited nationally. She exhibits regularly at Catamount Arts and the Northeast Kingdom Artisans Guild, as well as numerous other venues. Bossom is a contributor to Arts Connect at Catamount Arts, a program that places original artwork in area nonprofits.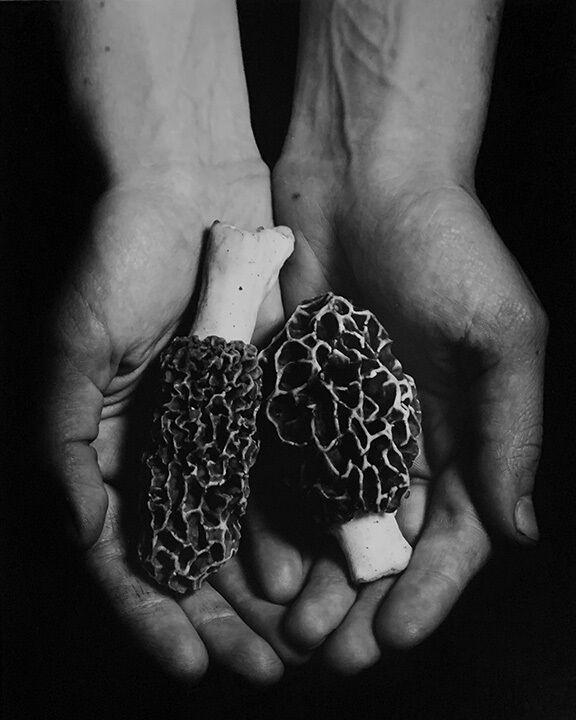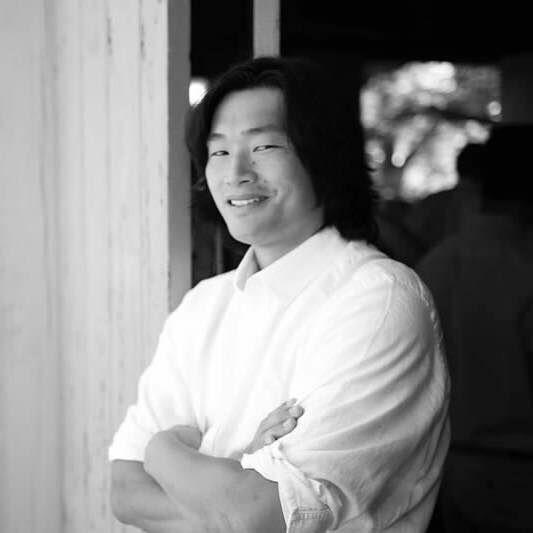 Curran Broderick, featured at the Caplan's Gallery on 457 Railroad Street, was raised in the Northeast Kingdom and introduced to photography when his shop teacher transformed the classroom into a darkroom. Broderick learned by trial and error to expose pinhole cameras and develop paper negatives under red safelights. The magic of seeing photographic prints appear in developer still fuels his creative process today.
Broderick studied English Literature and Photography at The University of Vermont. A year later, he obtained an MFA in Photography from The Rhode Island School of Design, where he studied nineteenth-century historic photographic processes. After graduating, he served on the adjunct faculties at RISD and Northeastern University.
Broderick's work has been exhibited nationally at galleries, in magazines, and on websites. His photographic prints have been shown at ClampArt, Gallery Kayafas, Tilt Gallery, The Chace Center Museum of Art, The Rhode Island Convention Center, Atlantic Works Gallery, Artistree, and The White River Craft Center. His work has been published by The Best of Burlington, 100 Mile Radius, Ain't Bad, and Rfotofolio.
Florence and Keith Chamberlin are featured at the Caplan's Gallery at 457 Railroad Street. Florence grew up in Queens, NY, and found inspiration close to home, on the block, at the beach, and throughout the city. She attended Lyndon State College where her love for photography led her to the love of her life. She married her instructor, and for over 40 years, they've been creative collaborators, soulmates, business partners, and proud parents.
Florence has run a letterpress and silkscreen shop, worked in youth services, written grants, helped establish Flek, Inc., in 1997 and Elements Restaurant in 2003. In the meantime, she has continued to view the world around her with an eye to the beauty and irony around every corner. Exhibited here are some recent works taken on her iPhone.
Keith moved from upstate New York to Vermont in 1973 to attend Lyndon State College and never left. Since 1977 he has worked as a photographer, graphic designer, writer, and marketing consultant. He is a partner at Flek along with Florence and Amy Hale. Photography remains as much a passion as a profession 45 years into his career. In his work, he concentrates on everyday subjects, often at home: the sorts of things we pass by without a second thought to their ordinary beauty.
Carol Dashnau LeBarron is featured in the group show, Evoking Spring, at the Garrett Corner Shop Gallery at 462 Railroad Street. "I am mainly an introvert," she says. "While I am challenged to find words to express myself, visual art succeeds in becoming my voice. Expressing myself through art, both practical and aesthetic, also fulfills a need to demonstrate my creative essence. I am an accomplished seamstress, have dabbled in weaving, spinning, dyeing, knitting, rug hooking and braiding, costuming, quilting, silk painting, leather bags and belts, watercolor painting, pencil drawing, ceramics, mosaics, and stained glass."
"Fiber, in its many forms, has consistently been a thread throughout my life," Dashau LeBarron continues, "and felting with the raw fiber is easily a natural path for me to follow. Its properties are ingrained within my continuing discovery, making its exploration all the more fun. Within the felt medium, I sculpt, make containers, rugs, and 'paintings.' Both wet and needle felting are incorporated in my pieces."
Craig Harrison is featured at the Caplan's Gallery at 457 Railroad Street. After graduating from Boston's New England School of Art & Design, Harrison spent the next several decades expanding his creative horizons. He founded the first advertising agency focused solely on the burgeoning bike industry and then moved to Zion National Park in Utah, where he developed a deep appreciation for the unique challenges of tourism-centered communities in naturally wild places.
Upon returning to the east coast, Harrison worked in marketing for several bike industry brands before hanging out his shingle as a designer, photographer, illustrator, copywriter, and all-around creative guy. He currently works for clients as close as St. Johnsbury and as far away as Madrid. Since 2011, Harrison has managed the Gilmore Gallery at the Peacham Library, staging new exhibitions of local artists regularly. Harrison created the StJ Art on the Street logo.
Carolyn Hawkes Riley is featured in the Railroad Street Gallery B at Northern Express Care. Hawkes Riley resides in East Burke where she is a full-time artist and mother to daughters Eloise and Imogene. Growing up in Maine, she split her time between Portland and Carrabassett Valley and was deeply influenced by the ocean and the mountains.
Hawkes Riley has a deep love for colors, design, and patterns, coupled with an appreciation for the small details of flora and fauna. Her artwork is an outlet to highlight and share those elements. Fish, both saltwater and freshwater are Hawkes Riley's subject focus, their colors and patterns being vastly diverse and vibrant
Crystal Matthew is featured at 166 Eastern Avenue. Matthew is a painter and author from the Northeast Kingdom. She was born in Vermont but spent most of her adult life in England and Florida. Growing up, she created t-shirt designs for a local screen-printing company and illustrated a children's book. She attended art instruction schools while still in high school, and then moved overseas to receive a British Technical Diploma in Graphic Design and Fine Art at Sheffield College in England.
Matthew worked in Florida as a make-up artist and muralist before returning to Vermont with her family, where she has written three books, operates a karaoke company, and creates commissioned pieces.
Cynthia Steil is featured in the Evoking Spring group show at the Garrett Gallery at 462 Railroad Street. Originally from the Boston area, Steil lives in Ryegate with her husband Gil. Steil comes from a family of artists: her grandmother Florence Bryant was an oil painter; her great uncle Franklin T. Wood was an etcher; and Rufus Porter, another great uncle, was a muralist. Her daughter Rebecca has a pottery studio, and daughter Jennifer is a novelist. Cynthia's first job after college was as a cataloger at Harvard's Fogg Museum of Art.
StJ Art on the Street is a public art collaboration among the Window Warriors volunteers of St. Johnsbury Chamber of Commerce; Northeast Kingdom Artisans Guild; Catamount Arts; Caplan's; the town of St. Johnsbury; 142 Eastern; Garrett Property Management; Aine Baker; Rural Edge; and Northern Express Care. StJ Art on the Street is sponsored by a Vermont Community Foundation Spark Grant and support from the Vermont Arts Council, the Vermont Curators Group, and Maple Groves Farm of Vermont. StJ Art on the Street is featured in the Vermont Curators Group 2020 Vision: Reflecting on a World-Changing Year.
For more information about StJ Art on the Street, including the artists featured in "Evoking Spring," visit www.catamountarts.org